Thursday,
August
19th
, 2021
Lightning 100 Presents
Maggie Rose - Album Release Party
Southern Avenue, Bre Kennedy
Doors: 6:00 PM
/
Show: 8:00 PM
18+ Years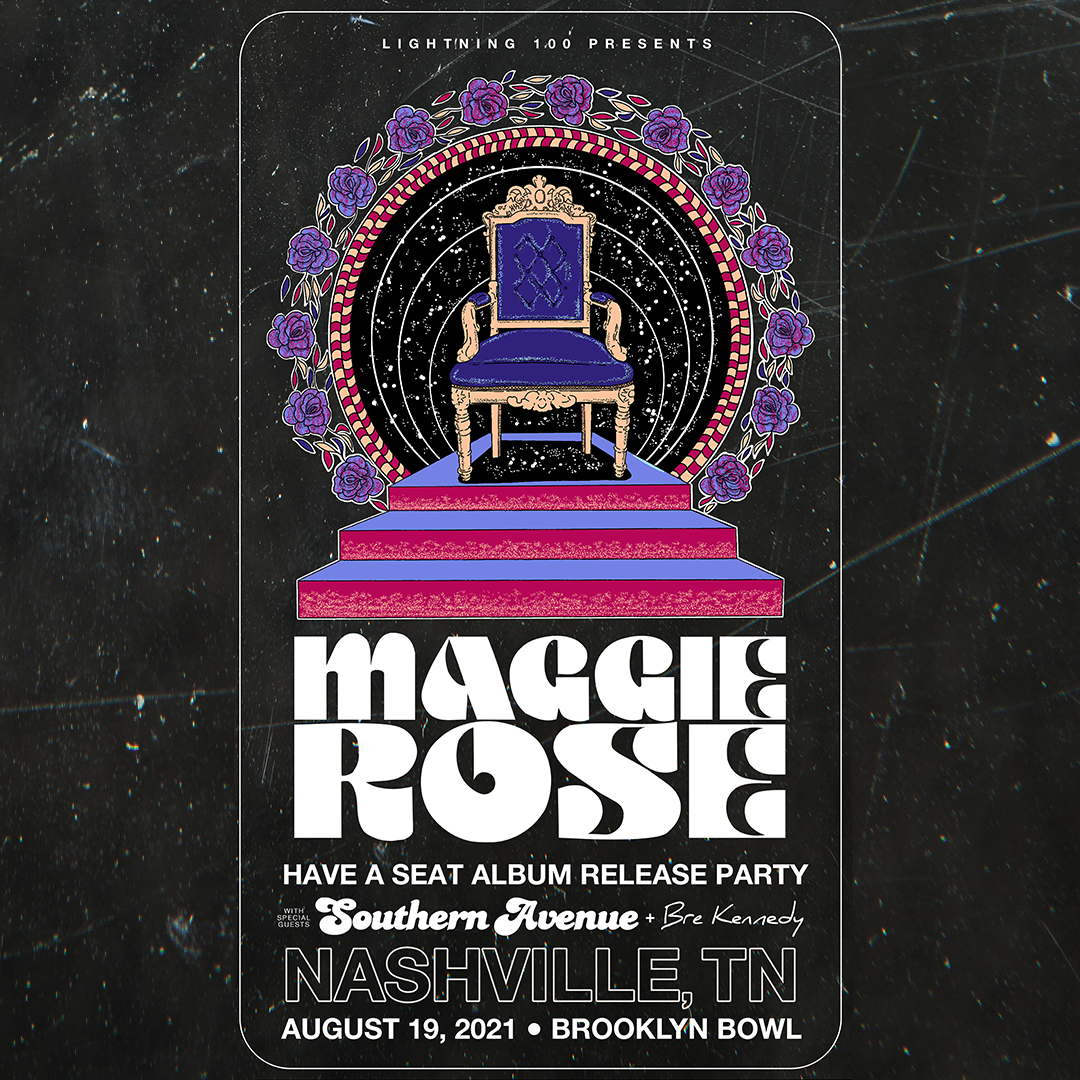 Event Info
Venue Information:
Brooklyn Bowl Nashville
925 3rd Avenue North
Nashville, Tennessee 37201
Valid photo ID required at door for entry
This event is general admission standing room only

Doors: 6:00 PM
Show: 8:00 PM

Evolving health and safety guidelines regarding COVID-19 may cause changes to the venue's capacity, admission prerequisites and other health and safety protocols. Brooklyn Bowl reserves the right to cancel your ticket and provide a full refund if our venue capacity is reduced.
Artist Info
Southern Avenue
Southern Avenue is a Memphis street that runs from the easternmost part of the city limits all the way to Soulsville, the original home of Stax Records. Southern Avenue is also the name of a fiery young Memphis quintet that embodies its home city's soul, blues and gospel traditions, while adding a youthful spirit and dynamic energy all their own. "If Memphis music is a genre, this is it!" proclaims American Blues Scene, and Rock 103FM calls Southern Avenue, "The most-talked-about band in Memphis."
Their self-titled debut album is a breath of fresh air with its own unique blend of gospel- tinged R&B vocals, roots/blues-based guitar work and soul-inspired songwriting. And Southern Avenue's upcoming release on the fabled Stax label is a testament to the young combo's talent and vision.
Southern Avenue features five young but seasoned musicians who came from diverse musical and personal backgrounds to create music that spans their wide-ranging musical interests, while showcasing the powerful chemistry that the group has honed through stage and studio experience.
Southern Avenue encompasses Memphis-born, church-bred sisters Tierinii and Tikyra Jackson, respectively a soulful, charismatic singer and a subtle, powerful drummer; guitarist Ori Naftaly, an Israeli-born blues disciple who first came to America as an acclaimed solo artist; versatile jazz-inspired bassist Daniel McKee; and the band's newest addition, keyboardist Jeremy Powell, an early alumnus of Stax's legendary music academy.
The band members' diverse skills come together organically on Southern Avenue, scheduled for release on February 24, 2017 via Stax Records, a division of Concord Music Group. Produced by Kevin Houston (North Mississippi Allstars, Lucero, Patty Griffin), the 10-song album features guest appearances from Luther Dickinson of the North Mississippi Allstars and trumpeter Marc Franklin of the Bo-Keys. But it's Southern Avenue's own potent musical chemistry that drives such sublimely soulful originals as "Don't Give Up," "What Did I Do," "It's Gonna Be Alright," "Love Me Right" and "Wildflower." The band also pays tribute to its roots with an incandescent reading of Ann Peebles' Memphis soul classic "Slipped, Tripped and Fell in Love."
The seeds for Southern Avenue's birth were planted when Ori Naftaly, who'd grown up in Israel with a deeply rooted passion for American blues and funk, came to Memphis in 2013 to compete in the prestigious International Blues Challenge. That experience led to Naftaly moving permanently to Memphis and successfully touring the United States with his own band.
Although his talents were embraced by American audiences, Naftaly felt constrained in his own band, feeling the need to include a more expansive, collaborative musical vision. That opportunity arrived when he met Memphis native Tierinii Jackson, who'd gotten her start singing in church, before performing in a series of cover bands and theatrical projects.
According to Ori, "When I saw Tierinii perform, I thought, 'This is why I came to America.' I met her and we clicked. At our first rehearsal, she told me that her sister was a drummer, and she thought it would be great to have her in the band. We had such a good vibe, and suddenly I didn't care so much about my solo thing."
"I initially clicked with Ori really well, but it was his project," Tierinii remembers. "Then he came to me and said 'I want this band to be a collaboration, I want this to be our vision and our music.' So we started writing together, and that's when I realized that we were really the same, musically."
"We started over," Naftaly continues. "We threw out most of the songs I'd been playing in my solo band, and Tierinii and I wrote a whole new set, and we became Southern Avenue. The more we played together, the closer we got, and the more we became a family. We started getting a different kind of crowd, and from there things escalated quickly."
"Ori said, 'My band is done, this is y'all's band,'" Tierinii recalls. "We all quit our other gigs and started focusing on this, working and writing and living together in a way that you don't experience when you're playing somebody else's music. Now we're playing songs that we wrote ourselves and we're playing them from our hearts. That is when I realized that we had something special."
Despite not having a record deal, Southern Avenue quickly found success touring in America and Europe. They won additional attention playing some prestigious festivals and competing in the International Blues Challenge, in which they represented Memphis. Less than a year after the band's formation, they were signed to the resurgent Stax label.
"I feel like being on Stax is a responsibility," says Tierinii. "I grew up in Memphis, seeing the name Stax everywhere. It was a constant presence, and now it's up to us to live up to that. I feel like this band can be a platform to do a lot of positive things for the city of Memphis. I want to change the world, but Memphis is home."
Tierinii views Southern Avenue as "a perfect soundtrack to our first year together. We wrote these songs in our first nine months of being a band. We'd all done so many things and come from so many different places, but the music represents all of us.
"It's been a real crash course," she continues. "We haven't been a band for very long, but what we have feels very special, and it's made us a strong unit. I think that we represent something that people need to see right now."
"This band has already made our dreams come true," Ori concludes. "I've waited all my life to be in a band like this, and it's amazing to me that I get to play with these people every night. Our goal is to keep doing this for a long time and leave our mark. We're trying to build a legacy."
Maggie Rose
The third album from Maggie Rose, Have a Seat is the work of a phenomenally gifted artist showing the full extent of her power. After years of honing her chops and making her name as a force-of-nature vocalist, the Nashville-based singer/songwriter has dreamed up her own unbridled collision of rock-and-roll, soul, folk, funk, and R&B: a fittingly eclectic sound for a musician whose live experience includes opening for Heart and Joan Jett & the Blackhearts, touring as direct support for Kelly Clarkson, and sharing the Cayamo Cruise bill with Emmylou Harris and Jason Isbell—all in 2019 alone. Centered on the stunning vocal command she's revealed in taking the stage at The Grand Ole Opry over 80 times, Have a Seat f inds Rose approaching her music with more confidence and clarity of vision than ever, ultimately sharing a selection of songs both timeless and urgent.

Produced by Ben Tanner of Alabama Shakes, Have a Seat came to life at the iconic FAME Studios in Muscle Shoals, AL. In a series of pre-pandemic sessions, Rose recorded live with a lineup of heavy-hitters that includes bassist David Hood of the Swampers (the group of session musicians who played on records from legends like Aretha Franklin and Etta James) and guitarist Will McFarlane (Bonnie Raitt, Levon Helm), along with her longtime bandmates/collaborators Larry Florman (background vocals/percussion), Alex Haddad (guitars), and Sarah Tomek (drums) of Them Vibes. Also featuring an esteemed string section and swampy horn ensemble—in a way that's never been so integral to Rose's sonic aesthetic— Have a Seat continues the free-flowing musical exploration she first began on her powerhouse 2018 album Change the Whole Thing. "I had the idea of recording at FAME in the back of my mind throughout the entire writing process for this project," says Rose, who first visited the studio upon performing as part of the Muscle Shoals to Music Row program in late 2018. "I took a lot of inspiration from the Aretha Franklin and Wilson Pickett records that came out of that very room, playing up my R&B sensibilities more than ever and really tapping into my soul and its connection to this music."

Like any great soul singer, Rose beautifully captures the tensions of the current moment, gently presenting her pensive social commentary while providing much-needed reprieve from the everyday chaos. "These songs were written during a contentious time, and there are undertones to the lyrics that are influenced by the state of our world politics and the politics of the music industry," she says. "The title Have a Seat is responsorial, placing an emphasis on inclusivity—like, 'Here, sit down. Let's try talking to each other.' One of the most loving things we can do is listen and make others feel heard—give people the space to speak their mind and be themselves. However, there's also an intended meaning to the title that points to the power in occupying the seat that's designated to you: I am claiming a seat I believe is rightfully mine, and I want others to do the same."

One of the lead singles to Have a Seat , "For Your Consideration" arrives as a full-hearted plea for understanding and compassion, its smoldering verse and stormy chorus brilliantly mimicking the back-and-forth of a heated argument. "When I wrote that song I'd just been in L.A. and seen all the billboards on Sunset for some awards show that was about to happen," says Rose. "I decided to repurpose the phrase 'For Your Consideration' to make it about the aftermath of a fight, where the people are so caught up in saying what they want to say that they never actually listen to each other."

The slow-burning opening track to Have a Seat, "What Are We Fighting For" offers a gorgeous introduction to the album's message of loving solidarity, its power intensified by Rose's tender yet mighty vocals and the soul-soothing harmonies of Karita Law and Shanay Johnson (a duo known for their work with Brittany Howard and Emily King). On "Do It," Rose veers into a brighter mood, bringing fiery horns and breezy rhythms to a personal mission statement she sums up as "doubling down on being an individual." With its ethereal textures and hypnotic guitar tones,

"Saint" unfolds as a delicate refusal to succumb to the expectations of others. ("That song's about admitting to not being perfect and being okay with that," says Rose. "It's something we should stop expecting of women—because women are many things, and saintly is not a requirement.") And on tracks like "Are We There Yet"—a crystalline piece of symphonic pop graced with lush and luminous string work—Rose ventures into unsparing self-reflection. "'Are We There Yet' is a song about the way we all torture ourselves with our ambitions," she says. "Instead of always thinking about the next thing I want to go out and get, I'm trying to just focus on enjoying what I already have—which is really pretty great."

With its standouts also including "What Makes You Tick" (a gloriously funky track co-written with and featuring blues guitarist and Grammy nominee Marcus King), Have a Seat finds Rose boldly elevating her songwriting and sound while reclaiming the joyful freedom of her early years. Growing up in Maryland, she cut her teeth sneaking into nearby bars to sing with a Bruce Springsteen cover band at the age of 16, then moved to Nashville several years later after being discovered as a potential breakout country star. Although she soon achieved major success on Music Row and earned acclaim from the likes of the New York Times—who hailed her as a "sturdy heartbreaker...full of astute, aggrieved songwriting...and attitude that even in the post-Miranda Lambert era feels knifelike"—Rose grew increasingly restless within the confines of country. After expanding her musical palette on Change the Whole Thing , she found herself embraced by luminaries in the rock and pop and Americana worlds, and even became massively beloved by the jam-band community (thanks in no small part to her exhilarating performance at the Peach Music Festival in 2019). Quickly gaining recognition as a fiercely independent artist, she was eventually tapped by Osiris Media to create "Salute the Songbird with Maggie Rose": a weekly podcast based on candid conversations between Rose and her favorite female trailblazers in music, including Martina McBride and Go-Go's bassist Kathy Valentine.

For Rose, the charmed experience of recording in Muscle Shoals has catalyzed the start of a thrilling new era in her musical evolution. "Working with musicians of that caliber and knowing they were giving my music so much attention definitely made me thrive," she says. "I felt so safe going deep into the emotional places within the songs, and I think you can feel that love and camaraderie when you listen to the record." At the same time, Have a Seat is undeniably the sound of an artist fully coming into her own, without concession or compromise. "I've worked in this industry for over a decade, and I feel like I've finally carved out a lane that's genre-bending and all my own," she says. "I had to really fight to find that space for myself, and this record is my way of staking my claim."
Bre Kennedy
Singer-songwriter Bre Kennedy creates music soaked in rich storytelling with piercing pop sensibilities. For many years she wrote with other artists and for other artists, and is now allowing her own music to take center stage. Influenced by mesmerizing talents like Brandi Carlile, Fleetwood Mac, Tom Petty and Cat Power, her delicate, raspy sound simply soars. Throughout her music, she touches on profound themes of life's messy moments and self-growth. She has been featured on notable publications such as Billboard, Atwood Magazine, Paste Magazine and American Songwriter. The singer has also opened for renowned artists such as Sheryl Crow, Gary Clark Jr. and Birdtalker. In 2019 she released her acclaimed, buzzworthy EP Jealous of Birds making her a definite artist to watch. With her second EP released the following year in 2020 Twenty Something, she continues to build that momentum leading to an exciting release of her forthcoming debut album arriving this fall 2021.