The Kills: God Games Tour
Heartworms
Doors: 6:00 PM
/
Show: 8:00 PM
18 & Over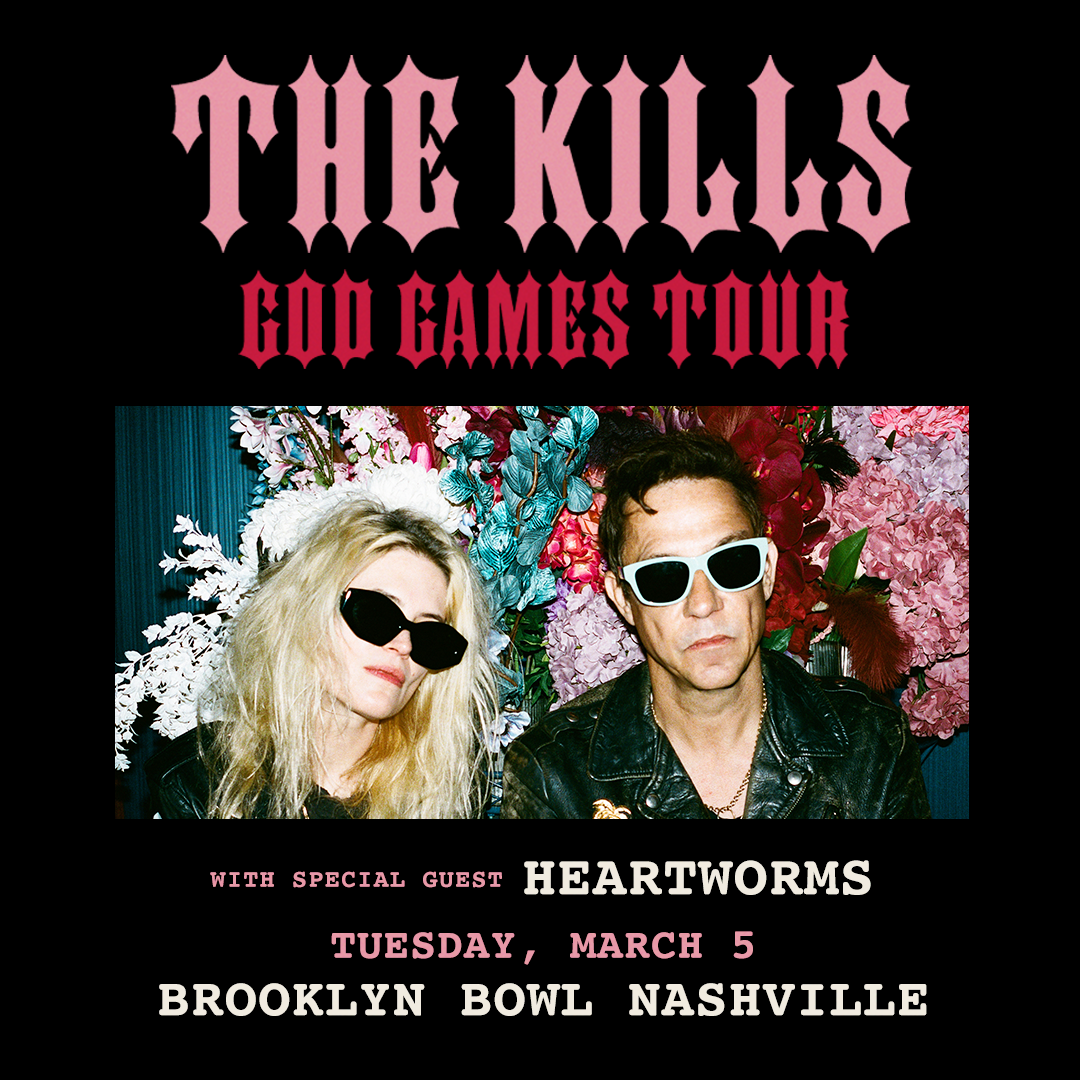 Event Info
Venue Information:
Brooklyn Bowl Nashville
925 3rd Avenue North
Nashville, Tennessee 37201
This event is 18+, unless accompanied by a parent or legal guardian. Valid government-issued photo ID is required for entry. No refunds will be issued for failure to produce proper identification. Want to have the total VIP experience? Upgrade your ticket today by reserving a bowling lane or VIP Box by reaching out to nashvilleevents@brooklynbowl.com There is a delivery delay on this event until 72 hours before event date and time.

This ticket is valid for standing room only, general admission. ADA accommodations are available day of show. All support acts are subject to change without notice. Any change in showtimes or other important information will be relayed to ticket-buyers via email. ALL SALES ARE FINAL Tickets purchased in person, subject to $3.00 processing charge (in addition to cc fee, if applicable). Sales Tax Included *Advertised times are for show times - check Brooklyn Bowl Nashville website for most up-to-date hours of operation*
Artist Info
The Kills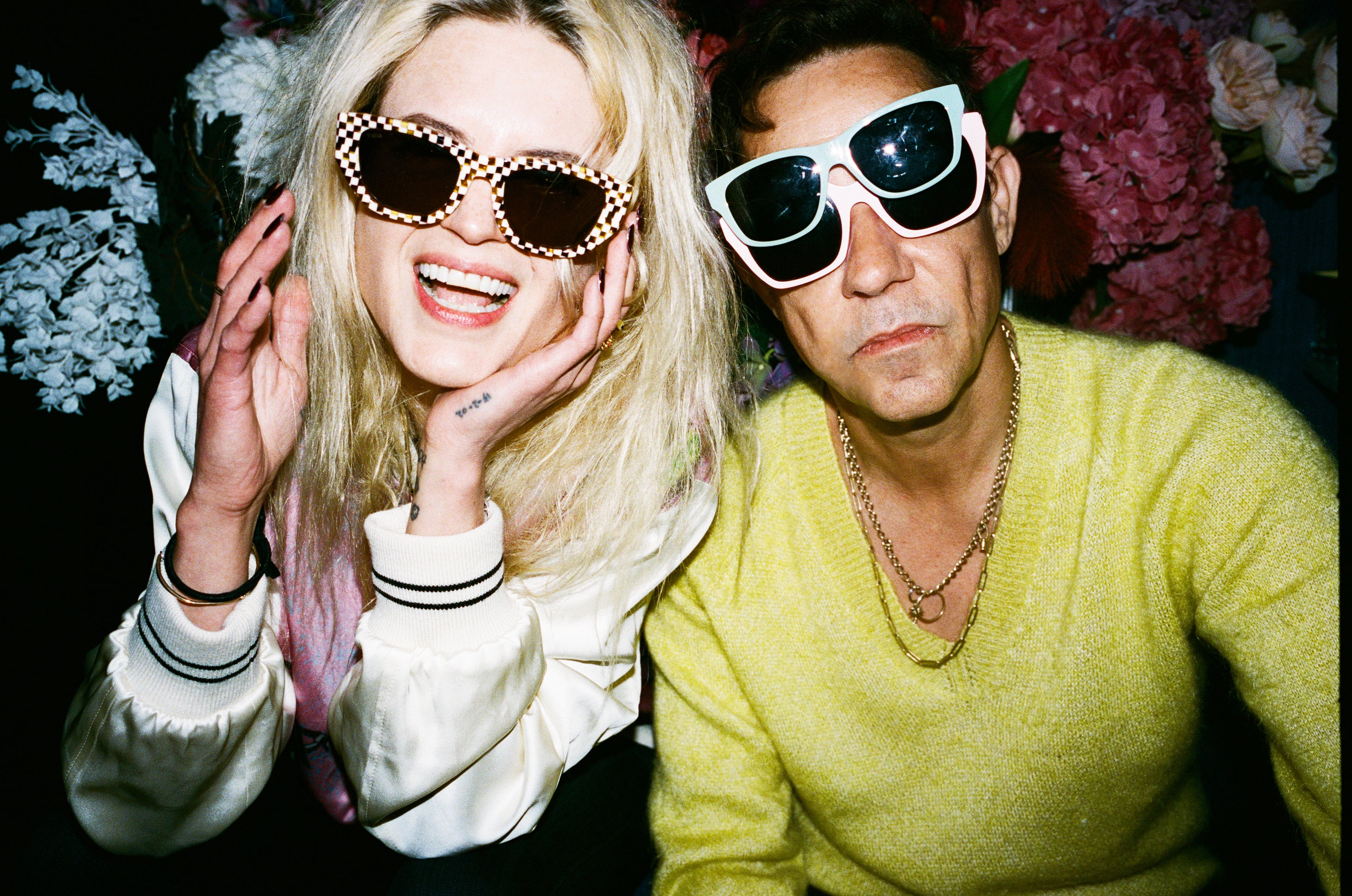 Whether we look for him or not, we all find God somewhere. It could be in nature. It could be in church. It could be in the metaverse. It differs for each and every one of us. In terms of where God might be, The Kills aren't necessarily saying, but the duo—Alison Mosshart [vocals] and Jamie Hince [guitar]—certainly sound like they've seen him. How else could you explain the primal call-and-response between Alison's full body blues-soul vocal catharsis and Jamie's swaggering, guillotine-smooth guitar transmissions on the duo's sixth-full length offering, God Games [Domino].
"I wanted to write a record of godless spirituals," Jamie states. "In real life, I'm an atheist. Creatively, I play with God a lot though. I liked occupying the space between those opposites."
"In this space, it's hard to be dishonest," Alison elaborates. "This is a diary entry of seven years. It's a canvas of time for us."
The Kills have emerged as international rock stars, setting the pace for the genre, shaping this era's sound, and redefining what rock music can be in the 21st century. They've tallied hundreds of millions of streams across albums such as Keep On Your Mean Side [2003], Midnight Boom [2008], and Blood Pressures [2011]. Most recently, Ash & Ice [2016] spawned fan favorites, including "Doing It To Death" and "Heart of a Dog." Inciting critical applause, Pitchfork hailed the latter as "an ambitious record that encompasses everything they've done before," and DIY rated it "4 stars." They're the rare force of nature who can tour with Queens of the Stone Age or Guns N' Roses and light up Coachella. Moreover, their music has surged through dozens of television series and films, including the Academy® Award-nominated Children of Men.
Returning home from the road in 2019, Alison and Jamie commenced writing for what would become God Games. However, the old adage, "Make plans, God laughs," couldn't have been more apropos.
"We started to share ideas and, suddenly, there was a Pandemic," Alison goes on. "There was this strange gap where the universe collapsed in the middle of the album. Sometimes, you have to dig into uncomfortable places to get something good. I feel like we've done that on this record."
"There was a point amidst the dead time where the creative road was really open," Jamie observes. "You could afford to try things you wouldn't have in a stricter timeframe. I wanted to write from a different perspective. I was starting demos with keyboards and trumpet sounds. I was initially going to do a side project because I wanted to make music that wasn't like The Kills. We quickly realized it was The Kills."
Stretching boundaries, Jamie encouraged Alison to "buy this 100-dollar keyboard and try to write." She added another creative tool to her arsenal, while he tinkered with textures, sounds and "wrote on guitar less than ever," opting to primarily compose on piano for the first time. This powerful combination of forces gave the album its own sonic identity, a new path forged in the pair's creative bond.
The Kills conincidentally decamped to an old church (a bit ironic now isn't it?) where they recorded with old friend and Academy® and GRAMMY® Award-winning producer Paul Epworth [Adele].
"Paul was our very first soundman in 2002," recalls Jamie. "Since he was with us when we had two amps, a lightbulb, and a couple of mics in a van, it seemed perfect. He knew how far it had come and could trace the thread back."
Now, the opener and single "New York" conjures classic The Kills with its sticky guitar riff punctuated by dramatic horns and a booming rhythm. Alison leans into her bluesy croon as she raves, "Hey, you taste just like New York before a storm takes hold."
"It was one of the songs I wrote on the crappy keyboard," she smiles. "It's a love song to New York. Jamie showed me the riff, I was like, 'Can you fuck off?! That is insane," she laughs.
"LA Hex" layers warped trumpets over a glitchy beat. Alison's breathy spoken word-style delivery instantly captivates underlined by choral harmonies.
"I didn't take the guitar out of its case at first," Jamie reveals. "I was playing around with these crazy sounds and I didn't see how we could incorporate them, but Alison was like, 'Oh my God, this is amazing!" It was a new path."
"When I heard where he was going, it gave me the confidence to keep writing," she remembers. "'LA Hex' set the boundary and tone."
Then, there's "103." Keyboards moan through clapping only to give way to a distortion-backed refrain. "I was driving back and forth from LA to Nashville in the Pandemic," Alison goes on. "It was so hot outside. There was an apocalyptic vibe. It's like a dark twisted love song."
An upbeat bounce underlines "Wasterpiece" as the bassline buoys a dynamic vocal back-and-forth.
"The lyrics speak to a couple of things," Jamie goes on. "It's a bit of a mish-mash between this feeling I had about an ex-girlfriend and a day dream. You can interpret a few different ways."
"For me, it's a meditation on time, place, and feeling," notes Alison. "Like a painting, the nature of a song keeps changing and starts informing you—rather than you informing it. Our favorite music will do that."
"My Girls My Girls" weaves together lyrical guitar with a percussive backdrop, melting into the chemistry of the Compton Kidz Club Choir. "It's about people I've let down," Jamie admits. "I'm meeting them further down the road. It has a nice mantra with the choir."
"What holds this band together is love and faith in two people," Jamie concludes. "She makes me cry a lot in what she says to me when I'm down. It's been over twenty years, and I'll say it, 'Our relationship is fucking rad'."
"There's not a day where we don't talk on the phone at least four times," Alison leaves off. "We take care of one another. We push each other to be better. We're patient with each other. It's an unbelievable partnership with endless creativity; it's the coolest thing in the world."
Heartworms