Saturday,
April
15th
, 2023
The Connells
Surender Human
Doors: 6:00 PM
/
Show: 8:00 PM
18+ Years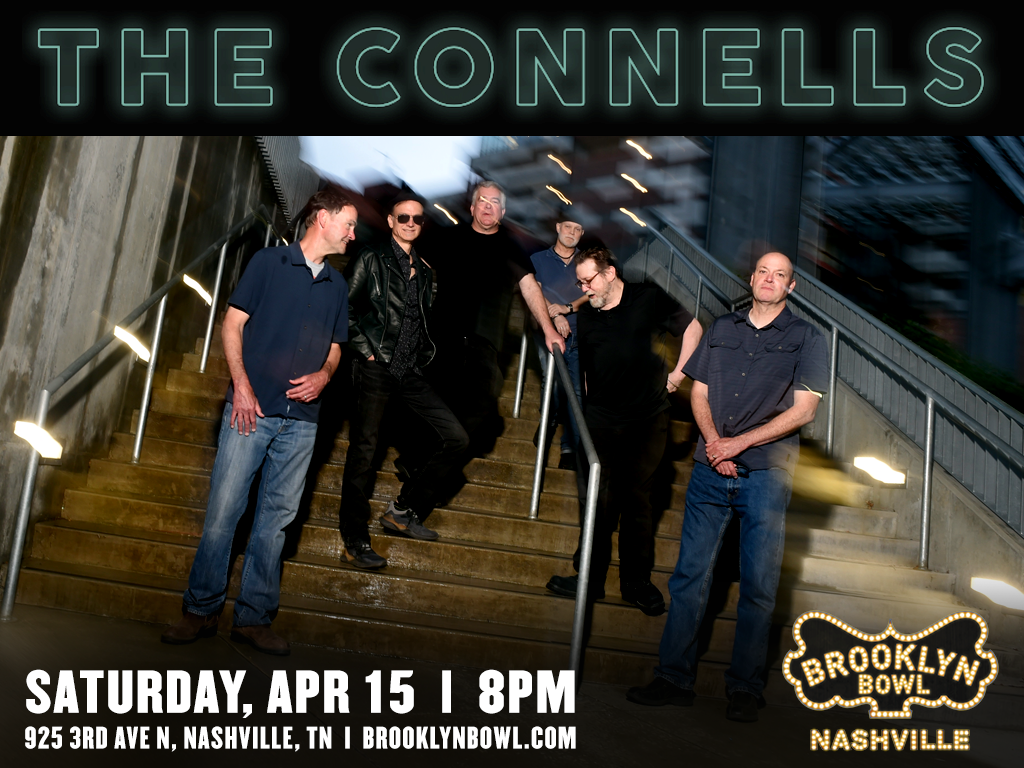 Event Info
Venue Information:
Brooklyn Bowl Nashville
925 3rd Avenue North
Nashville, Tennessee 37201
In order to prevent scalper activity there is a delivery delay on everyone's tickets. You will receive an email from Ticketweb 1 week prior to the show's start time and you can pull up the tickets off your phone and scan them at the door.

This event is 18+, unless accompanied by a parent or legal guardian. Valid government-issued photo ID is required for entry. No refunds will be issued for failure to produce proper identification.
This ticket is valid for standing room only, general admission. ADA accommodations are available day of show.
All support acts are subject to change without notice.
Any change in showtimes, safety protocols, and other important information will be relayed to ticket-buyers via email.
Want to have the total VIP experience? Upgrade your ticket today by reserving a bowling lane or VIP Box by reaching out to nashvilleevents@brooklynbowl.com
ALL SALES ARE FINAL
Artist Info
The Connells
RALEIGH, N.C. – The Connells, one of North Carolina's most successful indie rock bands, have new music on the way for the first time since 2001. They'll break their recording hiatus with "Steadman's Wake," a new 11-song album that will be released September 24th, 2021.
Beyond the fact that "Steadman's Wake" is the group's first new release in over 20 years, it is the first Connells' album to feature their two newest members, guitarist Mike Ayers and drummer Rob Ladd (who have been in the lineup since 2002 and 2012, respectively), and the band's first record made up of songs contributed solely by Mike Connell, who happens to take on a more prominent role as vocalist.
Additionally, the title track, "Steadman's Wake," represents the first time The Connells have ventured into overt politics. Previously, the group tended to let actions and implications do the talking when it came to current events. But taking a more concrete and literal stand was something the times seemed to demand. With references to war, the opioid crisis and the white-supremacist rioting that roiled Charlottesville, Va., in 2017 (and were reprised in the January 6, 2021, assault on the U.S. Capitol in Washington, D.C.), there is no mistaking the message of "Steadman's Wake."
"We've had some oblique socio-political bits here and there over the years," says Mike Connell. "But never as direct as this. It seems like it's time. It's scary, where we still stand in this country with issues of race. Of the 11 songs on the record, the clear consensus within the band was that 'Steadman's Wake' best reflected the band's take on the temper of the times and best represented the "spirit" of the record."
Off-record and onstage, The Connells have been no strangers to political activism over the years, going back to benefit shows they played for Harvey Gant when he was running against controversial Republican U.S. Sen. Jesse Helms. Nevertheless, taking a musical step into current events was not a decision they made lightly. But as frontman Doug MacMillan concurs, the times are dire enough to demand a response.
"Even the least politically minded bands are saying things now because they need to be said," MacMillan says. "Mike's never been one for hitting anybody over the head with an agenda, and his lyrics tend to be pretty subtle. But I'm glad we did this. I'll be interested to see what people think."
Even though it's been 20 years since their last recording, The Connells never quit playing live, and Mike Connell never quit writing songs. Eventually enough material came together to suggest it was finally time to make another record. "Steadman's Wake" features eight new songs that have never been released, while three of the album's songs previously appeared in different versions on 2001's "Old-School Dropouts" – a collection of demos recorded at the group's practice space.
This time, however, they decided to record in a proper studio for the first time since 1998's "Still Life," the final album the band recorded for TVT Records. The "Steadman's Wake" sessions took place at Durham's Overdub Lane and Fidelitorium Recordings, the Kernersville, N.C., studio run by North Carolina Music Hall of Famer Mitch Easter (famous for his work with R.E.M., Game Theory and his own band Let's Active). John Plymale, whose studio credits include Meat Puppets, Superchunk and Squirrel Nut Zippers, produced "Steadman's Wake," with cameo guests including Ben Folds Five and Surrender Human bassist, Robert Sledge.
With the exception of Rob Ladd being sidelined for several months in the wake of a serious 2018 car accident, things went smoothly on the whole.
"Rob hit a dump truck head-on at 60 miles an hour," Mike Connell says. "The first responders were dismayed that he actually survived, but he's a strong guy. That obviously put things on hold for a while, but we kept working on the record in fits and starts when we could. The impulse was to take one last crack at getting back in the studio and do one more proper record."
"Steadman's Wake" was originally to have been released in 2020 but was held up due to the pandemic, a hard delay for a band that had waited so long for this followup. It joins the catalog as The Connells' ninth full-length album in a career going back to 1984. That was when the band first formed in Chapel Hill at the University of North Carolina, debuting a year later with "Darker Days." Their 1987 Mitch Easter-produced album "Boylan Heights" established The Connells as college-radio favorites, and they went on to work with producers including Gary Smith, Hugh Jones and Lou Giordano on subsequent albums.
Three Connells albums made the Billboard 200 charts in America, but their biggest commercial success came overseas. "'74- '75," a pensive and moody ballad from 1993's Giordano-produced LP "Ring," reached the top-10 in 11 different European countries in the mid-1990s (including No. 1 in Sweden and Norway). The song's evocative time-traveling video, juxtaposing then-and-now photos of alumni from The Connells' hometown Broughton High School, also earned a cult following with fans making their own video versions.
"We've been trying to figure out if there's some kinda theme to this new record," says MacMillan. "If anything, I'd say it's 20 years older. The minor-key-heavy chord progressions and the way Mike puts songs together, still give it dark undertones. But the lyrics seem a little more upbeat than before, even if it still has that longing aspect. It feels a little more grown-up than we've done in the past - more upbeat and not quite as cynical. Every record we've ever made, we've thought it was the last one. Maybe this really will be it. Then again, as long as we're still playing, chances are that Mike will still be writing songs. We'll see."
The Connells
Mike Ayers -- guitar
David Connell – bass
Mike Connell – guitar, vocals
Rob Ladd -- drums
Doug MacMillan – vocals
Steve Potak – keyboards
Surender Human
Surrender Human is a three-piece North Carolina rock machine featuring members of notable Chapel Hill bands The Mayflies USA and Ben Folds Five. Guitarist Matt McMichaels, bassist Robert Sledge, and drummer Tony Stiglitz (Jett Rink, Chris Stamey Band) knew each other from bars and shows back in the wild heyday of the Chapel Hill indie rock scene, and their sound is an effortless combination of Southern pop hooks, sloppy Replacements guitars, Big Star harmonies, melodic bass lines, and Clem-Burke-meets-Charlie-Watts drums. Surrender Human's self-titled 2020 debut album was produced and engineered by Robert Sledge using all the gear he has been collecting since the recording of Ben Folds Five's "Whatever and Ever Amen." That album was followed by several pandemic-era singles, and the band are currently working on their follow up album. They are excited to be joining The Connells on tour again.