Friday,
December
8th
, 2023
Relix Presents
Futurebirds w/ Special Guest Carl Broemel
Doors: 6:00 PM
/
Show: 8:00 PM
18 & Over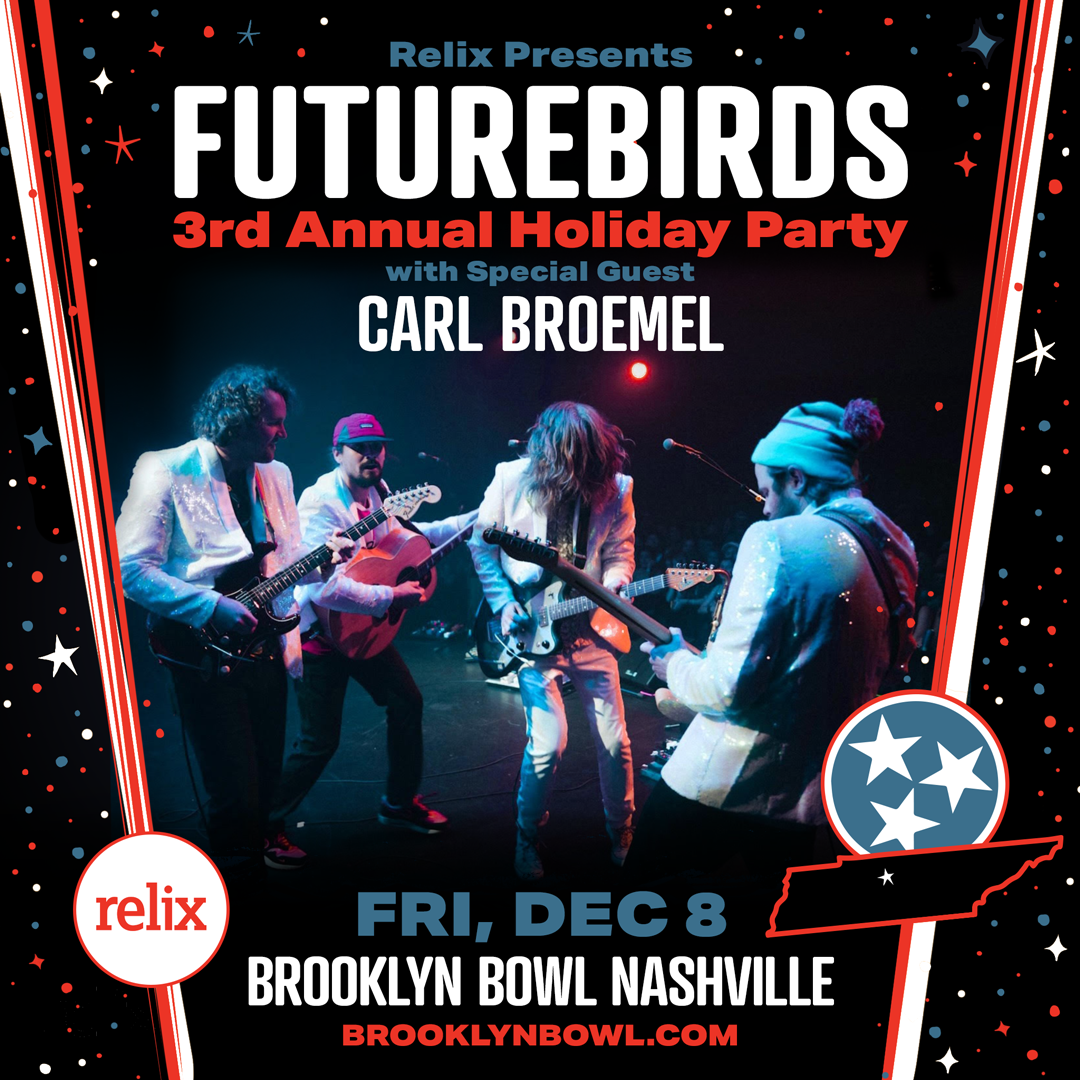 Event Info
Venue Information:
Brooklyn Bowl Nashville
925 3rd Avenue North
Nashville, Tennessee 37201
This event is 18+, unless accompanied by a parent or legal guardian. Valid government-issued photo ID is required for entry. No refunds will be issued for failure to produce proper identification. Want to have the total VIP experience? Upgrade your ticket today by reserving a bowling lane or VIP Box by reaching out to nashvilleevents@brooklynbowl.com

This ticket is valid for standing room only, general admission. ADA accommodations are available day of show. All support acts are subject to change without notice. Any change in showtimes or other important information will be relayed to ticket-buyers via email. ALL SALES ARE FINAL Tickets purchased in person, subject to $3.00 processing charge (in addition to cc fee, if applicable). Sales Tax Included *Advertised times are for show times - check Brooklyn Bowl Nashville website for most up-to-date hours of operation* There is a delivery delay until 72 hours before the event date and time.
Artist Info
Futurebirds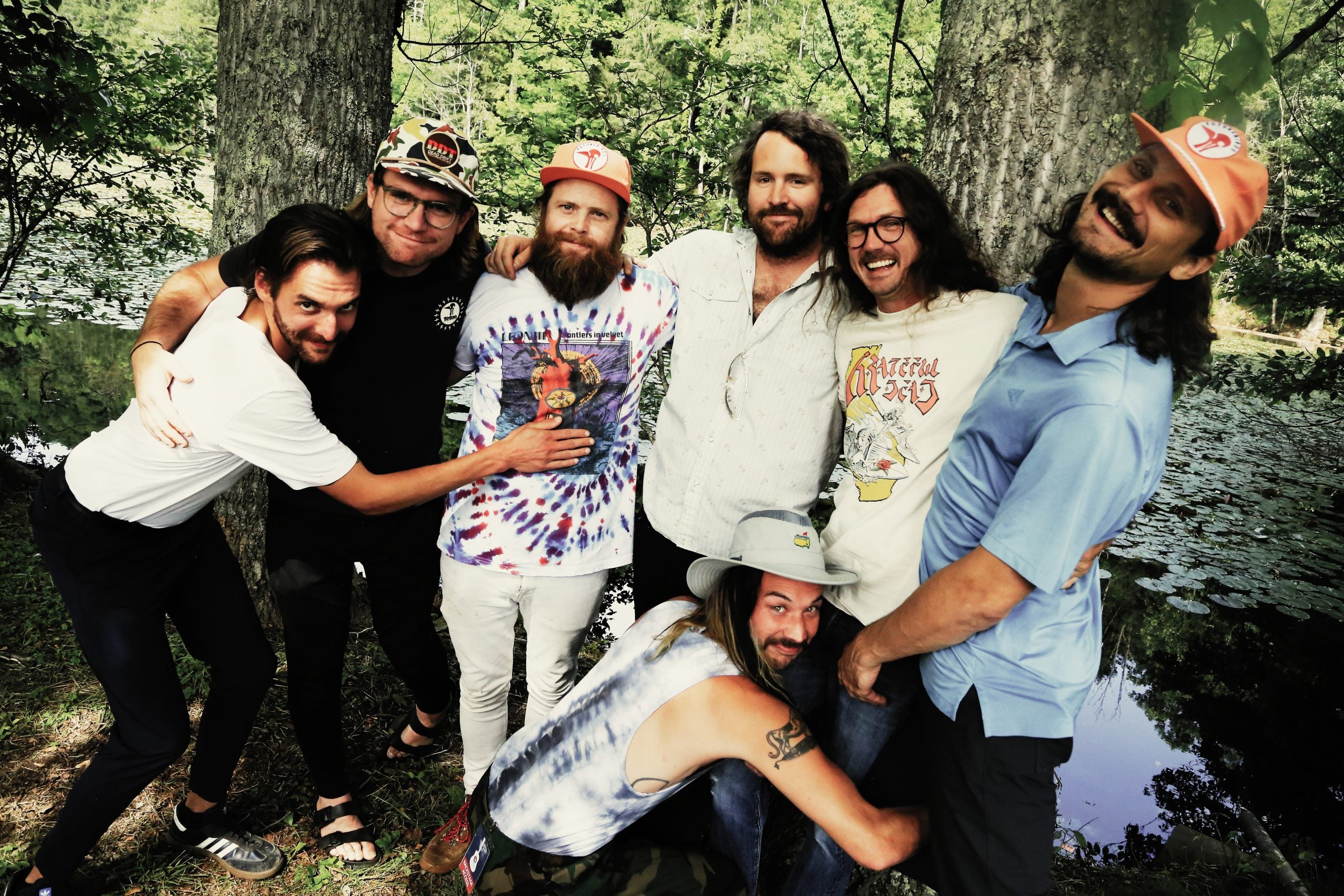 Rock juggernaut Futurebirds' newest EP, Bloomin' Too, is a benchmark that not only celebrates 13 years together, it's also a testament to the sheer iron will of a group of musicians hungry for the fruits of its labor.

"Futurebirds is the best it's been right now, far and away," says singer/guitarist Carter King. "We've been unintentionally carving out our own space since the beginning, since we never exactly fit in anywhere else musically. We were always too indie rock for the jam festival, too country for the indie scene, a little too psych-rock to feel like we were Americana. The music over the years just kind of created its own weird little ecosystem -- it's thriving and it feels great."

The Athens, Georgia-based group once again tapped storied My Morning Jacket guitarist/producer Carl Broemel in the latest chapter of this seamless, bountiful partnership that initially came to fruition with the 2021 EP, Bloomin.'

"Carl is extremely perceptive and an all-around smart dude. He's really in tune with what the band is and what it strives to be. He's engaged and understands our vision," King says. "He's a longtime hero of ours, and now is a friend and collaborator. It's wild. And it's great to be able to defer to someone you respect so much with creative decisions in the studio -- we don't just give that trust to just anybody."

Captured this past spring at the legendary Ronnie's Place in Nashville, Tennessee, the seven-song Bloomin' Too is a vortex of sonic textures. The album ricochets from cosmic space, rock to rough around the edges, alt-country dreamscapes, sandy beach bum odes to kick in your step pop ballads -- all signature tones and musical avenues at the core of the Birds' wide musical palette.

"This is probably the quickest turnaround we've ever had for a record -- we felt confident right when we got into the studio and just cranked it out," says singer/guitarist Daniel Womack. "All of our frequencies are aligned as a band, where we've got this free-flow of ideas happening. We're all on the same page right now and we have a lot of momentum going."

For Broemel, he finds a sincere kinship and solidarity with Futurebirds. Witnessing first-hand the band's blue-collar work ethic in the studio, Broemel was impressed and inspired by the 'Birds' democratic ways and means in how music is created and cultivated in the studio.

"Futurebirds have this unique vibe with three singer-songwriters in the band, where everyone is constantly shifting their function depending on the song," Broemel says. "Everyone just kind of falls into place and finds something to contribute. Someone will lead the charge on one song, then fall back and let another take charge on the next -- it's something rare to see and behold in rock music, where normally there's just one songwriter and one leader."

That camaraderie between founding members King, Womack, singer/guitarist Thomas Johnson and bassist Brannen Miles began when they were college students at the University of Georgia. In recent years, the quartet has added pedal steel player Kiffy Myers, keyboardist Spencer Thomas and drummer Tom Myers.

"It's the best feeling in the world to be up there onstage, to look across and see these other super talented dudes all stoked to be there," King says. "We're brothers and family and all that, but what's truly most impressive is that we've remained good friends on top of that. At the end of the day, for us, it's always been about having a good time. That's what keeps this thing moving."

From there, it's been endless miles on that old lost highway. It's this rollercoaster of emotions, thoughts and actions -- gig after gig, year after year -- where now the band will be making its debut at Red Rocks Amphitheatre for a highly-anticipated two-night run (Oct. 3-4) alongside indie-rock darlings Caamp.

"It was pure elation when we were offered Red Rocks," Womack says. "Everything we've been working towards has always included being able to play Red Rocks someday -- it's a big win for us and such a gratifying feeling."

And though Futurebirds have offered up another instant classic release with Bloomin' Too, the foundation of the group's ethos, attitude, and rabid fan base remains its live shows -- these undulating waves of sound, energy and passion spilling out onto the audience in this two-way street of respect and admiration.

"The line between the stage and the audience has always been blurred, and we've definitely carried ourselves that way since the beginning," Womack says. "The early days of rock-n-roll were about the mysticism surrounding musicians and bands. That's never been us. We want to embrace our fans, to actually hang out and get to know them -- they're all part of the BirdFam.'"

Reflecting on the last 13 years, King can only shake his head in awe of what has transpired over that time period for Futurebirds, personally and professionally. From playing empty dive bars to selling out theaters coast to coast, from college kids to now husbands and fathers -- the sacred flame of music, creativity and performance continually cradling and nurturing deeply-held dreams.

"You start out doing this solely because it's fun and you have no preconceived notion of what's going to happen or what it should be. And then, you get a taste of this possibly being your actual life," King says. "Maybe you get too serious about it, or too wrapped up in how you are being received, or the industry watermarks of success. But, life's just a perception game. It's about having fun and aligning yourself with the right people. The community that's built up around us has made it real easy to peel back all that brush and noise and see this thing for what it really is."