Tuesday,
November
14th
, 2023
Peter McPoland: The Piggy Tour
Stephen Dawes
Doors: 6:00 PM
/
Show: 8:00 PM
All Ages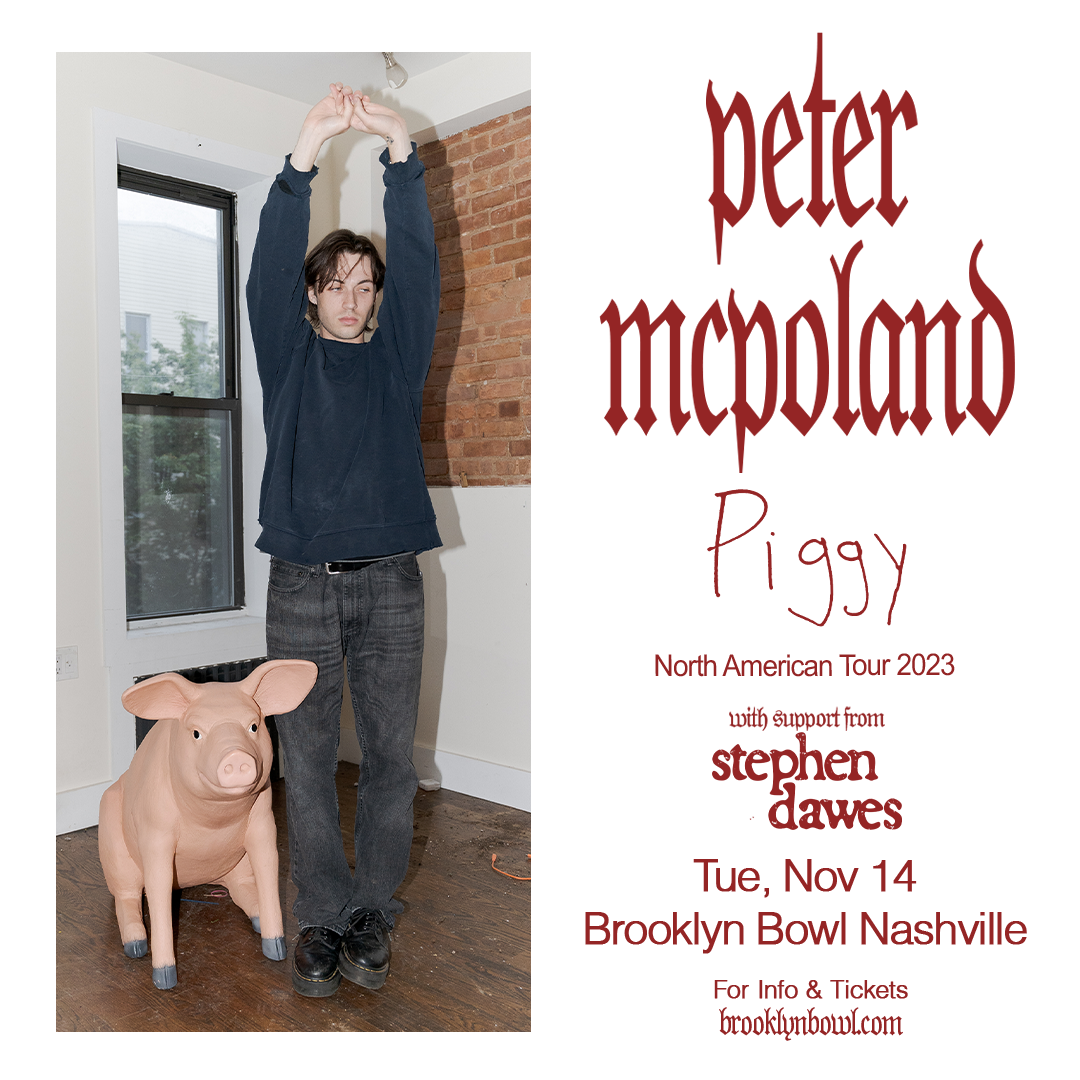 Event Info
Venue Information:
Brooklyn Bowl Nashville
925 3rd Avenue North
Nashville, Tennessee 37201
This event is open to all ages. Valid government-issued photo ID is required to purchase and consume alcohol. Want to have the total VIP experience? Upgrade your ticket today by reserving a bowling lane or VIP Box by reaching out to nashvilleevents@brooklynbowl.com

This ticket is valid for standing room only, general admission. ADA accommodations are available day of show. All support acts are subject to change without notice. Any change in showtimes or other important information will be relayed to ticket-buyers via email. ALL SALES ARE FINAL Tickets purchased in person, subject to $3.00 processing charge (in addition to cc fee, if applicable). Sales Tax Included *Advertised times are for show times - check Brooklyn Bowl Nashville website for most up-to-date hours of operation*
Artist Info
Stephen Dawes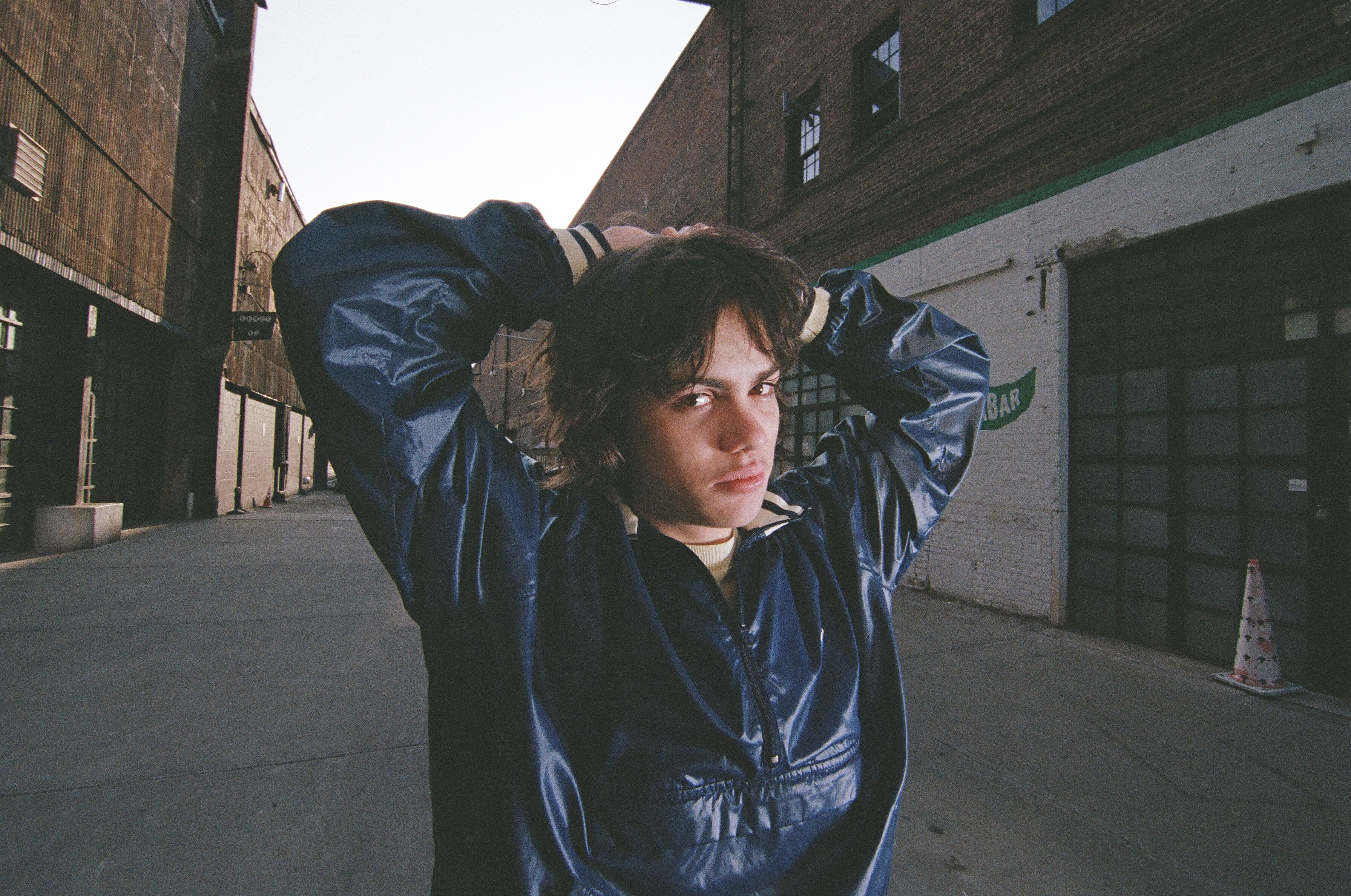 Classic coming-of-age stories place us in the shoes of the protagonist. Stephen Dawes tells his coming-of-age story set against a backdrop of handcrafted alternative pop. Balancing growing up, playing music, while attending the New York University, the singer, songwriter, multi-instrumentalist, and producer tells this tale in real-time with 21st century candor.
After piling up hundreds of millions of streams and earning acclaim from the likes of OnesToWatch and more, Stephen's vision lives and breathes with its own pulse on his 2023 debut EP [Republic Records].
"The EP is about falling in love with someone during the final year of high school, going to college in different places, and trying to stay together, but realizing your lives aren't the same," he notes. "When you fall in love for the first time, you think it's the one, but it often doesn't work out. It was definitely inspired by leaving behind my high school friends and meeting new people in college too."
Born in New York, he spent his early childhood in a small town on Cape Cod. Mom and dad played music constantly as Stephen began piano lessons at four-years-old inspired by artists his parents introduced him to including Flaming Lips, Wilco and Elliot Smith. By fourth grade, his family traded the East Coast for the West Coast, settling in San Francisco. After moving, he started writing original songs. In High School, he joined jazz band, kept up the piano lessons, and learned how to produce on Ableton from a teacher he met through an artist named Underscores.
During freshman year at NYU, he covered Katy Perry's "Teenage Dream" for a school project. His acoustic cover (recorded on a phone) earned a "B," but his rendition eventually overtook TikTok. It exploded with over 117 million Spotify streams and counting as he inked a deal with Republic Records. He maintained his momentum releasing "Friends Don't Keep Secrets," "It Could Be Me," and "Lose My Mind." In the wake of the latter, OnesToWatch predicted, "Stephen Dawes is ready for his big breakthrough with his latest release."
Under the influence of Phoenix, The Strokes, Clairo, Dayglow, The 1975, and Dominic Fike, he wrote and recorded what would become the EP in "bedroom studios in Los Angeles and New York," chronicling "the most influential shift in my life to date."
Now, he introduces this story with the single "19." Its buoyant electric guitar underlines melodic verses before an unshakable hook takes hold. From top to bottom, it exudes live energy reminiscent of New York in the early 2000s.
"I was thinking about what it was like to go out in my hometown with my friends," he says. "'19' is the last year of being a teenager and missing your younger self. I'm a pretty nostalgic person, and I miss the way things were.. It's one of my favorites."
Elsewhere, "Happiest Girl" swoons towards a captivating chorus over a lush "vintage-sounding world." He says, "It's the song where Lucy and I become a real thing.'"
On the other end of the spectrum, "Lucy" hinges on a head-nodding bass line and sparse beat, bottling the butterflies of infatuation.
"The concept is, 'I want to dance with you,'" he goes on. "You meet someone at a party, trade glances, and have a bit of a crush. New York lends itself to meeting people like that. In real life, I wish I was better at prompting the conversation though," he laughs.
In the end, you might just feel at home in Stephen's world.
"I try to capture what it's like to fall in love for the first time — even if it doesn't work out," he leaves off. "I've been trying to figure out who I am, and I've fallen in love with using writing to appreciate every moment."