Thursday,
November
16th
, 2023
Nightly: Wear Your Heart Out Tour
Knox, Abby Holliday
Doors: 6:00 PM
/
Show: 7:00 PM
ALL AGES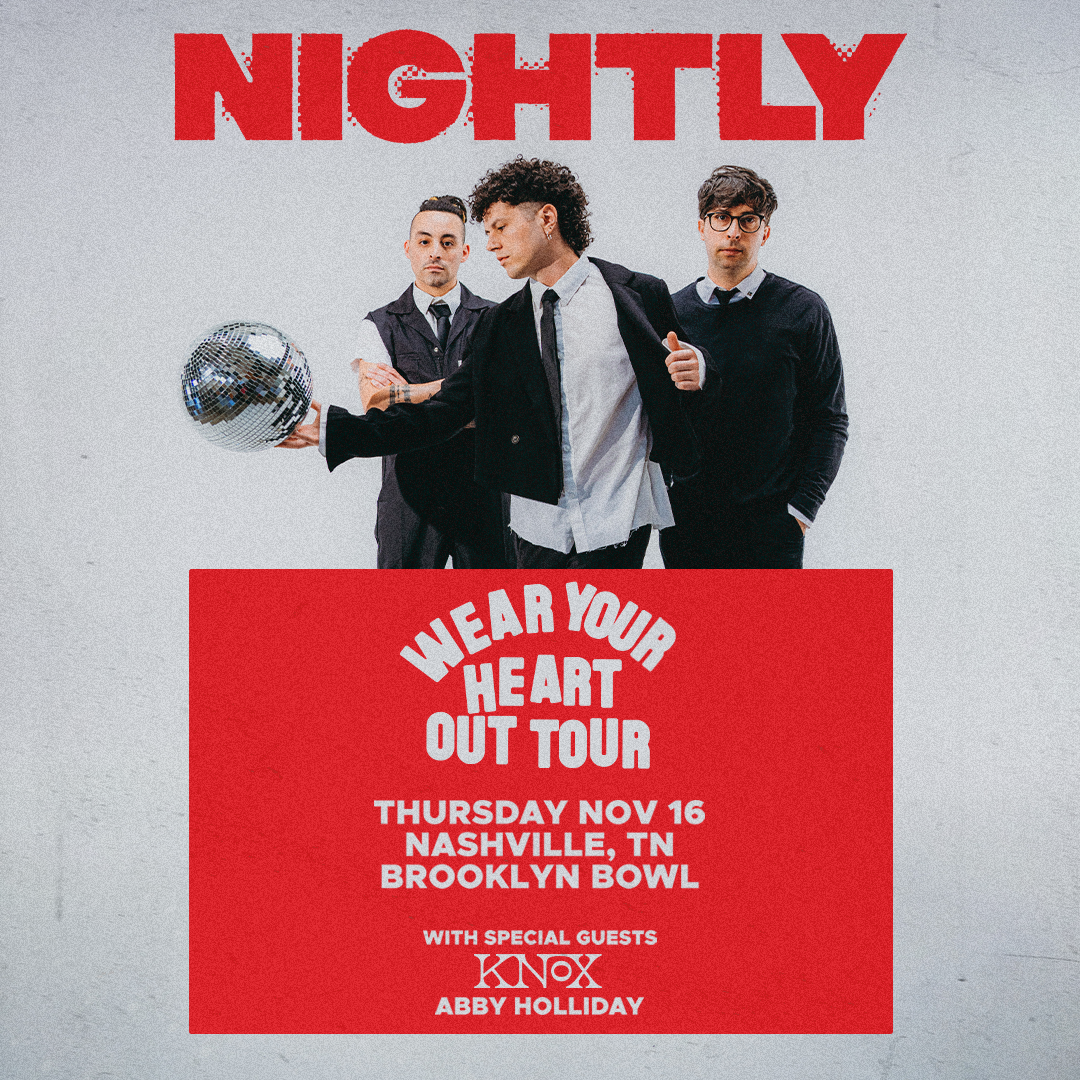 Event Info
Venue Information:
Brooklyn Bowl Nashville
925 3rd Avenue North
Nashville, Tennessee 37201
This event is open to all ages. Valid government-issued photo ID is required to purchase and consume alcohol. No refunds will be issued for failure to produce proper identification. Want to have the total VIP experience? Upgrade your ticket today by reserving a bowling lane or VIP Box by reaching out to nashvilleevents@brooklynbowl.com

This ticket is valid for standing room only, general admission. ADA accommodations are available day of show. All support acts are subject to change without notice. Any change in showtimes or other important information will be relayed to ticket-buyers via email. ALL SALES ARE FINAL Tickets purchased in person, subject to $3.00 processing charge (in addition to cc fee, if applicable). Sales Tax Included *Advertised times are for show times - check Brooklyn Bowl Nashville website for most up-to-date hours of operation*
Artist Info
Nightly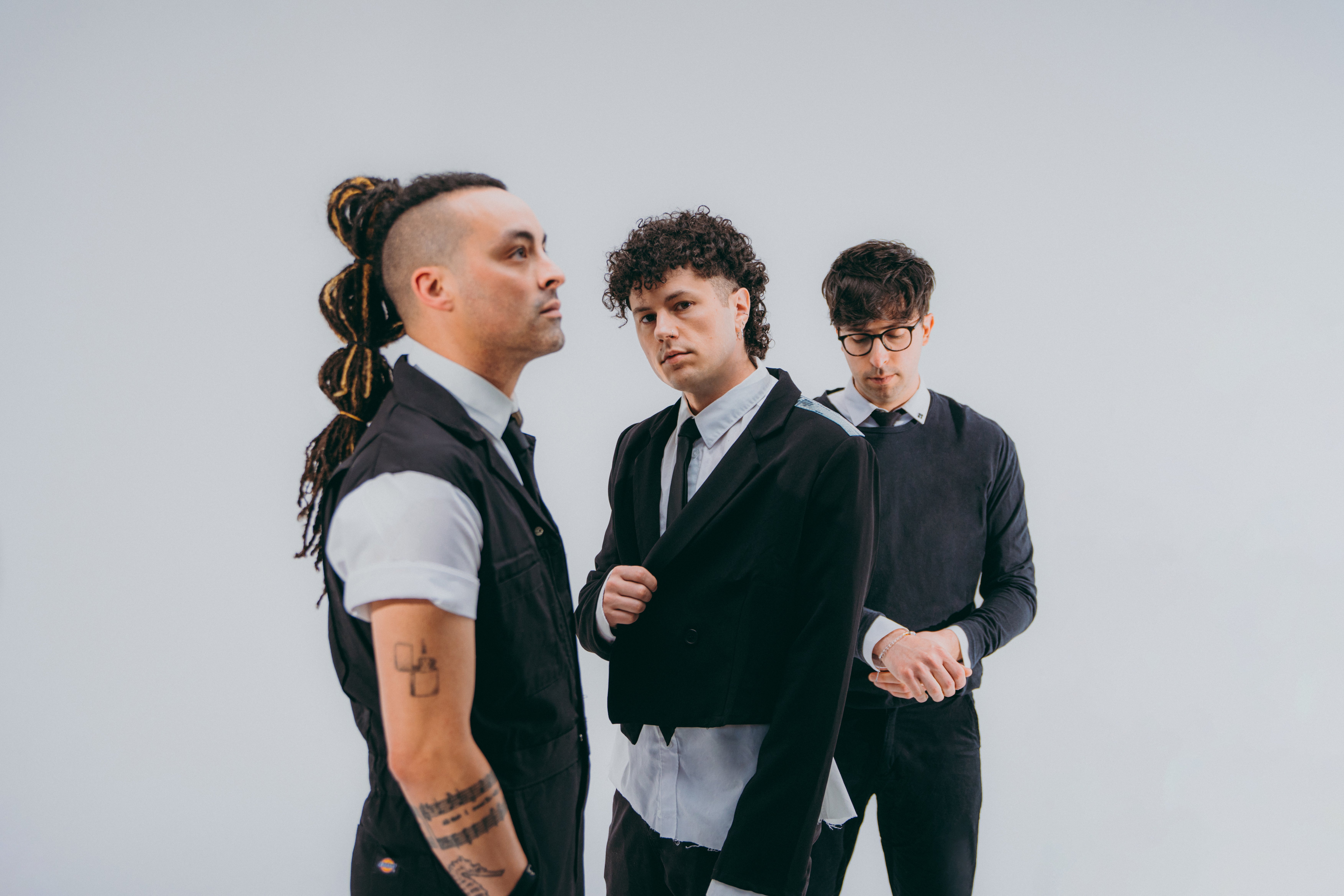 Nashville based alternative pop band, Nightly is comprised of Jonny, Joey and Nick. They named the band after a texting abbreviation for "night, love you." They have toured extensively for both headline tours and in support of artists including: NF, Andy Grammer, The All-American Rejects, K.Flay, and the Struts. Summer 2022 saw Nightly performing Hang Out and Firefly Festivals, as well as supporting The Midnight on their west coast tour. In Fall 2022 Nightly hit the road for their east coast headline tour, selling out venues in Orlando, D.C. and Boston, as well as playing their largest headline show to date at Nashville's Brooklyn Bowl with over 1000 tickets sold. This February Nightly opened for Kane Brown and Imagine Dragons at Super Bowl Music Fest in Phoenix, AZ. On June 6 Nightly announced their greatly anticipated sophomore album 'wear your heart out,' dropped the title track of the album, and also announced their national headline tour of the same name. The 'wear your heart out' tour starts October 5 in Austin, TX, finishing in their hometown at The Brooklyn Bowl Nashville, TN. After consistent success with their earlier EPs, singles and feature on ayokay's song "Sleepless Nights," Nightly released their debut album "night, love you" in 2020. 2022 collaborations include "About You" with NOTD, "Amnesia" with Ayokay, and "why u gotta be like that" with Vaultboy. In response to high demand from fans on TikTok, Nightly released 'hate my favorite band,' 'on your sleeve,' 'dirty white chucks' and 'i wish you loved me,' followed by their most recent releases ''radiohead' and 'dry eyes'. Their sophomore album is scheduled to release in fall 2023. Nightly is signed to Neon Coast for management, UTA for bookings Universal and Combustion for publishing, and recently signed to ONErpm. PRESS ABOUT NIGHTLY "If you're ever in the need for late night bops as you drive home look no further." - Glasse Factory "Night, love you feels deeply personal and individual, causing even the toughest of critics to remember the painstaking highs, lows, and freedom of growing up." - LADYGUNN "Nightly match their inventively textured sound with a guileless approach to lyric-writing… Such ingenuity in merging pure feeling with sophisticated songcraft comes from a near lifetime of devotion to music" - Sonoma Harvest Music Festival "Nightly is able to provide more of a creative insight to relaying different emotions and opposition people tend to feel" - Backward Noise
KNOX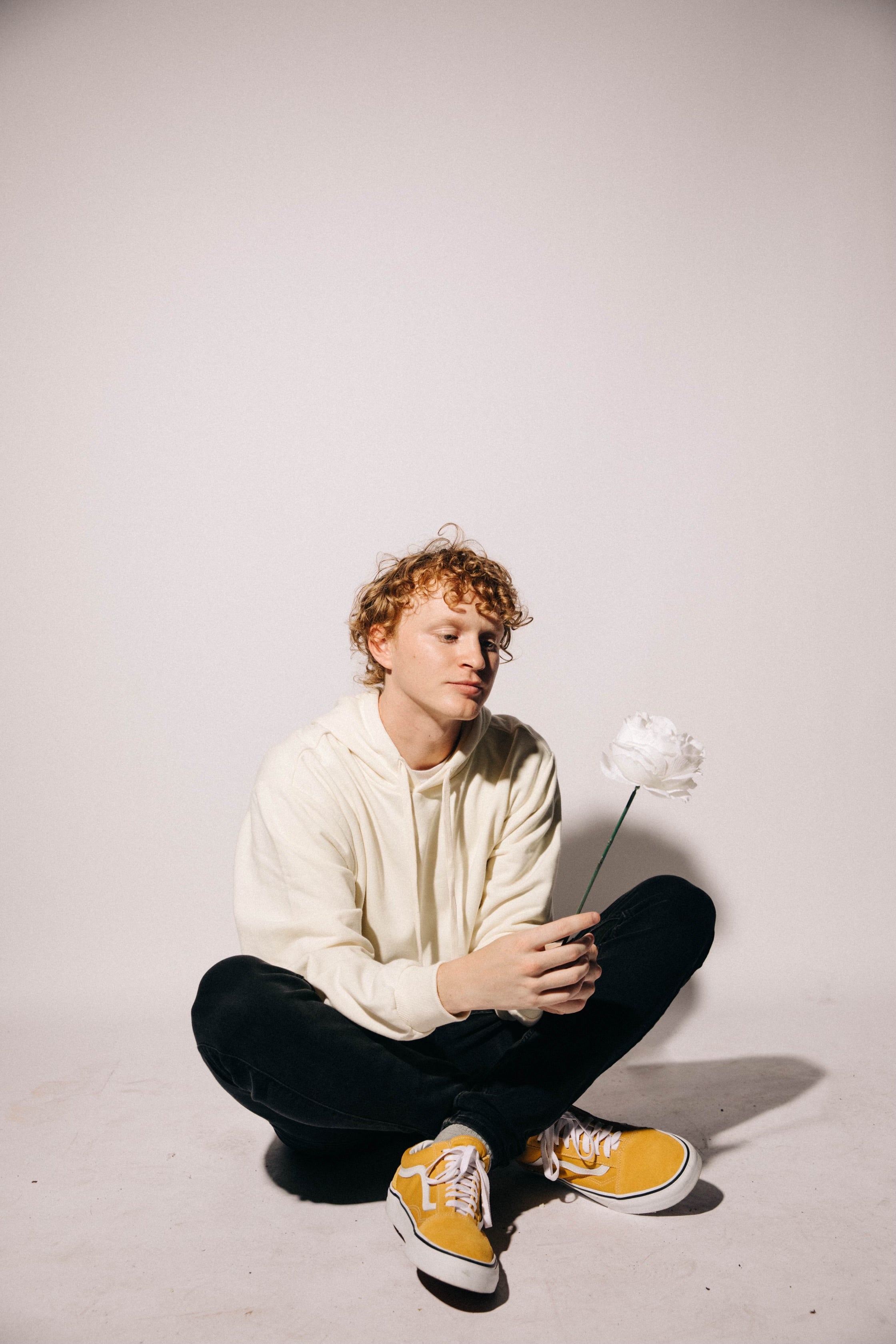 Growing up in Ohio, Knox's whole existence before he ever wrote a song was basketball. "Once I hit my senior year, it all came to an end and I didn't really know what to do with myself," he recalls.

He knew he always liked music more than his friends. He doesn't identify as a full "scene" kid, but he loved the pop-emo of bands like Fall Out Boy, Panic! At the Disco and the All-American Rejects. He grew up on Lil Wayne and Drake, as well, and entered high school as Ed Sheeran was taking over pop radio.

"I remember watching videos of him live and hearing the songs he wrote. I always told myself, 'If I learned how to play, I feel like I could do that.'

During the summer before he matriculated at Ohio University, Knox finally picked up a guitar. He learned everything in those few months, self-taught through YouTube videos. His new college friends were encouraging, so Knox began playing open mic nights covering songs by Sheeran as well as any hits that were in rotation on the radio at the time. By his sophomore year, his musical ambitions were so all-consuming that he dropped out of school (much to the chagrin of his teacher parents), moved in with his grandma and began saving up money to start his life in Nashville. He made the leap in January 2019.

While isolating in his new Nashville home in 2020, Knox used the time to work on his craft. With the help and encouragement of new friend Spencer Jordan, who Knox writes almost all his songs with, he ended up finding his footing as both an artist and a new resident of Nashville. Knox's focus and determination paid off: his songs caught the attention of fellow rising star John Harvie, who placed a few on his album, as well as Harvie's label.

"I never really thought the artist thing was in the cards for me," Knox explains. For years, his ambitions were to only be a songwriter for other artists. He was thrilled to be considered for any publishing contract. "The goal was just to have a job in music, whether a million people knew who I am, or if nobody knew."

He signed his publishing deal in 2022 but was struck with the urge to record a collection of seven songs he had been working on with a friend in Columbus. When he came back to Nashville, he told his publisher that he wanted to pitch those songs as his own. The final result was How to Lose a Girl in 7 Songs, Knox's debut EP that was released in February.

His team was ecstatic and started showing labels, but all the feedback was the same: get yourself an audience. While on a family vacation, he began filming TikToks with the hope that at least one would help his song "Sneakers" gain traction. After six or seven videos, one amassed nearly two million views overnight. "Sneakers" has since reached over 22 million streams.

"We just started dropping the other songs and now I get to work with my dream record label, which is freaking awesome," he says enthusiastically.

Even though Knox first got attention as a songwriter for his pop-punk style, that's not the crux of his own writing or artistry. His songs are a mix of all his influences, ranging from EDM to hip-hop. More than anything, he sees himself as a pop songwriter.

"[My sound] can dip into so many different genres. I feel like anybody who listens can find something to enjoy."

As made clear by its playful title, Knox's new EP is a collection of break-up songs inspired by the end of a two-year relationship he was in when he first moved to Nashville. Songs like "Porch Lights" are written "backwards," told from the perspective of the person he was hurting.

"In real life, I was probably the bad guy," he admits with a few years' clarity and maturity. Each song tells the story of a reason to leave someone. "For a lot of the songs, I put myself in that position. In real life, I was the antagonist in those situations."

Lead single "NYC" was the first song Knox had written entirely himself and brings his career so far full-circle. He wrote it at the beginning of the pandemic, having never been to New York or Los Angeles yet. He was stuck in a one-bedroom apartment with his ex and imagining what it would be like to get out and see those cities.

"I want to go see everything before my time here is gone," Knox says. "I'm from a town where a lot of people don't really have that same mindset. But now, I'm in New York regularly, and I'm about to be in LA regularly."

Knox has since started to get on the road, opening for the Band Camino (who he has written songs for) and Boys Like Girls (an emo staple he grew up with). He is starting to see all these cities he never imagined he would get to for the first, and certainly not the last, time in his life.

"I was in Asheville, North Carolina, a place I've never been in my life. I'm six states away from home and there's a thousand people in the audience that are singing the song that I wrote with my friends in my bedroom," he recalls. "And that's when it gets you, when you see real people genuinely connecting to something that I made with my best friends. It's the most unreal feeling in the world."
Abby Holliday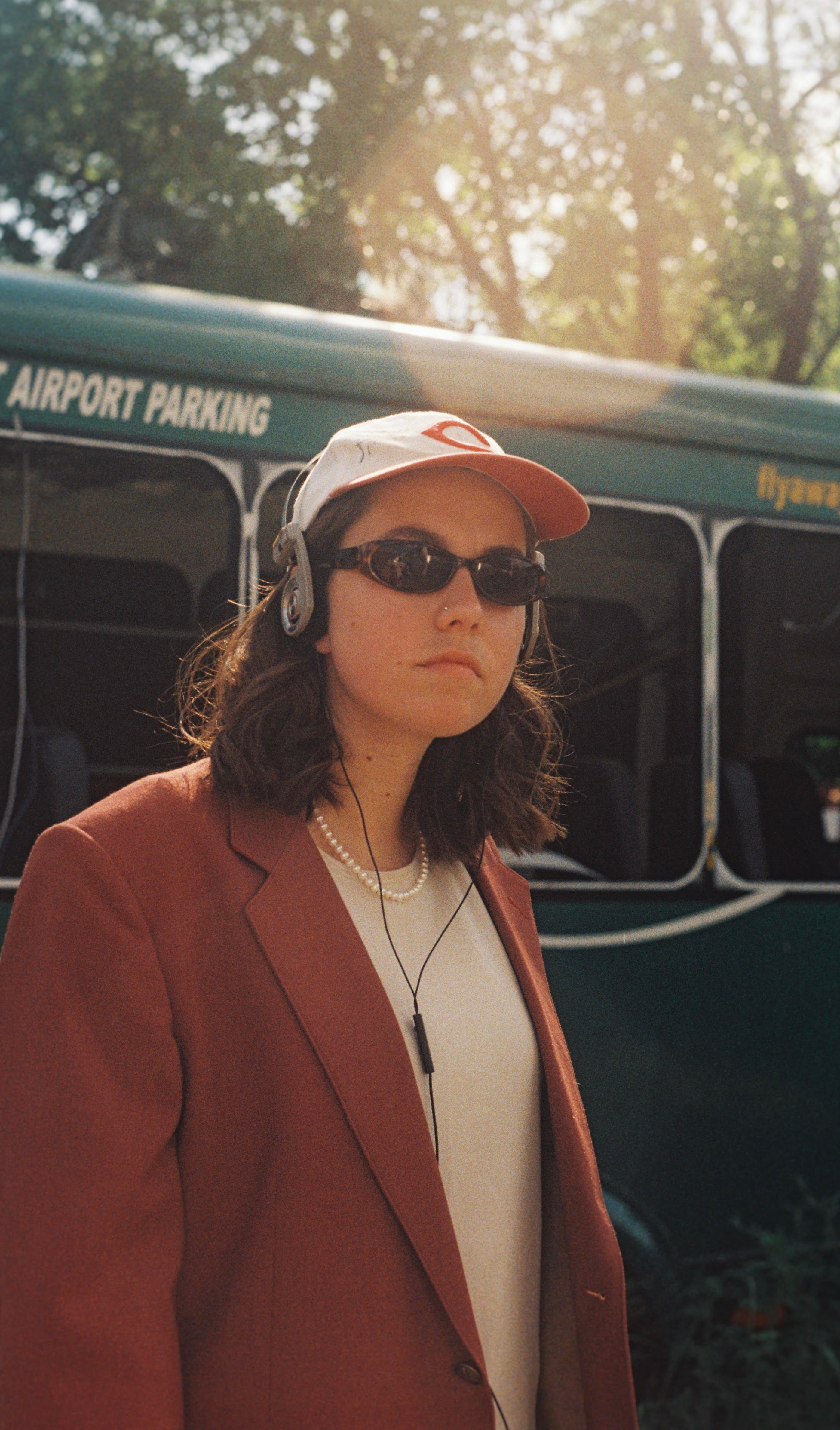 Nashville based singer-songwriter, Abby Holliday, has been writing songs for as long as she can recall. The 25-year-old burgeoning young artist is best known for exploring serious themes without taking herself too seriously. Bearing resemblance to the sonic qualities of female icons Phoebe Bridgers and Japanese House, Holliday's songwriting is a unique intersection of sad vibes, introspective lyricism, and modern pop-sensibility. Holliday attempts to examine her external world as a skeptic — not a cynic — and her internal world with honesty — not cruelty. By way of the journal entries that she calls her songs, Holliday invites others to do the very same.