Wednesday,
April
12th
, 2023
Jake Wesley Rogers - Peace, Love & Pluto Tour
Stacey Ryan, Purser
Doors: 6:00 PM
/
Show: 6:30 PM
All Ages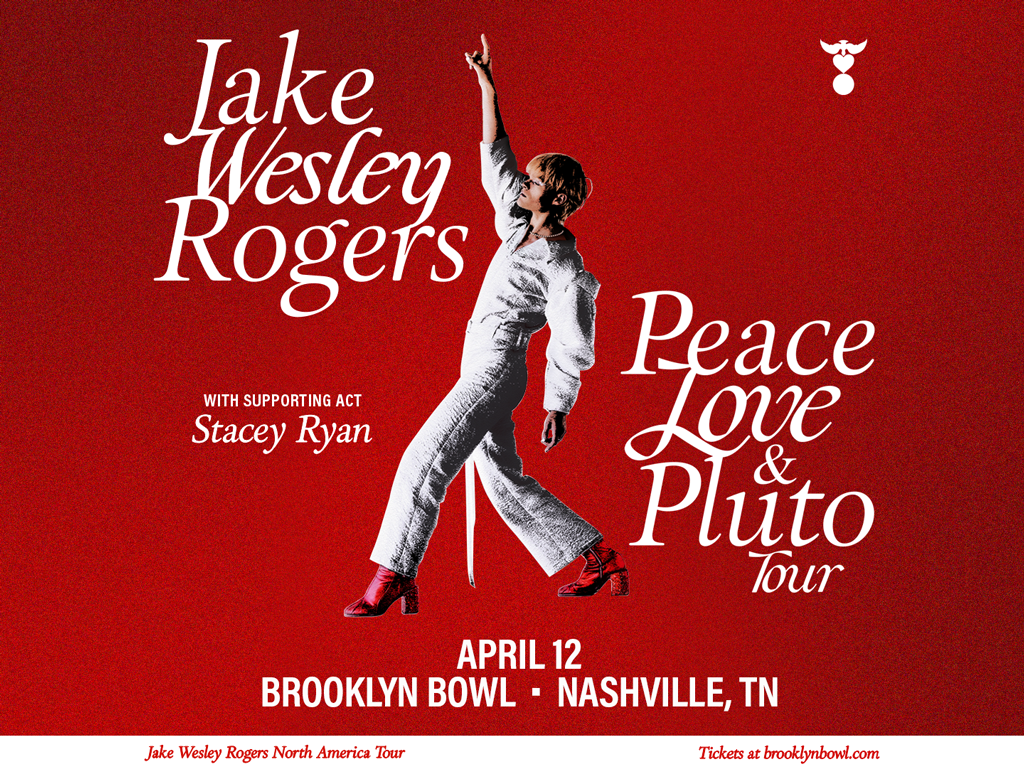 Event Info
Venue Information:
Brooklyn Bowl Nashville
925 3rd Avenue North
Nashville, Tennessee 37201
This event is open to all ages. Valid government-issued photo ID is required to purchase and consume alcohol.
This ticket is valid for standing room only, general admission. ADA accommodations are available day of show.
All support acts are subject to change without notice.
Any change in showtimes, safety protocols, and other important information will be relayed to ticket-buyers via email.
Want to have the total VIP experience? Upgrade your ticket today by reserving a bowling lane or VIP Box by reaching out to nashvilleevents@brooklynbowl.com
ALL SALES ARE FINAL
Artist Info
Jake Wesley Rogers
When he calls from Los Angeles in spring 2022, Jake Wesley Rogers is certain of one thing: he is, without a shadow of a doubt, ready to finish the debut album he's long dreamt of making. He's confident and cautious in equal measure, he says; the pressure is immense, what with accolades heaped upon him by the likes ofmajor magazinesand media outletssuch as Billboard, Rolling Stone, and Vogue –who profiled Jake for their Youthquake projectas aGen Z creatorwho ispushing the conversation forward–as well asGLAAD –for whom Jake was nominated this year for Outstanding Breakthrough Music Artist, alongside a show-stopping performance at the ceremony. Then there are people likeElton John(who had Jake perform with Grammy-winning Brandi Carlile at his feted 30thannual Oscar-viewing AIDS foundation benefit this spring), Kate Hudson, and countless other A-list devotees who've flocked to the singer-songwriter's pulpit over the past few years.And has he mentioned he's opening this fall's eagerly anticipated Panic! At the Disco arena tour alongside Marina?(As PAPER Magazine predicted upon the release of his major label debut, "Give Jake Wesley Rogers a stadium.")On the flipside: who has as much material and momentum behind them as Jake, buoyed and propelled by the well-earned success of his still-fledgling career? After leaving his Nashville home for New Orleans in search of "blowing up his life in the best way possible," the performer found creatively springing anew, landing in the city during an artistic renaissance flush with longtime New York and Los Angeles expats(fellows queers and allies like Scissor Sisters frontman Jake Shears,White Lotusstar Jennifer Coolidge, and Hedwiglegend John Cameron Mitchell have all taken up residence in the Big Easy in recent years)."So many of my dreams have come true since then," Jake says. "The past few years woke me up to what being alive is really about, and now I get to use those fulfilled dreams to anchor the next chapter in my career, my artistry, and my growth."Born in Kansas City, MO, Jakecalls his early songwriting experiments at age 11 "like in Harry Potterwhen they accidentally do magic before they go to Hogwarts."Musical theater became his creative outlet; songwriting became his escape. For Jake, music didn't simply define his childhood; it enveloped it and informed his future.Songs were his ticket to enlightenment; music was the key to connection and commonality.Still working proudly alongsidehit songwriter Justin Tranter(and signed to hisimprint of Warner Records, Facet Records),Jake remains an artist with a melody and a message. Never preachy but always poignant, his lyrics –on breakout singles like the recent "Lavender Forever" as well asthe beloved songsfrom his 2021 EP, Pluto–have enraptured audiences from all over the world. Thecrowds at his shows, powerful pulpits where music and heart mix and mingle freely,area mix of young, music-hungry fans and older menand women, from all walks of life. "Looking out into the crowds at my concertsmakes me realize the power music can have," he says, pointing to upcoming festivalslotsandthe Panic!tour dates as opportunities to keep that momentum–the electricity thatripples through his concerts, long-dormant emotions and feelings bubbling to the surface of everyone in the room. "We all want an excuse to be ourselves. That mentality is driving how I'm going about this album."
Though his songs have reached millions worldwide, Jake says he's emboldened by the knowledge that there are still minds and hearts to reach here in the U.S. "I was in Missouri with my mom, in a very small town, and someone started heckling me, asking if I was a man or a woman," he remembers. "I felt this conviction in my heart, took out my phone, and recorded a responseto the question 'am I a boy or am I a girl?' with, simply: 'I'm neither. I'm a moment! I'm a journey, I'm adestination, I'm across between a leaf and a cloud and a heavy piece ofmachinery.I am!'" The moment resonated deeply with followers and those whose TikTok feeds served them the powerful video. "Most people, like me, are fluid," Jake says. "We're all contradictions. We're all learning to love ourselves –me especially."Learning to love himself, he notes, has meant leaving the "wonderful, appreciated, overwhelming" outside validation–magazine covers, social media likes, glowing daytime TV debuts during the final season of Ellen–at the door. "Self-esteem is fickle, butself-compassion is not," he says with a grin, a lesson he taught himself when, last fall–after a string of sold-out New York shows, book-ended by appearances on James Corden and Seth Meyers' late night shows –he found himself COVID-positive, isolatingin a single room in Wales. "I just broke down, because I realized I'd been relying so heavily on other people telling me Iwasdoing a good job," he says. "Since then, I've been relearning to love myself, to love art and creating art, and to love telling stories again. That's the headspace I never knew I needed to get back to, and that's the headspace into which I'm planting my feet down as I write and record these next few months."As for the sorts of stories he plans to tell with his debut album? "I've heard if you survive childhood, you have enough material for the rest of your life," he says, punctuating the thought with a belly laugh. "I'll just keep chasing that feeling."
Stacey Ryan
Purser