Thursday,
April
27th
, 2023
Fruit Bats
Esther Rose
Doors: 6:00 PM
/
Show: 8:00 PM
18+ Years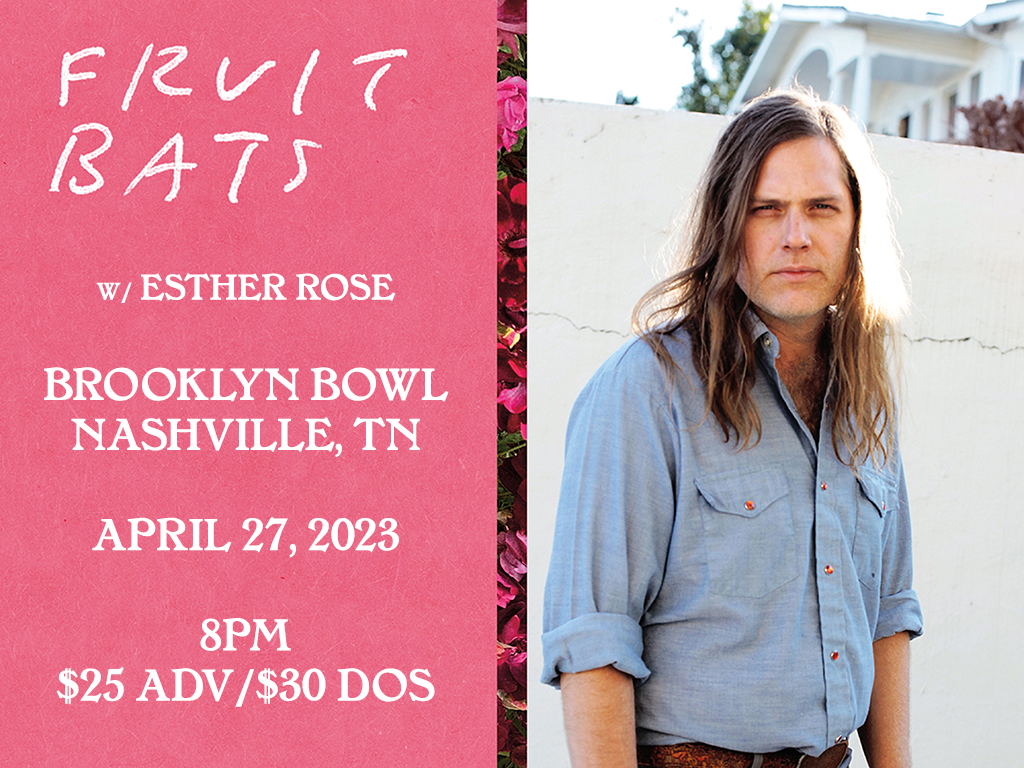 Event Info
Venue Information:
Brooklyn Bowl Nashville
925 3rd Avenue North
Nashville, Tennessee 37201
This event is 18+, unless accompanied by a parent or legal guardian. Valid government-issued photo ID is required for entry. No refunds will be issued for failure to produce proper identification.
This ticket is valid for standing room only, general admission. ADA accommodations are available day of show.
All support acts are subject to change without notice.
Any change in showtimes, safety protocols, and other important information will be relayed to ticket-buyers via email.
Want to have the total VIP experience? Upgrade your ticket today by reserving a bowling lane or VIP Box by reaching out to nashvilleevents@brooklynbowl.com
ALL SALES ARE FINAL
Artist Info
Fruit Bats
Eric D. Johnson rarely lingers at one location too long. "There's always been motion in my life between one place and another," says the Fruit Bats songwriter. As a kid growing up in the Midwest, Johnson's family moved around a lot, but it wasn't until he became a touring musician years later that motion became a central part of his identity. That transient lifestyle stoked an enduring reverence for the world he watched pass by through a van window. "It weighs heavily on me—the notion of place," Johnson says. "The places I've been and the places I want to go." A sense of place is a unifying theme he's revisited with Fruit Bats throughout its many lives. From the project's origins in the late '90s as a vehicle for Johnson's lo-fi tinkering to the more sonically ambitious work of recent years, Fruit Bats has often showcased love songs where people and locations meld into one. It's a loose song structure that navigates what he calls "the geography of the heart." "The songs exist in a world that you can sort of travel from one to another," says Johnson. "There are roads and rivers between these songs." Those pathways extend straight through the newest Fruit Bats album, aptly titled A River Running to Your Heart. Self-produced by Johnson—a first for Fruit Bats—with Jeremy Harris at Panoramic House just north of San Francisco, it's Fruit Bats' tenth full-length release. The album finds the project in the middle of a people-powered climb leading to the biggest shows, loudest accolades, and most enthusiastic new fans in Fruit Bats history! It's hard to pinpoint a single reason for this mid-career resurgence. But after two decades of making music, hard-earned emotional maturity has clearly seeped into Johnson's already inviting songs, resulting in a sound that's connected with audiences like no other previous version of the band. A River Running to Your Heart represents the fullest realization of Johnson's creative vision to date. It's a sonically diverse effort that largely explores the importance of what it means to be home, both physically and spiritually. And while that might seem like a peculiar focus for an artist who's constantly in motion, for Fruit Bats, home can take many forms—from the obvious to the obscure. Lead single "Rushin' River Valley" is a self-propelled love song written about Johnson's wife that clings to the borrowed imagery of the place where she grew up in northern California. Then, there's the gentle and unfussy acoustic ballad "We Used to Live Here," which looks back to a time of youthful promise and cheap rent. But the wistful "It All Comes Back" is perhaps the most stunning and surprising track on the album, Johnson's production skills on full display. Built upon intricate layers of synths, keyboards, and guitars, it's a pitch-perfect blend of tone and lyricism that taps into our shared apprehensions and hopes for a post-pandemic life. "We lost some time / But we can make it back / Let's take it easy on ourselves, okay?" sings a world-weary but ultimately reassuring Johnson in the song's opening lines. It's the kind of performance that makes you hope Fruit Bats stays in this one place, at least for a little while longer.
Esther Rose
Everything clicks on Safe to Run, the fourth album from singer, songwriter and perpetual searcher Esther Rose. It's the quiet culmination of years spent fully immersed in a developing artistry, and presents Rose's always vividly detailed emotional scenes with new levels of clarity and control. As with previous work, her songwriting transfigures the chaos and uncertainty of a life in progress, but here she sharpens the pop elements and attaches unshakably catchy hooks to even the darkest stretches of the journey.
After spending her formative years in Michigan, Rose relocated to New Orleans and got her start in music there while awash in the unparalleled energy of the city's scene. Over the course of her first three records, an infatuation with traditional country gradually evolved into a more distinctive style and increasingly personal material. Rose's music traced her changes as she moved through stages, studios, and home addresses, and she eventually left NOLA for New Mexico where the two year writing process for Safe to Run unfolded. Making the transition to this new environment after spending the better part of a decade building a life somewhere else demanded looking around and taking stock. All the heaviness, sweetness, levity, and self-discovery that had led up to that point began funneling into new songs that moved slower in order to dig deeper, taking on the intricate hues of a desert horizon as they came together.
Making the leap from the comfortable to the unknown defines every aspect of Safe to Run. Since she started writing songs, Rose has self-imposed some strategic challenges in order to keep things interesting. A longstanding rule to never recycle chord progressions remained in place, as did a newer intention of avoiding the temptation to write another heartbreak song. Applying limitations like these allowed the album's expressive range to become more nuanced. Rose takes an unblinking look at her own vulnerabilities as well as more universal concerns, somehow never taking herself too seriously in the process. This manifests as a critique of the insidious sexism of the music industry on "Dream Girl," but quickly melts into a hazy memoryscape of the dive bar drama and suspended hovering of her early 20s on "Chet Baker." The song "Safe to Run" (a gorgeous duet with Hurray for the Riff Raff's Alynda Segarra) directly merges the personal with the global, superimposing feelings of spiritual displacement onto the larger, looming dread of climate grief. Rose breathes in the ecstasy of the natural world in one line and makes fun of herself a few bars later. There are ghosts in the room for most of her songs, but she's invited them in and is cracking jokes with them over a drink or two.
The album's production takes another giant step forward, again motivated by a drive to go somewhere new. Lyle Werner, a constant presence on Esther's albums, again adds his rust-colored fiddle to "St. Francis Waltz" and the gentle country sway of "Spider" also offers faint echoes of the twangy glow of earlier material, but there's new experimentation with arrangements and instrumentation. Long-time collaborator Ross Farbe went from acting as a co-producer on 2021's How Many Times to a full on producer role here, adding understated synthesizers to accentuate melodic presence and atmospheric textures to cast a deeper vibe. The bridging from past to present was further embodied by the cast of players, with Rose bringing in New Orleans group Silver Synthetic as a backing band on some tunes, and working with her new bandmates-- Taoseño's Lonnie Leary on drums and Meredith Stoner on bass--- on others. Across all of the tracks, the open-air, live-in-the-room sound she tended towards in the past was paired with a heightened exploration of multitracking and overdubs. The album is a network of meticulously balanced layers that whisper secrets instead of shouting declarations. Listening closely you'll hear nods to Elliott Smith in the close-miced vocal doubling of "Stay," dreamy drum machine guiding the steady hop of "Levee Song," and a Mellotron tossing even more glitter into the already sparkling pop of "Insecure."
Ultimately all of these new advancements become twinkles of light in the background as they fold into the big picture impact of the songs themselves. With grace, subtlety, and a knowing grin, Esther Rose translates her world into eleven curious and captivating scenes. While the songs are stunning one by one, absorbing Safe to Run as a whole feels like witnessing something taking shape, experiencing the headspins of the elevation and the slow return to equilibrium as the clouds start clearing. It's the sound of a singular voice reaching its purest form, finally emerging.