Wednesday,
April
3rd
, 2024
Descendents and Circle Jerks
Adolescents
Doors: 6:00 PM
/
Show: 7:30 PM
18 & Over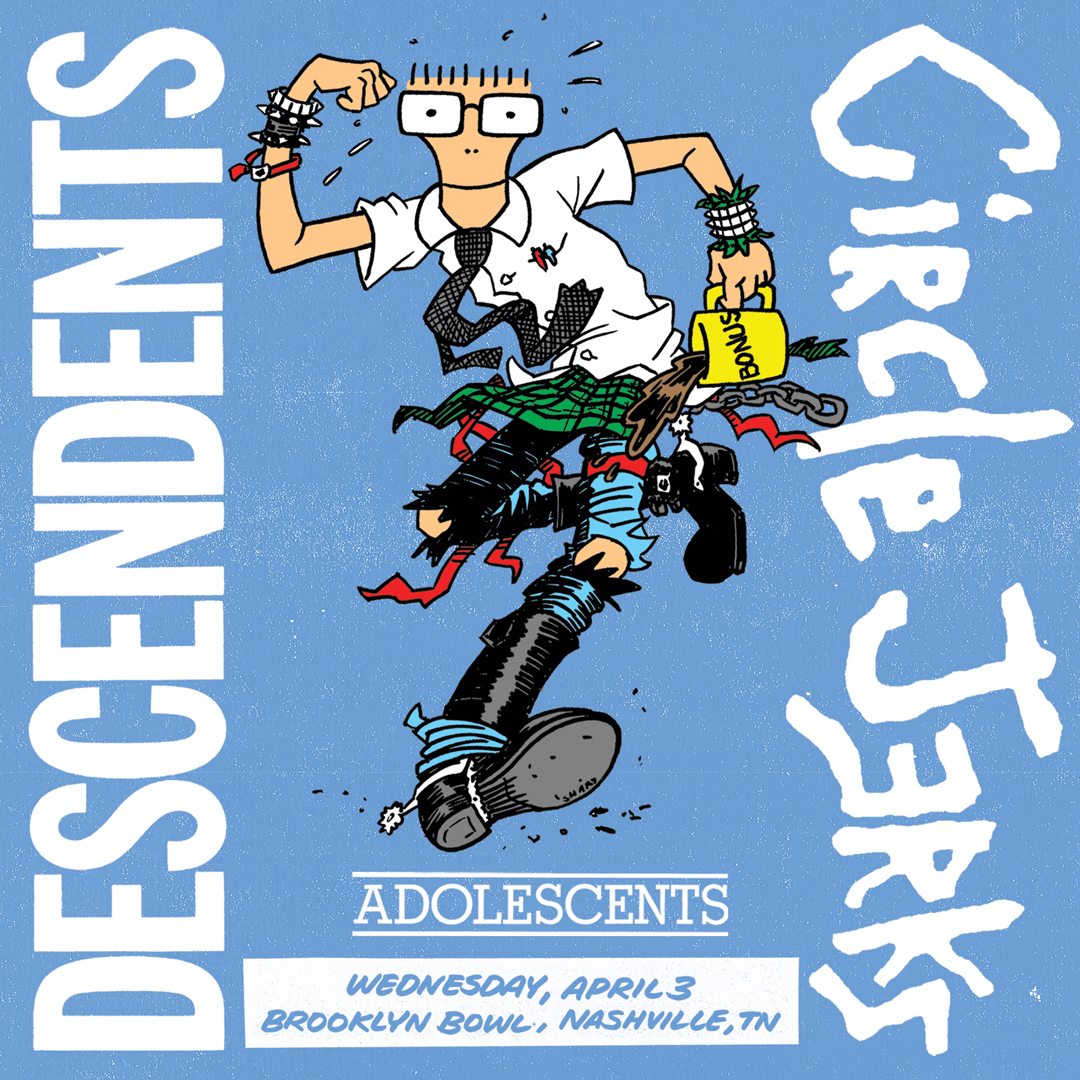 Event Info
Venue Information:
Brooklyn Bowl Nashville
925 3rd Avenue North
Nashville, Tennessee 37201
This event is 18+, unless accompanied by a parent or legal guardian. Valid government-issued photo ID is required for entry. No refunds will be issued for failure to produce proper identification. Want to have the total VIP experience? Upgrade your ticket today by reserving a bowling lane or VIP Box by reaching out to nashvilleevents@brooklynbowl.com

This ticket is valid for standing room only, general admission. ADA accommodations are available day of show. All support acts are subject to change without notice. Any change in showtimes or other important information will be relayed to ticket-buyers via email. ALL SALES ARE FINAL Tickets purchased in person, subject to $3.00 processing charge (in addition to cc fee, if applicable). Sales Tax Included *Advertised times are for show times - check Brooklyn Bowl Nashville website for most up-to-date hours of operation*
Artist Info
Descendents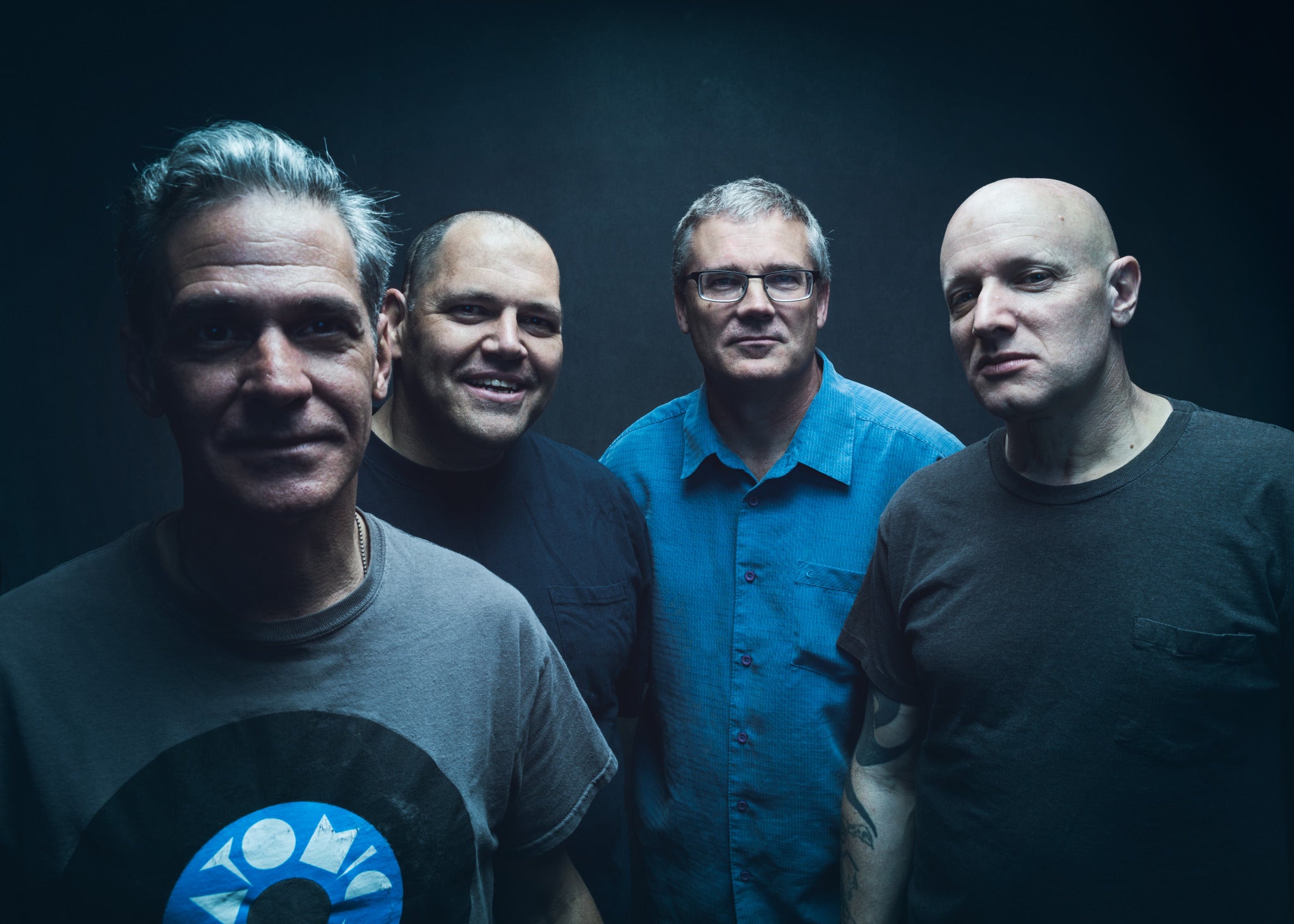 Since first emerging from (and defining) the Southern California pop-punk scene in 1978, the legendary Descendents have released classic after classic, from their landmark 1982 LP Milo Goes to College to 2016's Hypercaffium Spazzinate. Now, after issuing a flurry of singles to get fans through the past few years, the band — Milo Aukerman (vocals), Bill Stevenson (drums), Stephen Egerton (guitar), and Karl Alvarez (bass) — will be touring in support of a new album. With a very cool twist.
What started with Milo Goes to College now comes full circle on the blistering 9th & Walnut (Epitaph), a "lost album" quietly recorded in 2002 by the MGTC lineup of Stevenson, Aukerman, Tony Lombardo on bass, and Frank Navetta (d. 2008) on guitar. Audiences should be geared up for shows featuring songs spanning Descendents' incredible career, from "Suburban Home" and "Silly Girl" to "I'm the One" and "Without Love," and including 9th & Walnut tracks like first single "Baby Doncha Know" and its incendiary follow-up, "Nightage."
Circle Jerks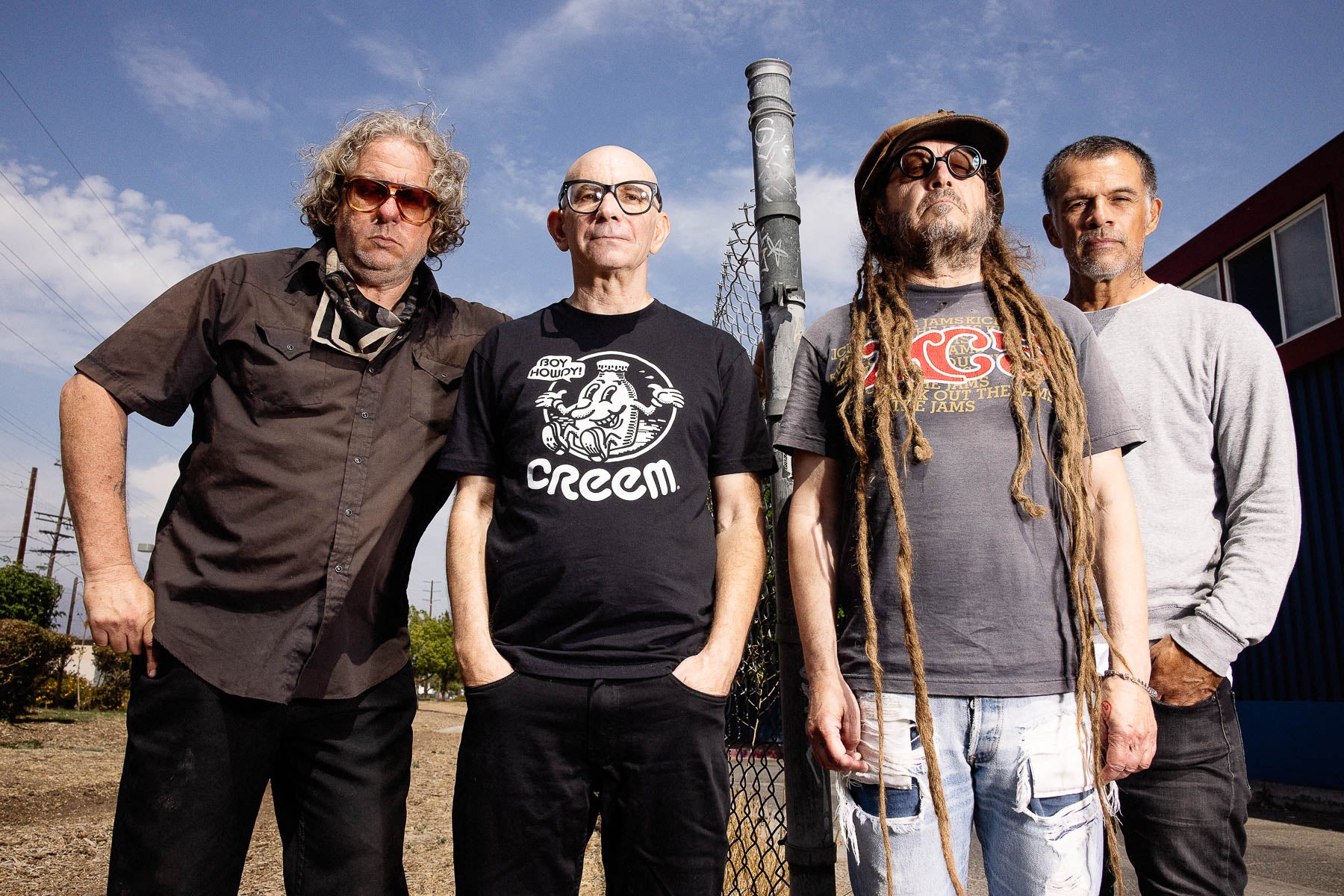 Circle Jerks emerged from the punk underbelly of LA's South Bay in 1979. After serving as a co-founder and lead vocalist of Black Flag during the recording of its essential Nervous Breakdown EP, Keith Morris joined forces with former Redd Kross guitarist Greg Hetson to form what would become Circle Jerks, along with bassist Roger Rogerson and jazz drummer Lucky Lehrer. Unlike much of the unapologetic hardcore that seeped through the cracks of American suburbia, the music of the Circle Jerks was thoughtfully steadfast, yet relentless and ferocious in nature. Bringing together a potent, articulate rhythm section with earnest yet oftentimes derisive lyrics and themes, the band was thereafter heralded as a leader of the pack - and a force to be reckoned with. Plowing forward with a relentless, tooth-cutting work ethic and a rousing stage presence, the band would soon find itself headlining shows at LA's 5,000-capacity Olympic Auditorium and emblazoned in cult video classics like Decline of Western Civilization, Repo Man, New Wave Theatre, and The Slog Movie. Over the decades, Circle Jerks would release six studio albums, including the acclaimed Group Sex (1980) Wild in the Streets (1982), Golden Shower of Hits (1983), Wonderful (1985), and IV (1987), where they would become a major headliner during the alternative music explosion of the 80's and 90's. During hiatuses, Morris fronted bands like OFF! and FLAG, while Hetson played guitar in Bad Religion. Bassist Zander Schloss (The Weirdos, Joe Strummer) has been a member since the 1980's and veteran drummer Joey Castillo (The Bronx, QOTSA, Danzig, BL'AST!, Wasted Youth) completes the lineup as its newest member.

The long list of those influenced by the legacy of the Circle Jerks ranges from Butthole Surfers to Red Hot Chili Peppers - with notable fans being Dogtown skateboarders, Chuck Berry, Alice Cooper, Elton John, Johnny Depp, Guns N' Roses, and Philip K. Dick. Decades later, their music continues to make an imprint on generations of diverse music fans and those who challenge the status quo.

In celebration of the band's 40th anniversary and the commemorative reissue of their celebrated landmark record Group Sex, Circle Jerks have returned to the stage for the first time in over a decade. The band recently kicked off their highly anticipated 2021-2022 world tour with performances at Punk Rock Bowling and Riot Fest.
Adolescents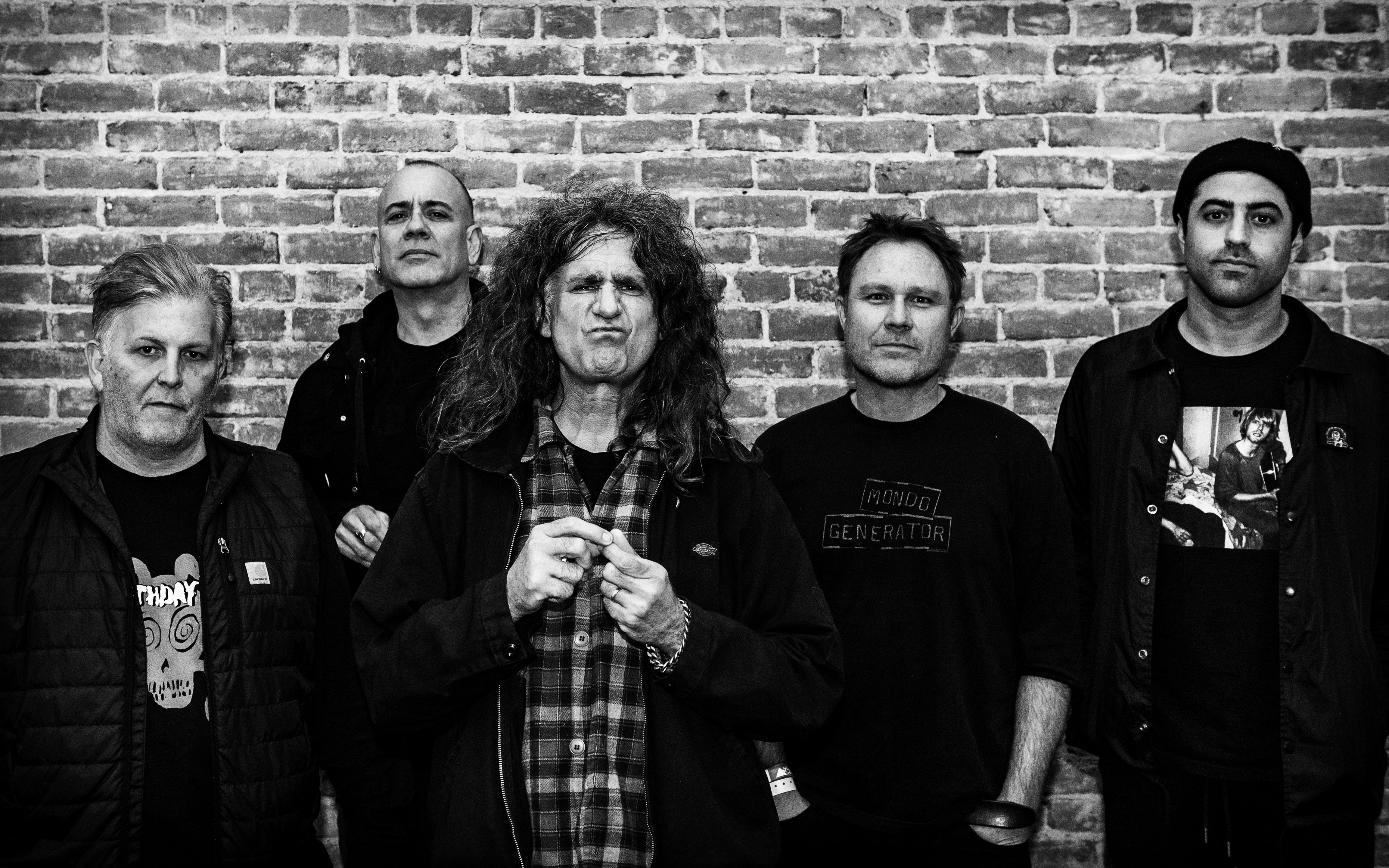 Adolescents are a punk band hailing from Fullerton, California, United States who formed in 1980. Since their debut they have become one of the most influential punk bands of their time, providing the blueprint for skate-punk and hardcore bands in their wake from Blink-182 to Pennywise. Formed by vocalist Tony Cadena and bass player Steve Soto in late 1979, the assorted line-ups of Adolescents have featured a veritable who's who of players from the biggest names of the California punk scene. Soto himself cut his teeth performing in Agent Orange and in Adolescents' very first line-up, their guitarist Frank Agnew was late of Social Distortion. Even though the band couldn't quite keep a steady rhythm section throughout their first year, they still managed to sign to Posh Boy Records and release their debut single "Amoeba" later in 1980. Almost exactly a year after their debut, the band had recruited Agnew's brother Rikk into the fold on Rhythm guitar, and fellow Social D veteran Casey Royer on the drums, and they were ready to go into the studio to record their first album. They signed with Frontier Records to release it, and the selftitled record was released was released in May after being recorded and mastered in four days flat. The album was hugely acclaimed and was for a time the biggest selling Californian punk album ever after "Fresh Fruit For Rotting Vegetables" by The Dead Kennedys. Unfortunately, this wasn't enough to keep the band together after more than a few months. Rikk Agnew was the first to go, and briefly the band replaced him with The Germs' Pat Smear (who would later join the Foo Fighters), but he was unable to tour with the band. By August, the writing was on the wall and the Adolescents split up, each member either joining existing bands or starting new ones. While the story of the Adolescents was far from over, it wasn't until the start of the 21st century that the band started finally getting their dues, even after reuniting for three years in 1986. Many bands who swore by their first two albums became enormous in the 1990's, like Blink-182, The Offspring and Red Hot Chili Peppers to name but a few. This level of exposure meant that when the band reunited again in 2001, they did so to a far bigger audience than they'd ever had before, and they immediately began performing live at the biggest shows of their career. The band have released five acclaimed studio albums since reforming ◦ OC Confidential (2005) ◦ The Fastest Kid Alive (2011) ◦ Presumed Insolent (2013) ◦ La Vendetta... (2014) ◦ Manifest Density (2016) • and are a bigger live draw than ever before, as their heroic slot on the 2010 Vans Warped Tour show. Sadly in June of 2018 they lost one of their founding members: Steve Soto. Unsure how to move forward they play in his honor so the music he created, the friendships he built and the smile he always shared can be remembered and cherished forever.