Friday,
October
6th
, 2023
Broken Social Scene
Hannah Georgas
Doors: 6:00 PM
/
Show: 8:00 PM
18 & Over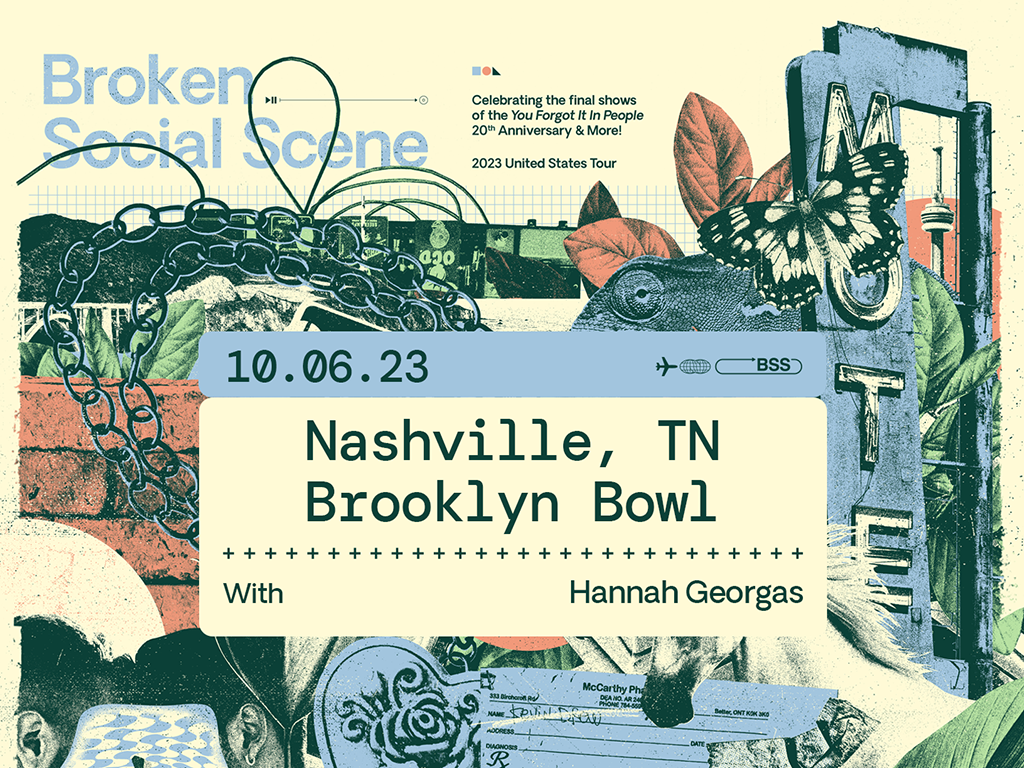 Event Info
Venue Information:
Brooklyn Bowl Nashville
925 3rd Avenue North
Nashville, Tennessee 37201
This event is 18+, unless accompanied by a parent or legal guardian. Valid government-issued photo ID is required for entry. No refunds will be issued for failure to produce proper identification. Want to have the total VIP experience? Upgrade your ticket today by reserving a bowling lane or VIP Box by reaching out to nashvilleevents@brooklynbowl.com

This ticket is valid for standing room only, general admission. ADA accommodations are available day of show. All support acts are subject to change without notice. Any change in showtimes or other important information will be relayed to ticket-buyers via email. ALL SALES ARE FINAL Tickets purchased in person, subject to $3.00 processing charge (in addition to cc fee, if applicable). Sales Tax Included *Advertised times are for show times - check Brooklyn Bowl Nashville website for most up-to-date hours of operation* There is a delivery delay in place until 7 days before event date/time.
Artist Info
Broken Social Scene
At the dawn of the 21st-century, just as the internet began infecting every aspect of our daily lives, Toronto musicians Kevin Drew and Brendan Canning began building a social network of their own. Like other such networks you're familiar with, it quickly expanded to include friends, and friends of friends. It became a place where they could live out their best lives or fret about the fragile state of the world. And yes, occasionally, it became a forum for arguments and oversharing. But this social network didn't require you to stay glued to your smartphone to take part in it. Quite the opposite: Since debuting in 2001, Broken Social Scene have personified the unyielding, incomparable power of IRL human connection.

It's hard to know what to make of an ongoing experiment like Broken Social Scene. Is it a band? Not quite. Bands tend to have defined memberships and aesthetics and goals; Broken Social Scene have never been bothered with such limitations. Is it a cult? Nah— some of them have the beards, but they could never agree on the right robes. Is it a collective? Certainly, it can seem that way when you see some 15 people crowding the stage, but BSS aren't so much a united front as a perpetually mutating aggregate of competing creative energies.

Once a two-person basement recording project, Broken Social Scene came to life
onstage as a shadowy improvisational entity with a revolving-door roster, each concert a wholly unique experience dependent on the room, the weather, what they ate for dinner that night, and who was dropping in to play. Where the band's 2001 debut album, Feel Good Lost, presented BSS as an anonymous ambient project that reflected its humble, homespun origins, their electrifying live performances from that era rallied an extended family of performers with roots in post-rock (Justin Peroff, Do Make Say Think's Charles Spearin), Latin jazz (Andrew Whiteman), art-folk (Feist), synth-pop (Amy Millan and Evan Cranley, also of Stars), dance-punk (Metric's Emily Haines and Jimmy Shaw), and country rock (Jason Collett).

But by pursuing improvisational freedom over commercial considerations, Broken Social Scene set a new gold standard for indie rock in the 21st century with 2002's You Forgot It In People, an album that pushed the genre far beyond its noisy '90s slacker roots toward a more sonically expansive, emotionally expressive vision. And with follow-up releases like the blissfully chaotic Broken Social Scene (2005), the rapturous Forgiveness Rock Record (2010), and the intricate, insidiously melodic Hug of Thunder (2017), Broken Social Scene have amassed a thrillingly amorphous, unpredictable body of work.
Throughout their two-decade run, Broken Social Scene have achieved all the markers of modern indie success—rave reviews from Pitchfork, invites to play Coachella and Lollapalooza, multiple Juno Awards and Letterman appearances, and name-drops in Lorde songs. And their victories have ultimately been Toronto's, through the establishment of a record label (Arts & Crafts) and music festival (Field Trip) that became rallying points for the local scene and nurtured the next generation of indie upstarts. But arguably Broken Social Scene's greatest accomplishment is their mere existence, as a conglomerate that continues to defy all logistical convention and musical expectations. They're living proof that underdogs are most effective when travelling in a pack, that mass audiences can be led into uncharted waters through collective enthusiasm, and that the better world we all dream of begins with community.
In both sound and personnel, Broken Social Scene has changed a lot since their 2001 inception. But one thing has remained constant—at the end of every show, Kevin Drew bids the crowd adieu by telling everyone to "enjoy your lives." More than just a simple farewell, those words are a call to action—to put down your goddamn phone, get outside, and be part of a social scene of your own.
Hannah Georgas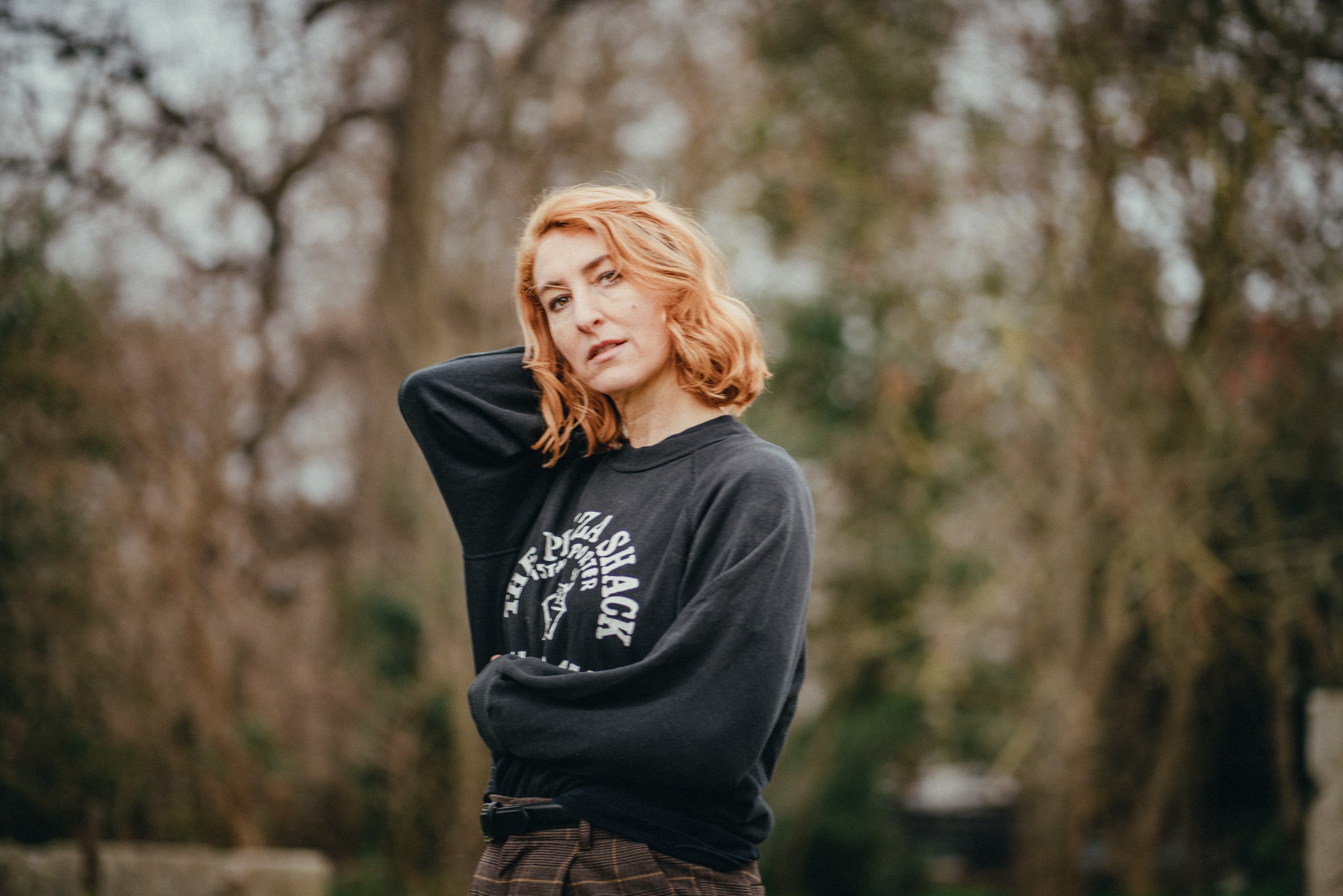 In the journal of Hannah Georgas, there's an entry which reads: "I want these songs to express a lot of hope in the darkness. I want them to sound uplifting, but not try to hide my pain, and express the truth. I want to clear out all the negative thoughts I feel about myself. I want to not already think things are over before they've even begun."
The process of writing her new album I'd Be Lying if I Said I Didn't Care was a journey of catharsis and self-confrontation. Sometimes it gave her anxiety, sometimes it gave her a song.
Born and raised in rural Ontario, Georgas was the middle child of three sisters. Her parents were strict in their religious beliefs, and it was within the confines of this upbringing that Georgas can pinpoint the roots of her lifelong battle for self-acceptance. Her father was devout, at times separating himself to their basement and occasionally speaking in tongues. However, it was his love of music and swimming that Georgas embraces to this day, paying homage to both after his passing with breakthrough single "Ode to Mom". The track later became the anthem for the Canadian Olympic Women's swimming team in 2021.
"I tend to carry a lot of the weight on my shoulders if something doesn't go as planned. I'm very hard on myself when it comes to that stuff," Georgas acknowledges. I'd Be Lying if I Said I Didn't Care reckons with those feelings of isolation, rejection, and uncertainty, harnessing their potency as a means of empowerment. Ever since she was a child, writing music has represented a vehicle for changing her fate, a means of transmuting negative experience into something that offers light. Even when the entrapments of being an artist dampened her passion, she couldn't help but write this album – its existence was hardly a matter of choice, but a reflex.
Georgas' career kick-started after she left Ontario, moving to Vancouver in 2005. It was here that she began to build the relationships and experiences which grew her into a household name within Canadian music. Each of her previous records have been the product of intimate collaboration with a producer. Her debut project This Is Good (2010) was made with Mother Mother's Ryan Guldemond, which carved out Georgas' sparky, idiosyncratic voice; its 2012 self-titled successor and For Evelyn (2016) were made with Graham Walsh of electronica band Holy Fuck, who helped her to foster an affinity for synths blended with organic textures. However, it was her work with The National's Aaron Dessner that introduced her outside the borders of home.
A longtime fan of The National, working with Dessner was a pipe dream that Georgas had set in motion years before it came to fruition. In 2019, while supporting The National on tour dates around the US and Europe and singing back-up for their I Am Easy to Find album, she recorded in stints at Dessner's now infamous Long Pond studio. Released in 2020, the Juno-nominated All That Emotion is a monumental project in her canon. However, with the release impacted by the pandemic, Georgas couldn't help but feel the album was starved of its momentum, lost in the noise of the world upended.
Locked-down in a small flat in downtown Toronto and perpetually grounded, Georgas decided to uproot her life in the city to a carriage house in the countryside, three hours east. Despite her pride in what she and Dessner created, her faith in music in this new, unforgiving reality had started to falter. She realised in this moment that the one thing she could lean into was her own talent and work-ethic.
Before she knew it, Georgas found herself making notes on her phone of lyrics, smooth,
perfectly-rounded thoughts like pebbles ripe for skimming. Then there came the demos,
rough impressions of where she wanted to go, anchored by acoustic warmth and electronic
touches. Even then, before it had a name, I'd Be Lying if I Said I Didn't Care felt like an
intensely human document, something that carried the hard-earned confidence of an artist
who, against all odds, has prevailed in music for over a decade. Her greatest ambition had always been to self-produce an album, and this was the moment.
Everything you hear has been guided by Georgas' instinct; every sound is her own choice. She was only helped by her partner Sean Sroka (Ten Kills The Pack), who co-produced and together crafted the vision and balance between organic and synthetic production. From there, a coterie of artists were brought in including Gabe Wax (Helena Deland, Soccer Mommy, The War on Drugs, Spoon) who helped uplift the record's gently off-kilter sounds, Graham Walsh who contributed a variety of synths and bass, as well as drummer James McAlister (The National). Together Georgas and Sroka worked out of various studios in Toronto, exploring analogue equipment for recording and re-amping early inspirations of her demos. The sense of familiarity and trust with the influences Georgas chose to bring into the album's interior world is woven into its fabric.
She was always certain how the record would begin and end. Opening track "Scratch" starts with a pensively-plucked guitar which takes hold, as all feelings do, slowly. It's melancholic, and yet when the percussion sinks in, it takes on the hopeful shimmer of a silver lining. "It's about starting something all over again." Georgas explains. "It feels like you've climbed this mountain and you have nothing to show for it. You've got to start from scratch."
Upon that blank canvas, she paints "Better Somehow". Driven by anthemic percussion and soft, electronic inflections, Georgas is emboldened to make confessions she would otherwise suppress, exploring the tension between what we think and what we present to the world around us. "The song is about how much better I think we'd all be if we just communicated exactly what we were feeling or what we were going through. I want to be better at that in life," she elaborates.
As well as delving inward, Georgas also fixes her gaze on the world around her and her place within it. "Home" explores the word's myriad meanings and her decision not to live her life in a given shape. Over spirited, shimmering guitars, she sings of a creeping sense of panic. Georgas explains, "It deals with the feeling of questioning what home is, and how settling down and having children is not necessarily my version of it. I'm okay with that, but there are these moments where you have a hard time knowing that your sense of home doesn't look like other peoples'."
The album's final track, "Keeping Telling Yourself", however, is almost a lullaby. It's Georgas' parting comfort, something for us to hold onto even on the longest nights; a space where we can wish for things in our loneliness, and somehow find a sense of togetherness through it.