Bombay Bicycle Club
Doors: 6:00 PM
/
Show: 8:00 PM
18 & Over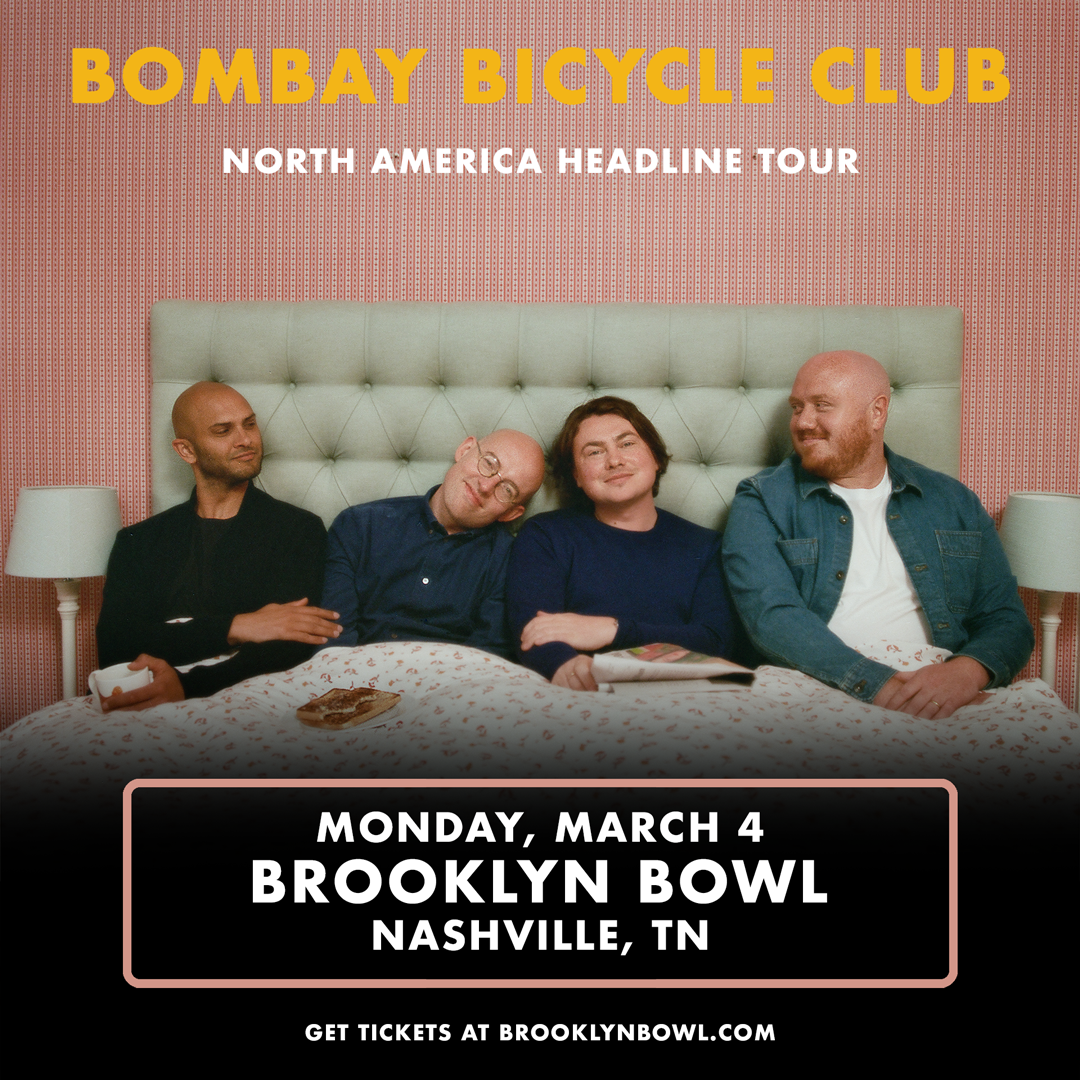 Event Info
Venue Information:
Brooklyn Bowl Nashville
925 3rd Avenue North
Nashville, Tennessee 37201
This event is 18+, unless accompanied by a parent or legal guardian. Valid government-issued photo ID is required for entry. No refunds will be issued for failure to produce proper identification. Want to have the total VIP experience? Upgrade your ticket today by reserving a bowling lane or VIP Box by reaching out to nashvilleevents@brooklynbowl.com There is a delivery delay in place until 72 hours before the event date and time.

This ticket is valid for standing room only, general admission. ADA accommodations are available day of show. All support acts are subject to change without notice. Any change in showtimes or other important information will be relayed to ticket-buyers via email. ALL SALES ARE FINAL Tickets purchased in person, subject to $3.00 processing charge (in addition to cc fee, if applicable). Sales Tax Included *Advertised times are for show times - check Brooklyn Bowl Nashville website for most up-to-date hours of operation*
Artist Info
Bombay Bicycle Club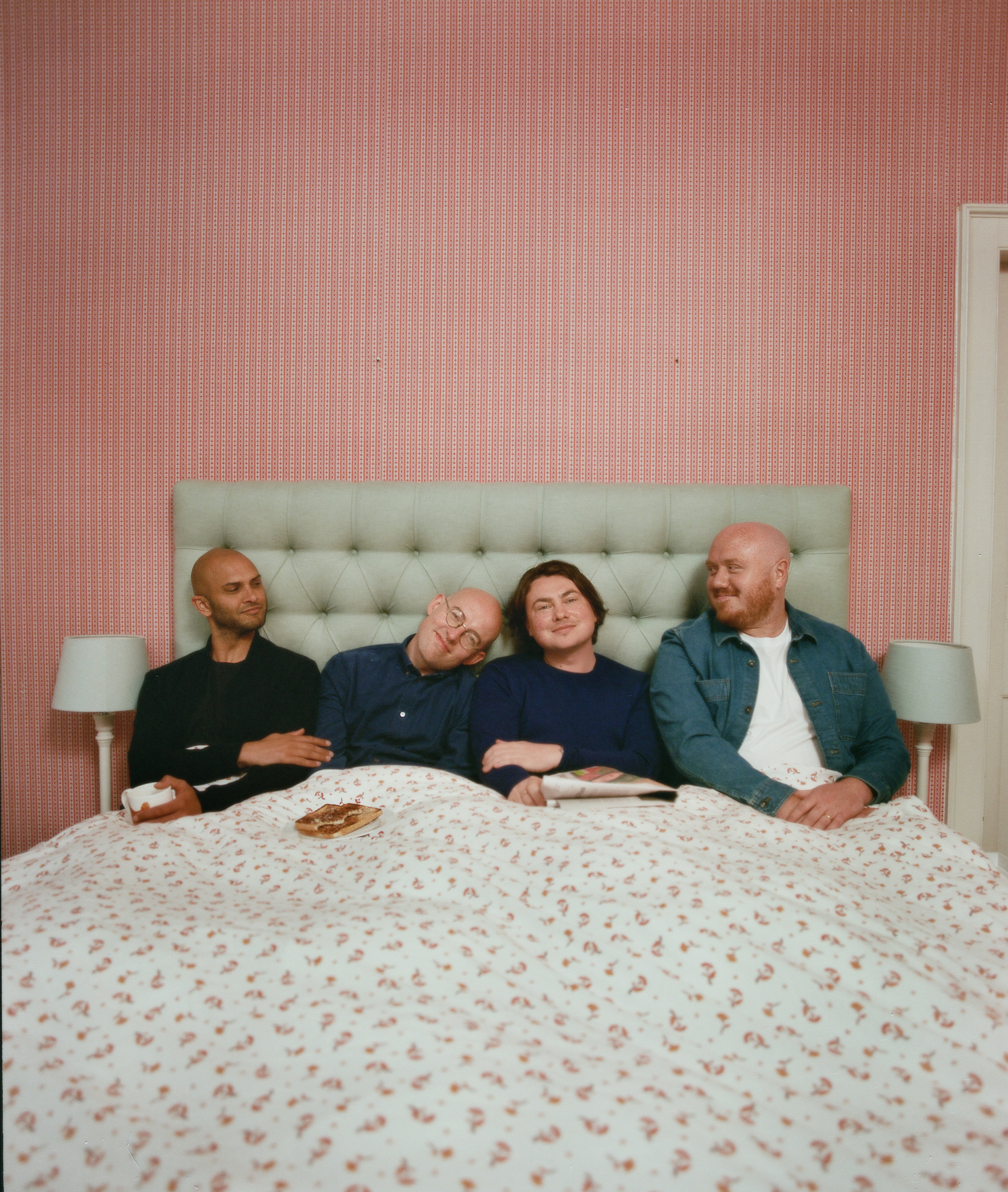 Bombay Bicycle Club have been writing songs for Saturday nights and songs for Sunday mornings since their mid-teens. That they're now barely in their thirties and remain one of the most inventive, insistent and, arguably, influential British guitar bands of the past generation says much to their powers of reinvention. But it also speaks to the band's effortless ear for a melody and the masters of its deployment.
In 2009, a fresh-faced Bombay Bicycle Club released their debut album, I Had The Blues But I Shook Them Loose. It's a record that the band's earliest adopters swear by, the soundtrack to very specific moments in their life, and with vivid memories to boot. A visceral record, teeming with teenage angst and youthful abandonment. Songs that spoke to thousands, and a heart on its sleeve statement of this young band's intent.
It was followed by 2010's Flaws and a total change of pace and perspective. A long-drawn inhalation of a record, with a relaxed exhalation. Acoustic guitars replaced all the freneticism and crunch of their debut. It charted in the UK top 10, and everyone who had them pegged as a relentless bunch of boisterous young noiseniks were given something to think about. That year, the prestigious Ivor Novello Awards nominated Flaws for best album.
By 2011, and now fully in their stride, the band turned left once more to deliver A Different Kind Of Fix. It was a record that took, sonically at least, two big steps forward. An imaginative, but no less infectious collection of oddball pop songs that spawned the likes of Shuffle and How Can You Swallow So Much Sleep, and painted Bombay Bicycle Club in vivid splashes of colour.
Three years passed before the band reappeared with So Long, See You Tomorrow in 2014. A real "Greatest Hits" of a record, the likes of Carry Me, Luna, Feel all providing texture and leftfield rhythms that suggested a band in their absolute prime and at their heights of invention. It's incredible to consider that the band were still a young band by anyone's standards, but able to sound so accomplished, unpredictable and imaginative on an album that shone as a worthy nomination for 2014's Mercury Music Prize. The band concluded the album's cycle by selling out London's Earls Court – the last show before it was demolished. That Bombay Bicycle Club took its roof off was a timely prelude to its eventual destruction.
At this stage, ten years into their careers but still only 24, the band took a quick break. A five-year break. Did different things, with different people. But they missed each other, they missed being Bombay Bicycle Club.
So... In late 2019, Bombay Bicycle Club reintroduced themselves with the incessant earworm, Eat, Sleep, Wake (Nothing But You). It sounded like classic Bombay – a leftfield pop song that lodged in the cranium with little signs of abating. The track preceded 2020's Everything Else Has Gone Wrong LP. Alongside US producer John Congleton, it felt like a triumphant return for a band that were never in danger of being replaced.
As the confetti fell on two nights at London's Alexandra Palace soon after the record's release, word spread of a virus of some description. Plans were put on ice and then shelved altogether. A return cut frustratingly short.
Until now…
Heading back to the band's studio in London, Bombay Bicycle Club have lovingly crafted album six – My Big Day. It's a powerful, expansive body of work, replete with an irrepressible dose of joy too.
My Big Day also found the band's studio door wedged open for a collaborative experience, inviting the likes of Jay Som, Nilüfer Yanya, and Holly Humberstone and Damon Albarn who all feature. There's a special guest appearance to be revealed later in the year too.
Whilst the guests came and went as they pleased, the band posited themselves on both sides of the glass for this record, with Jack manning the production chair (save for 'Heaven', produced alongside Paul Epworth, and 'Turn The World On' with Ben Allen - who they'd previously worked with on 'Shuffle').
On first listen, Bombay Bicycle Club have opened up the curtains and let this revelatory set of vibrant, joyous compositions bask in the sunshine. It's an album that means business, sculpted by one of Britain's best guitar bands. They'll take it to stages across the world next, and that's a show you won't want to miss