Wednesday,
December
6th
, 2023
Angel Olsen
Joanna Sternberg
Doors: 6:00 PM
/
Show: 8:00 PM
18 & Over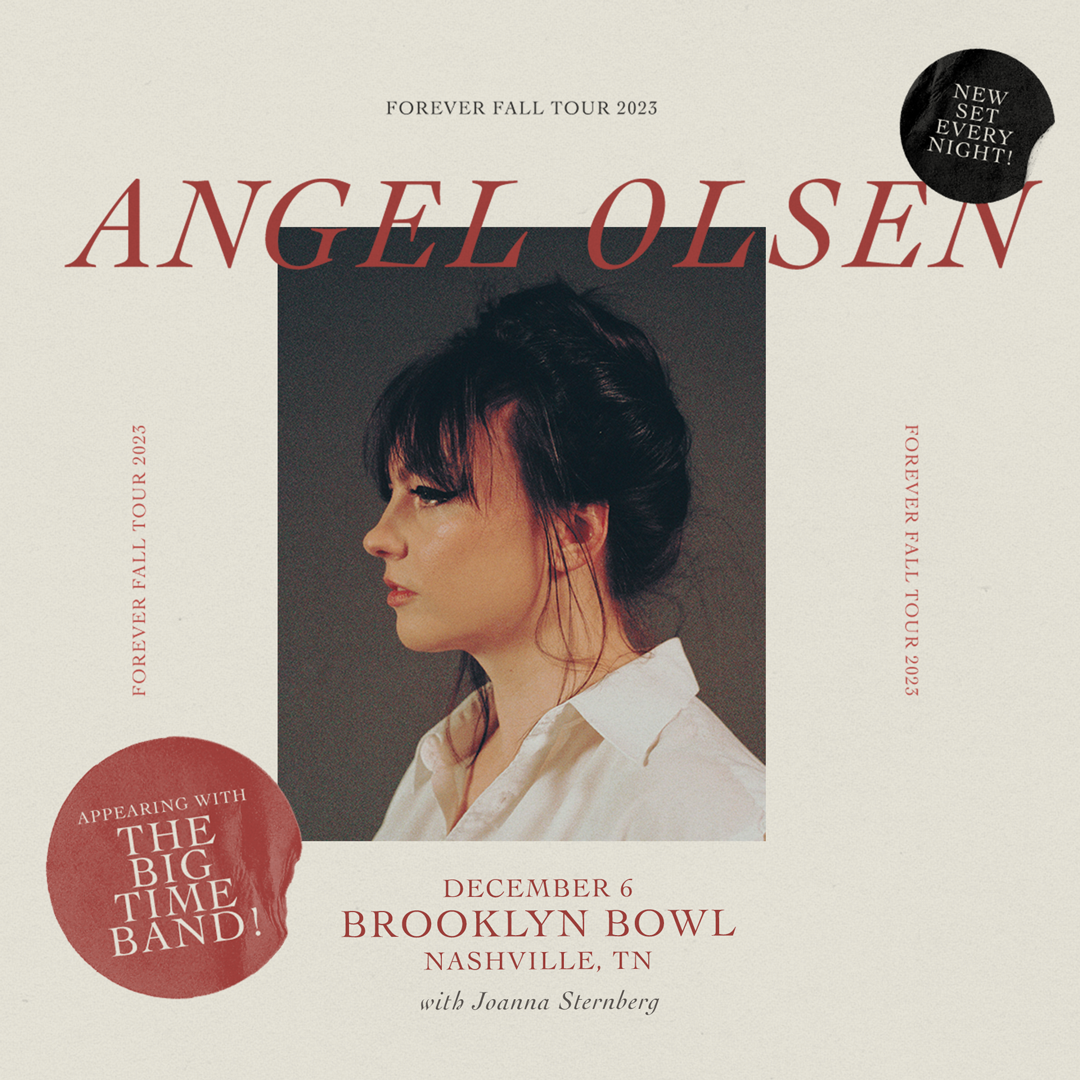 Event Info
Venue Information:
Brooklyn Bowl Nashville
925 3rd Avenue North
Nashville, Tennessee 37201
This event is 18+, unless accompanied by a parent or legal guardian. Valid government-issued photo ID is required for entry. No refunds will be issued for failure to produce proper identification. Want to have the total VIP experience? Upgrade your ticket today by reserving a bowling lane or VIP Box by reaching out to nashvilleevents@brooklynbowl.com

This ticket is valid for standing room only, general admission. ADA accommodations are available day of show. All support acts are subject to change without notice. Any change in showtimes or other important information will be relayed to ticket-buyers via email. ALL SALES ARE FINAL Tickets purchased in person, subject to $3.00 processing charge (in addition to cc fee, if applicable). *Advertised times are for show times - check Brooklyn Bowl Nashville website for most up-to-date hours of operation* Delivery delay until 7 days before event.
Artist Info
Angel Olsen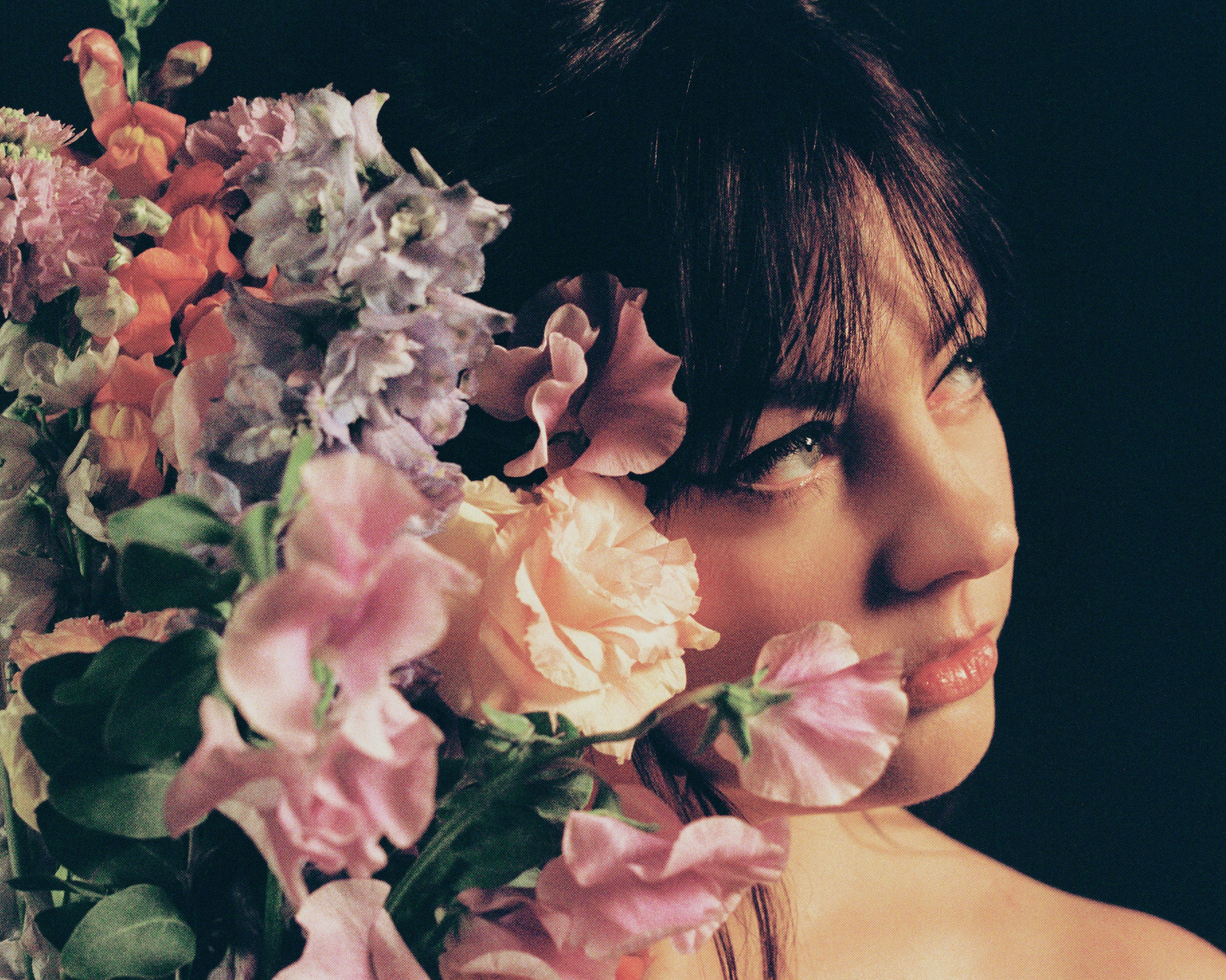 The descent into darkness is a trope we find time again across history, literature and film — a protagonist plunging further and further into the depths. But there is also an abyss above. There is a winding white staircase that goes ever upward into the great unknown — each step, each turn, requiring a greater boldness and confidence than the one before. This is the journey on which we find Angel Olsen.

Olsen's flight is both upward and inward. Olsen's artistic beginnings as a collaborator shifted seamlessly to her magnificent, cryptic-to-cosmic solo work, and then she formed bands to play her songs, and her stages and audiences grew exponentially. But all along, Olsen was more concerned with a different kind of path, and on her vulnerable, Big Mood new album, All Mirrors, we can see her taking an introspective deep dive towards internal destinations and revelations. In the process of making this album, she found a new sound and voice, a blast of fury mixed with hard won self-acceptance.

"I guess you could say some bold and unexpected things have happened in my life" Olsen said. "It feels like part of my writing has come back from the past, and another part of it was waiting to exist."

All Mirrors gets its claws into you on both micro and macro levels. Of course, there's that singular vibrato, always so very close — seemingly simple, cooed phrases expand into massive ideas about the inability to love and universal loneliness. And then suddenly — huge string arrangements and four horsemen bellowing synth swells emerge, propelling the apocalyptic tenor. Throughout All Mirrors, Angel fully lets in the goth tones that always lurked at the ends of her song craft.

"In every way —from the making of it, to the words, to how I feel moving forward— this record is about owning up to your darkest side," Olsen said. "Finding the capacity for new love and trusting change, even when you feel like a stranger. This is a record about facing yourself and learning to forgive what you see. It is about losing empathy, trust, love for destructive people. It is about walking away from the noise and realizing that you can have solitude and peace in your own thoughts, that your thoughts alone can be just as valid, if not more."

The first step of All Mirrors, was conceiving a back-to-basics solo record, which she recorded with producer Michael Harris in Anacortes, Washington. Soon after that was completed, a more ambitious version of the album began to percolate in her mind. This second, more maximalist version of All Mirrors evolved slowly with producer John Congleton, arranger Jherek Bischoff, Swiss Army Knife musician/arranger Ben Babbitt, and a 14 piece orchestra.

"I was determined to keep it bare bones in order to contrast with the not yet recorded full band record," Olsen said. "I wanted to have versions of these songs that are completely raw and real in the way some of my earlier recordings are, so that I could have the choice to play alone or with a band."

While remaking the album with full production and new collaborators, Olsen developed a new relationship with control. And in that process, she developed an even clearer vision of herself as an artist.

"It's scary to be your own compass, to trust new faces, to be a stranger — but sometimes that's the only way forward," she said. "When you've been in a repetitive cycle so long it's difficult for anyone to see you as someone who could come out of it. When you've made an example of yourself that people expect, some voices remind you of that example even when you know in your heart you've made changes."

"As I see it, in order for an artist to survive some kind of change, change needs to be a constant. For myself that constant change means having some kind of epiphany or clarity expressed in song. I don't know if it's something I inspire or attract, or if it's just in the way I'm looking at my surroundings, but drama is something that surrounds my world and always has. I'm at least happy that I've learned to write it down."
Joanna Sternberg
Joanna Sternberg is a singer, songwriter, musician and visual artist born/based in New York City. Joanna started taking piano lessons when they turned 5. Joanna taught themself how to play the guitar and electric bass when they were 11. Joanna attended LaGuardia High School of Music and Art. They started studying double bass during their freshman year. Joanna got a full scholarship to Mannes College of Music, and studied classical double bass there for a year and a half. Joanna decided to leave the school and take a year off. During that year they did nothing but stay in their room and draw comics. Joanna has been a freelance musician and visual artist since they were 18-years-old. Joanna finished their double bass performance degree at The New School for Jazz & Contemporary Music, where they got a full scholarship. When Joanna was 23, they began writing songs and learning how to sing. At the age of 24 Joanna started singing in public while accompanying themself on different instruments. Today, Joanna continues to write songs, sing, play instruments, and create visual art.