Thursday,
October
20th
, 2022
The Knocks x Cannons
Pink Skies
Doors: 6:00 PM
/
Show: 8:00 PM
18+ Years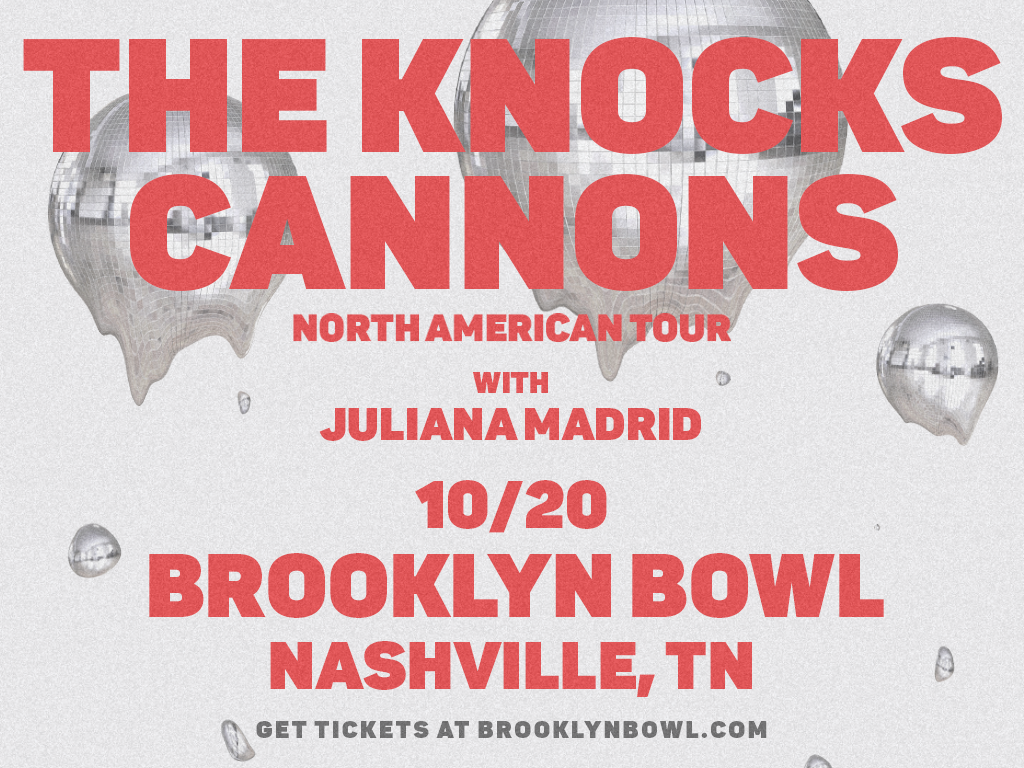 Event Info
Venue Information:
Brooklyn Bowl Nashville
925 3rd Avenue North
Nashville, Tennessee 37201
This event is 18+, unless accompanied by a parent or legal guardian. Valid government-issued photo ID is required for entry. No refunds will be issued for failure to produce proper identification.
There are no COVID-19 vaccination or test requirements for this event. An inherent risk of exposure to COVID-19 exists in any public place where people are present. By visiting our establishment, you voluntarily assume all risks related to the exposure to or spreading of COVID-19.
This ticket is valid for standing room only, general admission. ADA accommodations are available day of show.
All support acts are subject to change without notice.
Any change in showtimes, COVID-19 protocols, and other important information will be relayed to ticket-buyers via email.
Want to have the total VIP experience? Upgrade your ticket today by reserving a bowling lane or VIP Box by reaching out to nashvilleevents@brooklynbowl.com
ALL SALES ARE FINAL
.
The Knocks & Cannons VIP Experience
One general admission ticket
Early entry into the venue
Personal socially distanced photo with The Knocks & Cannons
Access to a pre-show Q&A session with The Knocks & Cannons
Autographed Poster by The Knocks & Cannons
Limited edition tour tote bag
Exclusive merchandise item
Commemorative VIP laminate with lanyard
Limited availability
Artist Info
The Knocks
The Knocks are multiplatinum selling artists The Knocks have been hailed worldwide for a carefree electronic sound that freely draws from soul, funk, disco, hip hop, house, and pop. Comprised of James Patterson and Ben Ruttner, the NYC-based duo have unleashed a dizzying array of dance music for more than a decade, spanning two acclaimed albums, multiple EPs, collaborations with artists across the musical spectrum, high profile network TV appearances, and show stopping DJ sets and live performances all over the world.

With touring halted to a standstill during the global lockdown, The Knocks opted to dedicate their time to the studio and began releasing a stunning string of new tracks including "Bodies," a collaboration with indie pop combo MUNA that saw both acts joining forces for a striking remote performance on ABC's Jimmy Kimmel Live!

The Knocks then reunited with GRAMMY® Award-nominated indie icons Foster The People for "All About You (Ft. Foster the People)," swiftly reaching the top 15 at Alternative radio outlets nationwide. The Knocks' second alliance with Foster The People following 2018's breakout hit "Ride Or Die (Ft. Foster The People)," the track was further featured as the official theme to TikTok's End of Year Wrapped campaign.

Next, The Knocks linked up with Australian indie rapper Mallrat for "R U HIGH (Ft. Mallrat)," scoring a #1 smash on Australian radio's triple j "Most Played" chart. The hits kept coming through 2021, including "Sound The Alarm (Ft. Rivers Cuomo of Weezer & Royal & The Serpent)" "Bedroom Eyes (Ft. Studio Killers)," and the emotionally driven love story, "River (Ft. Parson James)." The Knocks were featured on "Purple Disco Machine's platinum smash single "Fireworks," proving to be one of the biggest international hits of summer 2021, racking up more than 170M global streams to date and reaching the top 20 on the Global Airplay Chart.

Throughout their career, the duo have collaborated with some of music's biggest names [Carly Rae Jepsen, X Ambassadors, Big Boi] and toured around the world with music heavyweights including The 1975, Justin Bieber, and Ellie Goulding. Their hit single, "Ride or Die" featuring Foster the People reached #11 on the alt radio charts and landed them a live performance on The Late Show With Stephen Colbert. In addition, their collaboration with Sofi Tukker "Best Friend" has accumulated more than 200 million streams across platforms to date. They performed the song live on The Tonight Show Starring Jimmy Fallon and was the feature song in Apple's iPhone X campaign and keynote address.
Cannons
In a fever dream, the temperature rises, and reality slips in and out of focus. You may be asleep, but you never forget how it felt (even if the details remain fuzzy).

Cycling through states of mind and fits of feeling, CANNONS ebb and flow between otherworldly electro-soundscapes and evocative vocal transmissions, layering breezy pop atop cinematic sonic architecture. The L.A. group -- Michelle Joy [vocals], Ryan Clapham [lead guitar], and Paul Davis [drums, keys] -- physically incite body movement and mentally provoke thought. After amassing hundreds of millions of streams and earning acclaim from Consequence, OnesToWatch, LA Weekly, and more, the trio captivate like never before on their third full-length offering, Fever Dream [out March 25 via Columbia Records].

"A fever dream is a strange situation that feels like a dream," Michelle observes. "It's a confusing experience. You're dreaming, but you're also awake. This sentiment threads through the album. Over the last couple of years, writings songs lifted our spirits. These songs came from different places for all of us even though we went through life together. So, we used this medium as an escape from reality. We hope listeners can exit to a dreamscape in our music."

CANNONS have consistently enabled escape via their songs. Following a tireless grind, they quietly shook-up popular culture with their 2019 independent sophomore outing, Shadows. The single "Fire For You" initially toppled The Hollywood Reporter's Top TV Songs Chart at #1 in the wake of a placement on NETFLIX's Never Have I Ever. The success translated to multiple radio formats as they clinched #1 on both Alternative and Triple A, earning them a 2022 iHeart Radio Award nomination for 'Best New Alternative Artist.' With the song notably eclipsing 77 million Spotify streams, SiriusXM touted the band on the "Class of 2020," while YouTube named CANNONS among its "Artists on the Rise." Beyond inciting critical applause, they wowed audiences at Lollapalooza, Firefly, Outside Lands, and more.

Along the way, they carefully assembled what would become Fever Dream. The musicians worked out of Paul's home studio, while Michelle cut select vocal tracks alone at home.

"We were all in a different headspace from our last album," she admits. "COVID turned our lives upside down. So, it always felt like, 'Is this really happening?' It's a fever dream for the whole world. At the end of 2019, I was working three jobs on top of writing songs and playing with CANNONS. Then, there was nothing, because everything shutdown. It was scary. I lost my job. I didn't know how I was going to pay rent and buy food. Then, all of our biggest dreams came true with the band. Life took another turn. It's still surreal."

The single "Bad Dream" introduced this body of work. Neon synths glow underneath a thick bass line as Michelle's vocals hovers towards the hummable hook, "I've been living in a bad dream."

"I usually run to ease stress," she explains. "One day, I was running down the boardwalk in Venice Beach. Usually, it's very happy. People are smiling and having fun. This time, it was depressing, and everyone looked scared, so I wrote some lyrics on my Notes app. For as dark, personal, and rough as the words are, the vibe is very upbeat. If you're scared and frustrated, you can relate. There's also a good feeling instrumentally. It's a whole meal instead of being either just super bitter or super sweet."

Meanwhile, whistles chirp around a funky guitar lick on "Hurricane." Flush with synths and handclaps, it hinges on a catchy and confident chorus, "I'm coming back like a hurricane. I'm gonna take you higher."

"I wrote most of the lyrics to that song in my bedroom almost overnight," she recalls. "It's really about stepping into my own strengths."

Indicative of the band's evolution, "Purple Sun" leans into island energy with steel drums, while "Tunnel Of You" channels California country as guitar rolls like tumbleweed into fluttering horns. The danceable opener "Come Alive" struts forward on a head-nodding beat as she invokes "the beginning of obsession and love." The breathy "Afterglow" culminates on a pledge, "I'll follow you into the sun."

The record strikes its emotional apex on the finale "Lightning." Acoustic guitar resounds through a soft haze, and the vocals resound, "You are the only thing I've ever gotten right."

"I've always been a hopeless romantic," she says. "It's about finding the right person for you and trusting someone with your heart. Musically, it's one of the first times we've used acoustic guitar, and it makes the track even more intimate."

In the end, CANNONS sound like a dream in the best way.

"These songs kept us going, so I hope people will find a piece of themselves inside of the record," Michelle leaves off. "I've realized how important it is to feel connected to others. I just want everyone to feel a little less alone. There are some lonely songs, some longing songs, and some love songs. Fever Dream represents everything CANNONS is."
Pink Skies
This is silly. My name is Arieh, I make music under the name Pink Skies. I'm from Oakland, CA, and grew up in the Bay Area loving music and played in bands in the indie and punk scenes in the Bay. My band got banned from playing 924 Gilman because we weren't punk enough. That's whack lol. Too indie for the punk clubs and too punk for the indie clubs. We loved Red Hot Chili Peppers, Funkadelic, and The Clash.

We had to learn to record ourselves because no one else wanted to do it. We snuck into Guitar Center and abandoned offices and slept in them to record. We loved to skate, party, prank people, and smoke blunts listening to Mac Dre. Classic Bay shit. We lived in our van and toured around the country living off of peanut butter and water. Super fun rock band energy. We had a lot of fun!

I've gotten to produce music with 6LACK, Khalid, Saint JHN, Glass Animals, and lots of awesome musicians.

My incredibly talented friends and I have toured as Pink Skies (some from the OG band!) and we have gotten to play with incredible artists like Neil Frances, Goth Babe, Ritt Momney, Boy Pablo, Del Water Gap, Day Wave, TV Girl, and Tim Atlas. We're really stoked to play more shows, so hopefully we will come to a city near you someday.

I'm working on a bunch of new music, and it all sounds pretty different. I hope you like it, because I don't really know what it's going to sound like, but the whole point of music is to express yourself and to experiment so fuck it!

Just Announced
Nashville
Live Nation Presents
Doors: 6:00 PM /
Show: 7:30 PM
Nashville
Doors: 6:00 PM /
Show: 8:00 PM
Nashville
Tommy Lefroy, Venus & The Fly Traps
Doors: 6:00 PM /
Show: 7:00 PM