Saturday,
October
9th
, 2021
Brooklyn Bowlgrass
The Infamous Stringdusters
Sicard Hollow
Doors: 6:00 PM
/
Show: 8:00 PM
21+ Years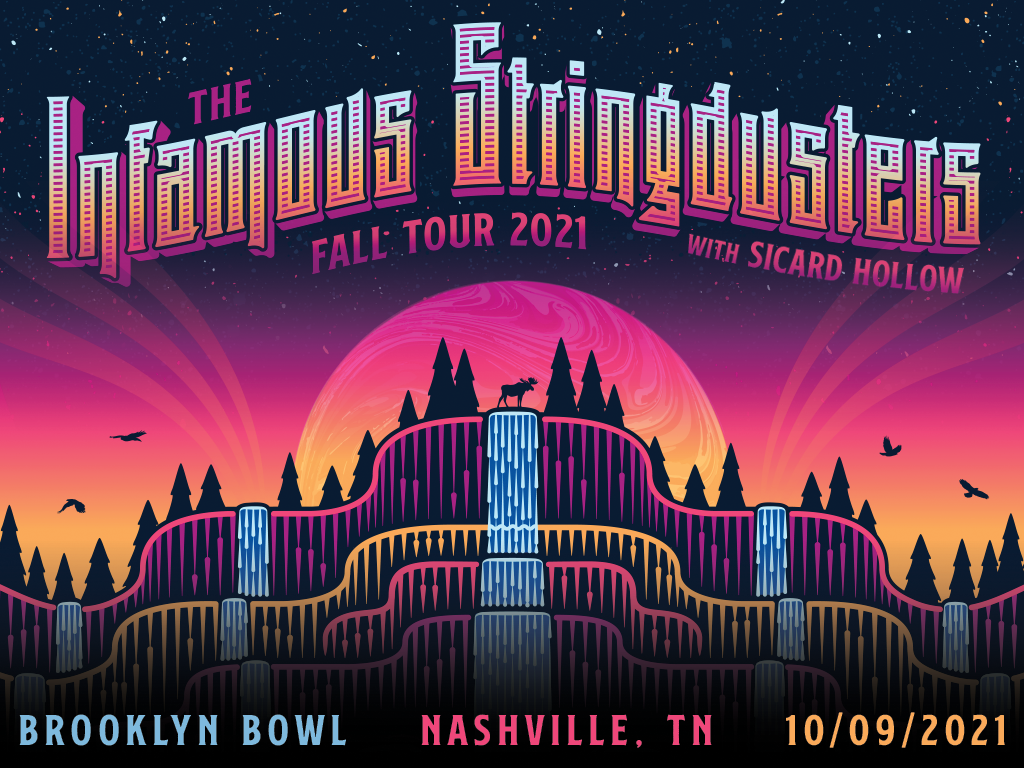 Event Info
Venue Information:
Brooklyn Bowl Nashville
925 3rd Avenue North
Nashville, Tennessee 37201
Because of the rise in cases due to the delta variant, a special COVID protocol is required for everyone that will be in attendance for The Infamous Stringdusters on 10/9 at Brooklyn Bowl Nashville. You, and anyone accompanying you in your party, are required to provide ONE of the following:
Proof of your vaccination record (vaccination card or picture of your card with a matching ID card), demonstrating you were fully vaccinated at least two weeks in advance of the day of show. OR proof of a negative COVID test, administered within 72 hours of the day of show, with matching ID card.
For information on free testing sites, please visit this link here: https://www.asafenashville.org/test-mask-resources/.
Brooklyn Bowl encourages mask wearing and encourages you to get vaccinated if you aren't already!
By purchasing a ticket you are acknowledging you will be required to show proof of vaccination or negative test result. There will be no refunds for tickets purchased, due to specific venue covid-19 protocol. If you receive a positive test before the show, please reach out to [email protected] and we will help facilitate a full refund.
If you have any questions or concerns, please reach out to us at [email protected].
To ensure you don't miss any of the show, please plan to arrive closer to doors to go through security and present your vaccination card or negative test. This process takes some time so please make sure you have your ID and Vaccination Card/Negative Results out and handy when going through security to expedite the process for all patrons.
Valid photo ID required at door for entry
This event is general admission standing room only
Doors: 6:00pm
Show: 8:00pm
Artist Info
The Infamous Stringdusters
The Infamous Stringdusters dig deep into their bluegrass roots for their eleventh full-length record A Tribute to Bill Monroe, made available on Americana Vibes. For this album - which pays homage to the Father of Bluegrass includes songs that shaped them individually, and as a band, and recorded them each remotely from their home studios.

"Bill Monroe was, as far as I can remember, the first bluegrass music I owned," shared Andy Hall. I asked my uncle for a Bill Monroe CD box set and got it as a birthday present when I turned 18. The sound coming out of my speakers blew my mind, almost like ancient acoustic heavy metal. But then a song like 'A Voice From On High' would come on, and even though it was slow, it had this captivating power. The ancient tones."

The GRAMMY® Award-winning quintet—Andy Falco [guitar], Chris Pandolfi [banjo], Andy Hall [dobro], Jeremy Garrett [fiddle], and Travis Book [double bass]—have musical influences that truly run the gamut, but their common denominator is certainly bluegrass -- the sound that has in essence defined the course of their career.

This particular body of work, the first in a series of bluegrass tribute albums, was an obvious choice in that Bill Monroe truly laid the foundation for bluegrass as we know it today.

This particular style of music is still played, and honored, 75 years later and remains a total creative force, something that albeit separated by the devastating impact of Covid-19 on the live music industry, the 'Dusters (as they're known to their fans) came together in their truest, most authentic form to create.

The Infamous Stringdusters stand out as the rare group who can team up with contemporary artists on late night television one night and headline the legendary Red Rocks Amphitheatre or perform alongside The Grateful Dead's Phil Lesh the next, and have recently emerged as proprietors behind their newly found independent record label, Americana Vibes.

Manifesting an actual flock of impassioned fandom, much like those who paved the road before them, the band have attracted a faithful international audience that continues to grow. Moreover, their powerful music and performances paved the way for a GRAMMY® Award win in the category of "Best Bluegrass Album" for 2017's Laws of Gravity, and a number of International Bluegrass Music Awards in a variety of categories.

Sometimes going back to the roots is where we are most likely to find opportunities for growth and evolution, so A Tribute to Bill Monroe was the catalyst for returning home.

"Once we realized that we were going to be grounded for a good while, we found the best way for us to stay connected musically, as a band spread out around the country, would be to record remotely, each guy from his own home studio," shared Andy Falco. "The silver lining of it was recording albums [such as Dust the Halls: An Acoustic Christmas Holiday and A Tribute to Bill Monroe) like we always talked about but didn't have the time to actually do because of our busy touring schedule. The most important thing is for the art to continue, and we are very happy to have been able to create despite our different geographical locations."

Bill Monroe was most widely known for his mandolin playing, however interestingly enough, the mandolin does not appear once in the Dusters' interpretation. So, while the nature of Bill Monroe's bluegrass resides within the spirit of innovation, the Dusters took that same leap of faith in excluding Monroe's instrument in that they "followed their own path to be innovators in the music they create together," shared Jeremy Garrett, "along with exploiting the musical foundation they all share."

This album, like both December 2020's holiday album and their last pre-pandemic effort, Rise Sun, was self-produced offering the band an opportunity to stay connected musically, together/apart, for which they are grateful.

A Tribute to Bill Monroe is the Infamous Stringdusters telling listeners that they are slowly and continually evolving, by honoring the roots of the music that has shaped them as a band and individually. The songs are meaningful, and the musical parts have become more essential.

The Dusters are a brotherhood, but that family extends beyond the band even. And with most of the past year apart (and off), the guys can't wait to hear what the future has in store for them musically speaking, and the hope is to bring that very musical joy back into people's lives.

"[the band] summon the light, which is all the more astonishing considering they tend to formulate their ideas individually before bringing them to the table." - Bluegrass Situation

"...they represent a different side of the same socially aware coin that funds less positive, equally progressive artists' countercultural capital." - No Depression
Sicard Hollow
Sicard Hollow is a four-piece progressive bluegrass band who formed with a mutual passion for pushing the boundaries of genre. Heavily influenced by the Grateful Dead and New Grass Revival, these young pickers bring new energy to a timeless style with a combination of fearless improvisation and instrumental prowess.
Having toured extensively around the southeast for the last year, this group of players continues to grow their sound with every performance. Having always thought of themselves as a live band, producer, Dan Davis, had his work cut out for him while producing their debut album, Secret of the Breeze, at Zac Brown and Oliver Wood's Southern Ground Nashville. The result was a perfect encapsulation of the band's genre-kicking tenacity. There is no slowing down for Sicard Hollow.
Just Announced
Nashville
Free Bowling from 5pm-8pm!
Show: 5:00 PM
Nashville
Free Bowling from 5pm-8pm!
Show: 5:00 PM