Constructive Summer
The Hold Steady
Esmé Patterson
Doors: 6:00 PM
/
Show: 8:00 PM
18+ Years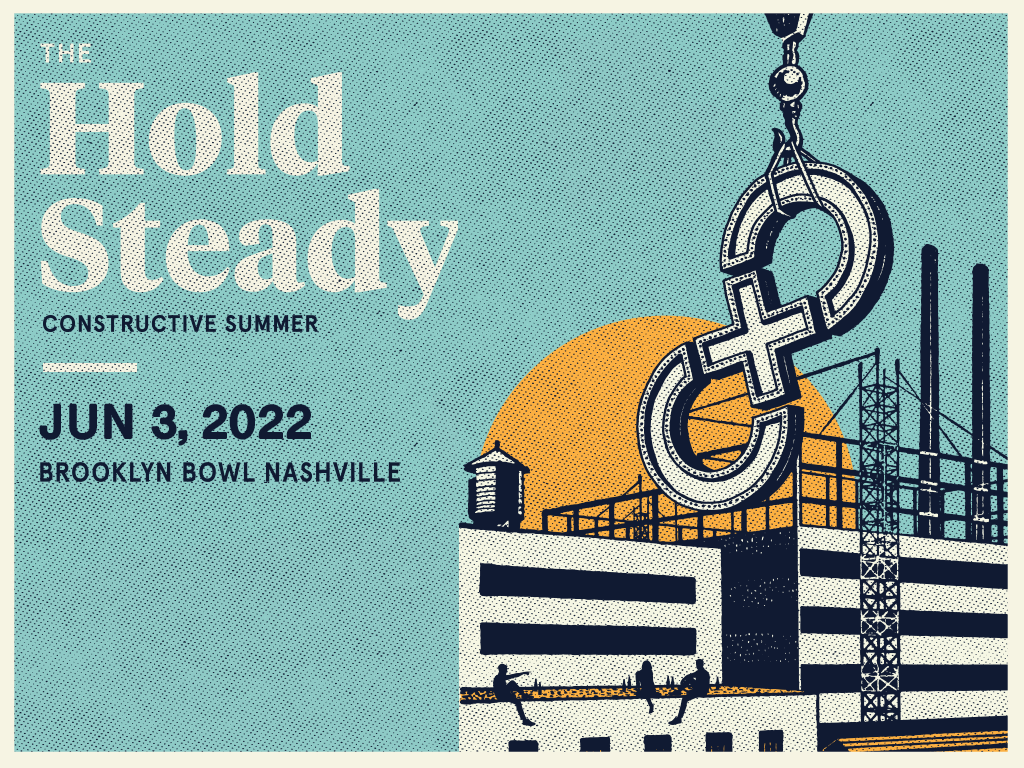 Event Info
Venue Information:
Brooklyn Bowl Nashville
925 3rd Avenue North
Nashville, Tennessee 37201
A special COVID protocol is required for everyone that will be in attendance for this show at Brooklyn Bowl Nashville. You, and anyone accompanying you in your party, are required to provide ONE of the following:
Proof of your vaccination record (vaccination card or picture of your card with a matching ID card), demonstrating you were fully vaccinated at least two weeks in advance of the day of show. OR proof of a negative COVID test, administered within 72 hours of the day of show, with matching ID card.
By visiting our establishment, you voluntarily assume all risks related to the exposure to or spreading of COVID-19.
By purchasing a ticket you are acknowledging you will be required to show proof of vaccination or negative test result. All Sales are Final.
Valid ID required for entry. This event is general admission standing room only
Previously purchased tickets will be honored for this event. If you have questions, please reach out to our team at
nashvilleboxoffice@brooklynbowl.com
Artist Info
The Hold Steady
Formed in 2003, The Hold Steady have released eight albums, numerous singles and played
over 1,000 shows.
The Brooklyn-based band has performed in all 50 states in the USA and throughout Canada,
Europe and Australia. The Hold Steady music has appeared across movies, advertising and TV,
including on Game Of Thrones and Billions, in addition to writing original material for Seth
Meyers cartoon The Awesomes and Meyers' 2019 stand-up comedy special Lobby Baby.
In February 2021, The Hold Steady released their most recent record, Open Door Policy, which
achieved the highest chart position of any The Hold Steady release, debuting #6 on the
Billboard Current Album Chart. Vulture hailed that the record "expands their horizons," and
"gives the Hold Steady new heft and variety without undercutting the sharpness of the hooks or
singer-guitarist Craig Finn's heart-wrenching novelistic lyricism."
Throughout 2022 the band has continued their extended multi-show runs in cities across the
globe, including The Weekender in London and appearances in Toronto, Melbourne (Australia),
Nashville, Atlanta, Denver and Los Angeles. The Hold Steady have done the post-
Thanksgiving Massive Nights weekend in Brooklyn at Brooklyn Bowl every year since 2016.
The Hold Steady is: Bobby Drake (drums), Craig Finn (vocals), Tad Kubler (guitar, vocals), Franz
Nicolay (keyboards, vocals), Galen Polivka (bass), and Steve Selvidge (guitar, vocals).
Esmé Patterson
Ray Bradbury's 1950 sci-fi short story collection The Martian Chronicles takes place between 1999 and 2057. Life on earth is crumbling post-nuclear war. The robots are thriving, carrying out the duties set before them, while the humans are forced to flee to Mars. Esme Patterson's fourth studio album, There Will Come Soft Rains, is named after the Sara Teasdale poem of the same name which inspired the Bradbury collection's penultimate tale.

There Will Come Soft Rains revolves around the constant cycle of creation and destruction. A process that Patterson felt reflected the sonic direction she started moving in on 2016's We Were Wild, and which she delves deeper into on her newest effort, and first for BMG. "It's about how life continues on this planet after humans inevitably wipe ourselves out," the Denver-based artist says. "The songs echo the surrender of starting over and failing and starting over again many times. I was hoping to convey the bittersweet peace of letting go alongside the courage to start again, being swallowed by fear and pain and coming out the other side stronger."

The album follows the Grand Jury Music release of 2016's critically acclaimed We Were Wild and marks her new partnership with BMG. Patterson got her start in the mid-aughts with her band Paper Bird and went on to release her first solo album, All Princes, I, in 2012. She began touring with Shakey Graves in 2014, in between albums and her own tours, and co-wrote three songs for his 2014 album, And The War Came, while also releasing her "defiant and witty" (The Guardian) second solo album Woman To Woman in 2015. Patterson has frequently collaborated with the likes of Craig Finn, William Elliot Whitmore, William Ryan Fitch and many more.

Patterson's music is constantly evolving but that has never been as obvious and crucial as it is on There Will Come Soft Rains. Jangly guitars and glowing synths build on the direction of We Were Wild and mark a stark transition from the folkier sound of her previous works. Raw vocals lay bare against fellow Denver duo Tennis' shiny production and surfy dream pop. For the album Patterson and Tennis holed up in the band's garage for 12 days in 2018 in the scorching hot Denver summer to record the album, but she has been conceptualizing it since 2015. "I feel like I've been continually rising from the ashes," she says. "Being born and dying again."

Over ten songs, Patterson yearns for true love, bemoans sexual frustration and capitalism, questions the afterlife, and ponders suicidal ideation. The album opens with the ectastic "Shelby Tell Me Everything" a "sweet and innocent gay love song". She wrote "Out The Door," a deceptively upbeat meditation on what happens to our souls when we die, while living with her dying grandmother. The dusty and delicate guitar-led "Momentito" is about living in the present, surrendering to what we can and can't control.

The darkest moment and brightest light come in the middle of the tracklist. The twinkly piano number "All Mine" takes us back to when Patterson lived in a motel room by the highway. "I was dealing with constant suicidal thoughts for several months, and through writing, writing this song specifically, I found an anchor," she says. "I knew at the center of my being...that I was enough, that I was ok, that I could take suicide off the table permanently, and never go back, that I was fine being all mine and loneliness too shall pass, it comes and goes, and there is beauty to be found in all of it."

Throughout her new album Esme Patterson weaves in and out of overtly personal stories of love and loss, but true to the namesake of There Will Come Soft Rains, and in the tradition of classic sci-fi, she looks towards the future with tenacity and a passionate resolve to see what comes next. Always with an eye on the optimistic, the end of pain and struggle, Esme's songs are imbued with acceptance and hope. Patterson knows, and wants us all to remember, that these cycles are natural, our highs compliment our lows but the beauty of life is finding balance between the two. Patterson's There Will Come Soft Rains is out March 6th on BMG.