Wednesday,
January
19th
, 2022
Texas Hill - Album Release Show
with special guest Adam Hood
Doors: 6:00 PM
/
Show: 8:00 PM
18+ Years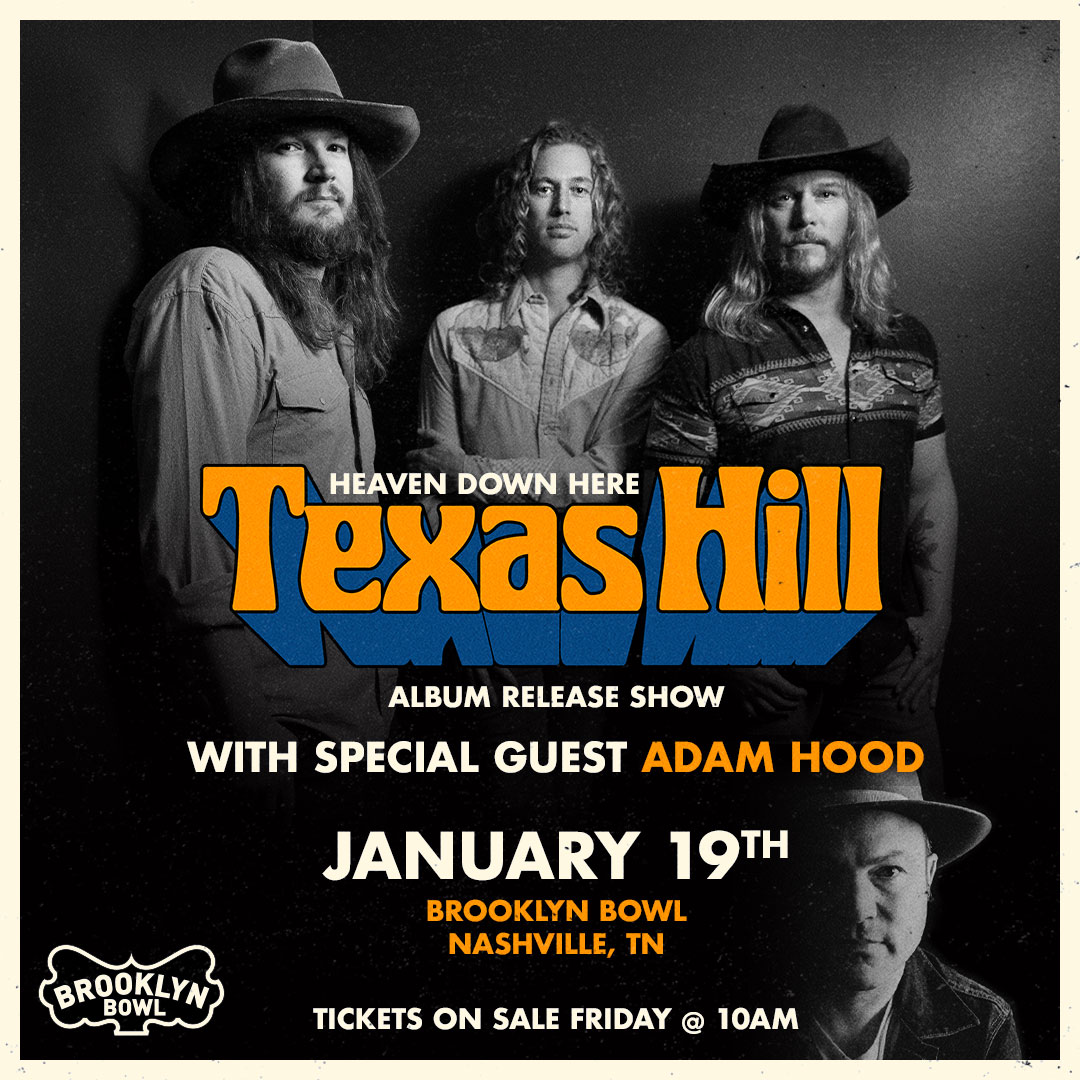 Event Info
Venue Information:
Brooklyn Bowl Nashville
925 3rd Avenue North
Nashville, Tennessee 37201
Because of the rise in cases due to the variants, a special COVID protocol is required for everyone that will be in attendance for this show at Brooklyn Bowl Nashville. You, and anyone accompanying you in your party, are required to provide ONE of the following:
Proof of your vaccination record (vaccination card or picture of your card with a matching ID card), demonstrating you were fully vaccinated at least two weeks in advance of the day of show. OR proof of a negative COVID test, administered within 72 hours of the day of show, with matching ID card.
We recommend uploading your vaccination card or negative COVID test information to the Bindle app — available for free on the Apple App Store or Google Play Store. This is a secure and private app that will allow you to quickly display your information, ensuring timely entry into the venue. For more information, visit joinbindle.com.
For information on free testing sites, please visit this link here: https://www.asafenashville.org/test-mask-resources/.
Brooklyn Bowl encourages mask wearing and encourages you to get vaccinated if you aren't already!
By purchasing a ticket you are acknowledging you will be required to show proof of vaccination or negative test result. All Sales are Final.

If you have any questions or concerns, please reach out to us at nashvilleinfo@brooklynbowl.com.
To ensure you don't miss any of the show, please plan to arrive closer to doors to go through security and present your vaccination card or negative test. This process takes some time so please make sure you have your ID and Vaccination Card/Negative Results out and handy when going through security to expedite the process for all patrons.

Valid photo ID required at door for entry
This event is general admission standing room only.
Artist Info
Texas Hill
Texas Hill is a gritty amalgam of overlapping tastes and distinct voices that meet in the middle as a bold harmonic trio. Craig Wayne Boyd offers a voice full of gospel-tinged country smoke, Adam Wakefield blends a rootsy bluegrass-and-Americana rasp, and Casey James wraps it with a blue-eyed soul quality and deft blues guitar chops.

The result is a band that's both rock solid and highly adaptive. Texas Hill is instantly identifiable, thanks to its well-developed signature sound: a proud, in-your-face harmonic wall. But each of the three singers can, and does, take over the lead, inevitably pushing the group in his own unique direction while those harmonies allow the whole ensemble to hang on to its sonic center.

"When you hear Fleetwood Mac together, you know it's Fleetwood Mac," Wakefield says. "When you hear the Eagles singing, you know it's the Eagles. We have our own sound as a collective, and nothing shows that more than when we flip parts around and still sound the same. These three timbres together, regardless of what register they're in, they create their own sound."

"Everybody has strengths in different places, and that's what makes this so rewarding," James
adds. "It's three lead singers, and we each can take the reins at different times. But we're also able to kick back and let somebody else take charge."

The Voice and American Idol worked in creating a fan base for all three. Boyd and Wakefield,
who were already living in Nashville and touring when they made their TV debuts on The Voice, each reached the Top 15 on the Billboard Hot Country Songs chart based on public reaction to their televised performances. James moved to Music City after his American Idol experience in the Simon Cowell era, and likewise made Top 15 on the magazine's Country Airplay chart.

"When you go through something like that, the only people that can really relate to it are the ones who've also gone through it," Boyd notes. "The navigation is going to be just as hard as it ever was, but it's so much more rewarding when you're doing it as a group."

That connection helped forge Texas Hill. James and Boyd, who grew up 60 miles apart on the
outskirts of the Dallas-Fort Worth metroplex, ran into one another at a 2019 event in Nashville and dove into conversation. As a direct result, Boyd invited James' family over the house for dinner, where they discovered their wives had attended middle school together in California. During the evening, James pulled a guitar off the wall and started jamming, and the music and harmonies flowed so freely that they decided to make it a regular occurrence.
Roughly a month later, Boyd brought Wakefield into the musical conversation, and when the three of them met up, Boyd introduced a song he'd just written. They fell into the chorus harmonies as if they'd been singing together for years, and it became the beginning of a new musical path. They still work their individual shows, but the trio format brought a comradery and a level of support that none of them had experienced on their own.

The trio cut about a dozen songs using members of Anderson East's road band, careening through a variety of textures and allowing the material to dictate who sings lead. Wakefield drives the Louisiana bayou stomper "Sugar Cane," Boyd stakes out a vulnerable space in the richly melodic "Neon Heart," and James approximates Delbert McClinton in the light scratch of "Love Me When I'm Leaving."

All three members of Texas Hill get their moments, but their collective harmonies are the glue,
whether that's in the lockstep rollercoaster melody of "Easy On The Eyes" or in the stately and reassuring blend on "Darkest Sky," a hopeful effort with an always-timely focus on resilience. The message in that last song – "There's somethin' 'bout those hard times that bring us all together" – is an embrace of cultural unity, but it applies to the music and the name of Texas Hill, too.

Central Texas is a melting pot of vastly different musical styles. Bob Wills' western swing, a mix of jazz and country, has roots in the Texas Hill Country, and his music was a huge influence on Willie Nelson, whose blend of country, blues, gospel, jazz and pop is typical of the state's attitude. Wakefield does not share his bandmates' geographical roots, but he grew up on Texas Hill Road in a rural part of New Hampshire, and a group he intended on forming with his now-late brother used Texas Hill as its moniker.

That same name is an apt title for a group that brings bedrock harmony to a juncture of multiple styles. Music fans in the playlist era are much less predictable than audiences of a previous time. They have the ability to mix, match, blend and reshuffle genres, and it's not uncommon to find listeners whose favorites include modern country, classic soul, arena rock and traditional pop all in the same mix. The three members of Texas Hill are spokes on a wheel, and the music finds its balance one song at a time through a natural friendship.
Adam Hood
Solo artist. Frontman. Behind-the-scenes songwriter. For more than a decade, Adam Hood has left his mark both onstage and in the writing room, carving out a southern sound that mixes equal parts country, soul and American roots music.
It's a sound that began shape in Opelika, Alabama. Raised by working-class parents, Hood started playing hometown shows as a 16 year-old, landing a weekly residency at a local restaurant. He'd perform there every Friday and Saturday night, filling his set list with songs by John Hiatt, Hank Williams Jr, and Vince Gill. As the years progressed, the gigs continued — not only in his home state, but across the entire country. Eventually even landing himself a three-year nationwide tour opening for Leon Russell.
These days, though, Hood is no longer just putting his own stamp on the songs of chart-topping country stars. Instead, many of those acts -- including Little Big Town, Miranda Lambert, Anderson East, Josh Abbott Band, Lee Ann Womack & Brent Cobb -- are playing his songs.
In 2016, Hood signed a publishing deal with Warner/Chappell Nashville and GRAMMY Award-winning producer Dave Cobb's Low Country Sound. All while remaining adamantly focused on his own career, playing around 100 shows annually promoting third solo release, Welcome to the Big World, and now his newest release, Somewhere in Between.
A showcase for both his frontman abilities and songwriting chops, Somewhere in Between shines a light on Hood's strength as a live performer. He recorded most of the album live at Nashville's Sound Emporium Studios over two quick days. Teaming up with friend and producer Oran Thornton (Miranda Lambert's Revolution, Angaleena Presley's Wrangled) their goal was to create something that reflected the raw, real sound of his concerts, where overdubs and unlimited takes are never an option. The result is a record that reflects Hood's working-class roots, mixing the upbeat thrill of his roadhouse roots-rock songs with the contemplative, stripped-down sway of his country ballads.
Joining him in the studio were guitarist Pat McLaughlin, bassist Lex Price, and drummer Jerry Roe. All of whom captured their parts in just a handful of live takes while Hood simultaneously tracked his vocals. Stripped free of studio trickery and lushly layered arrangements, Somewhere in Between is an honest, story-driven record. One that's both relatable and deeply autobiographical, with Hood writing or co-writing ten of the record's eleven tracks, alongside friends like McLaughlin, Brent Cobb -- who also appears on the electrified "She Don't Love Me" -- Josh Abbott, Jason Eady, and plenty of others.
Somewhere in Between is an album that finally finds Hood telling his own story. A dedicated family man, he wrote "Locomotive" — a heartland anthem, full of Telecaster twang and sunny swagger — after watching his young daughter develop her motor skills while playing with a set of blocks. Balancing his life as a relentless road-warrior, Hood penned highway ballad "Downturn" about a life filled with wanderlust and long drives from gig to gig.
As a blue-collar songwriter, Hood shines a light on everyday experiences — from family and friends to the thrill of Friday nights. Partly because he's stuck to his roots. The native Alabaman still lives in the Yellowhammer State and celebrates America's rural pockets with songs like "Keeping Me Here" and "Real Small Town," two songs filled with images of main streets, open landscapes, hard times, and good people.
"It's southern music," he says, grouping Somewhere in Between's wide range of music under an appropriate banner. "That's what it represents: the soulful side of southern music, the country side of southern music, the genuineness of southern culture, and the way I grew up. One of the t-shirts I sell at every show simply says 'Southern Songs,' and It's a good summary of what I do. It's what I've always done."