Thursday,
July
28th
, 2022
Princess Goes To The Butterfly Museum
MAN ON MAN
Doors: 6:00 PM
/
Show: 8:00 PM
18+ Years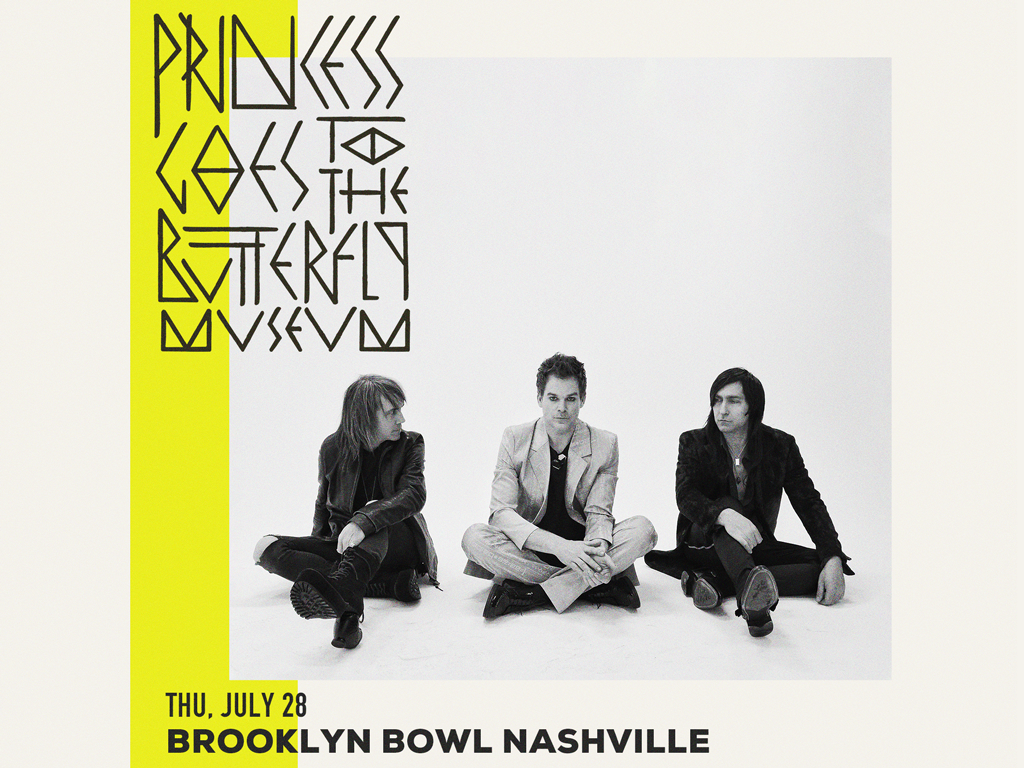 Event Info
Venue Information:
Brooklyn Bowl Nashville
925 3rd Avenue North
Nashville, Tennessee 37201
By visiting our establishment, you voluntarily assume all risks related to the exposure to or spreading of COVID-19.

Valid photo ID required at door for entry
This event is general admission standing room only.
All Support Acts are subject to change without notice.

If you are interested in reserving a bowling lane or a VIP Box in advance, please reach out to nashvilleevents@brooklynbowl.com.
Artist Info
Princess Goes To The Butterfly Museum
Princess Goes To The Butterfly Museum is a trio comprised of vocalist,lyricist, musician and Golden Globe and Screen Actors Guild Award-winning and Emmy-nominated actor Michael C. Hall (Dexter, Six Feet Under, Hedwig and the Angry Inch), keyboardist Matt Katz-Bohen (Blondie), and drummer Peter Yanowitz (The Wallflowers, Morningwood).

A theatrical sensibility is part of the trio's DNA, especially in live shows, having met several years ago on Broadway during the production of Hedwig and the Angry Inch.

Princess Goes to the Butterfly Museum eschews traditional rock instrumentation in favor of a stripped-down synthesizer-and-drum attack, heard on their debut full-length album THANKS FOR COMING (released earlier this year), which follows their 2020 self-titled EP. Both have drawn praise from Paper, Alternative Press, Associated Press, Consequence of Sound, People, American Songwriter, Magnet, FLOOD, Forbes, Huffington Post, NME, Line of Best Fit, The Independent, Entertainment Tonight and more. A wealth of disparate influences flow into Princess Goes to the Butterfly Museum's songs – the glam, experimental, ambient music of David Bowie, Giorgio Moroder's '70s disco productions for Donna Summer, '80s new wave dance music, contemporary electronic dance acts like Justice, and the roster of France's Ed Banger label.

Princess Goes To The Butterfly Museum's album Thanks For Coming was released in February 2021.
MAN ON MAN
Two bodies dancing hot in the New York City winter before being pushed inside for the rest of 2020. Two hearts that, in the span of 6 months, faced the loss of both of their mothers, the matriarchs that bore them to this planet full of wonder. They held on tight to the beauty of living, together. With this shared language and the confines of quarantine they lost and loved even harder. Battling packed boxes and lost jobs, the two celebrated their tragic journey with broad shoulders forcing power chords and the harmonized chants of utter release. They huddled together for the future while leaking their hearts into pop melodies that collide effortlessly with both a shared melancholy and simultaneous hope.

MAN ON MAN (also M.O.M.) is a new gay lover band made up of Joey Holman (HOLMAN) and Roddy Bottum (Faith No More, Imperial Teen, CRICKETS, Nastie Band). Their upcoming self-titled record, MAN ON MAN, is infused with indie-rock distortion and soaked in gay pop confidence while still maintaining the acerbic and pure sense of humor they both share. M.O.M.'s music videos take their magical collaboration to another level with otherworldly cinematographic dimension, and of course, the subversive playfulness of two gay lovers unmistakably flirting with their audience and each other. Upon the release of their debut single, "Daddy", their video (chock full of the pair dancing seductively in their white briefs) was removed from YouTube for violating their "sex and nudity policy." At this moment, the band solidified their political visibility as queer artists who are not ok with being silenced or removed from history because of their age or size. Bottum told Rolling Stone, "There's enough representation in the gay community of young, hairless pretty men." Roddy and Joey's love for each other and their own bodies, histories, and truths are what make this project so tender and lovable.

MAN ON MAN's music transcends both genre or decade, creating a timeless appeal for so many kinds of listening. The varied influences and textures of the record are a meditation on the myriad of emotions of lockdown, as well as this particular moment in their own lives, collectively and independently. The shoegaze whirlpools of "Stohner" transition into the square wave synths of "1983" with ease, while tracks like "It's So Fun (To Be Gay)" open us up to a new type of queer anthem for the 2020s.

It is hard not to be captivated with MAN ON MAN's story, as they pass through pandemic lockdowns in a rented pickup truck. Through hotels, rest stops, mountaintops, desert mirages, back roads, beaches, and hospital rooms, the layering of space and time allows us to grasp onto each moment individually and together as a whole. When we fall into their world (which was self-produced with mix support by Grammy-award winning producer Carlos de la Garza [M83, Paramore, Jimmy Eat World] and Mike Vernon Davis [Foxing, Great Grandpa]), we witness MAN ON MAN's deep intensity of falling in love while mourning, and the epic collaboration of two lovers that traverse the map of a COVID road trip.
MAN ON MAN is more than a band, it is a partnership of two beautiful queers who are committed to creating a language that is both musical and visual, and that transcends what we know of gay music at exactly the cultural moment we need them. As individuals, lovers, sons, community pillars, and human beings, M.O.M. are a womb to be reckoned with.
Just Announced
Nashville
The Cribs
Doors: 6:00 PM /
Show: 7:45 PM
Nashville
Doors: 6:00 PM /
Show: 8:00 PM
Nashville
Vaultboy
Doors: 6:00 PM /
Show: 8:00 PM