Wednesday,
September
15th
, 2021
Lightning 100 Presents
Lucy Dacus
Palehound, No Bowling after 9:00pm
Doors: 6:00 PM
/
Show: 8:00 PM
18+ Years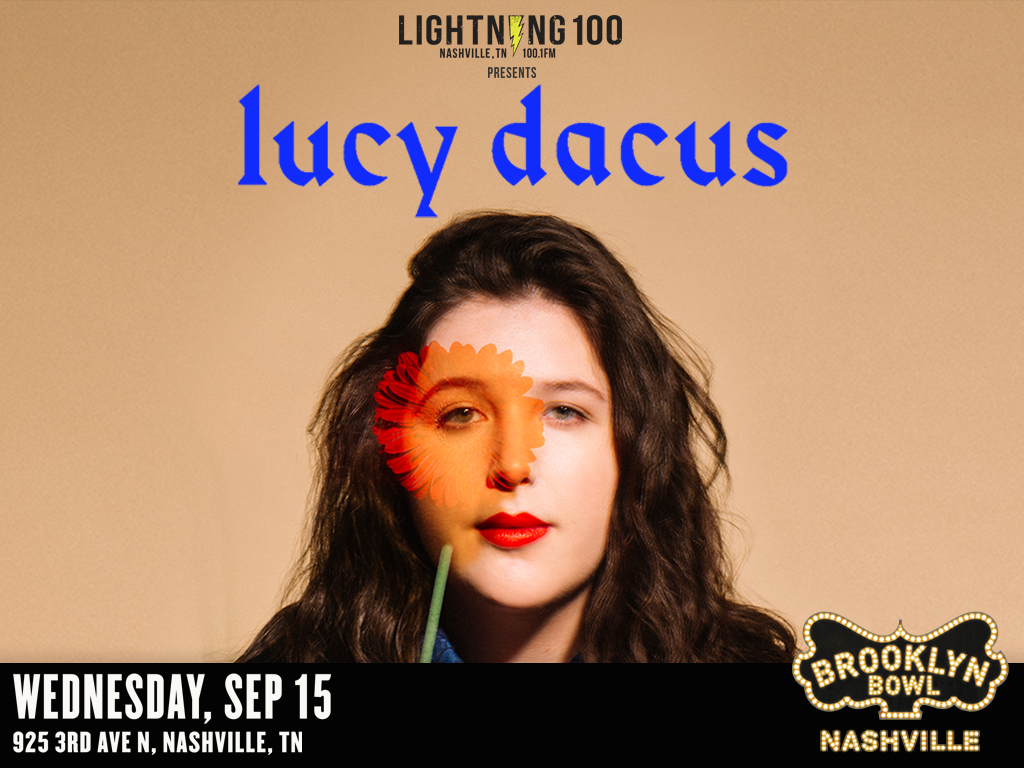 Event Info
Venue Information:
Brooklyn Bowl Nashville
925 3rd Avenue North
Nashville, Tennessee 37201
Because of the rise in cases due to the delta variant, a special COVID protocol is required for everyone that will be in attendance for Lucy Dacus on 9/15/21 at Brooklyn Bowl Nashville. You, and anyone accompanying you in your party, are required to provide ONE of the following:
Proof of your vaccination record (vaccination card or picture of your card with a matching ID card), demonstrating you were fully vaccinated at least two weeks in advance of the day of show. OR proof of a negative COVID test, administered within 72 hours of the day of show, with matching ID card.
The city of Nashville is offering free testing (Monday - Friday, 8am-2pm) at 2491 Murfreesboro Pike, Nashville, TN 37217 (former K-Mart parking lot). For more information on the specific testing site, please visit this link here: https://www.asafenashville.org/test-mask-resources/.
Lucy Dacus and Brooklyn Bowl encourages mask wearing and encourages you to get vaccinated if you aren't already!
By purchasing a ticket you are acknowledging you will be required to show proof of vaccination or negative test result. There will be no refunds for tickets purchased, due to specific venue covid-19 protocol. If you receive a positive test before the show, please reach out to [email protected] and we will help facilitate a full refund.
If you have any questions or concerns, please reach out to us at
[email protected]
This event is 18+ Anyone under the age of 18 must be accompanied by a parent or guardian
Valid photo ID required at door for entry
This event is general admission standing room only
Doors: 6:00 PM
Show: 8:00 PM
Artist Info
Lucy Dacus
There are a thousand truisms about home and childhood, none of them true but all of them honest. It's natural to want to tidy those earliest memories into a story so palatable and simple that you never have to read again. A home video promises to give your memories back with a certificate of fact— but the footage isn't the feeling. Who is just out of frame? What does the soft focus obscure? How did the recording itself change the scene?

Some scrutinize the past and some never look back and Lucy Dacus, a lifelong writer and close reader, has long been the former sort. "The past doesn't change," Dacus said on a video call during that interminable winter of video calls. "Even if a memory is of a time I didn't feel safe, there's safety in looking at it, in its stability."

This new gift from Dacus, Home Video, her third album, was built on an interrogation of her coming-of-age years in Richmond, Virginia. Many songs start the way a memoir might—"In the summer of '07 I was sure I'd go to heaven, but I was hedging my bets at VBS"—and all of them have the compassion, humor, and honesty of the best autobiographical writing. Most importantly and mysteriously, this album displays Dacus's ability to use the personal as portal into the universal. "I can't hide behind generalizations or fiction anymore," Dacus says, though talking about these songs, she admits, makes her ache.

While there's a nostalgic tint to much of Dacus's work, the obliquely told stories in past songs are depicted here with greater specificity. Triple Dog Dare recounts young, queer love complicated and forbidden by religion. The toxic relationship depicted in Partner in Crime is filled with pining, deceit, and meeting curfew. ("My heart's on my sleeve/ it's embarrassing/ the pulpy thing, beating.") Christine is an elegiac ballad about a close friend vanishing into an inhibiting relationship.

As is often the case with Dacus, these songs are a study in contrast. In Hot & Heavy, she sings powerfully about blushing and diffidence, while the song Thumbs contains an elegant fantasy about the brutal murder of a close friend's no-good father. After performing Thumbs during the nearly nonstop tours for her first two albums, it quickly became a white whale to Dacus fans, who have been counting the days until its release just as we've all awaited the end of this endless quarantine.

While all that touring made Lucy long to re-root in her hometown, her sudden acclaim filled Richmond with funhouse distortions of herself. People she didn't know were looking at her like they knew her better than she knew herself. Strangers showed up at her front door. "You used to be so sweet," she sings on the opening track, "now you're a firecracker on a crowded street." That truism, both true and false—you can't go home again—seemed to taunt her at the very time she needed home the most.

In August 2019, after a too much touring then a month of silence, it was time to go back to Trace Horse Studio in Nashville—Jacob Blizard, Collin Pastore, and Jake Finch, her loyal friends and collaborators were at her side again. Dacus's boygenius bandmates, Phoebe Bridgers and Julien Baker sang a loving chorus on Please Stay and Going Going Gone while each recorded solo songs during the same session. Dacus's resulting record—full of arrhythmic heartbeat percussion and backgrounds of water-warped pipe organ— was mixed by Shawn Everett and mastered by Bob Ludwig.

Loyal Dacus listeners may notice that the melodies here are lower and more contained, at times feeling as intimate as a whisper. The vulnerability of these songs, so often about the intense places where different sorts of love meet and warp, required this approach. "When you told me 'bout your first time, a soccer player at the senior high," she sings in Cartwheel, "I felt my body crumple to the floor. Betrayal like I'd never felt before." Yet in Partner in Crime, Dacus marries content and form in a strikingly different way, using uncharacteristic Autotune in a song about duplicity and soft coercion.

That Home Video arrives at the end of this locked down, fearful era seems as preordained as the messages within. "I don't necessarily think that I'm supposed to understand the songs just because I made them," Dacus says into a screen, "I feel like there's this person who has been in me my whole life and I'm doing my best to represent them." After more than a year of being homebound, in a time when screens and video calls were sometimes our only form of contact, looking backward was a natural habit for many. If we haven't learned it already, this album is a gorgeous example of the transformative power of vulnerability. Dacus's voice, both audible and on the page, has a healer's power to soothe and ground and reckon.

—Catherine Lacey, February 2021, Chicago, IL
Palehound
Acclaimed by fans & critics alike, prolific singer/songwriter Ellen Kempner​, aka Palehound, ​is known for sharing intimate meditations on love, gender, body image and self acceptance. ​Her most recent album, Black Friday, is a finespun exploration of all the forms that love can take: love between friends, love for people no longer in your life, love in the face of self-hate, love that endures through major life changes or through many tiny catastrophes.
On stage, the band takes audiences on a ​cathartic ​journey ​of exhilarati​on, ​empowerment and community​, whether headlining or opening for such idols as Courtney Barnett, The Breeders, Mitski, ​Big Thief, ​Japanese Breakfast, ​Jay Som ​and others.​
Just Announced
Nashville
Free Bowling from 5pm-8pm!
Show: 5:00 PM
Nashville
Free Bowling from 5pm-8pm!
Show: 5:00 PM