Sunday,
October
23rd
, 2022
King's X
with Sound&Shape
Doors: 6:00 PM
/
Show: 7:30 PM
18+ Years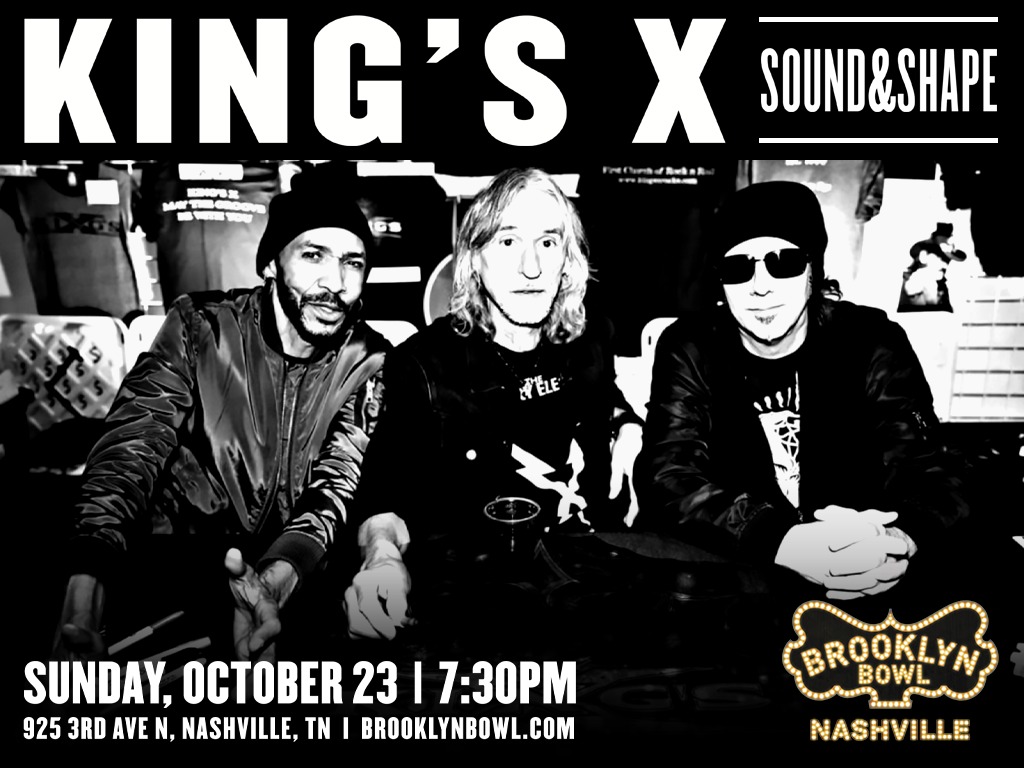 Event Info
Venue Information:
Brooklyn Bowl Nashville
925 3rd Avenue North
Nashville, Tennessee 37201
This event is 18+, unless accompanied by a parent or legal guardian. Valid government-issued photo ID is required for entry. No refunds will be issued for failure to produce proper identification.
There are no COVID-19 vaccination or test requirements for this event. An inherent risk of exposure to COVID-19 exists in any public place where people are present. By visiting our establishment, you voluntarily assume all risks related to the exposure to or spreading of COVID-19.
This ticket is valid for standing room only, general admission. ADA accommodations are available day of show.
All support acts are subject to change without notice.
Any change in showtimes, COVID-19 protocols, and other important information will be relayed to ticket-buyers via email.
Want to have the total VIP experience? Upgrade your ticket today by reserving a bowling lane or VIP Box by reaching out to nashvilleevents@brooklynbowl.com
ALL SALES ARE FINAL
Artist Info
King's X
Lifelong friends communicate in a language of their own peppered with shared memories, inside jokes, and dreams fulfilled. King's X partake in a similar musical conversation informed by over four decades together as a band. The trio— Dug Pinnick [bass, vocals], Jerry Gaskill [drums, vocals], and Ty Tabor [guitar, vocals]— lock into an unspoken groove where each element shapes a signature sound singular to these three individual souls alone. No other band in history has pushed hard rock, alternative, metal, progressive, and soul into a galaxy quite like the one King's X occupy. Along the way, they architected a catalog of seminal releases. KERRANG! famously scored their 1988 full-length debut, Out of the Silent Planet, with a rare "5-out-of-5- stars." On its heels, the landmark Gretchen Goes To Nebraska continues to inspire think pieces with Ultimate Classic Rock going as far to proclaim, "no one else has crafted anything remotely like it." They notably appeared on the soundtrack to Bill & Ted's Bogus Journey, and Guitar World christened the self-titled King's X one of "The 30 Greatest Rock Guitar Albums of 1992" (a year notably highlighted by Pantera's Vulgar Display of Power, Alice In Chains' Dirt, Megadeth's Countdown To Extinction, Dream Theater's Images and Words, and many more). Following Dogman, the group graced the stage of Woodstock 1994 and toured with everyone from Pearl Jam and AC/DC to Mötley Crüe and Iron Maiden. They also attracted one of the most diehard fanbases in music with Ear Candy [1996], Tape Head [1998], Please Come Home... Mr. Bulbous [2000], Manic Moonlight [2001], Black Like Sunday [2003], Ogre Tones [2005], and XV [2008]. In 2019, author Greg Prato's book King's X: The Oral History featured testimonials from the likes of Jeff Ament of Pearl Jam, Billy Corgan of The Smashing Pumpkins, Andy Summers of The Police, Scott Ian of Anthrax, Dean DeLeo of Stone Temple Pilots, Rex Brown of Pantera, and more. Meanwhile, Rolling Stone crowned them "Internationally renowned cult heroes," Devin Townsend included Gretchen Goes To Nebraska on "The 5 Albums That Made Me," and VH1 touted them among "The 100 Greatest Artists of Hard Rock." Their first full-length studio offering in 14 years, Three Sides of One [Inside Out Music], represents the culmination of this trip and of a bond forged way back in 1979. "When I think of it, King's X feels like a couple of old best friends coming together, shooting the shit, and having a good time," affirms Dug. "It's instinctual. When I would listen to demo tapes of Jerry and Ty for the record, it gave me a great perspective on how blessed I am to be in King's X. What they did on Three Sides of One sounded so good. For as familiar as it is, it's like I'm in a new band." "This time, we sat around, listened to each other's ideas, and would collectively say, 'Let's work on that'," recalls Ty. "It was the most enjoyable album I've personally ever recorded in my entire life, period." "I'll cherish what we did in my heart forever," agrees Jerry. "Everything lined up perfectly." During 2019, the members congregated at Black Sound Studio in Pasadena, CA with producer Michael Parnin to bring Three Sides of One to life. Despite consistent touring, they hadn't cut a new LP since 2008. Nevertheless, the guys picked up where they left off. Creative confidant and collaborator Wally Farkas rolled through, and they channeled their incredible chemistry on tape. During the sessions, Ty and Jerry sang more and expanded the vocal interplay. At the same time, they hung out in the house and enjoyed the summer— even listening to a nearby Rolling Stones concert from The Rose Bowl outside one evening. "We wanted it to be very special," Jerry goes on. "We all brought in songs we believed in. We were excited to see each other. We had a wonderful house to stay in, and it was the best situation." "We didn't want to make a record until we knew our fans would love it," Dug goes on. "It took us a while, but we got there. Once we did, we got on the same page and said, 'Let's make this thing the best we can'." The opener and first single "Let It Rain" kickstarts this chapter. Clean guitar echoes over a steady beat before a deluge of distortion submerses the chorus's plea, "So let it rain." "I wanted to write a heavy song about the world as I see it," Dug states. "It was like a prayer to the unknown god to do something. It seems like everything is a mess, and we've got no solutions. I was trying to agree with everyone and join the program." A bluesy lick swings like a wrecking ball into a swaggering groove on "Give It Up," which culminates on a manic gang chant. "After I turned 71, death was on my mind every day," Dug confesses. "Chris Cornell killed himself, and I was thinking of that. Lyrically, it's about not giving up until you naturally die. I want to ride it out until it's over. I'm laughing about how I haven't gotten a will yet, but I should have one. Musically, I wanted it to be really simple, so you can dance to it." Then, there's "All God's Children." A dreamy clean guitar melody sets the tone before a trudging groove kicks in. It builds towards a towering chant. "It's probably going to be one of the most misunderstood songs of the bunch," muses Ty. "I was looking around at all of these people who call themselves Christians, but they believe a whole lot of non-Christian things. They choose to believe anyway despite everything collapsing with all of the death and ugliness around their beliefs." On "Flood," a pummeling polyrhythmic riff bludgeons and bruises as Dug croons an apocalyptic affirmation, "I used to say that all we need is love, now I'm thinking that what we need is a flood." "Back in the day, we used to do songs where the rhythms changed like 'We Were Born To Be Loved' or 'Far, Far Away', so we wanted to do a couple of songs that lent toward that," Dug elaborates. "I looked around and said, 'Man, we need a reset'. It's only my opinion. Maybe it's not a very positive record," he laughs. "She Called Me Home" slips into a delicate darkness uplifted to the light by the siren's call of a soaring guitar solo. "I was thinking of when I was kind of dead and had to recover," admits Jerry. "I didn't think I was ever going to play again, but a friend said, 'You are going to play. You will get out there'. It came from those conversations." The closer "Every Everywhere" hinges on a powerful last word, "The world is crying for love, every everywhere." "I tried to write a Beatles-type song everyone could sing along with," Dug adds. "It says what it is." In the end, Three Sides of One is everything King's X were, are, and always will be. "To me, the train is rolling, and I'm on it like we've been doing for 43 years," Dug leaves off. "We're just old friends."
Sound&Shape