Saturday,
November
27th
, 2021
Back Before You Know It Tour
Colony House
Fleurie
Doors: 6:00 PM
/
Show: 8:00 PM
18+ Years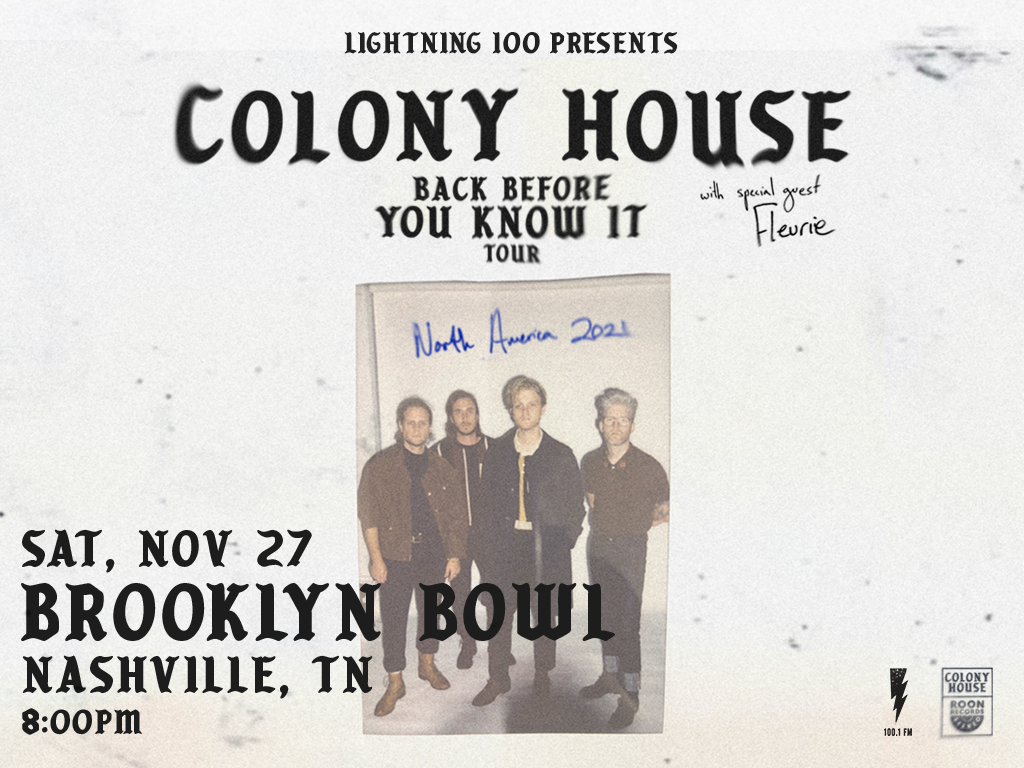 Event Info
Venue Information:
Brooklyn Bowl Nashville
925 3rd Avenue North
Nashville, Tennessee 37201
This event is 18+ Anyone under the age of 18 must be accompanied by a parent or guardian

Valid photo ID required at door for entry.
This event is general admission standing room only

Doors: 6:00 PM
Show: 8:00 PM

An inherent risk of exposure to COVID-19 exists in any public place where people are present. COVID-19 is an extremely contagious disease that can lead to severe illness and death. According to the local health authorities, senior citizens and guests with underlying medical conditions are especially vulnerable.

By visiting our establishment, you voluntarily assume all risks related to exposure to COVID-19.

Help keep each other healthy.
Artist Info
Fleurie
With her ethereal vocals and intimate lyrics, Fleurie makes music that's both otherworldly and rooted in raw emotion. On her new single "Constellate," the Nashville-based singer/songwriter builds off that dynamic to deliver her most pop-minded offering to date: a lushly textured, string-laced track that shines with bright melody. Centered on the magnetic vocal presence she's shown in songs like "Hurts Like Hell"—a 2016 release that's amassed over 11 million streams on Spotify—"Constellate" gracefully captures the promise of new beginnings, and the possibility of transformation.
"I wrote 'Constellate' at the beginning of 2017, and I wanted it to be a message of hope after a year that was so stormy," explains Lauren Strahm, who made her debut as Fleurie in 2013. "It's my way of telling people, 'We've all survived this very dark and heavy time, so now let's take that next step and try to really soar.'"
Co-produced by Strahm and her keyboardist Justin Amundrud, "Constellate" arrives as the first single from Fleurie's forthcoming full-length debut, Portals. In bringing the album to life, Strahm shaped her hook-driven yet atmospheric sound from a delicate fusion of organic and electronic instrumentation, mining everything from electro-indie to Britpop to the experimental alt-rock. And at the heart of the album are Strahm's nuanced and evocative lyrics, an element informed by her longtime exploration of poetry. "Every once in a while I'll write a poem and it'll come out like a song," notes Strahm, who lists E.E. Cummings and Edgar Allan Poe among her favorite poets.
Growing up near Detroit, Strahm first discovered her love of music by singing in church and studying classical piano. By the time she was 12 she'd started writing her own songs, and several years later began recording those songs in a friend's basement. But despite her undeniable passion for music, Strahm initially made plans to study interior design once she'd finished high school. "I remember my dad telling me, 'I'll pay for you to go to design school, and then we can laugh about it someday when you're in the music industry,'" Strahm recalls. "I had this fear that I was maybe just a big fish in a small pond—that I wasn't talented enough to really go anywhere with music. But when I told my dad that he said to me, 'I think you really do have what it takes, and I just know that music is going to keep finding you no matter what you do.'"
Following that change of heart, Strahm ended up majoring in music and—while studying at Hillsong College in Sydney, Australia—found an unofficial mentor in Brooke Fraser (a New Zealand singer/songwriter she'd long admired). After graduating she moved to Nashville, and a year later released the seven-track Fear & Fable EP under the name Fleurie (a moniker selected for its suggestion of blossoming flowers). Along with landing a publishing deal in 2014—and quickly finding her intensely cinematic brand of pop featured in a number of movies and TV shows—she released the Arrows EP in 2015 and Love and War the following year.
In the making of Portals, Strahm pushed herself to sculpt more melody-driven arrangements while carving out lyrics with a quietly powerful impact. Before she began the writing process, Strahm jotted down a series of words meant to encapsulate her vision for the album, including melty and magical and celestial and dreamy—the phrase she considers most essential to her sensibilities as a musician and artist. "More than anything, I want my music to take people into a dreamlike state," says Strahm. "At first that might feel like escapism, but over time it can pull you deeper into your emotions. I want my songs to help people to open up a bit, and imagine more possibilities for the world and what might be."