Wednesday,
November
3rd
, 2021
Circles Around The Sun
Doors: 6:00 PM
/
Show: 8:00 PM
18+ Years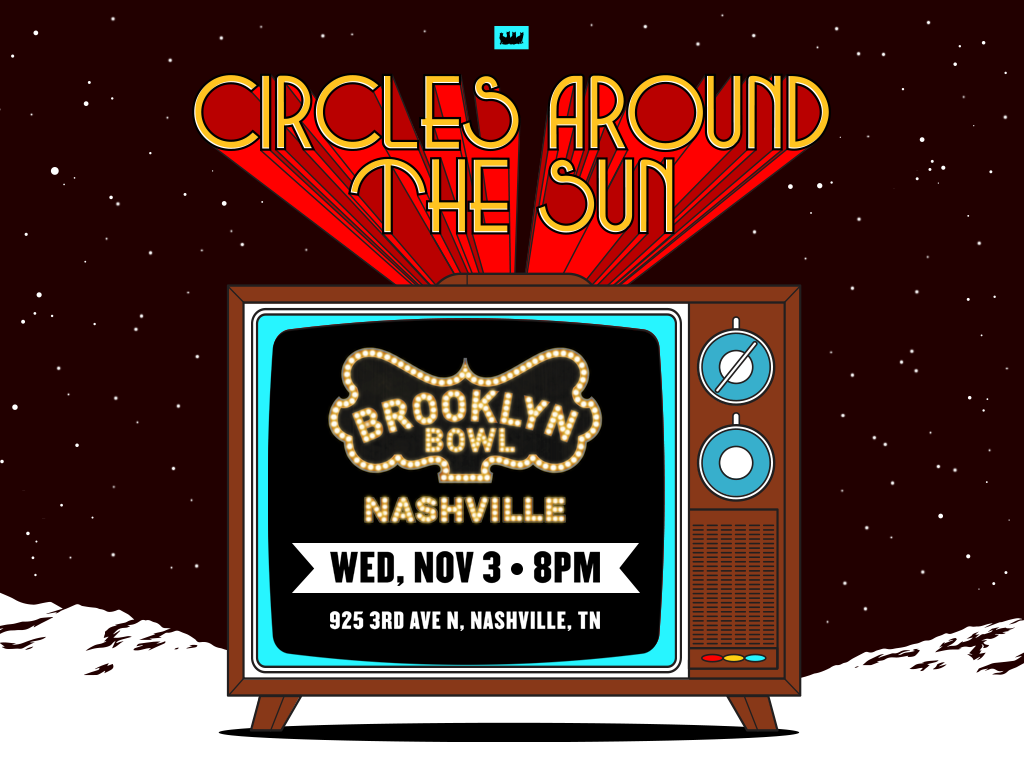 Event Info
Venue Information:
Brooklyn Bowl Nashville
925 3rd Avenue North
Nashville, Tennessee 37201
Because of the rise in cases due to the delta variant, a special COVID protocol is required for everyone that will be in attendance for Circles Around The Sun on 11/3/21 at Brooklyn Bowl Nashville. You, and anyone accompanying you in your party, are required to provide ONE of the following:
Proof of your vaccination record (vaccination card or picture of your card with a matching ID card), demonstrating you were fully vaccinated at least two weeks in advance of the day of show. OR proof of a negative COVID test, administered within 72 hours of the day of show, with matching ID card.
For information on free testing sites, please visit this link here: https://www.asafenashville.org/test-mask-resources/.
Brooklyn Bowl encourages mask wearing and encourages you to get vaccinated if you aren't already!
By purchasing a ticket you are acknowledging you will be required to show proof of vaccination or negative test result. There will be no refunds for tickets purchased, due to specific venue covid-19 protocol. If you receive a positive test before the show, please reach out to [email protected] and we will help facilitate a full refund.
If you have any questions or concerns, please reach out to us at [email protected].
To ensure you don't miss any of the show, please plan to arrive closer to doors to go through security and present your vaccination card or negative test. This process takes some time so please make sure you have your ID and Vaccination Card/Negative Results out and handy when going through security to expedite the process for all patrons.
This event is 18+ Anyone under the age of 18 must be accompanied by a parent or guardian
Valid photo ID required at door for entry
This event is general admission standing room only.
Doors: 6:00 PM
Show: 8:00 PM
Artist Info
Circles Around The Sun
Los Angeles-based instrumental supergroup Circles Around the Sun returns with the release of their self-titled, third full-length studio album, Circles Around the Sun. The seven-track collection marks a stylistic shift from their previous LPs. It's an evolution that sees the band embracing a sleeker, shinier, even DANCIER version of themselves – a cosmic disco of the body and the soul, still anchored in the groove, but ascending to the stars. The thing is, their sound isn't the only thing that's evolved. Since their last LP, Circles has undergone a transformation internally. It's a tale of life, death and rebirth, of love and loss, of shedded skin and new beginnings. But let's start with the new album, shall we?

Recorded by legendary engineer Jim Scott (Wilco, Rolling Stones, Tom Petty) at his studio in Valencia, CA, this new collection began with…a drum machine. The Sequential Circuits Drumtraks™ from 1983, to be specific. The Circles band members—guitarist Neal Casal (Chris Robinson Brotherhood, Ryan Adams), bassist Dan Horne (Cass McCombs, Jonathan Wilson), keyboardist Adam MacDougall (Black Crowes) and drummer Mark Levy—were searching for a sound, something more upbeat than previous releases. Cue the Drumtraks™. "The built-in beats on it are actually pretty janky," says Horne. "But we knew we wanted to make more of a dancey, groove-driven album that would translate live, to give our shows a more high-energy feel." Drawing inspiration from P-Funk, Herbie Hancock's Head Hunters, and Beastie Boys' slinky instrumentals, the band used the Drumtraks™ driving rhythms as the foundation for each song.

Album opener "Babyman" makes it clear the Circles Around The Sun ride is headed in a new direction, closer to Air's Moon Safari than the psych-jazz odyssey of their previous LPs, Interludes for the Dead (2015) or Let It Wander (2018).

An origin story, for context: in 2015 Justin Kreutzmann, son of Grateful Dead drummer Bill, invited Casal to compose the intermission music for the Dead's Fare Thee Well concerts, a victory lap celebrating their final shows. Neal assembled the guys, recorded five hours of jams, and was surprised to find an eager audience and label support from Rhino Records. And Circles Around the Sun was born.

On epic disco jammers "Detroit Dos" and "Land Line Memories," MacDougall's sizzling analog keyboards (like the Minimoog Model D and phaser-soaked Clavinet) echo vintage library music and 1978's crate digger fave Black Devil Disco Club by Bernard Fevre. "This band was never something I thought would get done to a click," says MacDougall. "But we all talked about it being more of a fun record, so we hung some mirror balls and played a bunch of dance music!"

As it happens, Circles' new sound was created partly by design, but also partly by tragic circumstance. On August 26, 2019, a week after laying down his tracks for Circles Around the Sun, founder Neal Casal committed suicide. He left behind a note for the group, asking for them to continue in his absence—to continue recording, touring, and playing together. They've chosen to honor his wishes. "Our mission is to extend Neal's musical legacy," says drummer Levy. "He was a classy dude and had a regal vibe about him. The other side of it is the mental health legacy. Maybe there are people out there in the same sort of darkness Neal was in, who can hear us and say we can work positively on multiple fronts in his memory."

In this metamorphosis, Circles Around the Sun spans both heartbreak and hope. Doors close; windows open; new directions extend themselves in mysterious ways. But sometimes you know it's real from the first beat. It just clicks. We'll see you on the dancefloor, at the festival, at the next jam session, where everyone comes together and all is forgiven. It's just how Neal would want it. It's Circles Around The Sun.
Just Announced
Nashville
Free Bowling from 5pm-8pm!
Show: 5:00 PM
Nashville
Free Bowling from 5pm-8pm!
Show: 5:00 PM