Thursday,
November
3rd
, 2022
Briston Maroney Presents: Paradise
Sunflower Bean, The Greeting Committee, Annie DiRusso
Doors: 6:00 PM
/
Show: 7:00 PM
All Ages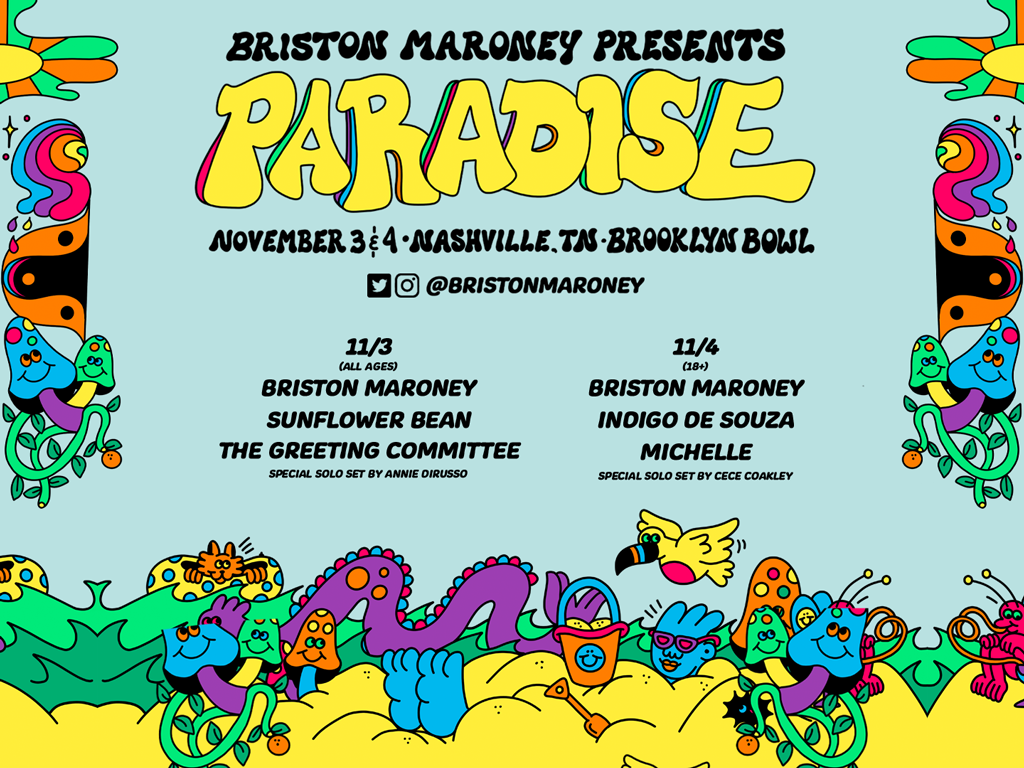 Event Info
Venue Information:
Brooklyn Bowl Nashville
925 3rd Avenue North
Nashville, Tennessee 37201
This event is open to all ages. Valid government-issued photo ID is required to purchase and consume alcohol.
There are no COVID-19 vaccination or test requirements for this event. An inherent risk of exposure to COVID-19 exists in any public place where people are present. By visiting our establishment, you voluntarily assume all risks related to the exposure to or spreading of COVID-19.
This ticket is valid for standing room only, general admission. ADA accommodations are available day of show.
All support acts are subject to change without notice.
Any change in showtimes, COVID-19 protocols, and other important information will be relayed to ticket-buyers via email.
Want to have the total venue VIP experience? Upgrade your ticket today by reserving a bowling lane or VIP Box by reaching out to nashvilleevents@brooklynbowl.com
ALL SALES ARE FINAL

Bowling in Paradise Experience
- One Day General Admission Ticket
- Meet & Greet with Briston Maroney
- Individual Photo with Briston Maroney
- Access to Pre-Show Bowling (cash bar available)
- Autographed Commemorative Laminate
- Early Entry
- Early-Access Merchandise Shopping

Artist Info
Briston Maroney
For Briston Maroney, it's been a journey to arrive at the current moment. A mental, physical, emotional, and musical one. But it's left him equipped: not only with a deep understanding of self, discovered through life's trials and errors, but just as important, with a piece of art that reflects his personal growth. Sunflower, Maroney's debut album, is the culmination of the past decade of the now-22-year old's life. "It's all of the things I've been stoked about since I was 12 coming together," the wise-beyond-his-years, Nashville-based singer-songwriter says with a laugh of his striking album. "It's been a literal and physical relationship with the record as far as coming to a point where I understand what parts of me it represents, what it means to me as a person and what it means for my entire life."

Recorded between the summer of 2019 and early 2020 in LA with acclaimed producer John Congleton, Sunflower is "definitely a milestone," Maroney admits. "I'd be lying to say I didn't feel a little bit of that. And why not let yourself enjoy it?" It's also a gut-punch of fuzzy power chords ("Sinkin") and genteel acoustics ("Cinnamon"); deftly-composed pop songs ("Freeway") and hard-charging rockers ("Rollercoaster"). "I put all of myself into it," Maroney adds of the 10-track LP. In retrospect, he adds, "I definitely have this sense of calmness now. I did what I was capable of doing and I'm just glad I was around my friends and my people to help me get to this point."

An energetic live performer with a craft first honed in basements, living rooms, and jam-packed clubs, Maroney quickly developed a style steeped in the sweat and sounds of Nashville's DIY scene. After self-releasing his 2017 debut EP Big Shot and amassing a strong local fan base, Maroney ultimately attracted the attention of Canvasback Music. After signing with the label, his subsequent releases -- Carnival (2018), Indiana (2019), and Miracle (2020) -- remained entirely self-written with just a single producer credited on each project, namely Grammy Award-winning producer Tone Def and UK-based producer Jim Abbiss (Arctic Monkeys, Adele).

When Maroney began to tour the US and Europe alongside other artists, co-writing sessions became commonplace as they created music together while on the road. It was at this point he made the conscious decision that he would seek out additional songwriters and producers to work with on his debut full-length project; as Maroney's music world grew, so too did his desire for collaboration.

While Maroney is the first to admit he was 'terrified-in-a-good-way' to be working alongside top-notch talents with the likes of Manchester Orchestra's Andy Hull and venerated songwriter Dan Wilson on the creation of Sunflower, over time he came to understand a simple lesson. That being, "If you're approaching what you're doing from a place of love and kindness and passion you can be as open and flowing artistically as you want to be with your collaborators," he says. "I learned a ton from writing with those people," Maroney continues. "I think the biggest thing I took away is you get to decide how open you want to be, and you get to decide how much of a stage you want to set for emotions in songwriting."

If there was a sense of apprehension heading into such sessions, it's only because songwriting, for Maroney, has long been such a highly personal process. "It's been my journal for a really long time," he explains. "There's a beauty in songwriting. It's a scrapbook. It's a photo album. And if you're really putting your heart into what you're doing and writing songs for the right reasons, every one of them should take you back to a very specific place." For Maroney, the songs that comprise Sunflower take him along the long and winding path to the present, from his time as a young, upstart-tween musician busking at the Knoxville farmer's markets to playing dank basement gigs, sobering up amid personal struggles, and finally arriving right now at his most fully-realized self.

"Hopefully this record is representative of my journey," Maroney says, singling out the opening track "Sinkin" as summing up the record to him in a single cut. "Here's 100 percent of who I am," he says of the brash and bursting song. "It feels the most connected to my heart."

"I hope that people hear the record and see the songs as windows into what I've been experiencing and hopefully they'll relate to that," Maroney says, continuing. "I know these songs will continue to do that for me."

Working with producer John Congleton, Maroney explains, was about learning to trust his impulse. While Maroney had long been the first to question initial instincts, Congleton taught him to respect his gut. "He communicates really directly and really taught me a lot about speaking precisely and speaking about what you want to accomplish with a song and a record," Maroney recalls. "Whereas I have a tendency to be really abstract. I learned to be able to switch into that mode. He had my back the whole time."

Maroney gushes as he reflects on the session with Congleton that resulted in "It's Still Cool If You Don't." Their initial stab at writing together, "was the first experience of really letting go," Maroney contends of the song. "Just coming in and having a silly idea and being down to see where it goes." Working on "Cinnamon" alongside seasoned songwriter Jenny Owens Young, which Maroney describes as a "quieter more low-key song," was by contrast an exercise in "being all gushy" and exploring his feelings on love. "That was really fun to write a love song with someone else who was also in love with a person," Maroney offers.

Where "Rollercoaster," an older track that Maroney and his band typically closed out their sets with, was his attempt at getting a bit raucous, the track "Deep Sea Diver," which Maroney penned with Dan Wilson, was a far more meditative affair. Or as Maroney says with a laugh, "It's like, well, if this really pissed off angry rock thing doesn't work here's my best attempt at trying to be John Prine."

If anything, the process of assembling Sunflower was the best way Maroney learned to take his foot off the gas a bit and ease into his life in a more gratifying way. Where he admits at times throughout the recording process he was "squeezing it so hard," completing a brilliant debut album to him "was so much about just learning to be a little more laid back," Maroney says with a smile. "I still feel really connected to it, but I'm so stoked to share it and especially one day play it live," Maroney adds of Sunflower. "Right now, I am just so thankful and happy."
Sunflower Bean
Blue, as Julia Cumming of Brooklyn's Sunflower Bean points out, is something of a "loaded color." The word is of course often synonymous with sadness—certainly blues music isn't known for its laughs. But it's also the "emotional color" of the band's upcoming, sparkling second album, Twentytwo in Blue. "We definitely don't want it to come across as a sad record," explains Cumming. "Blue is kind of hopeful, and we wanted to explore that color with this record." The new record by vocalist and bassist Cumming, drummer Jacob Faber and guitarist and vocalist Nick Kivlen is many things: rousing, romantic, topical, empathetic and insightful. But defeatist it's not.
All three band members will in fact be 22 when Twentytwo in Blue is released in March of 2018, almost two years and two months after Sunflower Bean's hazy, charming debut LP, Human Ceremony. They were two momentous years in which the trio toured the world several times over and grew in accomplishment, discovering a newly confident voice they bring to the second album, one that doesn't shy away from the political changes and cultural shifts that have left America and the world stupefied. "This has been such an unbelievable time," says Kivlen. "I can't imagine any artist of our ilk making a record and not have it be seen through the lens of the political climate of 2016 and 2017."
While Sunflower Bean remains a guitar band at its core, new and gentler textures were welcomed this time around. "What we've figured out since Human Ceremony is that we did a lot of the rock stuff, and this time it just felt right to explore the sweeter side, and dive deep into that," says Faber. For her part, Cumming is truly singing like never before, on the sublime "Memoria" and "Only a Moment". "I think before I was a little afraid to show myself as a singer, even to my band mates," she says. "I think if anything, after making this we're the most well-rounded we've ever been."
If there was a ragged beauty in the gauzy, groovy wall of sound of Human Ceremony and its predecessor, the 2015 EP Show Me Your Seven Secrets, there's a new directness to these songs, a product of Sunflower Bean's own maturity and the insanity of the times we're in. Twentytwo in Blue is a record made by millennials in solidarity with their own—the most progressive, even revolutionary generation we've ever seen. "I think we all really want the record to be lovable," says Cumming. "I want the songs to be something that someone can get attached to. Because that's what I look for in songs myself, and that's the kind of experience we want to give to others."
Annie DiRusso
Just Announced
Nashville
Shea Couleé
Doors: 6:00 PM /
Show: 8:00 PM
Nashville
Blood Harmony Tour
Doors: 6:00 PM /
Show: 8:00 PM