Thursday,
October
21st
, 2021
Blue October
Yam Haus
Doors: 6:00 PM
/
Show: 8:00 PM
18+ Years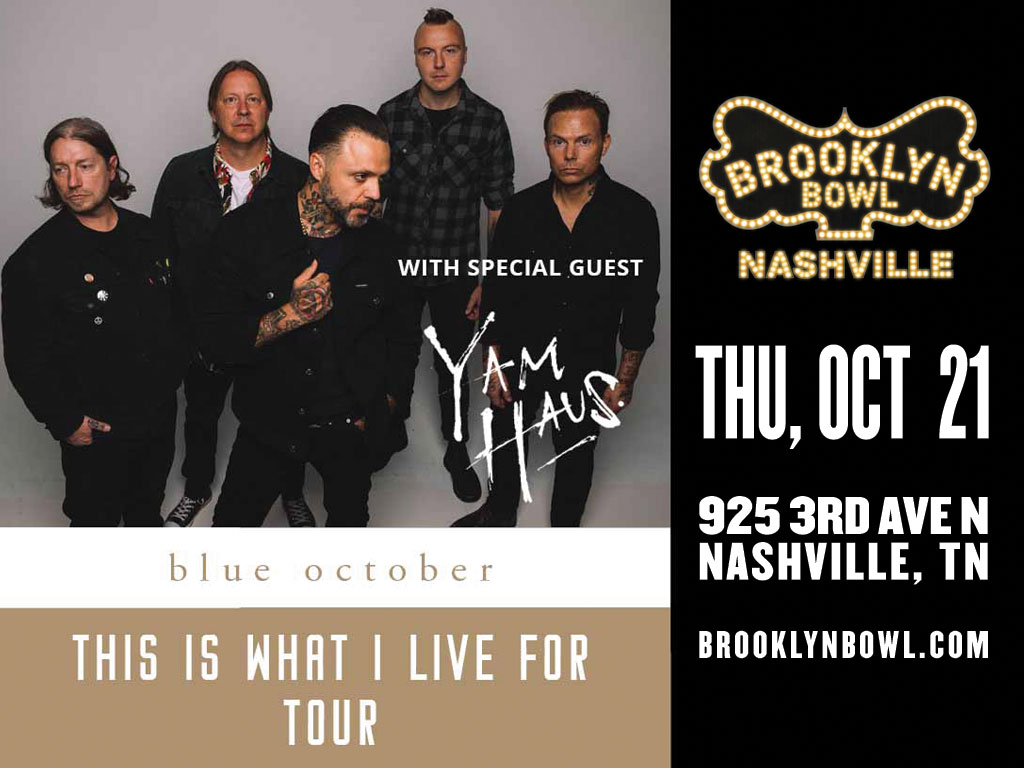 Event Info
Venue Information:
Brooklyn Bowl Nashville
925 3rd Avenue North
Nashville, Tennessee 37201
Because of the rise in cases due to the delta variant, a special COVID protocol is required for everyone that will be in attendance for Blue October on 10/21/21 at Brooklyn Bowl Nashville. You, and anyone accompanying you in your party, are required to provide ONE of the following:
Proof of your vaccination record (vaccination card or picture of your card with a matching ID card), demonstrating you were fully vaccinated at least two weeks in advance of the day of show. OR proof of a negative COVID test, administered within 72 hours of the day of show, with matching ID card.
The city of Nashville is offering free testing (Monday - Friday, 8am-2pm) at 2491 Murfreesboro Pike, Nashville, TN 37217 (former K-Mart parking lot). For more information on the specific testing site, please visit this link here: https://www.asafenashville.org/test-mask-resources/.
Blue October and Brooklyn Bowl encourages mask wearing and encourages you to get vaccinated if you aren't already!
By purchasing a ticket you are acknowledging you will be required to show proof of vaccination or negative test result. There will be no refunds for tickets purchased, due to specific venue covid-19 protocol. If you receive a positive test before the show, please reach out to nashvilleboxoffice@brooklynbowl.com and we will help facilitate a full refund.
If you have any questions or concerns, please reach out to us at nashvilleinfo@brooklynbowl.com.
This event is 18+ Anyone under the age of 18 must be accompanied by a parent or legal guardian
Valid photo ID required at door for entry
This event is general admission standing room only.
Doors: 6:00 PM
Show: 8:00 PM
Artist Info
Blue October
"These songs should make you want to fall in love with somebody, or miss somebody, or want to do something outrageous with your life," says Justin Furstenfeld, vocalist and lyricist for the unstoppable alt-rock band Blue October. He's talking about the tracks on the quintet's tenth studio album, This Is What I Live For, recently released on October 23rd, 2020. How does it feel to have a Top 10 single with "Oh My My," your first Top 10 single since 2009? "Honestly, I'm blown away. We started releasing our albums independently several years ago. It's good to see that it doesn't matter what label you're on. As long as you're writing good songs you have chance to be heard. Hopefully that inspires others." The San Marcos, Texas-based band (vocalist Justin Furstenfeld, multi-instrumentalist Ryan Delahoussaye, guitarist Will Knaak, bassist Matt Noveskey, and drummer Jeremy Furstenfeld) have earned a reputation for being remarkably dynamic, consistently delivering anthemic songs filled with rousing melodies and precision playing. And with this latest release, The Is What I Live, For the members are even more in synch than ever because they wrote much of the material while they were on the road supporting their last album, 2018's I Hope You're Happy (Debuted #1 on the Billboard Alternative Album Chart and #1 Billboard Independent Album Chart.), often finetuning songs in front of live audiences. In this way, the song "I Will Follow You" has already become a favorite even before it was recorded for the new album. "This album is going to catch some people off-guard," Matt says. "A lot of it is about interpersonal relationships - years and years of marriage, growing older, and some of the issues that you may run into with that. I know that other albums are about that, but we get into some corners of life that we haven't explored before." This determination to always speak the truth, even if it's difficult, is the way Blue October has operated from the very start, since Justin, Jeremy and Ryan formed the band in 1995 when they were still in high school. When Matt joined three years later, Blue October really coalesced as the members found inspiration in bands like A Perfect Circle, Jimmy Eat World, Radiohead, and The Cure - then reworked those disparate influences into an epic yet introspective sound that is entirely their own. Blue October members themselves have admitted in characteristically candid fashion, things certainly haven't always been easy. Their struggles over the years with substance abuse, and their subsequent treatment and recovery, have been well-documented in their songs. They also allowed themselves to be filmed over the course of seven tumultuous years for a documentary, Get Back Up, which was released on May 21, 2020. The film takes an unwavering look at the band - and Justin, in particular - as they grapple with the fallout from addiction and the resulting damage done to their families, professional relationships, and each other. It is ultimately a redemptive story, with all members now sober and mending their relationships, but not without going over some harrowing ground first. "We made it out the other side, and it was hard," Matt says. "There were times where we weren't sure we would. But when you go through a lot together, you grow together, and you realize what's important. Then you realize, maybe there are things I've taken for granted over the years, including each other. We're not going to let that happen anymore." Will, who joined the band two years ago, agrees: "When a lifestyle change occurs, it filters in on all levels. Their positivity feeds mine, and I think it's been really serendipitous that we met at a good time in all of our lives. I'm gaining a lot from their wisdom, and maybe they're getting a little kick in the ass from my fresh perspective." After struggling with being incorrectly categorized because there was no easy label to apply to a group that is so musically powerful yet lyrically sensitive, it is particularly gratifying for the members to finally gain recognition for being distinctive. "As much as people wanted to change me into something else, I always said no," Justin says. "I'm always a reality writer. I write bluntly, for the people that want to talk about things that aren't dinner conversation pieces." This unswerving belief in Blue October's music and message - and fans' unusually strong connection as a result - has carried this band through many good and bad times.
Yam Haus
It stays agnostic to our differences and brings us together. Yam Haus invite everyone into the embrace of their neon-hued, dancefloor-tailored alternative pop. The Minneapolis quartet—Lars Pruitt [lead vocals], Jake Felstow [drums], Zach Beinlich [bass], and Seth Blum [guitar]—fuse together intimate songcraft with stadium-size ambition. After independently amassing nearly 15 million total views and streams, playing to sold out crowds at legendary venues such as First Avenue, and building a fervent fanbase, they instantly captivate on their second full-length album in 2021.