Saturday,
April
1st
, 2023
BADFLOWER: ASKING FOR A FRIEND
Des Rocs, Blood Red Shoes
Doors: 6:00 PM
/
Show: 7:30 PM
18+ Years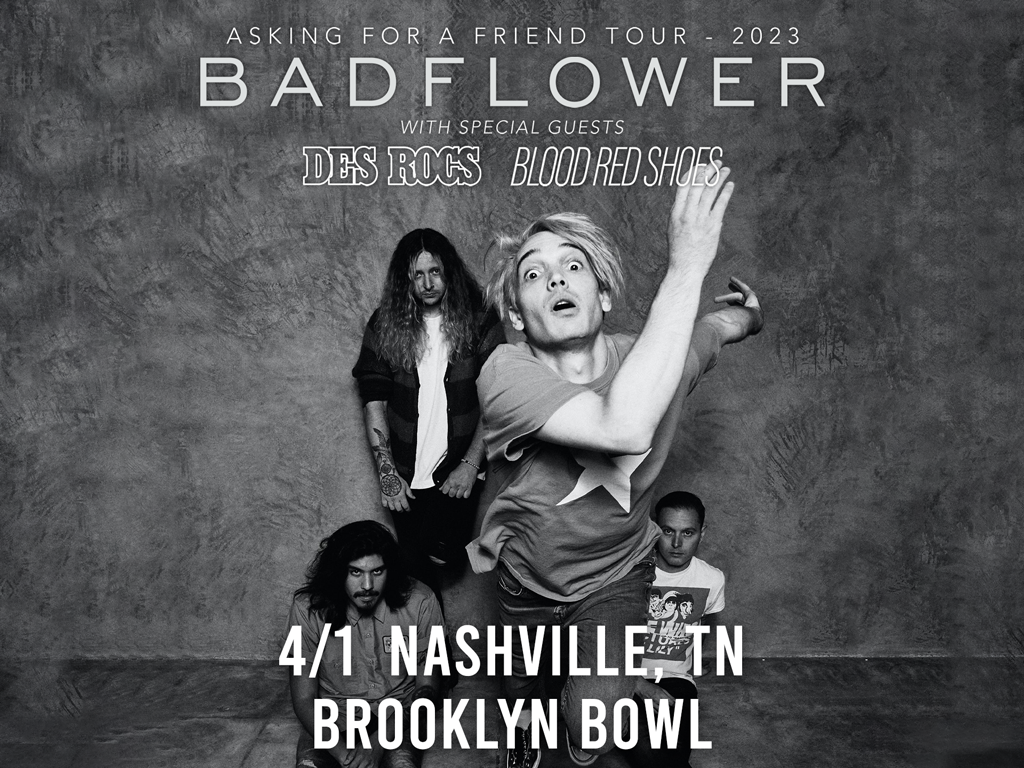 Event Info
Venue Information:
Brooklyn Bowl Nashville
925 3rd Avenue North
Nashville, Tennessee 37201
This event is 18+, unless accompanied by a parent or legal guardian. Valid government-issued photo ID is required for entry. No refunds will be issued for failure to produce proper identification.
This ticket is valid for standing room only, general admission. ADA accommodations are available day of show.
All support acts are subject to change without notice.
Any change in showtimes, safety protocols, and other important information will be relayed to ticket-buyers via email.
Want to have the total VIP experience? Upgrade your ticket today by reserving a bowling lane or VIP Box by reaching out to nashvilleevents@brooklynbowl.com
ALL SALES ARE FINAL
Artist Info
Badflower
Beauty blooms from discomfort. The second we squirm at the utterance of a lyric or the echo of a guitar chord is the moment we learn about our limits and, perhaps, make a change in our lives. Badflower aren't afraid of making anybody uncomfortable. The GOLD-certified Los Angeles-bred and Nashville-based quartet—Josh Katz [lead singer, guitarist], Joey Morrow [lead guitar, backing vocals], Alex Espiritu [bass], and Anthony Sonetti [drums]—siphon stress, sleeplessness, sex, sadness, mania, pain, and truth into revelatory alternative anthems. Katz's quivering confessions seep into climactic distortion and, like any good rush, you need more. They deliver this rush on their 2021 second full-length offering, This Is How The World Ends (Big Machine/John Varvatos Records). "It's hopefully more than just brutal honesty," muses Katz. "To me, it's sassy, uncomfortable, funny, clever, and sad. It wasn't a casual process. It's all in, so I'm all in. I don't stop. I don't quit. I cry a lot. I neglect everything else. There was no reason to set an alarm and wake up in the morning. There was no reason to do anything but make the best album possible. That's what we did." Badflower continue to commit body, blood, mind, and soul to their art. They've certainly grinded to get to this point. After forming in Los Angeles during 2014, they dropped two EPs before sending shockwaves throughout rock with their 2019 full-length debut, OK, I'M SICK. LoudWire hailed it among the "50 Best Rock Albums of 2019," while the singles "The Jester," "Heroin," and "Ghost" vaulted to No. 1 at Rock Radio. Not to mention, the latter picked up a GOLD-certification from the RIAA and win as iHeartRadio Music Awards Rock Song of the Year. Along the way, they garnered further acclaim from Nylon, Alternative Press, Music Connection, and Substream Magazine and performed on The Late Late Show with James Corden as well as Last Call with Carson Daly. They're the rare act who can ignite a crowd at Kaboo Del Mar or Sonic Temple in addition to sharing bills with the likes of Cage the Elephant, Ghost, Nothing More, Shinedown, Soundgarden, and many more. Thus far, they've also gathered over 100 million streams and counting. Meanwhile, one-off singles "30" and "F*ck The World" reached Top 5 and Top 10 at Rock Radio, respectively. Before the Global Pandemic swallowed 2020 whole, Josh and Co. had begun penning ideas for what would eventually become This Is How The World Ends. As shit got real in Los Angeles, the band and their "extended family" of crew and friends picked up and moved to Nashville. "We'd wanted to rescue animals and live on a farm forever," admits Josh. "Once we got settled, I built a little studio in a barn where I sleep and we finished the record." The best kind of obsession catalyzed the process. When it came to production, the band took the reins, preserving an intense unpredictability. At the same time, Josh would watch and rewatch fan-captured live performances on YouTube in order to draw inspiration for recording. "It was actually just because I'm a narcissist," he grins. "We worked so hard to make it feel spontaneous, raw, real, and natural though. The drum takes are exactly what Anthony did in the moment. There was no demoing. We set everything up properly and pressed 'record'. If it was good, it was good. Some of the vocal takes are first takes. We had no clock. It's the most human thing we've ever done." Speaking of human, the first single "Family" hovers over an ominous drum beat as Josh's voice barely breaks a whisper. Clean guitar glows through the bass line as he confesses, "affection makes me nauseous, believe me, I don't want this," before an exhale of distorted catharsis, "Cuz I let you down, and I lost my fucking mind…What happened to this family?" "Some people have a perfect white picket fence; I certainly didn't," he reveals. "I have family issues that linger. Throughout my twenties, I placed so much blame on that. I allowed myself to validate slowly dipping out of everyone's lives and not talking to my sisters or parents. It's easier to call yourself the victim. I realized it was an excuse to be shitty, and it was my problem. I have trouble talking to family members, so I wrote the song." Elsewhere, "Don't Hate Me" hinges on a push-and-pull between palm-muted guitar and a chantable chorus. It culminates on a breakdown where his inner dialogue screams out before final strains of piano taper off. "It's a lot of self-awareness," he goes on. "On the bridge, there's a meta dialogue where I explain how I've changed my entire life and my appearance." The album teeters between searing nostalgic introspection on the acoustic intro "Adolescent Love" and the clarion call of "Machine Gun" where the title resounds, "This is how the world ends." The ride comes to an end on the sardonically elegiac "My Funeral." Soft strumming brushes up against visceral admissions such as "Imagine if I took my life, gave up on love, and died tonight?", coated in a softly blissful delivery. "It's not as simple as saying, 'I'm sad and want to die'," he states. "It doesn't paint me in the perfect light a lot of artists want to be painted in—or truly beaten down by the world and just trying to be the best version of themselves. I'm admitting I'm not trying to be the best version of myself. I don't even know what that looks like. I don't know how to change it. All I know is how to write about it. Now, we have this album." In the end, Badflower's honesty burns in the best way. "This band means everything to me," he leaves off. "I'm so obsessive because the music is going to outlive me. I care a lot about what this band could mean for other people. The legacy is almost more important to me than my happiness or success. I don't know why. It's probably something I should analyze on the next record," he laughs.
Des Rocs
Blood Red Shoes