Monday,
December
4th
, 2023
Culture Kicks
Inaugural Toy Drive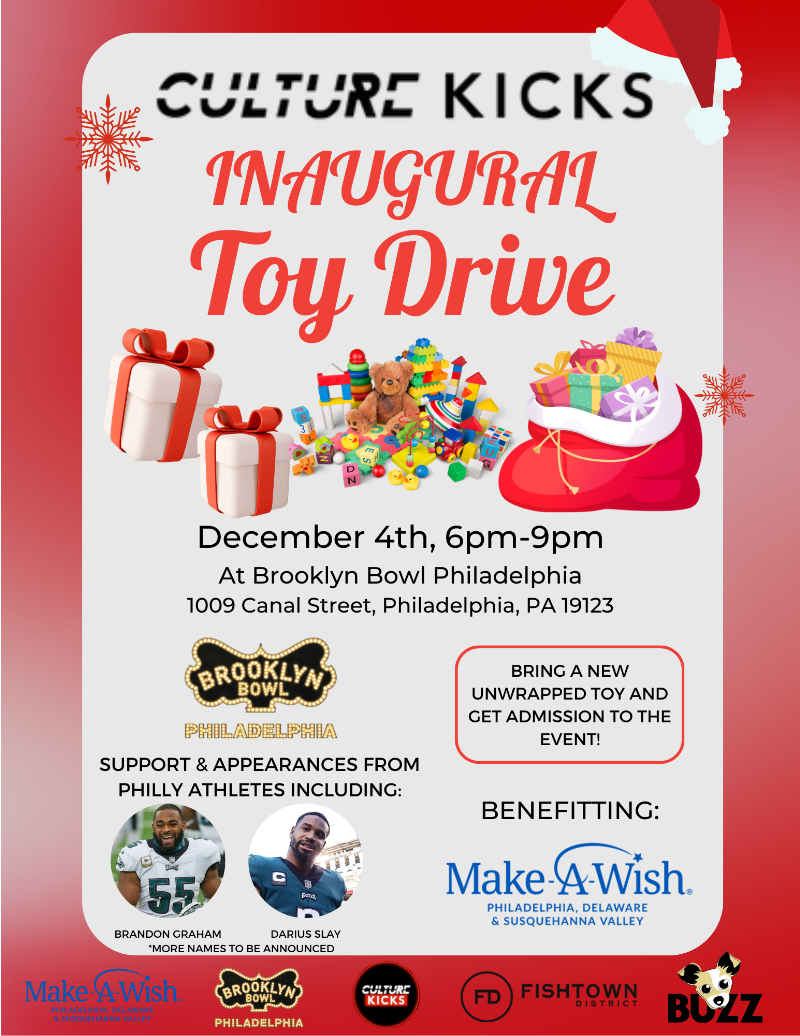 Event Info
Venue Information:
Brooklyn Bowl Philadelphia
1009 Canal Street
Philadelphia, Pennsylvania 19123
Make-A-Wish Philadelphia, Delaware & Susquehanna Valley grants life-changing wishes to children with critical illnesses. By bringing a new unwrapped toy, you are making a direct impact on wish kids in our region. These toys are given wish kids and are a vital part of the wish process, providing them with excitement, anticipation and much-needed hope, strength, and joy. Your generosity will brighten a wish kids' day!
ABOUT MAKE-A-WISH® PHILADELPHIA, DELAWARE & SUSQUEHANNA VALLEY
Make-A-Wish® creates life-changing wishes for children with critical illnesses. We seek to bring every eligible child's wish to life because a wish is an integral part of a child's treatment journey. Research shows children who have wishes granted can build the physical and emotional strength they need to fight their illness. Headquartered in Phoenix, Arizona, Make-A-Wish is the world's leading children's wish-granting organization, serving children in every community in the United States and in more than 50 countries worldwide. Together, generous donors, supporters, staff and more than 24,000 volunteers across the U.S., grant more than 25 wishes every day. Since 1986, Make-A-Wish® Philadelphia, Delaware & Susquehanna Valley has fulfilled over 8,000 transformational wishes for local children with critical illnesses. For more information about Make-A-Wish Philadelphia, Delaware & Susquehanna Valley, visit wish.org/philadesv