Sunday,
October
29th
, 2023
The Damned
Fucked Up, Baby Shakes
Doors: 7:00 PM
/
Show: 8:00 PM
All Ages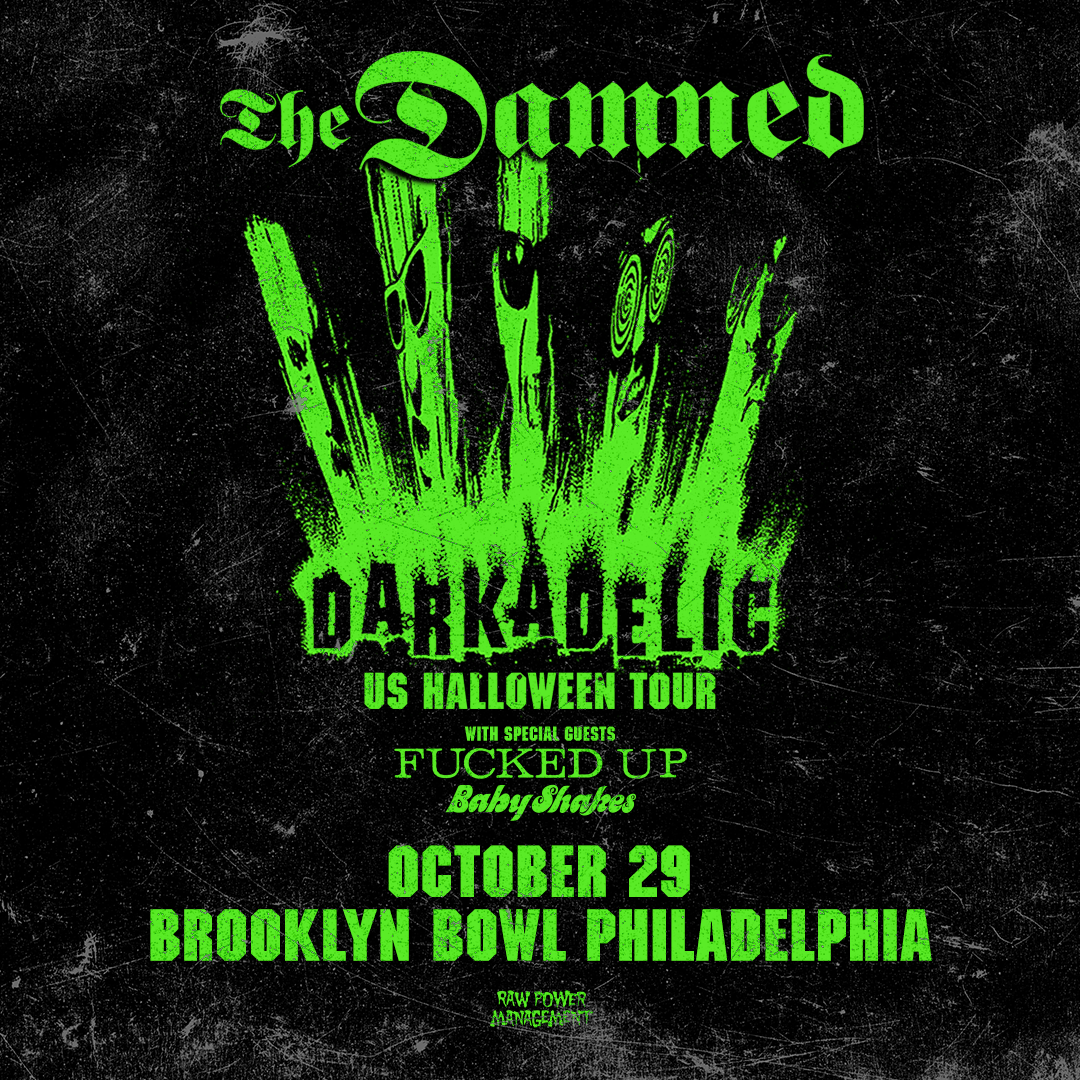 Event Info
Venue Information:
Brooklyn Bowl Philadelphia
1009 Canal Street
Philadelphia, Pennsylvania 19123
This event is open to all ages. Valid government-issued photo ID is required to purchase and consume alcohol. VIP Viewing Deck tickets and VIP Bowling Lanes are restricted to 21+ ONLY. No refunds will be issued for failure to produce proper identification. This ticket is valid for standing room only, general admission. ADA accommodations are available day of show. All support acts are subject to change without notice. Any change in showtimes, safety protocols, and other important information will be relayed to ticket-buyers via email. ALL SALES ARE FINAL

DOORS: 7:00 PM | SHOW: 8:00 PM
Artist Info
The Damned
"We can go on forever," chuckles Dave Vanian, lead singer of The Damned since 1976. "I know I could never give up making music. I'm always pushing myself, always learning. And, you know what? It's not the adulation that drives me on, it's making music. Simple as that."
The Damned weren't always taken seriously. They are now, having transformed themselves into revered elder statesmen who gather a new generation of fans with each album. Now comes Darkadelic, the successor to 2018's widely acclaimed Evil Spirits. It's only their 12th album in all and just their fourth this century. They don't just toss them out, you know.
"We certainly don't," agrees Vanian. "Being an older band need not mean being rubbish. I never subscribed to the notion than being over 30 means being over the hill, but there's no point doing it if what you're doing currently doesn't stand up."
"Oh, we should have made more," suggests Captain Sensible, Vanian's fellow traveller for 47 years. "But, although I say it myself, Darkadelic is wonderful."
With its title alluding to Vanian's love of psychedelia and Victorian gothic, the sparkling Darkadelic musically evokes two magical Damned albums, 1982's Strawberries and 1985's Phantasmagoria ("it wasn't intended," Vanian admits, "it just happened"), while adding both a very 21st Century twist and, much to Vanian's delight, a greater emphasis upon Captain's often overlooked guitarwork. "Unlike Angus Young, sometimes image has got in the way of talent and that's not right," laments Vanian.
Darkadelic was recorded in Acton, close to where Sensible caused mayhem one drunken evening with Sid Vicious: "I spent the night in the cells; Sid, being a better runner, managed to scarper".
They crafted it in the traditional Damned manner. Vanian and Sensible wrote separately before submitting their songs. They played them to the band and producer Tom 'Mitch' Mitchener (Frank Carter & The Rattlesnakes, La Roux, We Are Scientists). The best ones made the cut. Simple, but effective.
"We might write separately," adds Vanian, "but we don't record separately and that's the part I really look forwards to. The only way to capture the magic is everyone playing in a room together. Accidents may happen, things may not be technically perfect, but that doesn't mean it's wrong, it usually makes it more right. We had a proper amount of time to record, which is a real luxury for us, the sessions were joyous and I'm so, so proud of this album."
"We've turned up the psych this time round," explains Sensible. "I've always enjoyed experimenting with the gadgets in the studio, because let's face it, if you do the same thing over and over it becomes tedious."
The pair are right to be proud. The 12 songs – five by Vanian, six by Sensible, one from long-term bassist Paul Gray – are yet another Damned peak.
"I was looking for an album with no filler," notes Sensible. "filler tracks - there's no excuse. The Beatles didn't do filler tracks did they? I'm not looking for perfection. I'm not looking for a producer who cleans everything up, uses Auto Tune and loses the rough edges. We're a garage band, not Pink Floyd. "
Fucked Up
With One Day, Fucked Up have delivered one of the most energizing and intricate albums of their entire career, a massive-sounding record that arrives in deceptively small confines. The Canadian hardcore legends have been known for their epic scale in the past, from towering concept albums to 12-hour performances—so it might be a surprise that Fucked Up's sixth studio album is their shortest to date, written and recorded in the confines of one literal day (hence the title). Don't mistake size for substance, though: The band's sound has only gotten bigger, more hard-charging, with even denser thickets of melody. If that sounds like a study in contrasts, well, that's Fucked Up for you—and you shouldn't expect, or want, anything different.
"I wanted to see what I could record in literally one day." That singular idea came to mind for guitarist Mike Haliechuk in the closing months of 2019, and it forms the ideological and structural backbone of One Day. Haliechuk got himself into a studio and proceeded to write and record the record's ten tracks over three eight-hour sessions, reconnecting with the core of his and the band's songwriting essence in the process. "After you've been in a band for this long, you lose track of what your sound actually is," he explains. "Twenty-four hours can feel like a long time, but you can get a lot done then, too. It can feel like forever and one minute at the same time. If you work on something for one day, it can end up being really special."
Indeed, even though work on One Day was completed remotely, Fucked Up as a whole adhered to the 24-hour rule during the creative process. "I got this email from Mike saying, 'I made this record in one day, and I want you to record drums on it—but you can't listen to it before you get into the studio,'" drummer Jonah Falco recalls. "I saw layers upon layers of guitar loops, and I dove in head-first and came out of it with a finished record."
Initially, Fucked Up vocalist Damian Abraham was also set to complete his vocals in similar fashion—that is, before the lockdowns of 2020 took place and One Day was put on the back burner for two years, as the band completed the gargantuan Year of the Horse project that saw release last year. As it turns out, the isolation yielded creative dividends, as Abraham returned to contributing lyrics as well for the first time since 2014's Glass Boys.
"It almost felt like it might be the last time I'd ever get to record vocals for anything," Abraham says of the stakes he felt while putting his part to tape, before reflecting on how he approached the lyrical process: "What do I want to say to friends who aren't here anymore? What do I want to say to myself? There was a lot of inner reflection going on, and after retreating into the fantasy world with Year of the Horse, this record is like we're returning to real life."
The result is a record that sounds full-bodied and immediate, with music that burns brutally and passionately in a way that only Fucked Up can evoke. The guitars sound like ziggurats reaching to the sky, reaching dizzying levels of melodic interplay while always maintaining a tuneful clarity—and the musical adventurousness that marked 2018's epic, lush Dose Your Dreams is plenty present here, too. "I Think I Might Be Weird" doubles down on a glam-rock stomp midway through, while the title track piles guitar notes atop to resemble a Thin Lizzy–esque barnburner of a power-pop tune.
Baby Shakes
Baby Shakes are a DIY rock n' roll-punk band from New York City. With catchy melodic vocals over dirty guitars and a killer rhythm section, their influences range from The Ramones and Slade to Chuck Berry and 60's Motown girl groups. Formed in 2005, they released 8 singles, a 10" EP, 4 full-length albums, a digital singles collection and have toured the US, UK, Europe, China and Japan. Their songs have been featured in commercials, TV shows and indie films both nationally and internationally. Their first full length, titled The First One, debuted in Nov 2008 and contains ten songs with licks as good as the looks. They have shared the stage with bands such as The Damned, The Hives, Lunachicks, Oblivians, The Muffs, Flamin' Groovies, Black Lips, Detroit Cobras, Guided by Voices, Buzzcocks, The Undertones, Protex, Anti-Flag, The Growlers, and Iggy Pop, among others. Baby Shakes have not parted with the pop sensibility that was the backbone of their previous releases, but they have successfully figured out how to incorporate the influences of all those glam records littering up their tiny New York apartments. Baby Shakes released their 4th album, Cause a Scene in September 2019 and an EP in collaboration with Damian O'Neill and Billy Doherty of The Undertones in 2020. They are currently working on their 5th album and will be touring Europe in 2023.