Wednesday,
April
19th
, 2023
Fruit Bats
H.C. McEntire
Doors: 7:00 PM
/
Show: 8:00 PM
21+ Years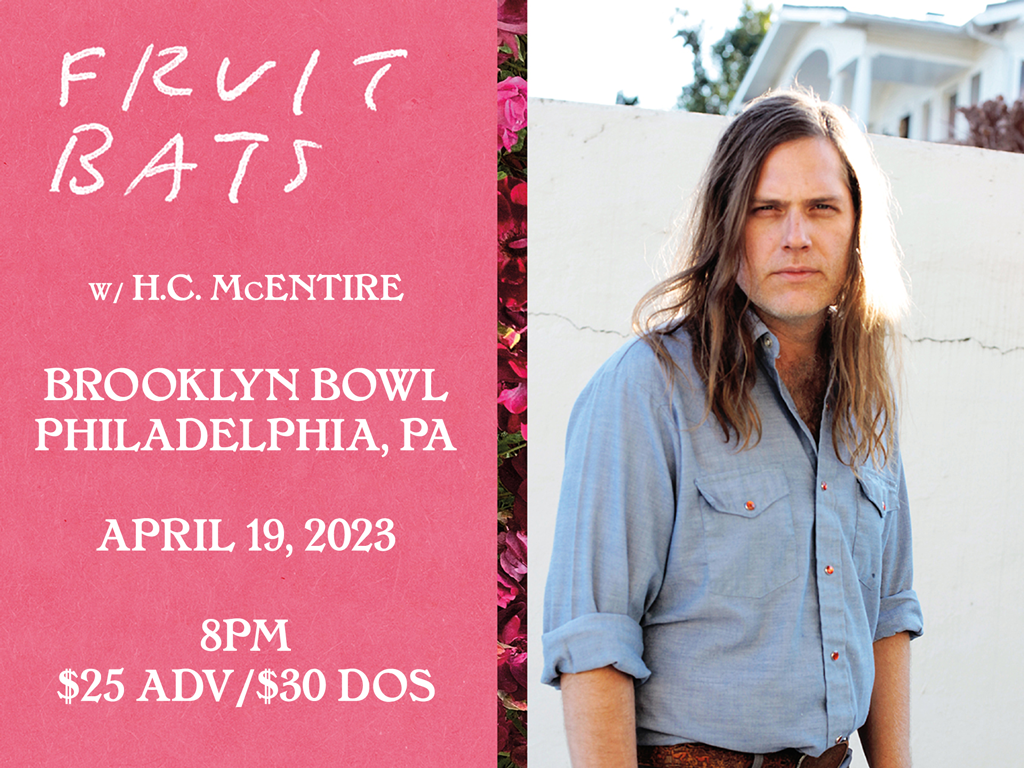 Event Info
Venue Information:
Brooklyn Bowl Philadelphia
1009 Canal Street
Philadelphia, Pennsylvania 19123
Based on the latest local guidelines, attendees are no longer required to provide proof of negative COVID-19 test AND/OR vaccination for entry into Brooklyn Bowl. Policies are subject to change for individual performances, please refer to individual event pages for specific entry requirements.

An inherent risk of exposure to COVID-19 exists in any public place where people are present. COVID-19 is an extremely contagious disease that can lead to severe illness and death. According to the local health authorities, senior citizens and guests with underlying medical conditions are especially vulnerable. By visiting our establishment, you voluntarily assume all risks related to the exposure to or spreading of COVID-19.
Valid photo ID required at door for entry.
This event is general admission standing room only.
Artist Info
Fruit Bats
Eric D. Johnson rarely lingers at one location too long. "There's always been motion in my life between one place and another," says the Fruit Bats songwriter. As a kid growing up in the Midwest, Johnson's family moved around a lot, but it wasn't until he became a touring musician years later that motion became a central part of his identity. That transient lifestyle stoked an enduring reverence for the world he watched pass by through a van window. "It weighs heavily on me—the notion of place," Johnson says. "The places I've been and the places I want to go." A sense of place is a unifying theme he's revisited with Fruit Bats throughout its many lives. From the project's origins in the late '90s as a vehicle for Johnson's lo-fi tinkering to the more sonically ambitious work of recent years, Fruit Bats has often showcased love songs where people and locations meld into one. It's a loose song structure that navigates what he calls "the geography of the heart." "The songs exist in a world that you can sort of travel from one to another," says Johnson. "There are roads and rivers between these songs." Those pathways extend straight through the newest Fruit Bats album, aptly titled A River Running to Your Heart. Self-produced by Johnson—a first for Fruit Bats—with Jeremy Harris at Panoramic House just north of San Francisco, it's Fruit Bats' tenth full-length release. The album finds the project in the middle of a people-powered climb leading to the biggest shows, loudest accolades, and most enthusiastic new fans in Fruit Bats history! It's hard to pinpoint a single reason for this mid-career resurgence. But after two decades of making music, hard-earned emotional maturity has clearly seeped into Johnson's already inviting songs, resulting in a sound that's connected with audiences like no other previous version of the band. A River Running to Your Heart represents the fullest realization of Johnson's creative vision to date. It's a sonically diverse effort that largely explores the importance of what it means to be home, both physically and spiritually. And while that might seem like a peculiar focus for an artist who's constantly in motion, for Fruit Bats, home can take many forms—from the obvious to the obscure. Lead single "Rushin' River Valley" is a self-propelled love song written about Johnson's wife that clings to the borrowed imagery of the place where she grew up in northern California. Then, there's the gentle and unfussy acoustic ballad "We Used to Live Here," which looks back to a time of youthful promise and cheap rent. But the wistful "It All Comes Back" is perhaps the most stunning and surprising track on the album, Johnson's production skills on full display. Built upon intricate layers of synths, keyboards, and guitars, it's a pitch-perfect blend of tone and lyricism that taps into our shared apprehensions and hopes for a post-pandemic life. "We lost some time / But we can make it back / Let's take it easy on ourselves, okay?" sings a world-weary but ultimately reassuring Johnson in the song's opening lines. It's the kind of performance that makes you hope Fruit Bats stays in this one place, at least for a little while longer.
H.C. McEntire
If naming is a form of claiming, of being claimed, how is one tethered to both the physical landscape that surrounds us, as well as our own internal emotional landscape—at times calm, at times turbulent, and ever changing? H.C. McEntire's new album Every Acre grapples with those themes—themes that encompass grief, loss, and links to land and loved ones. And naming—claiming land, claiming self, being claimed by ancestry and heritage—permeates the hauntingly beautiful landscape that is this poignant collection of songs.
The songs straddle the line between music and poetry, often weaving back and forth between each realm. In "New View," McEntire cites poets "Day, Ada, and Laux, Berry, and Olds"—fixtures in the world of writing, whose works are beacons of light over bleak horizons. The beginning of the song is backed by soft guitar plucks that fall on the downbeat and spangle like stars, and, throughout, guitar, bass, and drums swell together gently, mimicking ebbing and flowing tides under the moon. McEntire's voice (at once tender and fierce) intones the truth of both giving and taking, releasing and claiming: "Bend me, break me, split me right in two. Mend me, make me—I'll take more of you."
Permeated by the constant heartbeat-like drums, "Shadows" develops quiet ruminations on surrender and loss—reminiscing, moving on. "Walk your way into the river…Is it fever, or surrender?" This ponderous, dreamlike song asks the question of how "to make room," lyrics that serve as echoing foils to the familiar: "Cornmeal rising high in cast-iron pans. Cattails catching all the copperheads." How does one make room, for self and for renewal and surrender, when it is so difficult to leave what you know behind? There is the temptation to "leave [a] place just like you found it." Playing with slivers of descending chromatics, along with the occasional downward-stepping bass, here McEntire yearns for home, and for nesting. And there is also the reality of life—sometimes a casting off, sometimes a shrouded letting go.
Perhaps one of the more grief-stricken songs, "Rows of Clover" is a lamentation, one that touches on the loss of a "steadfast hound." The lone piano in the beginning of the song is rhythmically hymn-like. The stark verse arrangement gradually leads to a chorus that reads like a moody exhale, swollen with lush guitar strums and a Bill Withers–esque understated soul groove. Images of nature, often in mid-growth or decay, are braided through the lyrics. The clover covers "wasted dirt." Cedars stand guard the ravaged land, a rotting pasture. But what stands out the most is an image of being "down on your knees, clawing at the garden"—the only explicit mention of a person in the song. "It ain't the easy kind of healing," sings McEntire, seemingly from further and further away as her voice echoes; and healing takes time, time takes time—truths that linger painfully.
"Dovetail" is a song that tells of various women and their various gifts, their various traumas. Instrumentally, the song moves back and forth between solo piano and the addition of bass and drums under vocals. Imagistically, there are women who barrel through. There are "sober and sunkissed" women who never cuss. There are weak women, strong women, women who "[starve] for fathers." And there are women who leave, and women who stay, who "will never want you gone." McEntire's gentle, trembling vibrato—harmonized in thirds in a celebratory manner—calls to mind a rejoicing psalm and shines through these images, leaving the listener cuttingly fraught with emotions—such as wonder, sadness, nostalgia—that can only arise with these juxtapositions.
Every Acre is aptly named. Gracious (and graceful) with its lilting melodies and lush harmonies, the album explores the acres of our physical and emotional homes. These songs are not just lyrics; they are more than lyric, reaching for the kind of home that we all seek: one where we can rest and lay down (or tuck away) our burdens of loss. And maybe, moving through every acre of a world that often tries to tear our sense of identity and heritage down, McEntire sheds light on what it is to be human in this life—both stingy and gracious, both hurtful and kind.