Sunday,
November
5th
, 2023
Dope Lemon
Franklin Jonas
Doors: 7:00 PM
/
Show: 8:00 PM
All Ages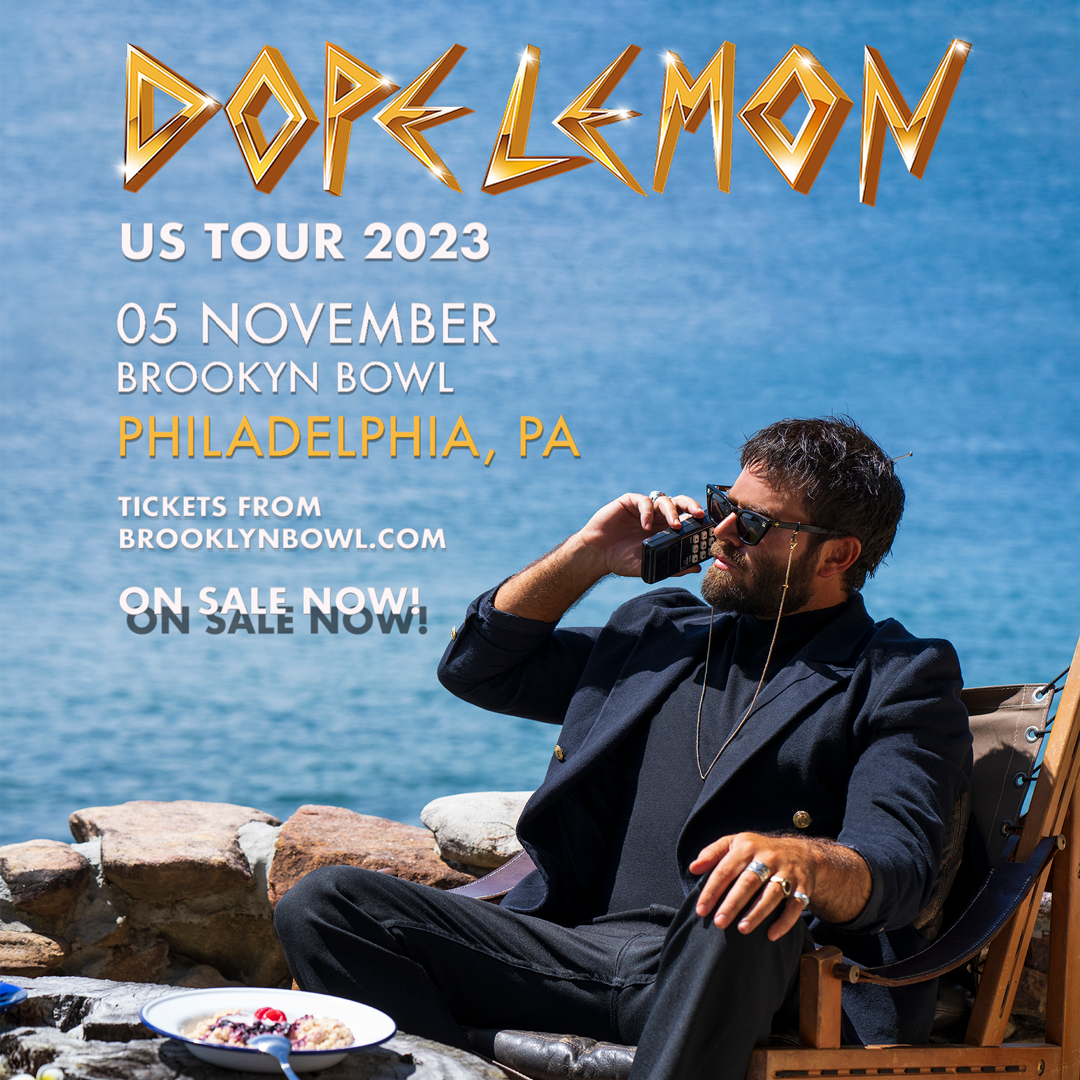 Event Info
Venue Information:
Brooklyn Bowl Philadelphia
1009 Canal Street
Philadelphia, Pennsylvania 19123
This event is open to all ages. Valid government-issued photo ID is required to purchase and consume alcohol. VIP Viewing Deck tickets and VIP Bowling Lanes are restricted to 21+ ONLY. No refunds will be issued for failure to produce proper identification. This ticket is valid for standing room only, general admission. ADA accommodations are available day of show. All support acts are subject to change without notice. Any change in showtimes, safety protocols, and other important information will be relayed to ticket-buyers via email. ALL SALES ARE FINAL

DOORS: 7:00 PM | SHOW: 8:00 PM
Artist Info
Dope Lemon
To enter the world of Kimosabè, the resplendent, golden-hued fourth album by Dope Lemon, you have to board a plane. It's a vintage Cessna called Susie Q, and its interior is decked out with crushed red velvet. It only flies to one place: an old sugarcane farm in the middle of nowhere, at the centre of which is a grand old manor, a time capsule filled with arcane treasures from across the world. Step in and relax; sit down, have a drink, remember all the memories you thought you'd forgotten from your past – and imagine the roads you might take from there. 
All those details are real, and do exist in real life – Angus Stone really did record his latest missive as Dope Lemon at a luxurious, perfectly preserved rural manor with its own tricked-out plane. Stone wasn't planning to record a new album so soon after Rose Pink Cadillac, but the expansive mystery of Sugarcane Mountain lured him in. A time warp right in the middle of nowhere, it's the kind of place that begs you to uncover its secrets – and rediscover some of your own.
Although not everyone can visit the real Sugarcane Mountain Studios, anyone can dive into Kimosabè's expanses. It's an album of classic songcraft (some of Stone's best ever) and lush, rolling grooves, road anthems for a psychic journey into the cosmos. There are vignettes set in sun-soaked dens of sin ('Miami Baby') and inside beat-up old trailers ('Derby Raceway') and songs like 'Just You and Me' and 'Slinging Dimes', which dredge up stories from Stone's youth like bottles of rare shipwreck champagne. It's a rare beast, this fourth Dope Lemon album – a memoir of his life and a perfect soundtrack to yours. 
Kimosabè is a divine, open-armed, open-ended universe. It's the first Dope Lemon album that reveals the face of Stone, the project's impresario himself, on the album's cover, because "this record is everything that's me." "In the past, the artwork has been real anonymous, in a way, because I was trying to explore these styles, and having this shield in front of me was beautiful" Stone says. "This record, I had moments of clarity reflecting on my childhood and I was able to see where I want to be in the future. Putting myself on the cover just felt right."
After two albums that were spectacular and sprawling on a song-to-song level, Kimosabè consciously pulls things back: this is satiating, nutrient-dense music, soul food in sound form. Drawing from the driving power of 90s indie rock staples like Weezer as well as classic surf rock and even warm, tape-warped hip-hop instrumentalists like Madlib, it's an album for those warm days that stretch into humid, starlit evenings. The album's opener and title track sets the terms: over a funky, louche strut, Stone jovially implores "please, don't go fuck with my vibe", writing an anthem of empowerment in his own laid-back, instantly recognizable way. "As you move through life, you'll have people who… you can either let them fuck with your vibe, or you can just keep doing what you're doing," Stone says. "The second option will only give you more energy and life and love to be able to move forward into the stratosphere – and this song is talking about that."
That energy – that motto and motive – pervades the rest of the album. The warm, euphoric "Derby Raceway" is a paean to easier times, praises the virtues of simple, uncomplicated living, its chugging guitar groove evoking basic pleasures and easy thrills. Listening to "Miami Baby" – a song about the mystique and beauty of a place like Miami, which seems to only exist in the mind's eye – you can practically feel sand between your toes, anxieties melting away. Kimosabè preaches the gospel of living unencumbered, and celebrating life
.
That comes through most clearly on the songs that find Stone interrogating the contours of his life. 'Just You and Me', one of the most effortlessly beautiful songs Stone has ever written and a future wedding classic, translates the ease of being with a loved one, and the comfort of thinking back to better times. 'Golden God', which pairs an easy guitar groove with a hazed-out spoken word vocal, imagines Stone retiring on a beach somewhere, living out his last years in a blissful oasis. "When I was in my 20s, I always felt like I was destined to travel the world, and it happened. I never stayed in the same place for too long – I spent 10 years doing that. A lot of these songs had me looking back at those times before I started travelling, where I'd be with someone sitting on the beach, talking about getting out of this place," he says. 'Golden God' is the opposite – I'm throwing a reflection into the future to where I see myself dying in an old shack by the sea." 
It's a song that sums up the magnanimous, gorgeously open spirit of Kimosabè. 'Golden God' may be a song about one's final years, but it's joyful and warm-hearted, celebrating the fact that "I was able to live free." Some people spend their whole lives not being able to find that place; Kimosabè channels the feeling – at least for a moment.