Wednesday,
February
22nd
, 2023
Weyes Blood - In Holy Flux Tour
Molly Lewis
Doors: 6:00 PM
/
Show: 8:00 PM
18+ Years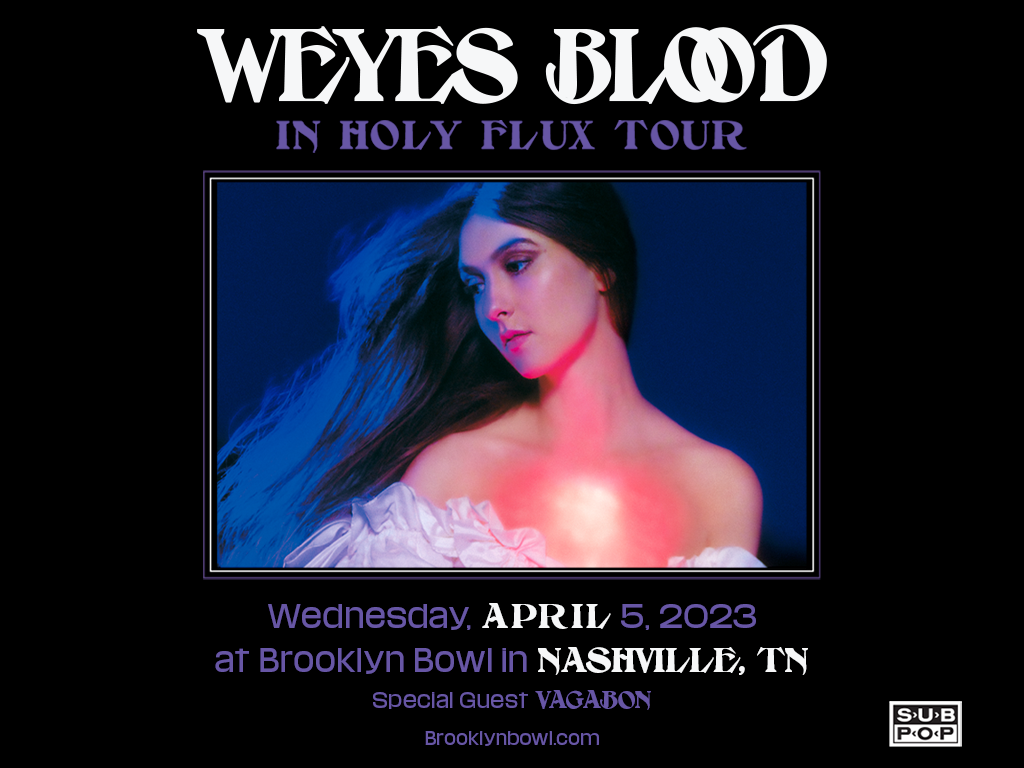 Event Info
Venue Information:
Brooklyn Bowl Nashville
925 3rd Avenue North
Nashville, Tennessee 37201
This event is 18+, unless accompanied by a parent or legal guardian. Valid government-issued photo ID is required for entry. No refunds will be issued for failure to produce proper identification.
This ticket is valid for standing room only, general admission. ADA accommodations are available day of show.
All support acts are subject to change without notice.
Any change in showtimes, safety protocols, and other important information will be relayed to ticket-buyers via email.
Want to have the total VIP experience? Upgrade your ticket today by reserving a bowling lane or VIP Box by reaching out to nashvilleevents@brooklynbowl.com
ALL SALES ARE FINAL
Artist Info
Weyes Blood
Transcendent and sometimes wistful, the folk-pop of Weyes Blood (a.k.a. LA-based Natalie Mering) explores everything that drives us, divides us, and destroys us. This sounds like heavy stuff, but Mering is an effortless guide. Though burdened by doubt, she is also buoyed by hope — her music unfurling with stunning nuance and ease.

"Bob Seger meets Enya" is how she once described her work. When you consider Weyes Blood's otherworldly expansiveness and hook-laden melodies, you realize that she isn't exaggerating.

Weyes Blood's breakout album on Sub Pop, Titanic Rising (named one of 2019's best by Pitchfork, NPR, The Guardian), was an observation of doom to come. Its follow up, And in the Darkness, Hearts Aglow, finds her in the thick of it, searching for an escape hatch, away from algorithms and ideological chaos. After five albums and years of touring, Mering has a lot on her mind.

Mering grew up singing in gospel and madrigal choirs, before prodigiously picking up guitar at age 8. That — mingled with her love of jazz, filmmaker Alejandro Jodorowsky, and scholar Joseph Campbell — has shaped her music, which tells stories of both ancient and modern myths. Why, you ask? Because, she says, "Shared myths are part of our psychology and survival."

And in the Darkness, Hearts Aglow is out November 18th, 2022.
Molly Lewis
Hypnotic and ethereal, poetic and moonlit, Molly Lewis's compositions seem to float into our ears from distant shores. But good luck to anyone who tries to find those shores on a map: Lewis's music is otherworldly, drawn more from seascapes of fantasy and dream than from any charted harbor. Like mirages, her pieces scintillate and disperse; like siren songs, they draw us in over uncharted waters; as from a good dream, we awake from her melodies wishing we could return to wherever it was that they had transported us.

There's no one else quite like Lewis in music today, and that's not only because she plays a wind instrument that few others do -- her lips. It's also because her work draws on more eclectic traditions than many of her contemporaries. Her recordings have ranged from piano-accompanied interpretations of Schumann lieder to Brazilian jazz, from Spaghetti Western ballads worthy of any Sergio Leone film to noir-inflected lounge. Even a quick encounter with Lewis's output makes it clear: she's been busy building her own tradition, combining surprising details of musical history with her own ideas on what music can do and be -- and the result is her unmistakable, cinematic sound.

For the past decade, Lewis has been elevating the craft of whistling to a viable, even integral, element of contemporary song-making. Lewis was born in Australia, grew up in L.A., moved to Australia at twelve, and returned finally to L.A. in her early 20's. Ever since, she's become an offbeat fixture of the city's music culture. Lewis' curated show, Café Molly, has become a celebrated L.A. event that showcases her diverse inspirations, and features appearances from friends and fans including John C. Reilly, Karen O and Mac deMarco.

Lewis has also become an in-demand collaborator, playing with La Femme, Sébastien Tellier, and Dr. Dre. Now, her whistle -- something like a mixture of a theramin and the voice of the great Peruvian soprano Yma Sumac -- is nothing short of iconic. She's performed around the globe, at the Yuz Museum in Shanghai, for an opening night ceremony at the Cannes Film Festival, alongside cumbia outfit Sonido Gallo Negro at Mexico City's historic Salón Los Angeles, and on tour across the entirety of New Zealand with Neil Finn of Crowded House. Judging from this cast of characters, one thing is clear: it doesn't matter what kind of music you make, once you hear Molly Lewis whistle, you're going to want her in your show.

Lewis's 2021 debut EP, The Forgotten Edge, was produced by Tom Brenneck, a staple of the LA music scene who's worked with the likes of Charles Bradley and Amy Winehouse. It showcased a variety of Hollywood-ready sounds: the Spaghetti Western trumpet blasts of "Wind's Lament," the upbeat chase-scene mania of "Island Spell," the smoky and mysterious David Axelrod-esque noir of "Satin Curtains" all contributed distinct tones to this brief but thrilling excursion of a listen. The EP was a critical success, drawing praise from The New York Times and NPR, and even landing Lewis a spot on CBS Sunday Morning.

Now, Lewis and Brenneck have teamed up again for her second EP, Mirage, bringing into the mix Brazilian guitar virtuoso -- and frequent Seu Jorge collaborator -- Rogê. Lewis, Rogê, and Brenneck composed Mirage together largely via improvisation, recording demos in Brenneck's new Pasadena studio, Diamond West, between late 2021 and early 2022. Once the three had finalized the compositions, they recorded the official cuts at Studio 64 in Highland Park with percussionist Gibi Dos Santos (Sergio Mendes) and keyboard player Roger Manning (Air).

Capacious and atmospheric, Mirage is Lewis's most concentrated effort, both sonically and conceptually. Moving back and forth between California and Australia, she's always had a nostalgia for Pacific distances, and Mirage can be seen as a foray into that feeling. Like Eden's Island (1970) by eden ahbez -- whose "Nature Boy" is covered in one of Mirage's standout moments -- Lewis's EP is based on her visions of an imaginary island. Floating somewhere between Los Angeles, Brazil, and Australia, the shores of the island that inspired Mirage are made up more of sounds than of sand.

Opening with a title track full of sounds of nocturnal birds, insects, and waves, and carrying us off with its lush instrumental textures and earworm melodies, Mirage teleports us under the stars of an unknown beach -- all alone or in the company we've always dreamt of keeping. Highlight tracks like the seductive "Miracle Fruit" and the insouciant "Cabana de Mel" reach beyond Lewis's signature neo-lounge pastiche, Brenneck's soul, and Rogê's pure Brazilian style, meeting way out over the oceans of their imaginations of just how far music can take us away from here.