Saturday,
March
11th
, 2023
Samia - Honey Tour
Tommy Lefroy, Venus & The Fly Traps
Doors: 6:00 PM
/
Show: 7:00 PM
18+ Years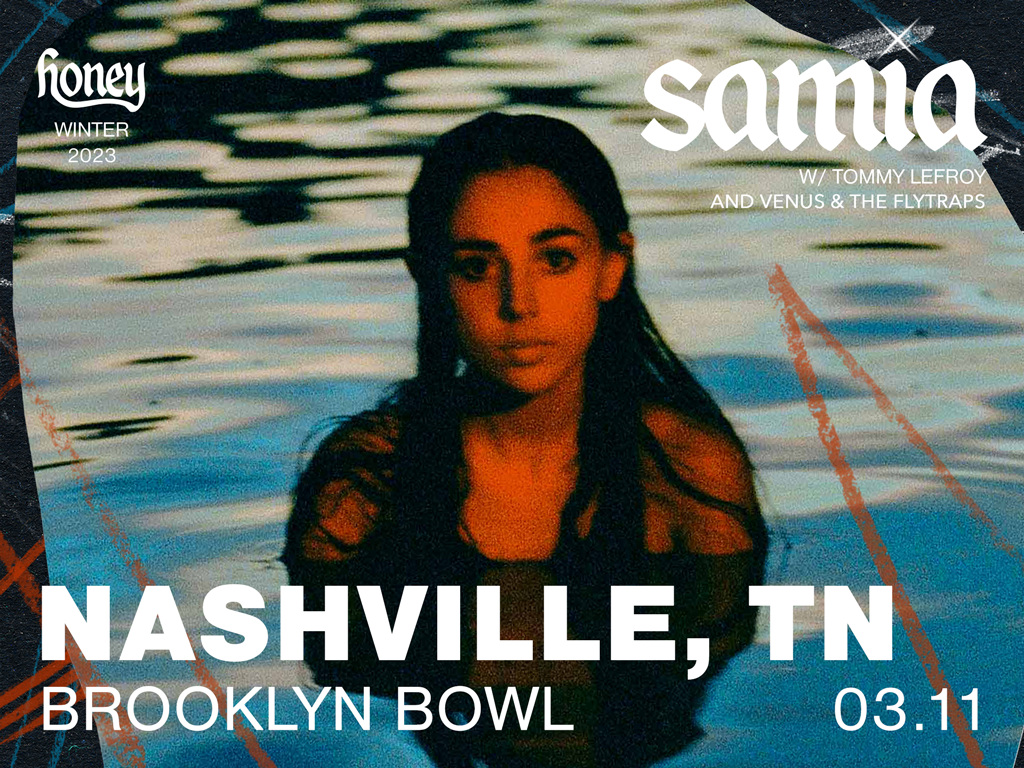 Event Info
Venue Information:
Brooklyn Bowl Nashville
925 3rd Avenue North
Nashville, Tennessee 37201
This event is 18+, unless accompanied by a parent or legal guardian. Valid government-issued photo ID is required for entry. No refunds will be issued for failure to produce proper identification.
This ticket is valid for standing room only, general admission. ADA accommodations are available day of show.
All support acts are subject to change without notice.
Any change in showtimes, safety protocols, and other important information will be relayed to ticket-buyers via email.
Want to have the total VIP experience? Upgrade your ticket today by reserving a bowling lane or VIP Box by reaching out to nashvilleevents@brooklynbowl.com
ALL SALES ARE FINAL

SAMIA VIP FAST PASS
-One (1) GA ticket to the show
-Q&A session with Samia*
-One (1) signed commemorative VIP Laminate
-One (1) Exclusive Tote Bag only available w/ VIP purchase
-Early Entry to the venue ('Skip the Line' 1 hour prior to listed door time)
-Early access to the merchandise table
-Limited availability
*Q&A will last approximately 15 mins. Samia will answer as many questions as she can from the stage in the time available.
Artist Info
Samia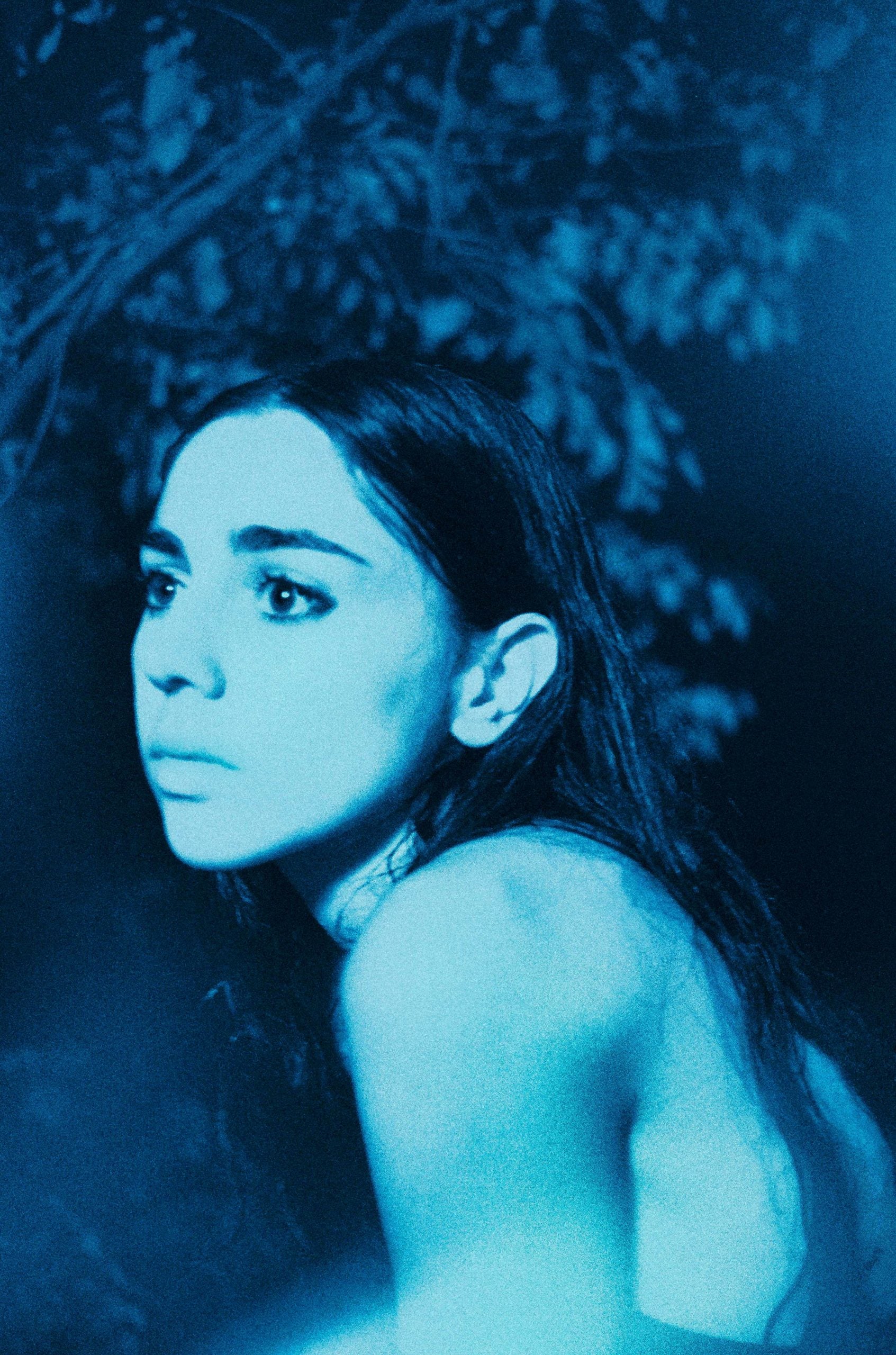 There's a line on Honey, the latest album from Nashville-via-NYC songwriter Samia, about Aspen Grove, a collection of 40,000 trees in the plains of North America, all connected by a single expansive root system. There's no stronger metaphor for the audience the 25-year-old empathy engine has been generating since she began releasing music seven years ago. Her songs, her fans, her friends: one enormous, interconnected ecosystem. Honey, comprised of eleven new moments of catharsis, is by and for that organism. Set for release on January 23rd 2023 via Grand Jury Music, the album was recorded at North Carolina studio Betty's –- owned and operated by Sylvan Esso's Nick Sandborn and Amelia Meath. It was produced by Caleb Wright, part of the team that helmed Samia's breakthrough 2020 debut The Baby, and a founding member of one of Samia's favorite bands, The Happy Children. It features some of her nearest and dearest friends: Christian Lee Hutson, Briston Maroney, Jake Luppen, Raffaella. Its songs were surreptitiously road tested for her devotees while opening for Lucy Dacus, Courtney Barnett, and more. The end result is what Samia calls simply "a real community record." "We tried to be as honest as possible and keep the songs as raw as possible," Samia said. "We talked a lot about zooming out and zooming in, giving a lot of weight to the small moments and considering them as part of a big picture, how they factor into everything else that's happening in the world."
Tommy Lefroy
Rebellious candour, existentialism, and friendship are at the crux of what drives and motivates songwriter, producer and artist duo Wynter Bethel and Tessa Mouzourakis. How the band came to be was a series of sliding doors moments and necessity, with both women 5000 miles apart during the pandemic and having their hearts broken, again and again. Bonding over literature and lyrical precision, the name Tommy Lefroy was born out of Jane Austen's real life Mr Darcy - the original 19th-century fuckboy Thomas Langlois Lefroy - a man who broke the author's heart. The penny dropped when Tessa and Wynter thought: why can't we be the strong female lead, and challenge literature's traditional role of the male character: the heartbreaker? From meeting in Nashville in 2018 to continually crossing paths at house parties, when Tessa went to see Phoebe Bridgers' supergroup Boy Genius play in her hometown Vancouver, she watched in awe and thought: "I want this, I can do this." She posted a cover of their song "Ketchum, ID" on her Instagram story and Wynter responded: "Can we start a band?". Both strong and "laughably existential" female characters in their own lives, and together, a musical powerhouse with an enduring soul connection, Tommy Lefroy moved to London and released their first single "Northern Towns" in 2021, followed by highly praised debut EP Flight Risk. Connecting with young female fans through perseverance, honesty, and lyrics that move you, make you cry and make you angry, the best friends have already won fans at NME, Apple and now have over 1 Million monthly listeners on Spotify. But seeing the tangible effect their music has had on fans this summer at live shows has blown Wynter and Tessa away, for a project that started over Zoom in a dark time when collective effervescence was taken away. With queues around the block for their performance at The Great Escape, Tommy Lefroy played their second London headline to a sold-out Lexington last month, with fans singing back every lyric from Flight Risk, and are set to perform at UK festivals this summer, including Barn On The Farm, Kendal Calling and Secret Garden Party. Built as an anchor to get them through the uncertainty of 2020, the project has felt like an act of rebellion, against the constraints and expectations they had of themselves, derived from societal expectations of what it means to be a woman, especially in music. Capturing care-not independence in their lyrics and a do-all approach to their creative process they find inspiration from unapologetic female storytellers like poet, Anne Carson, as well as Joni Mithcell, Patti Smith and Phoebe Bridgers, and creative contemporaries Sharon Van Etten, Samia & Haim. As multi-intrumentalists and producers, they excel in sonically experimenting with the details of the world around them - from samples of the tube in their new home-city of London, to friends mid-laughter and clinking glasses around the kitchen table. Uncompromising, beautifully honest, and refreshingly themselves, Tommy Lefroy is a perceptive voice for the malaise of modern living and an inspiration for the confident recklessness that comes with being a storyteller. The stories, written for each other, for their friends, and for the lovers who left, detail the storms of tearaway youth, stumbling in and out of love, and finding humour along the way.
Venus & The Fly Traps
Venus & the Flytraps is the indie-pop scene's annoying little sister. Hailing from Nashville, they create playful and sharp music about love (or the lack of it), mommy issues, and the perils of growing up. Its core members are Ceci Tomé and Brenna Kassis, two best friends whose love for each other informs every musical step they take. Their sound is nostalgically influenced by the early 2000s music of their childhood. Venus & the Flytraps recently independently released their debut EP, Dumbing of Age, and are beginning production on their next project!