Madi Diaz: The Weird Faith Tour
With Special Guest Jack Van Cleaf
Doors: 6:00 PM
/
Show: 8:00 PM
18 & Over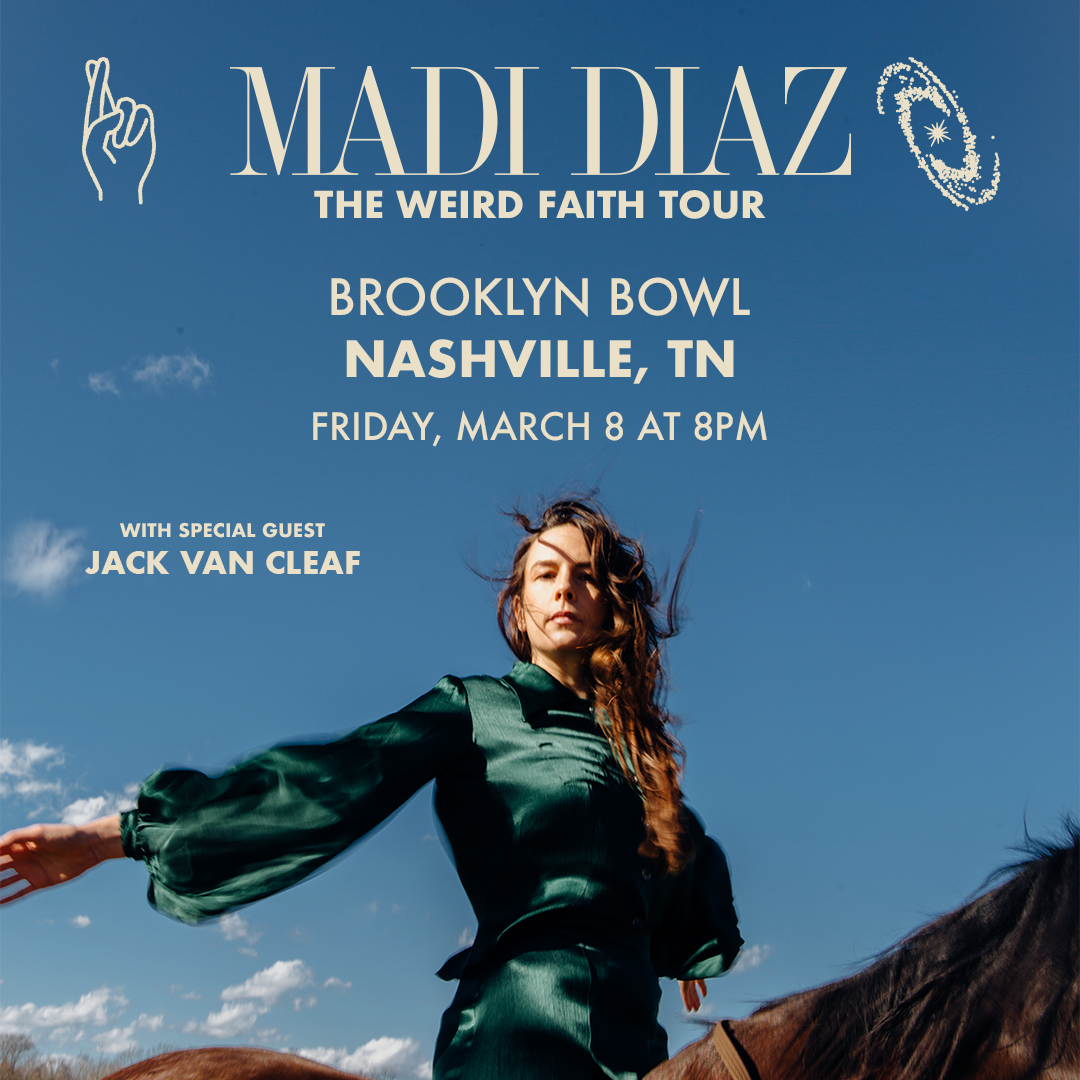 Event Info
Venue Information:
Brooklyn Bowl Nashville
925 3rd Avenue North
Nashville, Tennessee 37201
This event is 18+, unless accompanied by a parent or legal guardian. Valid government-issued photo ID is required for entry. No refunds will be issued for failure to produce proper identification. Want to have the total VIP experience? Upgrade your ticket today by reserving a bowling lane or VIP Box by reaching out to nashvilleevents@brooklynbowl.com Delivery is delayed for this event, tickets will be released 72 hours prior to the show.

This ticket is valid for standing room only, general admission. ADA accommodations are available day of show. All support acts are subject to change without notice. Any change in showtimes or other important information will be relayed to ticket-buyers via email. ALL SALES ARE FINAL Tickets purchased in person, subject to $3.00 processing charge (in addition to cc fee, if applicable). Sales Tax Included *Advertised times are for show times - check Brooklyn Bowl Nashville website for most up-to-date hours of operation*
Artist Info
Madi Diaz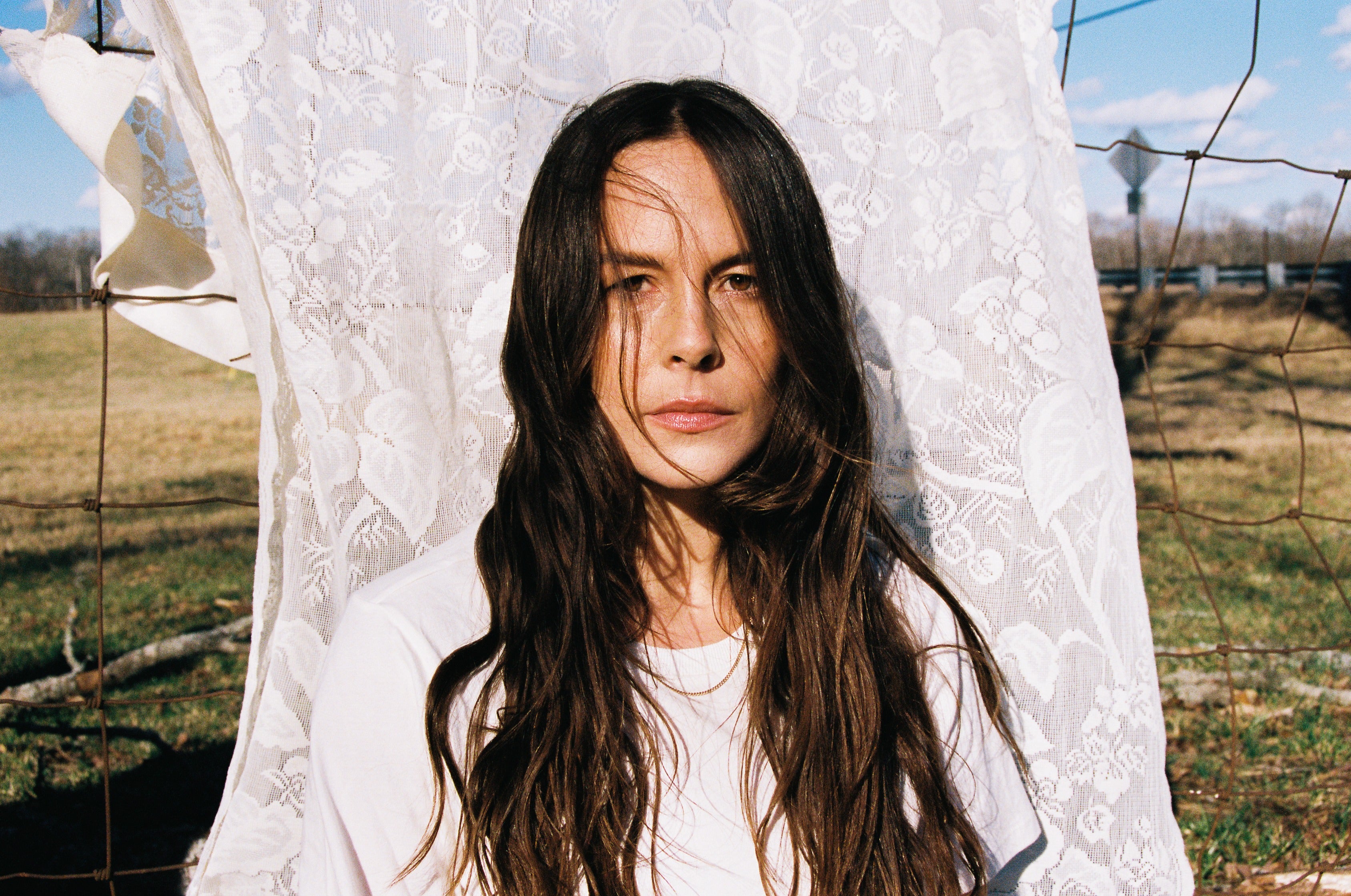 Madi Diaz has been making records and writing songs professionally since the late 2000s, but it wasn't until she released 2021's History Of A Feeling that she felt the glare of wider notoriety. It wasn't her debut album, but it certainly felt like it. She made her daytime and nighttime television debuts, embarked on her first solo tour since 2014, supported Waxahatchee and Angel Olsen on tour, and collaborated with them on record. Harry Styles handpicked Diaz to open for him in arenas and stadiums in North America, and was so taken by her captivating live show, he asked her to be a member of his touring band, to sing alongside him all over Europe and the UK, as well as continuing to open the show in various cities. After three months on the road touring internationally, Diaz is back in Nashville and gearing up to release her new album, Weird Faith, perched on the precipice of her moment.
On her last album, History of a Feeling, Diaz confronted the dissolution of a long relationship and a nuanced breakup. "Writing that record was like throwing a dart at an emotional dart board," she says. "I was trying to get closer to the bullseye of the core of what I was feeling with no goal other than processing my own grief." Though it was scary to put those feelings out there for mass consumption, Diaz found the process of bringing the record on tour strangely healing. Fans screamed along to her set, and the power of hearing her words echoed back to her at a place like Wembley Stadium was affirming. "It's so empowering to stand in a room hearing girls yelling as loud as they can possibly yell," she says. While she penned songs for artists like Kesha, Little Big Town, and more, time on the road renewed Diaz's excitement about her own project, her own story.
On Weird Faith, Diaz once again examines a romantic partnership, but this time, her songs are about falling for someone and the endless self-questioning a new relationship inspires. "After being really burned by love — maybe relentlessly burned by it — the album is about being brave and trying again. Doing it differently," she says. "It's in our nature to try to be brave like that.
You see the car crash coming. Maybe it won't happen, but you're bracing for it anyway." In the throes of new love, she repeatedly encountered the same questions: "Am I ready for this? Can I do this? Can I trust myself to know the good from the bad?"
The album's stirring closer "Obsessive Thoughts" is about exactly that. It opens with quivering strings, as if in mimicry of a nervous heartbeat, before the chorus crashes in like a gale force, toppling any sense of unease. "It's a lot, it's a lot/ Obsessive thoughts," she howls. The song will vindicate anyone who's ever struggled with the same and while Diaz might consider those obsessive thoughts an impediment, they're also what makes her a bold, singular songwriter. The poetry in her lyrics don't obfuscate the reality of what she's singing about: trusting another person with your heart is hard.
While writing Weird Faith, Diaz came up against a problem that has dogged songwriters since time immemorial. How do you write about romance, or love, without making it sentimental, schlocky, or fake? For Diaz, the answer was to explore how anxiety-inducing, if not downright humiliating falling in love can be. Weird Faith answers these questions bluntly, and Diaz says the record "chronicles a new relationship, but also a new relationship to myself." This record exists between the time you say "I Love You" and the moment they say it back (or don't). Album opener "Same Risk" acknowledges that feeling from the outset. "Do you think this could ruin your life? Cause I can see it ruining mine," Diaz asks plainly. It's a disarmingly honest moment, her barefaced and fearless lyrics becoming all the more impactful as the rhythm section briefly drops out of the mix. It's but one of the breathtaking production choices Diaz made on the album with help from friends Sam Cohen and Konrad Syder. "Sam makes raw, grungy, rambunctious records, and I needed him to help me crack open the door and start sonically exploring what the record would be," Diaz says about her time spent recording in Woodstock.
"Later in Nashville, Konrad and I were able to push what we did even further, until it was beyond the sonic landscape of what I had set out to make."
Diaz's collaborative spirit is the result of living in Nashville, where she moves in a tight-knit group of songwriters. "It's the type of place where you get into deep conversations with people at 2AM then go to the gas station for a six pack because you're not done talking yet," she says. Kacey Musgraves is one of those friends and she accompanies Diaz on the devastating ballad "Don't Do Me Good," a song that mourns the end of a relationship before the inevitable end. It's desperately lonely, a woman's admission that peace eludes her, but Diaz is bolstered by Musgraves, as if to indicate that she's never truly alone, that there is always a friend on the other end of the line waiting on your call.
That difficulty of trusting someone with your heart comes to a head on "For Months Now," which sounds like the hard-fought revelation at the end of a therapy session. "It's about knowing a relationship is over, you just haven't acknowledged it yet," Diaz says. On "Hurting You," she acknowledges it. "Hurting you is hurting me," she fervently sings on the chorus, her stark words bolstered by the sparest production heard on the album. It's a crushing song, but it's also an auspicious one. When Diaz started writing Weird Faith, she knew it would be bigger than a love story. She didn't yet know that she was rendering a self-portrait, one that captures the Madi Diaz of a fleeting moment in time, hungrily alive and forever searching. A search that has led to a record highlighting the human experience of spinning out on the fall into love, bold in its honesty, and matching the momentum of Madi Diaz.
Jack Van Cleaf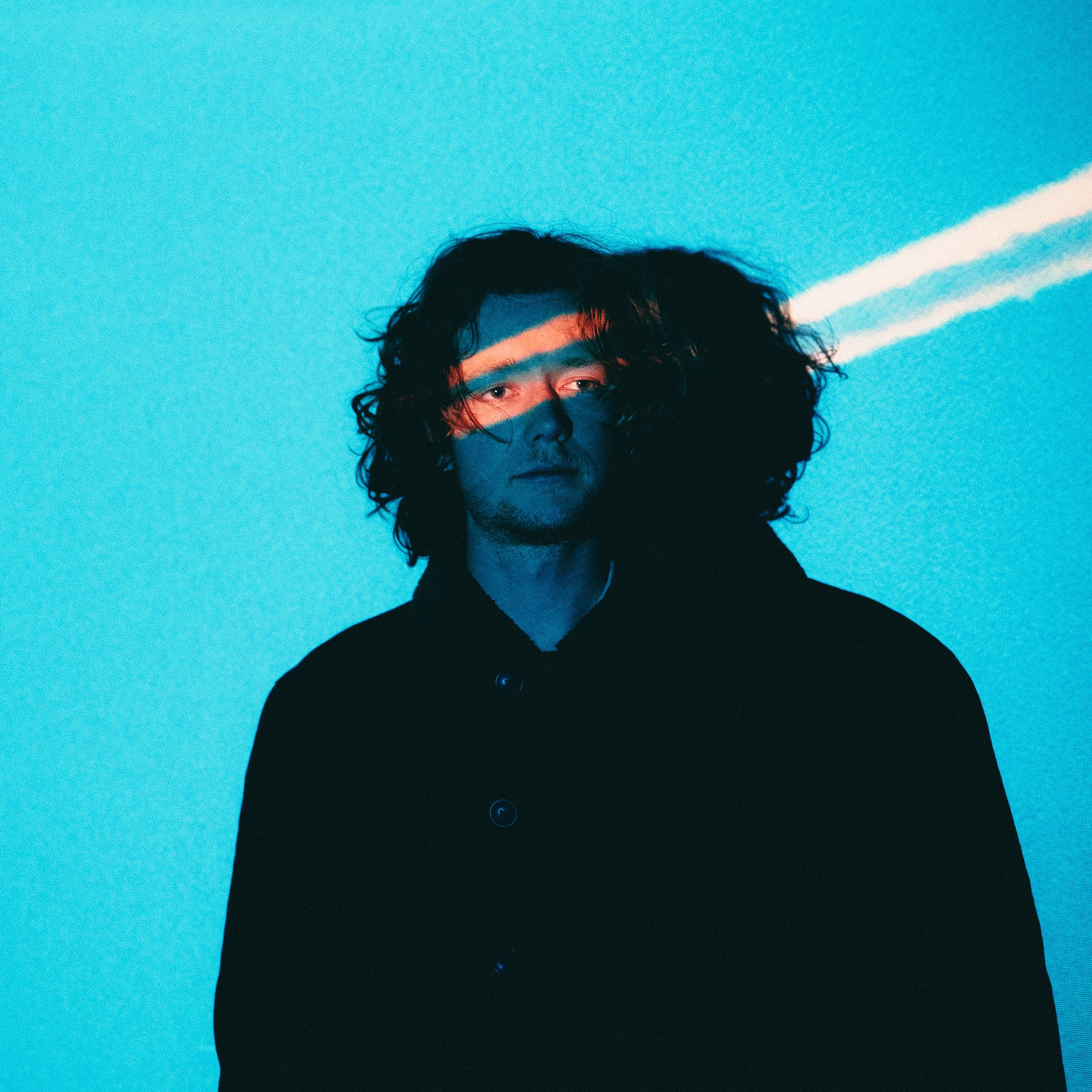 California-reared singer-songwriter Jack Van Cleaf writes determined and delicate songs with poetic slant and confessional warmth. At twenty-six, Van Cleaf has taken stage at legendary venues across the country including Mission Ballroom, The Ryman, The Pageant, and Miller High Life Theatre. Intimate performances with Sofar Sounds have found Van Cleaf captivating audiences from New York City to Austin, Texas. He has opened for artists such as Noah Kahan, Briston Maroney, The Lagoons, and Taylor Ashton. Van Cleaf is currently gearing up to hit the road with Field Guide in spring of 2023.

Jack lives and writes alongside other young songwriters including Annika Bennett, Gatlin, and Ethansroom. In his songs, folk imagination dresses in cinematic production, evoking the spacious and sparse verses of Nathaniel Rateliff and Gregory Alan Isakov. His music also echoes his heroes: a directness borrowed from Kris Kristofferson and lucid spirituality reminiscent of Cohen.

Released in 2022, Van Cleaf's premiere full-length record 'Fruit from the Trees' opens like a lost suitcase. Written across a span of seven years, the ten tracks are stashed with fables and fictions, letters to high school lovers, loose change in foreign currency, and a white bandana chalked in red Texas dust. Co-produced by Jamie Mefford (Nathaniel Rateliff, Gregory Alan Isakov) and Alberto Sewald (Katy Kirby), the record soars with sonic width that melds the folk-song precision of Dawes with a rumbled raucousness suggestive of The Killers. Van Cleaf proudly introduced 'Fruit from the Trees' with a sold out release show in Nashville, TN in March of 2022.

The debut record was premiered on Atwood Magazine who sung its praises, calling it "achingly intimate, warm, and tender...a radiantly raw alt-folk reckoning." Van Cleaf's songs have garnered positive attention from editorial playlists, ranging from Jack's being featured on the cover of Spotify's 'Fresh Finds' to inclusions in 'New Music Friday (USA),' 'Fresh Finds: Folk,' 'Infinite Indie Folk' and more, plus features in Apple Music's 'New In Country,' Amazon Music's 'Breakthrough Folk' and YouTube Music's 'The New Americana.' Having lyrics that connect to so many, Van Cleaf's breakthrough song "Rattlesnake" has amassed over four million streams and his monthly listenership has organically increased from 1,400 to 370k since the song's release. Van Cleaf wrapped up 2022 with the release of his 'Music City Murder Ballad' EP, and inclusions on Spotify's "best of" roundups 'Fresh Finds Class of 2022,' and 'Fresh Finds Folk: Best of 2022.' Fresh off of Noah Kahan's winter leg of his sold-out 'Stick Season' tour, Van Cleaf released his volcanic newest single "Terrestrial Man."