Musician Treatment Foundation Benefit Concert
Elvis Costello Billy F Gibbons and All-Star Friends Benefit Concert
Bill Evans, Keith Carlock, Jerry Douglas, + More!
Doors: 6:00 PM
/
Show: 7:00 PM
18+ Years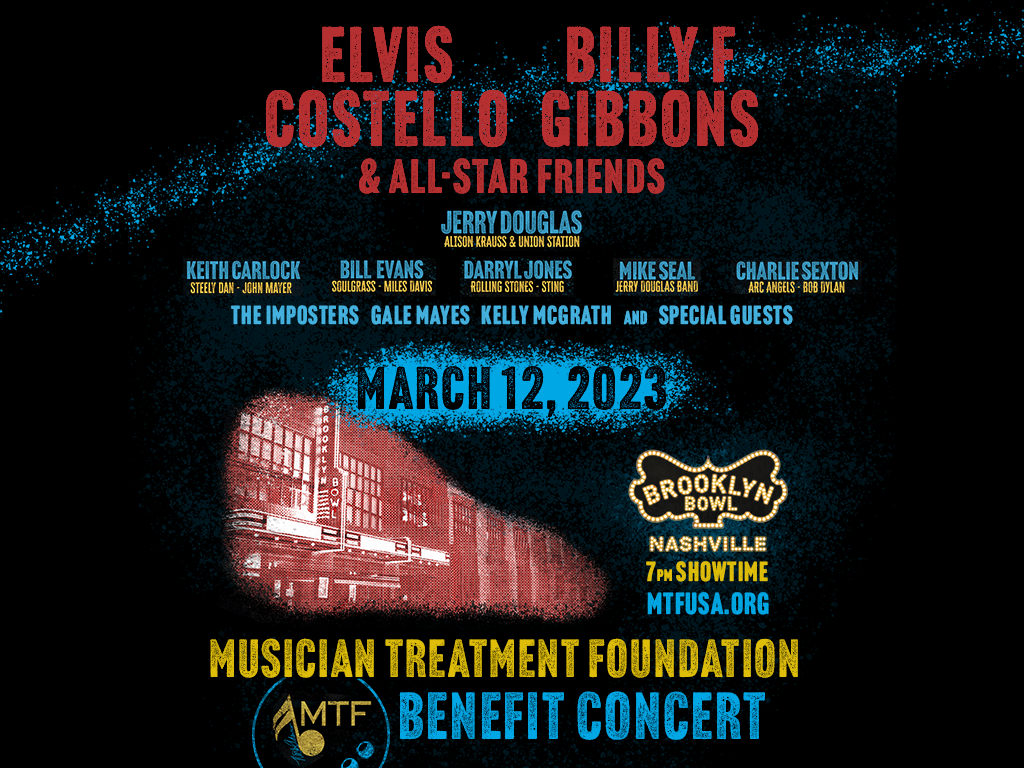 Event Info
Venue Information:
Brooklyn Bowl Nashville
925 3rd Avenue North
Nashville, Tennessee 37201
This event is 18+, unless accompanied by a parent or legal guardian. Valid government-issued photo ID is required for entry. No refunds will be issued for failure to produce proper identification.
Musician Treatment Foundation (MTF) is honored to present this all-star benefit concert to support assistance to uninsured professional musicians at home in Nashville and on the road in dozens of cities across the country. Learn more at
mtfusa.org
.
To enjoy the concert as an MTF Benefactor you may reserve a VIP seat in the Owners Box, your own Benefactor Box, or a Benefactor Bistro Table at
MTF Nashville Benefit
.
To get into the VIP After Party you may add MTF After Party to your cart and enjoy complimentary bites, drinks, and the concert poster.

Want to have a premium experience? Upgrade your ticket today by reserving a bowling lane or by reaching out to nashvilleevents@brooklynbowl.com.
This ticket is valid for standing room only, general admission. ADA accommodations are available day of show.
All support acts are subject to change without notice.
Any change in showtimes, safety protocols, and other important information will be relayed to ticket-buyers via email.
ALL SALES ARE FINAL
Artist Info
Elvis Costello
Elvis Costello is an award-winning musician with a career spanning over 40 years as well as an artist and author. He has been prolific as a solo artist and collaborator with album sales over 5.5 million and counting. Costello is one of the founding directors of the Musician Treatment Foundation donating his artistry, collaboration, and many talents in support of the organization. On December 2, 2022 he supported MTF with an unbelievable benefit at ACL Live: Elvis Costello & Friends: King of America & Other Realms, performing with Rosanne Cash, Nina Diaz, Sara Jarosz, Valerie June, John Leventhal, La Marisoul, Allan Mayes, Charlie Sexton, and two of The Imposters Davey Faragher and Pete Thomas. Costello, alongside The Attractions, was inducted into The Rock and Roll Hall of Fame and awarded ASCAP's prestigious Founder's Award. The Boy Named If, his album with The Imposters, is nominated for a Grammy Award for Best Rock Album in 2022. Costello's latest album The Songs of Bacharach & Costello is set for release on March 3, 2023.
Bill Evans
Heralded as a renaissance man of music, multiple Grammy nominated saxophonist Bill Evans has explored a variety of musical settings that go well beyond the confines of traditional jazz. His early work with Miles Davis (at age 21), John McLaughlin, and Herbie Hancock, among others, helped launch more than three decades of musical exploration. This opened the path to Evans leading his own bands, such as Soulgrass, and headlining major festivals worldwide. He has taken the stage multiple times over the years with Phil Lesh, The Allman Brothers Band, Warren Haynes and other great artists. To date, he has recorded 26 solo CDs and has been collaborating with multiple artists including Robben Ford, Mike Stern, and Randy Brecker. Evans continues to tour extensively with his own groups.
Keith Carlock
Keith Carlock is a drummer who has recorded and/or toured with such musical luminaries as Steely Dan, John Mayer, Sting, James Taylor, Toto, Christopher Cross, Donald Fagen, Walter Becker, Diana Ross, Faith Hill, The Blues Brothers, Wayne Krantz, Mike Stern, Robben Ford, Bill Evans, Leni Stern, David Johansen, Richard Bona, Chris Botti, Rudder, Harry Belafonte, Oz Noy, Larry Carlton, Clay Aiken, Rascal Flatts, Paula Abdul, Eros Ramazzotti, Bootsy Collins, Michael Buble', and Grover Washington, Jr, to name only a few.
Keith has been the drummer with iconic jazz-rock band Steely Dan for over 20 years. He has performed on every tour since 2003 and his first recording with them, "Two Against Nature" won the Grammy award for "Album Of The Year" in 2001. Keith has been honored to be voted the winner in several Modern Drummer's Readers Polls: 2008 in the Pop category; 2009 in the Pop, Fusion, and Best All-Around categories; and 2010 in the Jazz category.
Jerry Douglas
Dobro master and 14-time GRAMMY winner Jerry Douglas is to the resonator guitar what Jimi Hendrix was to the electric guitar, elevating, transforming, and reinventing the instrument in countless ways. Additionally, Douglas is a freewheeling, forward-thinking recording and touring artist whose output incorporates elements of country, bluegrass, rock, jazz, blues, and Celtic into his distinctive musical vision.
Darryl Jones
Darryl Jones was born on the south side of Chicago into a musical family. His father taught him drums and xylophone at 7 years old. With the support of caring parents who instilled a strong work ethic, Jones gained entry to the Chicago music scene playing alongside other Chicago locals including Vincent Wilburn, Jr. (nephew of Miles Davis). At 21, with Wilburn's help, Jones landed a life-changing gig with Miles Davis, with whom he would record and tour over the next five years. He can be heard on Decoy, You're Under Arrest, and live albums.
The following decade brought distinctive opportunities: When Police front-man and bass player Sting picked up a rhythm guitar to embark on a solo career, he chose Jones to play the bass. Jones played on the Dream of the Blue Turtles album and appeared in the documentary Bring on the Night, and subsequent album and world tour. During the 1980s he also performed with Peter Gabriel, Herbie Hancock & the Headhunters, Madonna, Eric Clapton, and more. During this time Jones also made his mark on the New York electric jazz scene.
In 1993 Jones was chosen to replace longtime band member Bill Wyman as bassist for the Rolling Stones. He has toured the world, performed on studio and live albums, and appeared in documentary and concert films with the Stones. Always open to new musical experiences, whenever he's not playing with the Stones, Jones continues to explore, playing with an eclectic mix of artists including LeAnn Rimes, Ziggy Marley, Rod Stewart, and the late Joe Cocker, among others. He has been seen playing in the Emmy Awards show band. He composed the score for the 1997 Sundance Audience Award winning feature film Love Jones. And since 2018, has been booking sessions as a voice actor.
Jones' other work includes projects in collaboration with numerous other artists as well as his own: The Darryl Jones Project debuted in 2017, revealing a lifelong love of music – eschewing convention and defying genre labels with its soulful roots rock vibe – featuring his original material along with some interesting covers. He also founded Jones Musical Instruments to produce high-quality basses and guitars, combining artisan craftsmanship and modern technologies, for seasoned professionals and dedicated enthusiasts. Jones envisions a world where music education is available to all and the company supports programs that bring music into public schools.
Mike Seal
Mike Seal is a grammy-nominated guitarist and composer based in Nashville, TN. Originally from Bridgewater, Virginia, he's played out of Tennessee and Georgia for the past ten years, touring and recording with a wide variety of bands including: The Jerry Douglas Band, Sierra Hull, Bob Lanzetti, Jeff Sipe Trio, Sarah Siskind, The Jeff Coffin Mu-tet, Ike Stubblefield, Yonrico Scott, Keith L. Brown, Taylor Lee, The Black Lillies, and Robinella.

Mike has performed and recorded on many projects as a guitarist, pianist, arranger and composer. Jerry Douglas' latest album, 'What If', features his guitar work and composition work. His background is primarily in jazz, but you will hear him performing a wide range of music spanning many genres.
Charlie Sexton
Charlie Sexton, raised in Austin, Texas, is known for his gutsy, fluid blues guitar playing, as well as playing spirited rock 'n' roll. He made his debut with Pictures For Pleasure in 1985 at age 16 and then a self-titled second album when he was 20. Sexton's reputation as a prodigy guitar player led him to be an in-demand session player while in his late teens, recording with Ron Wood, Keith Richards, and Bob Dylan. He went on to perform with many other legends, including Joe Ely, Jimmie Vaughan, Stevie Ray Vaughan, and tours now with Elvis Costello & The Imposters. Sexton has recorded numerous albums as a solo artist, with his band Charlie Sexton Sextet, and as a member of the Arc Angels demonstrating his prowess in multiple genres. As a songwriter, he writes about what he knows and his lyrics mix autobiographical experiences with images that are open to interpretation.
The Imposters
The Imposters are
Davey Faragher
(bass, backing vocals),
Steve Nieve
(keyboards), and
Pete Thomas
(drums). The band records and tours with Elvis Costello, and their most recent album
The Boy Named If
is nominated for a Grammy Award for Best Rock Album in 2022.
Gale Mayes
Gale Mayes is a singer and songwriter who is melding the genres of gospel, soul, blues, and jazz to create a style of her own. She is now a center stage artist after 25 years in the shadows as a background singer. Gale has a home at one of Nashville's most respected live music venues, 3rd and Lindsley, where she performs her show, "A Classic Evening of Music," to a full house. She has also been the headliner and host of Nashville's Food and Wine Festival Gospel Brunch. In 2017, she was a featured artist for Wine Down Main Street Franklin, the Boys and Girls Club of Williamson County's annual fundraiser.
Moving to Nashville in 1991, Gale made her vocal presence known and was hired to sing background tracks for Handel's Messiah: A Christmas Celebration, produced by Mervyn Warren, formerly of the gospel group Take 6, and the legendary Quincy Jones. Studio session requests began pouring in and she has sung on numerous Grammy, Dove, and Stellar Award winning projects. At the 35th Annual Dove Awards, Gale received her own nomination in the category Traditional Gospel Song of the Year for "Breakthrough" which she wrote and performed on the Dove Award winning, Grammy nominated project, Cece Winans Presents: The Born Again Church Choir.
Born and raised in the Mississippi Delta, Gale crosses all musical genres; she has toured, performed with, and recorded demos and tracks for Aretha Franklin, Reba McEntire, Wynonna Judd, Emmylou Harris, Rascal Flatts, Darius Rucker, Andrae Crouch, Michael McDonald, Toby Keith, Josh Turner, Mike Farris, and many other greats. Her name appeared frequently on television soundtrack credits for ABC's Nashville and OWN's Greenleaf.
Kelly McGrath
Kelly McGrath is a seasoned and established Nashville-based country recording artist and songwriter with a unique sound. 2016 was a breakthrough year for McGrath, signing her first publishing deal with ole' Publishing, and recording her highly anticipated 4th studio album "Kites." CMT premiered her music video for the "You and Me Today" with critical and popular acclaim. McGrath's summer single "All That I Want" made its debut with a music video premiere on CMT in the top 5 and receiving a personal congratulatory endorsement for the song via Twitter from rock legend, Mick Jagger.

Throughout 2016, 2017 and 2018 McGrath completed multiple successful tours in the UK and Europe. In November 2017, shortly after signing a new publishing deal with Luna Music Group, she released her first holiday single, a unique and powerful version of "Oh Holy Night", which received high critical acclaim for both the recording and the music video supported by CMT. Among her UK performances in Summer 2018 was the British Summertime Festival in Hyde Park, London where she shared the stage as supporting act for Eric Clapton, Carlos Santana, and Steve Winwood.
After performing as an official 2019 CMA Fest artist, McGrath took a break from touring to focus on writing for her next album. During a two year hiatus in the wake of the global pandemic, she started a family becoming a new mom to a beautiful baby girl. In 2022 McGrath returned to live performance singing the National Anthem at MLB March Spring Training games in Arizona for Chicago Cubs, Chicago White Sox, and San Diego Padres. Last summer she returned to the British Summertime Festival in Hyde Park, London, this time as a supporting act for The Rolling Stones on their Stones Sixty Tour.