Wednesday,
April
19th
, 2023
Caroline Rose
Hammydown
Doors: 6:00 PM
/
Show: 8:00 PM
18+ Years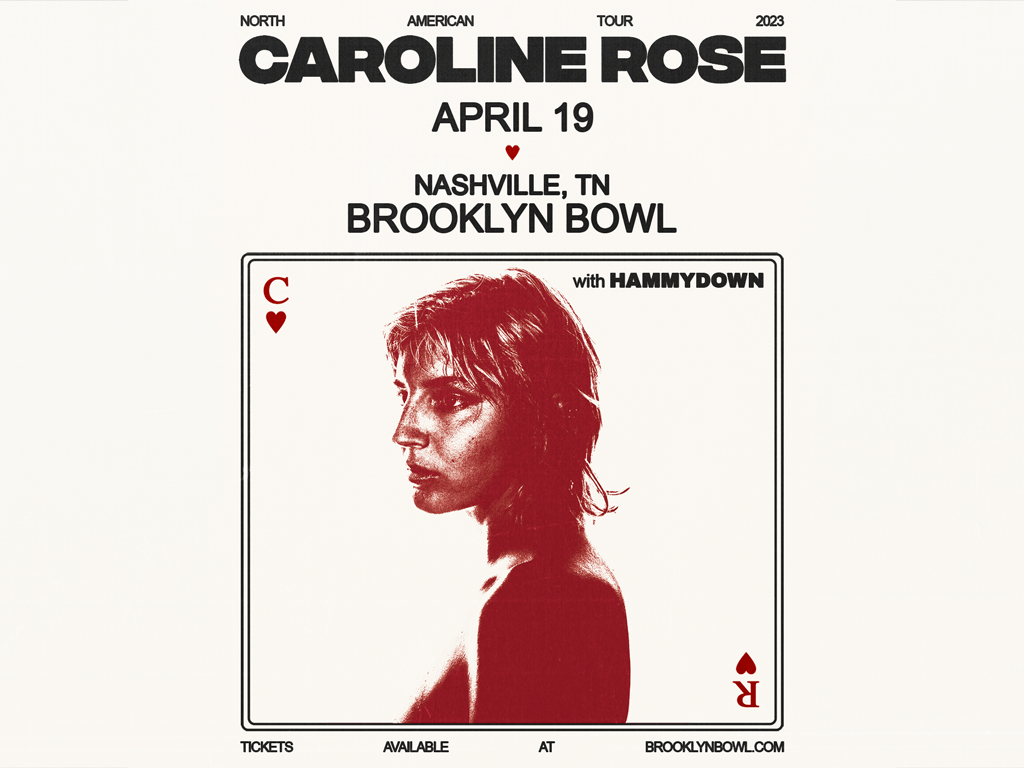 Event Info
Venue Information:
Brooklyn Bowl Nashville
925 3rd Avenue North
Nashville, Tennessee 37201
Caroline Rose has partnered with PLUS1 to support organizations bringing dignity, equity, and access to communities who need it.
This event is 18+, unless accompanied by a parent or legal guardian. Valid government-issued photo ID is required for entry. No refunds will be issued for failure to produce proper identification.
This ticket is valid for standing room only, general admission. ADA accommodations are available day of show.
All support acts are subject to change without notice.
Any change in showtimes, safety protocols, and other important information will be relayed to ticket-buyers via email.
Want to have the total VIP experience? Upgrade your ticket today by reserving a bowling lane or VIP Box by reaching out to nashvilleevents@brooklynbowl.com
ALL SALES ARE FINAL
Artist Info
Caroline Rose
"Love / Lover / Friend is about the experience of commitment and the confusing dance that takes place finding your roles within it," says writer/producer Caroline Rose. The track is a sonic departure from 2020's Superstar, a critically-lauded satire on the price of fame and ambition. "I feel like I've really grown up in the last few years. I've learned, and am learning still, so much about life and love and all its many forms. When I first wrote this song it felt like the perfect jumping off place to tell a story about love…Not just love for another person but also for myself."
The marked sonic departure is a return to a much more nascent instinct for Rose. "When I was younger, I remember having so many feelings it felt like I would explode if I didn't express them somehow. This felt similar to that—very pure and direct." Between classical and avant-garde elements, low and high fidelity textures, constraint and catharsis, Rose produces Love / Lover Friend as a series of magnetic dipoles that entice and dismay. "I was listening pretty exclusively to vocalists for a while. I definitely tip my cap to Le Mystère des Voix Bulgares but there are also some less obvious references. Sussan Deyhim, Yma Sumac, Sheila Chandra, Huun-Huur-Tu, Hamlet Gonashvili…artists who used their voices in very different ways to great effect. I would listen to them sing and it felt like we were directly connected."
At home in her studio, Rose experimented with DIY tape effects, recording techniques and modular synthesis, discovering a palette of new sonic textures. "There is a feeling that comes with recording in a certain way. When you're dealing with tape, you're printing to something that decays. There is a life-like element to it. When you work in digital formats, there's a kind of detachment from that humanness. I wanted it to feel like both." Love / Lover / Friend will be released on all digital platforms October 26.
Hammydown
Personal growth is a journey that weaves a path through the past, present and future. There's the awkward, fumbling confusion of childhood, the hilarity and mortifying shame of puberty, and the suffocating nostalgia that piles up thick with age. Like the burning itch of an ever-shrinking sweater, you can't ignore when it's time to peel away from the parts of yourself that no longer serve you and walk away from them forever. Few can speak more to the sacred nature of such metamorphosis than the Trans community- and Hammydown (aka Abbie Morin) is humbled to add their vulnerable, and often catchy musings to the conversation with their upcoming debut LP, Former You.
Abbie entered their thirties March 12, 2020 (yes, they are a Pisces) while on the road playing in their best friend's eponymous band, Caroline Rose. Drunk, bemoaning a canceled tour, and naive to the global chaos about to ensue, the two made a backup plan- a new Hammydown record. Working from a mouse-filled cottage in remote Maine, Abbie's 2nd floor Burlington, Vermont apartment, and Caroline's Texas home studio- they have spent the past 3 years chiseling out a world for Hammydown's songs to emerge. Abbie's colorful lyrics, pop infused melodies and 90s grunge guitar intersect with the complex, cinematic, and deeply thoughtful production of Caroline Rose to form a unique sonic palette that simultaneously feels as unexpected as it does familiar. The songs are rife with the frustration of a Queer millennial caught in the dumpster fire of our modern world, and Abbie isn't afraid to laugh through the pain.
With a new band by their side, Hammydown aims to bring you just a bit of hope- tiny triumphant journeys to find friendship, self compassion and empathy for all of the versions of ourselves we've left behind along the way.
NOTE Please ONLY refer to Hammydown (Abbie Morin) with they/them pronouns and do not use any gendered language (ie. woman, girl, lady, songstress, etc.) when referring to them in any marketing, or promotional posts and also just in general. Thank you in advance.