Friday,
September
8th
, 2023
Bishop Briggs & MisterWives: The Don't Look Down Tour
Raffaella
Doors: 6:30 PM
/
Show: 7:30 PM
All Ages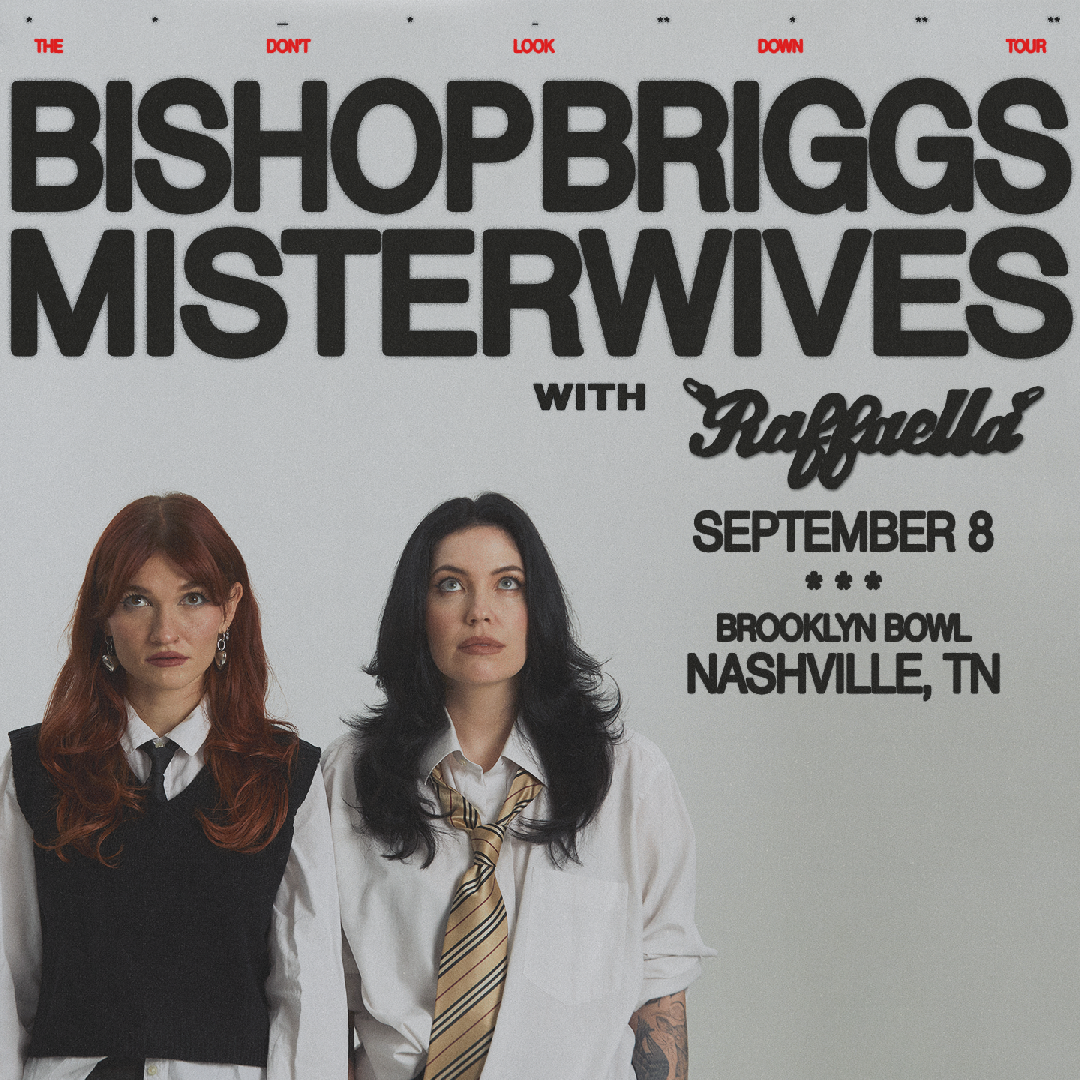 Event Info
Venue Information:
Brooklyn Bowl Nashville
925 3rd Avenue North
Nashville, Tennessee 37201
This event is open to all ages. Valid government-issued photo ID is required to purchase and consume alcohol. Want to have the total VIP experience? Upgrade your ticket today by reserving a bowling lane or VIP Box by reaching out to nashvilleevents@brooklynbowl.com

This ticket is valid for standing room only, general admission. ADA accommodations are available day of show. All support acts are subject to change without notice. Any change in showtimes or other important information will be relayed to ticket-buyers via email. ALL SALES ARE FINAL Tickets purchased in person, subject to $3.00 processing charge (in addition to cc fee, if applicable). Sales Tax Included *Advertised times are for show times - check Brooklyn Bowl Nashville website for most up-to-date hours of operation* There is a delivery delay until 72 hours before event date/time.
Artist Info
Bishop Briggs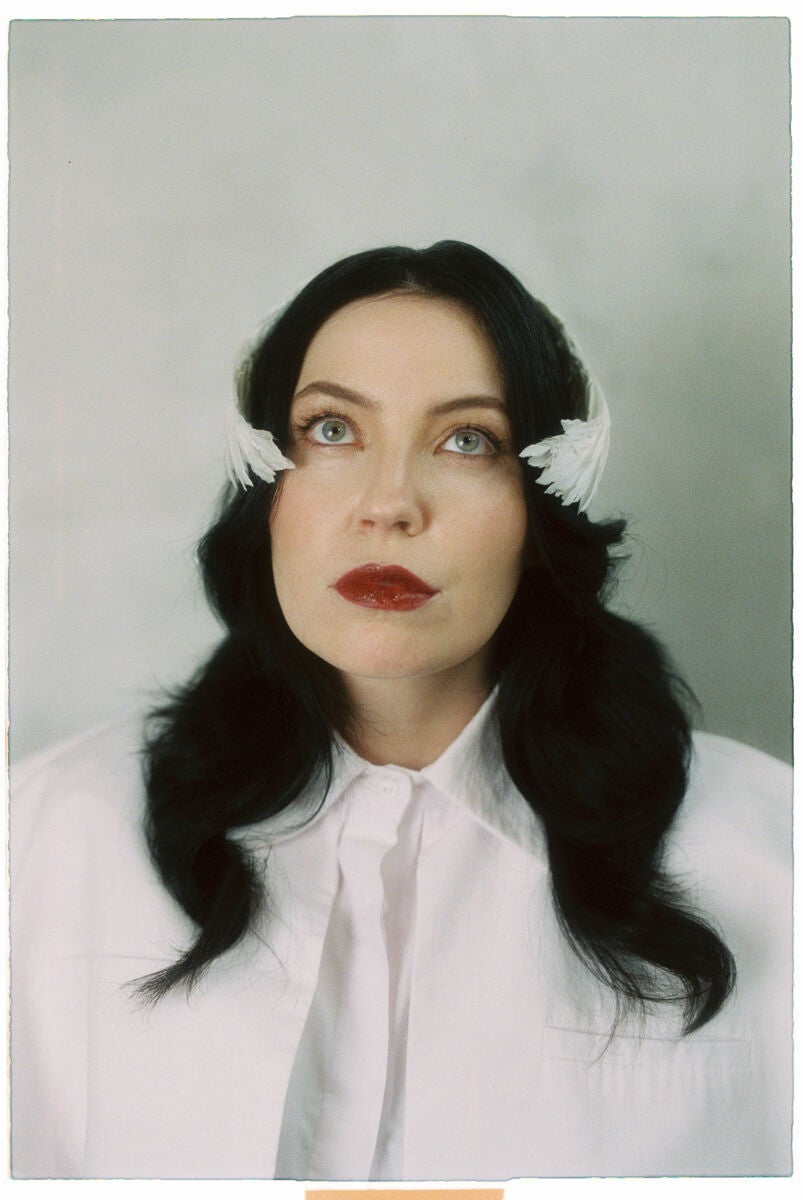 Bishop Briggs is known for emotional and cathartic songs that blur the boundaries between alternative, pop, and electronic. Born in London to Scottish parents, Bishop grew up in Japan and Hong Kong. Days after graduating high school, she moved to Los Angeles where, after years of performing at any venue that would have her, she was discovered in a small hole-in-the-wall by a former-A&R rep and the rest was history.
The music of Bishop Briggs transcends the limitations of singular genres, blending folk, pop and electronic music into a wholly unique sound. Her debut track "Wild Horses" reached #1 on Spotify's US Viral Chart and #2 on Spotify's Global Viral 50 charts, with airplay on Sirius XM's Alt Nation, Zane Lowe's Beats 1 Show and a prized spot in Acura's 2016 TLX and ESPN's NFL Playoffs ads. She followed up with the RIAA-certified platinum single, "River," a searing and cathartic track that captured the attention of tastemakers and gatekeepers and rose to #3 on the Alternative chart with over 680 million global streams while Bishop's videos have 550M overall views on YouTube, where she has 1 million YouTube subscribers as part of her 2.5 million overall digital following. After her critically acclaimed debut album "Church of Scars", she has had multiple sold-out tours and live performance slots opening for Coldplay, Kaleo, alt-J, and Bleachers.
MisterWives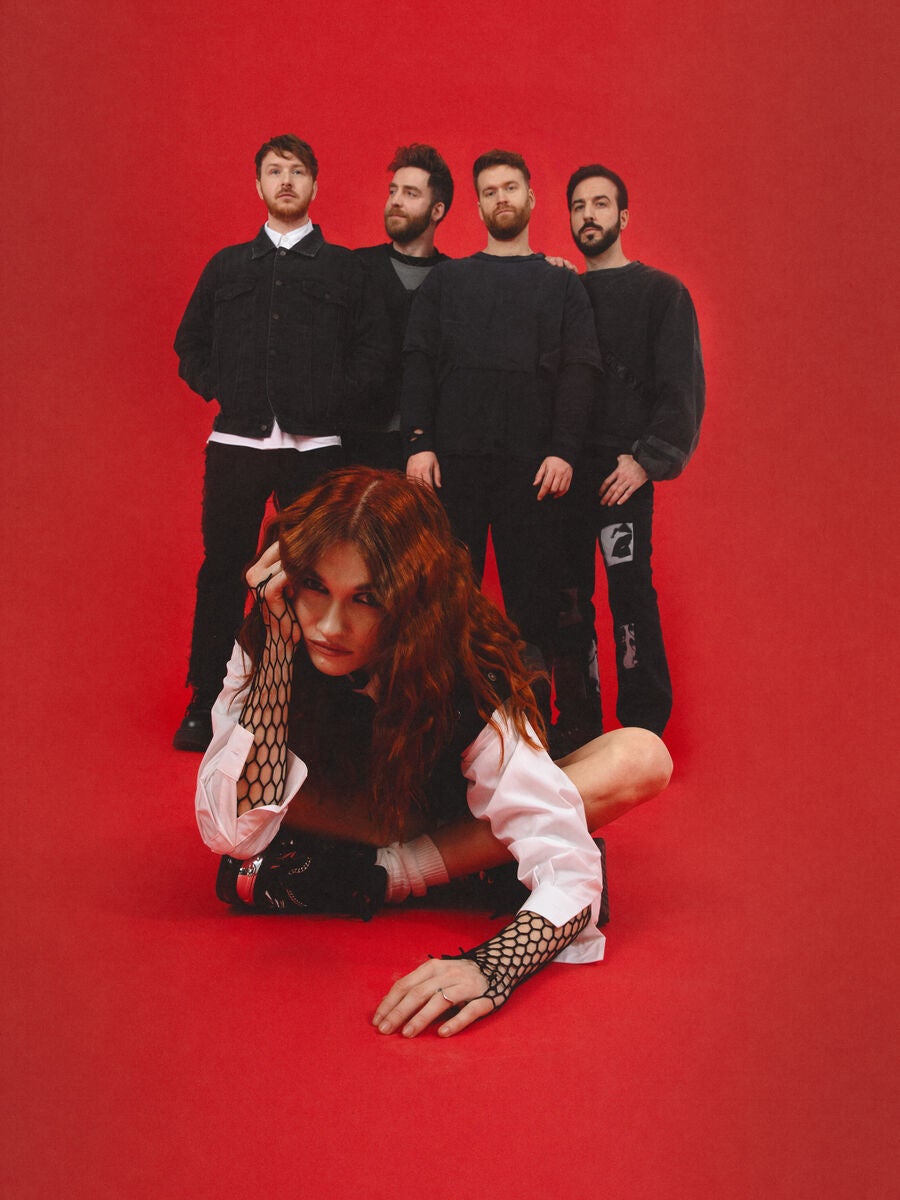 Either a sucker punch square in the face or extreme elevation can cause a nosebleed. In essence, this phenomenon occurs at the lowest of low moments and during the highest of high moments. MisterWives examine both ends of this spectrum in their music. The platinum-certified Los Angeles-based quintet—Mandy Lee [vocals], Etienne Bowler [drums, production], Marc Campbell [guitar], Mike Murphy [keyboards], and William Hehir [bass]—absorb life's ups and downs and recalibrate them in the form of snappy alternative rock anthems underlined by unexpectedly hip-shaking rhythms and identifiable tattoo-worthy lyrics.
They meet everyone in the middle of these extremes on their fourth full-length offering, Nosebleeds [Resilient Little Records/Photo Finish Records].
"The title encompasses multiple meanings," Mandy notes. "There's the physical aspect of taking relentless punches and visibly showing the effects. There's another aspect of being up high outside of the world. We're exploring all of these sides. I tried to be vulnerable and raw about my experience. As a kid, music was my escape and my safe space. At a really tumultuous time, I needed to write and feel excited about music once more. It was cathartic for what I'd been through."
"The theme is fitting in terms of how we started," Etienne adds. "We had no band or shows, but we had an excitement about making music and dreaming of what was going to happen. Not matter what stage you're at, this excitement helps you get to the next level. A decade later, the same innocence returned to us."
Back in 2012, MisterWives came to life around a spirit of collaboration. The push-and-pull between the unpredictable soundscapes and Mandy's emotionally charged delivery defined their signature style across albums such as Our Own House [2015], Connect the Dots [2017], and Superbloom [2020]. The latter garnered critical acclaim from NYLON, PAPER, DuJour, Today.com, and MTV, to name a few. Tallying over half-a-billion streams total on their catalog, "Reflections" notably went platinum, and "Our Own House" reached gold status. Emerging as a fiery live presence, they toured alongside everyone from TWENTY ONE PILOTS and Panic! At The Disco to WALK THE MOON and Thirty Seconds To Mars in addition to selling out headline jaunts of their own.
Over the course of the last three years, Mandy and Etienne endured the dissolution of friendships, a split from their label, and the uncertainty of the Global Pandemic. So, they hunkered down in Etienne's Pasadena studio and poured all of these experiences and emotions into what would become Nosebleeds. At the same time, they launched their own Resilient Little Records and struck up a partnership with original label home Photo Finish.
"When we started out, we were recording in Etienne's closet after our double shifts at restaurant jobs," recalls Mandy. "It wasn't for the sake of success or having a career; it was because we loved music. After we really got into Nosebleeds, the new music brought us back to why we started in the first place."
"There were a lot of full circle moments," Etienne agrees. "We hit the reset button and were able to move forward."
Bursting at the seams with creativity, they tore into the next chapter with "Out Of Your Mind" in 2023. Powered up by a distorted riff, venomous verses, and a disarmingly catchy chant, PAPER immediately hailed it as "a bloodthirsty breakup diatribe," and Atwood Magazine promised, "MisterWives have entered a new era, and like always, we're here for it."
"'Out Of Your Mind' was an unapologetic response to the combination of all the people who told me I wasn't good enough and things weren't going to work out," she admits. "This was me not giving up and showing resilience in the face of adversity. As women, we're taught to be polite, small, and palatable—something for everyone. I don't want to be something for everyone; it's an impossible goal I'm unlearning, and this album was a great lesson in trusting myself and my truth without needing external validation or approval."
Meanwhile, the title track and single "Nosebleeds" fuses a thick bassline and airy guitar to a dancefloor-ready groove. Mandy's intonation flutters between an attitude-laden hook and swooning synth-laden bridge as she snarls, "I'm up in the nosebleeds, I'm down in the seats, I see a thousand faces that look just like me." It spirals out on a smoldering send-off, "Wondering what it might be like, just for one night, I didn't care what they all think."
"I love the realization of it," she smiles. "You think your experience is so unique and you're the only one who feels like you do. However, the song puts you in an arena. When you look around, you see a crowd just like you—which is beautiful."
Elsewhere, neon keys and warbling spacey sonics augment her vivid lyricism with otherworldly energy on "End of My Rope."
Mandy goes on, "'End Of My Rope' was written at the end of the album where we wanted absolute freedom and escapism from the trenches of life both personally and collectively. While stepping into the light to dance yourself free isn't going to solve all your problems, allowing yourself to still have joy as an act of rebellion in the face of hard times is vital to our existence and what everyone deserves."
On the finale "Ultraviolet," delicately plucked acoustic guitar sways beneath a pensive and poetic denouement. "It was an intense way to end the record," Etienne says. "We're constantly working on being happy, and it's an endless struggle. It's not just 'happily ever after;' it keeps going."

Nevertheless, MisterWives are there for you.
"For me, this band is absolute self-expression," Mandy leaves off. "I think it translates to the amazing people who support our music. Whether you're at your happiest or saddest or somewhere in the middle, the show will always be a safe and celebratory space to be your authentic self and a reminder that you're not alone."
Raffaella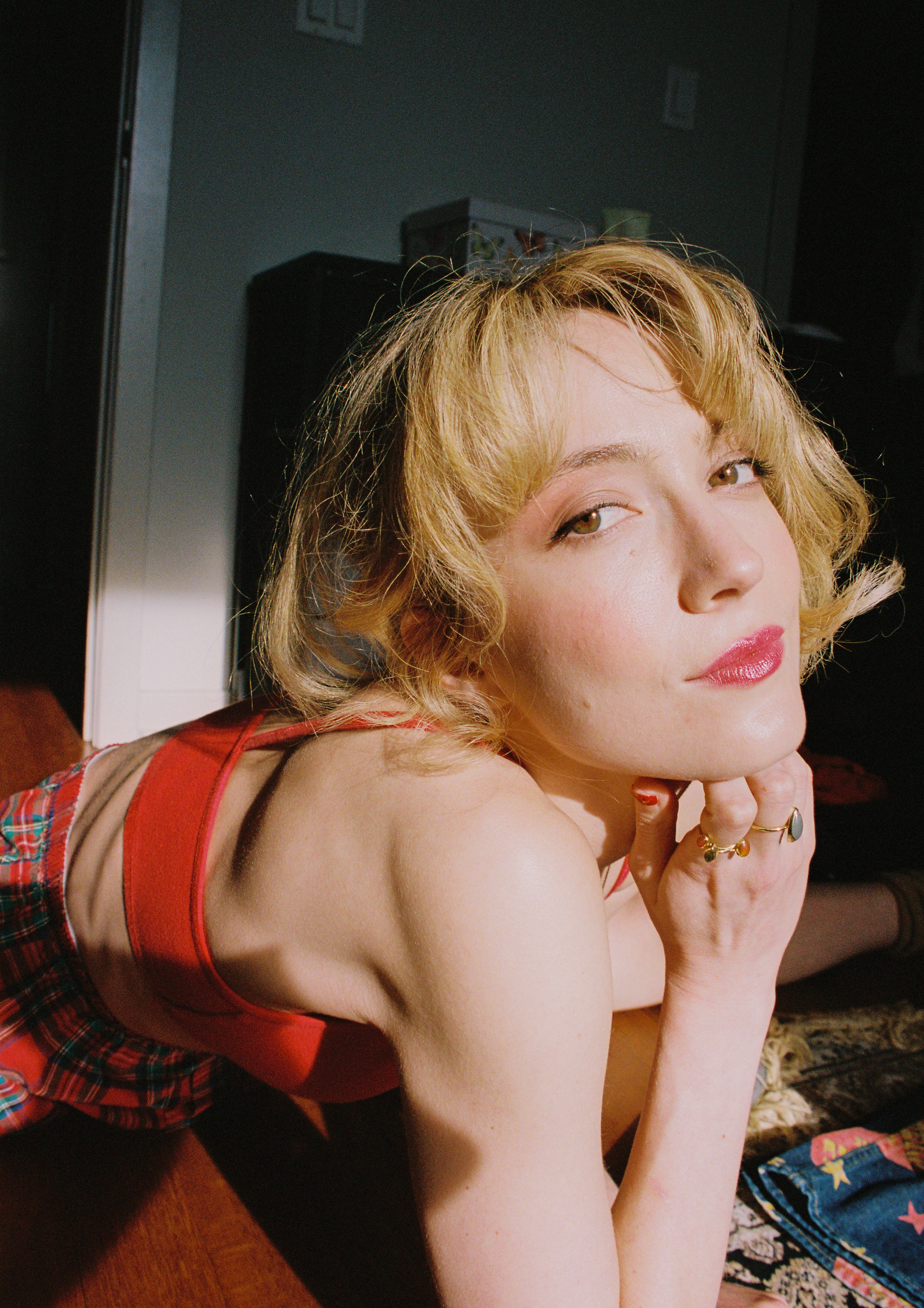 On Raffaella's debut project LIVE, RAFF, LOVE (co-written and produced by Jake Luppen of Hippo Campus), the New York City-bred singer/songwriter explores the liminal space between adolescence and adulthood, and all the wildly formative experiences within it. Building on the blunt and poetic lyricism first glimpsed on her 2017 breakthrough single "Sororicide"—a #1 hit on Spotify's Viral 50 US—the Minneapolis-based artist narrates every drama with a specificity so intense you immediately absorb each sensory detail (the cotton candy and cigarette smoke, drunken kisses and stoned malaise). The result is a body of work establishing Raffaella as one of pop's sharpest observers of human behavior, transforming her self-reflection into so much revelatory insight on the sublime chaos in coming-of-age.