Sunday,
November
5th
, 2023
A R I Z O N A - Live For A Night
Fly By Midnight
Doors: 6:00 PM
/
Show: 8:00 PM
All Ages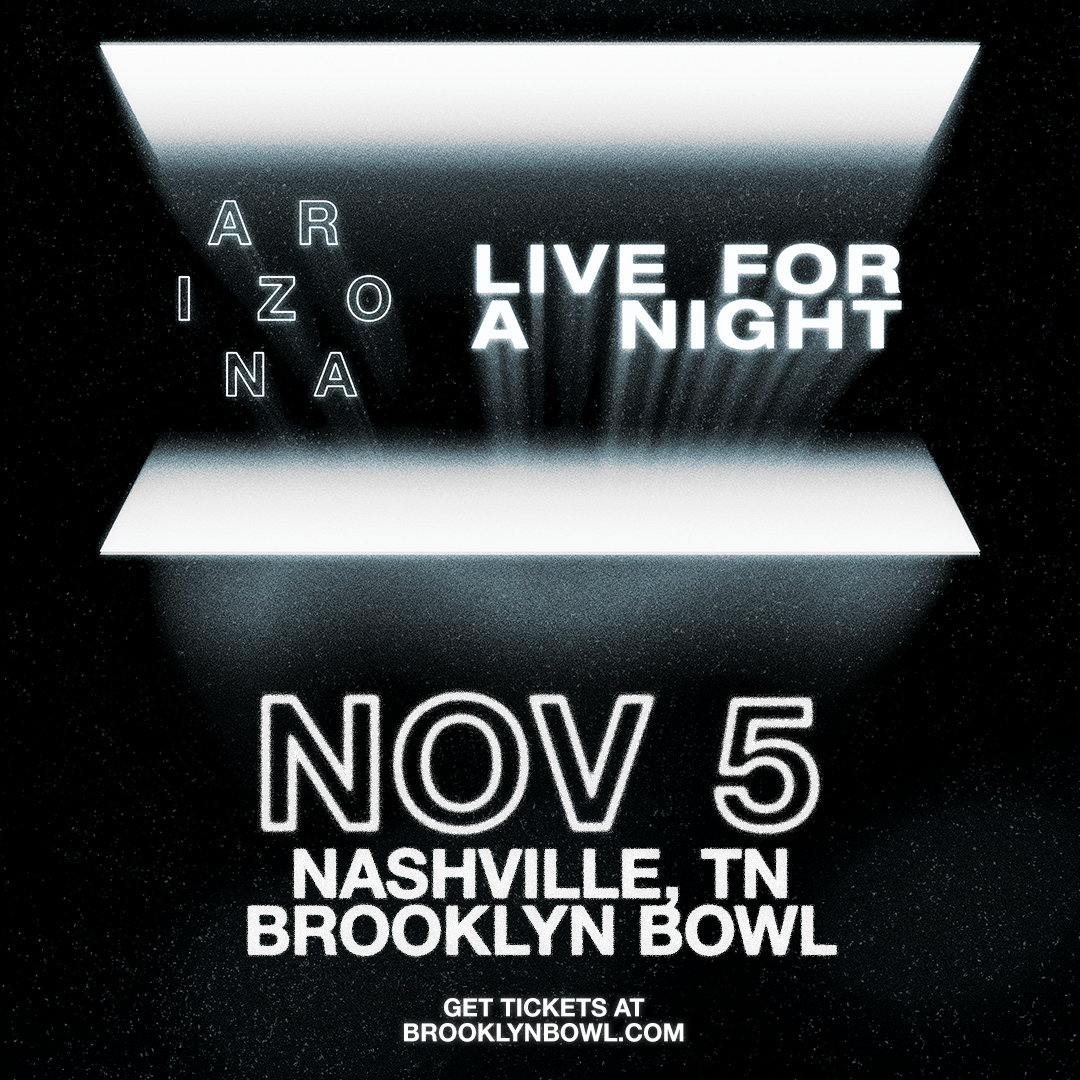 Event Info
Venue Information:
Brooklyn Bowl Nashville
925 3rd Avenue North
Nashville, Tennessee 37201
There is a strict 4 ticket limit for this event. Accounts found in violation of the posted ticket limit may be cancelled without notice. This event is open to all ages. Valid government-issued photo ID is required to purchase and consume alcohol. Want to have the total VIP experience? Upgrade your ticket today by reserving a bowling lane or VIP Box by reaching out to nashvilleevents@brooklynbowl.com

There is a strict 4 ticket limit for this event. Accounts found in violation of the posted ticket limit may be cancelled without notice. This ticket is valid for standing room only, general admission. ADA accommodations are available day of show. All support acts are subject to change without notice. Any change in showtimes or other important information will be relayed to ticket-buyers via email. ALL SALES ARE FINAL Tickets purchased in person, subject to $3.00 processing charge (in addition to cc fee, if applicable). Sales Tax Included *Advertised times are for show times - check Brooklyn Bowl Nashville website for most up-to-date hours of operation* There is a delivery delay until September 21 at 7:45am.
Artist Info
A R I Z O N A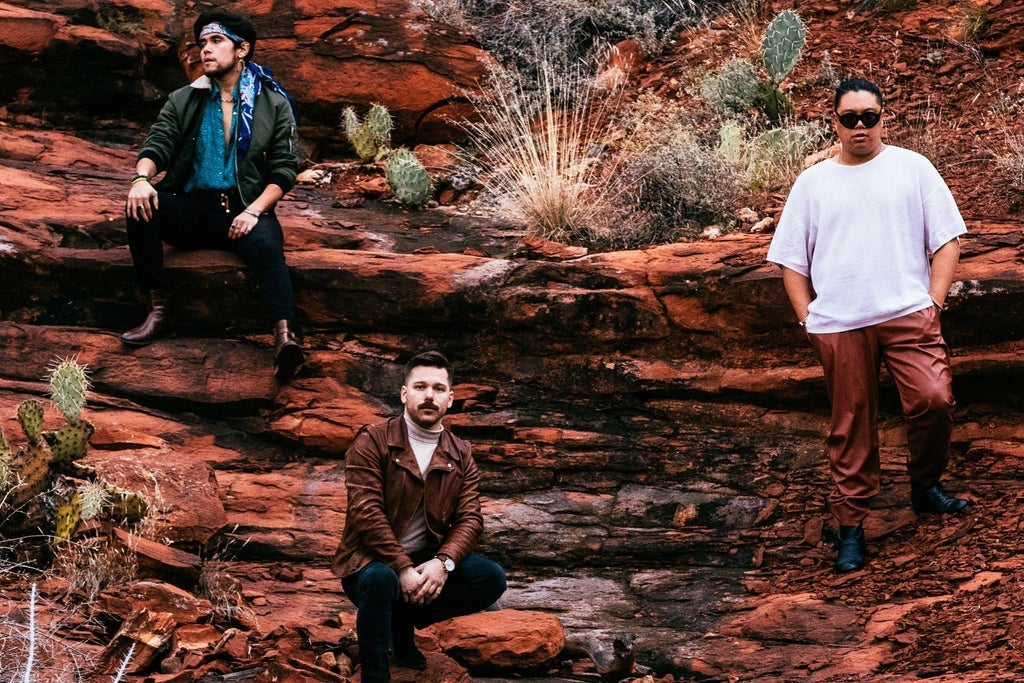 Like building a puzzle one piece at a time, A R I Z O N A – Nathan Esquite [guitar], David Labuguen [keys], and Zachary Charles [lead vocals] – assemble captivating musicianship, dynamic lyricism, and overall good vibes to create their enigmatic alternative-pop soundscape.
As three unlikely companions from diverse backgrounds who came together - either early on in Jersey, or later in universities in Boston such as Emerson and Berklee, what they shared in common built a bond of friendship long before the existence of the band. After years of honing their crafts and working in several fields such as artist development, broadcast, post production, and IT, the three decided to step away from the world together for a summer. In makeshift studios and basements, they would create one final thing - something of their own.

Unexpectedly, and shortly thereafter, songs like "I Was Wrong" soon drew millions of multi-platform streams as well as a fervent online following. Their debut album GALLERY proved among 2017's biggest global releases, notably yielding the RIAA Gold certified "Oceans Away". In 2019, they served up ASYLUM highlighted by fan favorites such as "Freaking Out" and "Nostalgic." They featured on Avicii's "Hold The Line" from the posthumous TIM and teamed up with Matoma for the 2022 single "Heart So Big." A R I Z O N A have spent much of past years on the road, including festival sets at Coachella, Bonnaroo, Lollapalooza, Hangout Fest, and more, supporting Panic! At The Disco on two arena tours, and a sold out series of increasingly larger headline tours - the first of which completely sold-out three months in advance. There isn't a part of the expansive studio or live show process that they don't have a hand in. From creating custom cables and audio racks, touring with a crew made up entirely of old friends on the road, or spending months locked away producing and mixing, there's a consistent care given to detail and community in all they do. After posting up over 1 billion streams and earning critical acclaim from the likes of Billboard, Rolling Stone, Paper, Consequence, and more, the group present their most expansive and engaging statement yet with their self-titled third full-length LP and debut for Fueled By Ramen, A R I Z O N A, out on Friday, May 12.
"The album is a collection of experiences and memories over the last couple of years," notes Zachary. "Some are in the present, and others are vignettes of moments before quarantine. It's a snapshot of what the human mind goes through to keep itself sane. Some records are more upbeat and dance-y, which was our way of having fun in a rough season. Others look back at what life was like, how we didn't see what was coming, and thinking about where we are now."
A R I Z O N A originated out of Jersey as the vision of these uniquely talented individuals. They each come from technical backgrounds and apply those skills to the project constantly on a day to day basis. Dave, coming from broadcast and post-production, crafts much of the band's visual identity as well as preparing much of the working aspects for both the live show and the remote studio rigs they use individually. Zach, apart from a media background, is an avid crafter and spends time in his workshops building custom road cases and electronics. Nate, outside of working in I.T. or behind the console as an audio engineer, has spent his life in the audience at shows and performing in his hometown friends' basements, and has a true love and understanding of live experiences. All of these collective experiences have lived side by side with the passion they shared for producing and songwriting. From day one, they approached their own project from a hands-on, no-nonsense D.I.Y. perspective, overseeing the production and presentation. "We felt like we were never supposed to be on stage as performers," smiles the frontman. "We always had more in common with the guys behind-the-scenes." Such relatability drew audiences to their 2017 full-length debut, GALLERY. Among many standouts, it notably yielded the gold-selling hit "Oceans Away." In 2019, they served up ASYLUM highlighted by fan favorites such as "Freaking Out," "Nostalgic," and "Problems." Plus, they featured on Avicii's "Hold The Line" from the posthumous TIM and teamed up with Matoma for the 2022 single "Heart So Big." Frequent creative cohort PJ Bianco cowrote the latter as a love letter to his son with Autism.
Over the past couple years, they wrote and recorded what would become the much-anticipated A R I Z O N A.
Zachary observes, "We went from living a life in constant motion on tour and in the studio to everything just stopping all of a sudden. It was like going full speed on the highway and hitting a brick wall. The change of motion was very difficult for us both mentally and physically. It was claustrophobic and confining. We used the music to find our center again."
After setting the stage for the album with "Moving On," the single "Dark Skies" opened the world of A R I Z O N A. On the track, keys shimmer as the momentum swings into a kinetic crescendo uplifted by bright loops and a promise, "Even when we're in the darkest of days, I'm never leaving your side."
"The song's message is, 'Even though there are storms to come, it's the rain that grows the garden. You can stand strong in the face of everything that happens in life'," the frontman notes.
"Die For A Night" layers evocative and emotionally charged vocals over head-nodding percussion and pulsating bass. These sonics swell towards a chantable chorus, "I always wanted to die for a night."
"Die For A Night is one of the tracks we had some of the most fun with on the new album. There's a little bit of tongue-in-cheek storytelling in the lyrics, and overall the track was just an absolute blast to produce," he goes on. "We have a deep love for dance music and tried to incorporate that a lot on this album where we could in our own way, and this is one of those records."
Then, there's "Graveyard." Translucent guitar wraps around a robust and raw vocal underlined by piano. A manically infectious refrain takes hold with a swooning harmony and funkified bounce.
"It's about all of the things we tend to stress about in our daily lives," he reveals. "People can't afford to buy houses, and they compare themselves to earlier generations. We have all of these worries, traumas, and concerns. The truth is, 'We're going to end up in a graveyard anyway.' Remember the last stages are already written, so the time in between is your opportunity to do what you want."
Elsewhere, "Black Boots" struts through a glitchy beat and a sinewy guitar riff punctuated by flashes of high-register vocals. The poignant "Pray To God" rings out to the heavens with its warbling bridge and swaggering hook, "I killed the man there, and I prayed to God to cleanse me of my sins," over a dancefloor-ready groove. He adds, "It's about getting rid of a certain side of yourself, and replacing it with a more conscious 'you'."
Ultimately, A R I Z O N A might just inspire you to take stock of your own journey and enjoy the ride a little bit more.
"Making this record was such a particular adventure," he leaves off. "When I listen to it, I have memories of all of the specific moments that went into the record in terms of where we were in our lives and the world. The beauty of music is everybody can connect it to their own lives. I'd love for A R I Z O N A to remind you there are going to be ups and downs - happiness and sadness. At the end of the day though, you've gotten through it before—and you will be okay."