Thursday,
September
7th
, 2023
Sylvan Esso - No Rules (Tour) with Indigo De Souza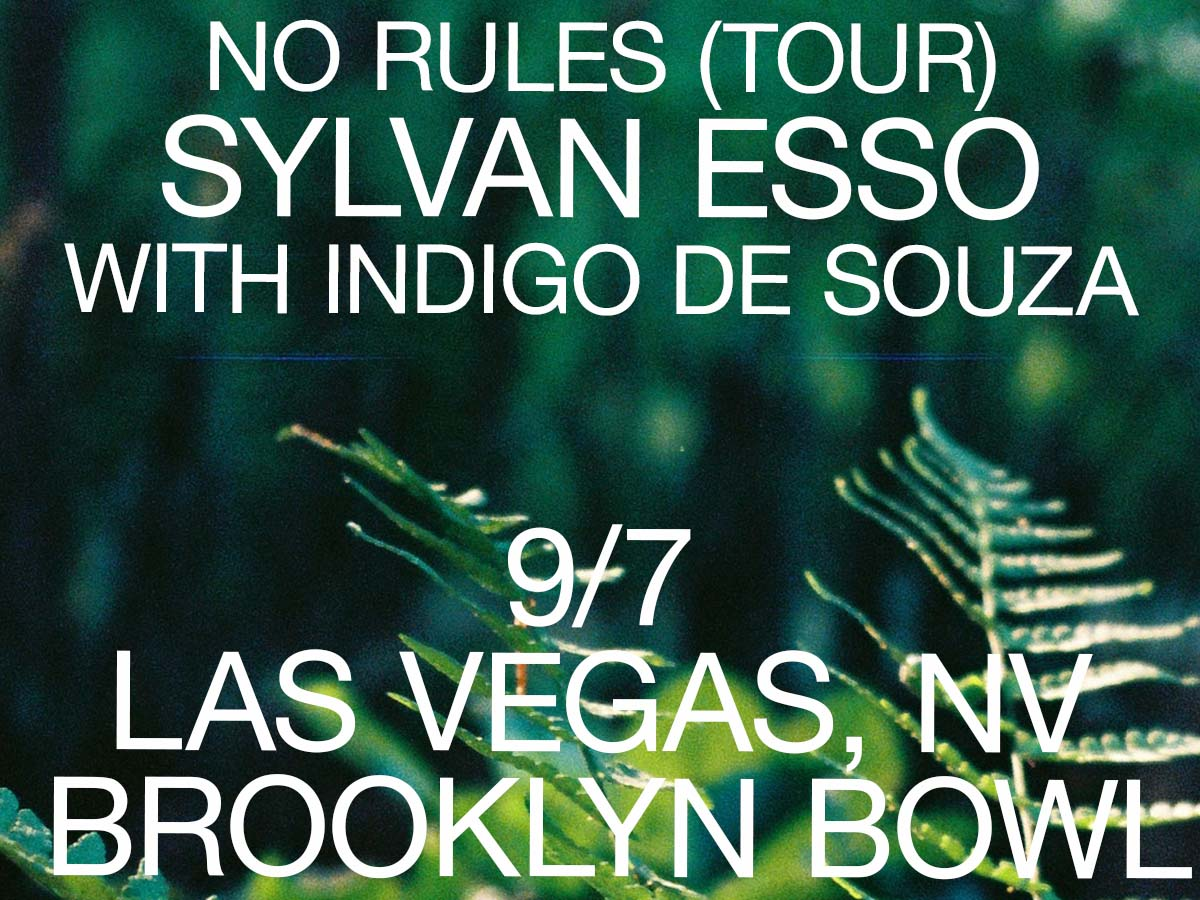 Event Info
Venue Information:
Brooklyn Bowl Las Vegas
The Linq Promenade
Las Vegas, NV
$39.50 General Admission
$42.50 General Admission (week / day of show)
$59.50 Club Level


Artist Presale: Wed, Jan 11 at 10am PST
VIP Package: Wed, Jan 11 at 10am PST
Spotify Presale: Thu, Jan 12 @ 10am PST
BBLV Presale: Thu, Jan 12 @ 10am PST
Public Onsale: Fri, Jan 13 @ 10am PST


VIP Package Includes:
Admission to the show
Exclusive merch package
Pre-show mini-soundcheck experience
Note: This does not include a meet-and-greet with the band


**ALL TICKETS WILL BE DELIVERED TO YOUR EMAIL 3 DAYS PRIOR TO THE SHOW**

Based on the latest local guidelines, attendees are no longer required to provide proof of negative COVID-19 test AND/OR vaccination for entry into this event. Brooklyn Bowl encourages mask wearing and encourages you to get vaccinated if you aren't already! Be sure to check our venue website for the latest updates and guidelines as entry requirements are subject to change.


An inherent risk of exposure to COVID-19 exists in any public place where people are present. COVID-19 is an extremely contagious disease that can lead to severe illness and death. According to the local health authorities, senior citizens and guests with underlying medical conditions are especially vulnerable. By visiting our establishment, you voluntarily assume all risks related to the exposure to or spreading of COVID-19.
Free Local Parking
- Residents of Clark County who purchased a ticket will receive free parking the night of the show at any Caesars Self-Parking locations. The Parking Validation Machine is located inside the Retail Store of Brooklyn Bowl.

ALL SALES ARE FINAL. NO REFUNDS OR EXCHANGES

Tickets purchased in person, subject to $2.00 processing charge (in addition to cc fee, if applicable).

All general admission tickets are standing room only.

ALL TICKET PRICES SUBJECT TO NEVADA'S 9% LIVE ENTERTAINMENT TAX
*Advertised times are for doors -- show time not available*
Artist Info
Sylvan Esso
At the beginning of 2022, Sylvan Esso packed up and headed west. Cramming the contents of a recording studio into their Prius, Nick Sanborn and Amelia Meath drove from their home in Durham, North Carolina to Los Angeles, where they set up a makeshift studio in a small rental house on the east side and did something that surprised them: they wrote a song. And then another. "Even if we weren't feeling good, we would just sit down and try to make something," Meath says. "Pretty much every day that we did that, we got a song that we liked."

Some bands can create entire albums on short-term writing jags, but until now, Meath says, Sylvan Esso was not one of them. But that speed -- and the resulting looseness and live-wire energy in their songs -- is one of many things that feels like brand-new territory in No Rules Sandy, their fourth studio album, out August 12, 2022. Describing their first three albums as a trilogy that is now complete, Meath and Sanborn see No Rules Sandy as the beginning of a new period, with songs that are "wilder and stranger and more cathartic than the band used to be," as Sanborn puts it. "It feels like who we actually are," Meath adds. "It just feels like us. We're not trying to fit into the mold, just happily being our freak selves."

The album's title is taken from a snippet of background vocal in "Your Reality," a slippery, complexly layered track in which Meath sings what feels like a preoccupying question of the post-pandemic world: "Let me remember how to live my life/were there rules originally/or are we learning how to be?" As in so many previous Sylvan Esso songs Meath's voice is direct and dominant, but the "no rules Sandy" background vocal is different -- echoing and hypnotic, swooping underneath Sanborn's percussive synth as well as a string arrangement from Gabriel Kahane. Sanborn says that vocal, and the song itself, became a reference point for the album, "for how weird we could take it -- how bare and strange something could be."

"Sunburn," the album's debut single, and "Didn't Care" also work as bridge songs, leaping from a pop music framework into the wilder unknown. With the crank of a bicycle bell popping in over the thumping bass track, "Sunburn" conjures a summer night's dance party even as Meath's locked-down vocal ("My favorite way to ruin me") suggests nothing is as carefree as it seems. And while "Didn't Care" exists fully as a poppy love song -- the hand claps and talk of "shivers" -- it's also a song about somebody not caring when they meet their love; the frizzled keyboard chords and insistent background vocals promise there's no simple ending for this story, either.

Meath and Sanborn have described the dynamic of Sylvan Esso as an argument between them, her irresistible hooks pushing and pulling against his adventurous, sometimes unsettling synths. No Rules Sandy is a complete merge -- pop and electronic music fusing into something new that constantly builds on itself. With this album, Meath says, "we went back to the classic formula, which is us trying to impress the other one." Take "Echo Party," which opens with electronic warble around Meath's voice as a simple beat behind her eventually yields to a deep synth wobble. There's lightness and darkness tugging at each other, the ecstatic promise of a party ("there's a lot of people dancing downtown") that you might not ever be able to leave ("yeah we all fall down/but some stay where they got dropped.") Sanborn's synths nod to 90s electronic music throughout, but as with the full album, he says, "I want everything to feel like something you've heard before, but presented in a way you've never heard."

Both describe No Rules Sandy as their most personal project -- right in the title, after all, is Sanborn's own nickname. The most intimate -- but still enigmatic -- details arrive in interstitial moments between tracks, featuring voicemails from loved ones, birdsong from outside their studio, Betty's, the voices of children, and other life detritus transformed into eternal art. "It feels like this diary entry from this very specific time," Sanborn says of the interstitials, which fill the gaps between songs and make No Rules Sandy an unbroken ribbon of sound, a source of wildness and energy that continues from the album's first moment to the last.

Though Sylvan Esso very much remains a duo, the scope of their work has continued to expand since their landmark WITH concert -- with a live band of ten -- in 2019. 2021 marked the launch of their music label, Psychic Hotline, and in 2022 both Meath and Sanborn will launch projects with other collaborators. Meath's The A's, a new band with her Mountain Main partner Alexandra Sauser-Monnig, will release an album on July 15, while Sanborn's Made of Oak project will release an EP collaboration with GRRL on September 2. The collaborations carry through to No Rules Sandy as well; TJ Maiani contributes his persistent drums to "Your Reality" and "Alarm," while Sam Gendel's saxophone lends a mysterious, unworldly quality to "How Did You Know" and album closer "Coming Back to You," a stripped down and haunting track that's unlike any Sylvan Esso song that has come before it.

As all these new chapters unfold and the Sylvan Esso umbrella expands, Sanborn and Meath continue to run their recording studio Betty's in the woods outside Durham and think constantly about what's next -- without overthinking it too much.

"Our whole career up until now, I feel like everything's been really considered, and we've maybe overthought a lot of the music," Sanborn says. "I think that might be the ultimate effect of like the last record and the pandemic -- feeling like, fuck that, I know what I want. And it's now, or never. So let's get out there and do it."

By Katey Rich, Awards and Audio Editor at Vanity Fair
Indigo De Souza
"Everything has to be said." This is the conviction guiding Indigo De Souza's sophomore album, Any Shape You Take. This dynamic record successfully creates a container for the full spectrum -- pushing through and against every emotion: "I wanted this album to give a feeling of shifting with and embracing change. These songs came from a turbulent time when I was coming to self-love through many existential crises and shifts in perspective."

Faithful to its name, Any Shape You Take changes form to match the tenor of each story it tells. "The album title is a nod to the many shapes I take musically. I don't feel that I fully embody any particular genre -- all of the music just comes from the universe that is my ever-shifting brain/heart/world," says Indigo. This sonic range is unified by Indigo's strikingly confessional and effortless approach to songwriting, a signature first introduced in her debut, self-released LP, I Love My Mom. Written in quick succession, Indigo sees these two records as companion pieces, both distinct but in communion with each other: "Many of the songs on these two records came from the same season in my life and a certain version of myself which I feel much further from now."

Throughout Any Shape You Take, Indigo reflects on her relationships as she reckons with a deeper need to redefine how to fully inhabit spaces of love and connection."It feels so important for me to see people through change. To accept people for the many shapes they take, whether those shapes fit into your life or not. This album is a reflection of that. I have undergone so much change in my life and I am so deeply grateful to the people who have seen me through it without judgment and without attachment to skins I'm shifting out of."

Lead single "Kill Me," written during the climax of a dysfunctional relationship, opens with the lines "Kill me slowly/ Take me with you." This powerful plea, that begins within the quiet strum of a single electric guitar, is diffused by Indigo's ironic apathy -- a slacker rock nonchalance that refuses to take itself seriously: "I was really tired and fucked up from this relationship and simultaneously so deeply in love with that person in a special way that felt very vast and more real than anything I'd ever experienced."

Across the table from that irreverence sits the sincerity of the single "Hold U," a more energized, neo soul-inspired love song that substitutes apathy for a genuine expression of care. "I wrote 'Hold U' after I left that heavy season of my life and was learning how to love more simply and functionally. I wanted to write a love song that was painfully simple."

Growing up in a conservative small town in the mountains of North Carolina, Indigo started playing guitar when she was nine years old. "Music was a natural occurrence in my life. My dad is a bossa nova guitarist and singer from Brazil and so I think I just had it in my blood from birth." It wasn't until moving to Asheville, NC that Indigo began to move into her current sound, developing a writing practice that feeds from the currents that surround her: "Sometimes it feels like I am soaking up the energies of people around me and making art from a space that is more a collective body than just my own."

"Real Pain," one of the most experimental tracks on the record, is Indigo's attempt to make that phenomena more intentionally collaborative. Starting soft before dropping down into a cavernous pit of layered screams and cries, "Real Pain" collages the voices of strangers -- audio bites Indigo received after posting online asking for "screams, yells and anything else." "Hearing these voices join together and move with my own was really powerful. The whole record was a release for me. And I hope it can be that for others."

At the forefront of all De Souza's projects is her magnetism -- her unique quality of spirit that is both buoyant and wise. While her backing band has undergone shifts between releases, her sound has stayed tethered to her vision. Any Shape You Take is the first full-length album that Indigo produced herself. Teaming up with executive producer Brad Cook (Bon Iver, Waxahatchee, The War on Drugs) and engineers/producers Alex Farrar and Adam McDaniel, Indigo recorded the album at Betty's, Sylvan Esso's studio in Chapel Hill, NC and finished it with additional production and mixing at Drop of Sun Studios in Asheville. Moving past the limitations of a home studio, Indigo could finally embody the full reach of her sound: "It felt really exciting to lean into my pop tendencies more than I have in the past and to trust my intuition to take the songs where I felt they should go. I had the tools to do it and collaborators who were willing to go there with me."

"I feel very much like a shape-shifter with my music, I'm always trying to embody a balance between the existential weight and the overflowing sense of love I feel in the world." It is exactly this balance that Indigo strikes in her Saddle Creek debut, Any Shape You Take. A listening experience that gives back, as you shed and shape-shift along with her.

Any Shape You Take was released August 27, 2021, via Saddle Creek.