Thursday,
February
29th
, 2024
Sleater-Kinney
Black Belt Eagle Scout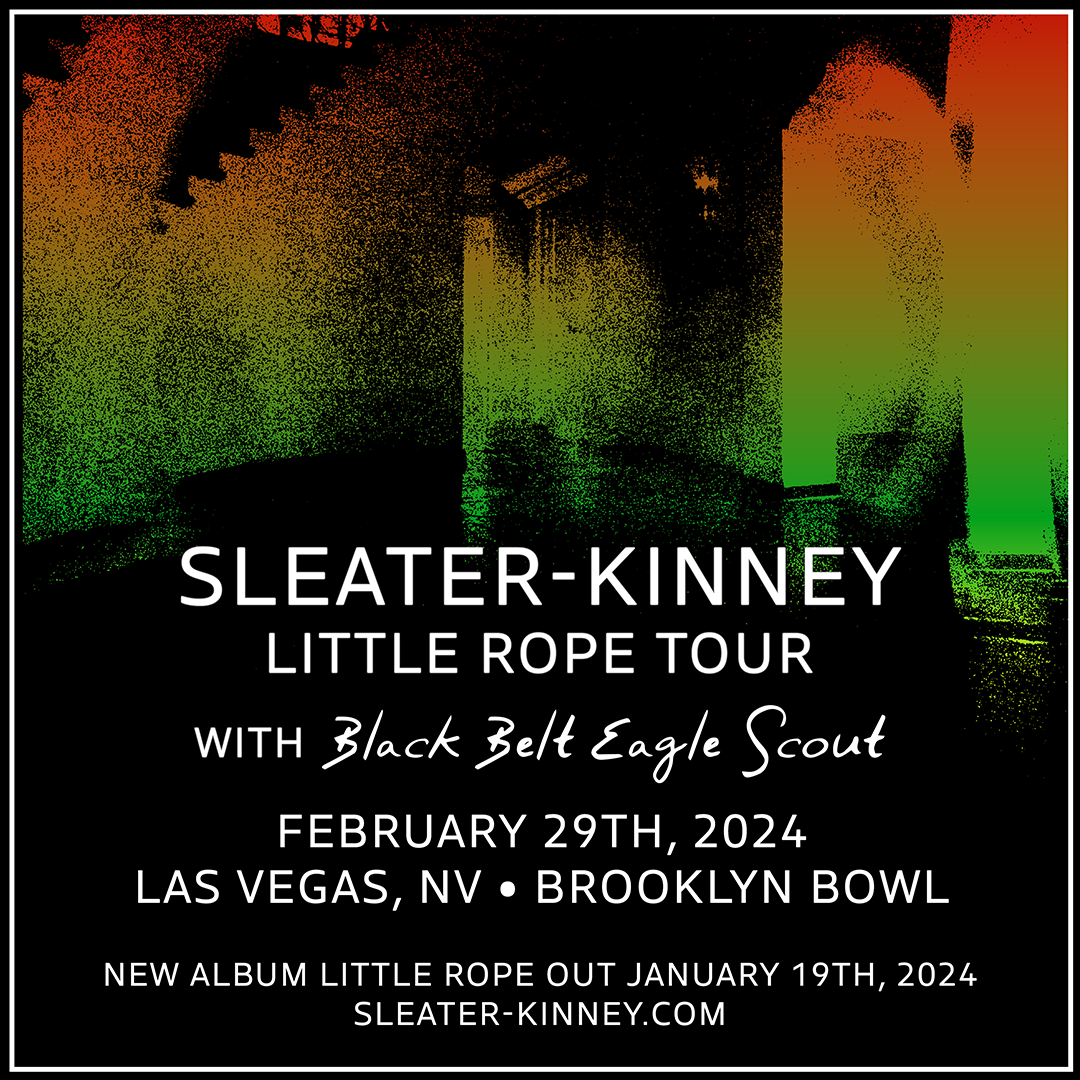 Event Info
Venue Information:
Brooklyn Bowl Las Vegas
The Linq Promenade
Las Vegas, NV
ALL SALES ARE FINAL. NO REFUNDS OR EXCHANGES
Tickets purchased in person, subject to $2.00 processing charge (in addition to cc fee, if applicable). All general admission tickets are standing room only.
ALL TICKET PRICES ARE SUBJECT NEVADA'S 9% LIVE ENTERTAINMENT TAX *Advertised times are for doors -- show time not available*

All support acts are subject to change without notice.
Free Local Parking - Residents of Clark County who purchased a ticket will receive free parking the night of the show at any Caesars Self-Parking locations. The Parking Validation Machine is located inside the Retail Store of Brooklyn Bowl.
Artist Info
Sleater-Kinney
Sleater-Kinney has announced their eleventh studio album, Little Rope, which will be released January 19, 2024 via Loma Vista Recordings with a hauntingly intimate music video for lead single "Hell", directed by Ashley Connor and starring Miranda July. Recorded at Flora Recording and Playback in Portland, Oregon with Grammy-winning producer John Congleton, Little Rope is a powerfully honest and soul-baring album by one of modern rock's most vital bands.
Little Rope is one of the finest, most delicately layered records in Sleater-Kinney's nearly 30-year career. To call the album flawless feels like an insult to its intent – it careens headfirst into flaw and brokenness – a meditation on what living in a world of perpetual crisis has done to us, and what we do to the world in return. On the surface, the album's 10 songs veer from spare to anthemic, catchy to deliberately hard-turning. But beneath that are perhaps the most complex and subtle arrangements of any Sleater-Kinney record, and a lyrical and emotional compass pointed firmly in the direction of something both liberating and terrifying: the sense that the only way to gain control is to let it go.
In the autumn of 2022, Carrie Brownstein received a call from Corin Tucker, who herself had just received a call from the American embassy in Italy. Years earlier, Brownstein listed Tucker as her emergency contact on a passport form, and while she had since changed her phone number, Tucker had not. The embassy staff were desperately trying to reach Brownstein. When they finally did, they told her what happened: While vacationing in Italy, Brownstein's mother and stepfather had been in a car accident. Both were killed.
Although some of the album had already been written, aspects of each song—a guitar solo, the singing style, the sonic approach—were pulled into a changed emotional landscape. As Brownstein and Tucker moved through the early aftermath of the tragedy, elements of what was to become the emotional backbone of Little Rope began to form – how we navigate grief, who we navigate it with, and the ways it transforms us. The result is a collision of certainty and uncertainty evident from the first few spare seconds of the record's opening track and first single, "Hell." Over an agoraphobic expanse of tone and a trickle of chords, Little Rope's emotional thesis statement begins to take form:
Hell don't have no worries
Hell don't have no past
Hell is just a signpost when you take a certain path
It's a restrained, controlled prologue, but control is fleeting. A few seconds later, well, all hell breaks loose.