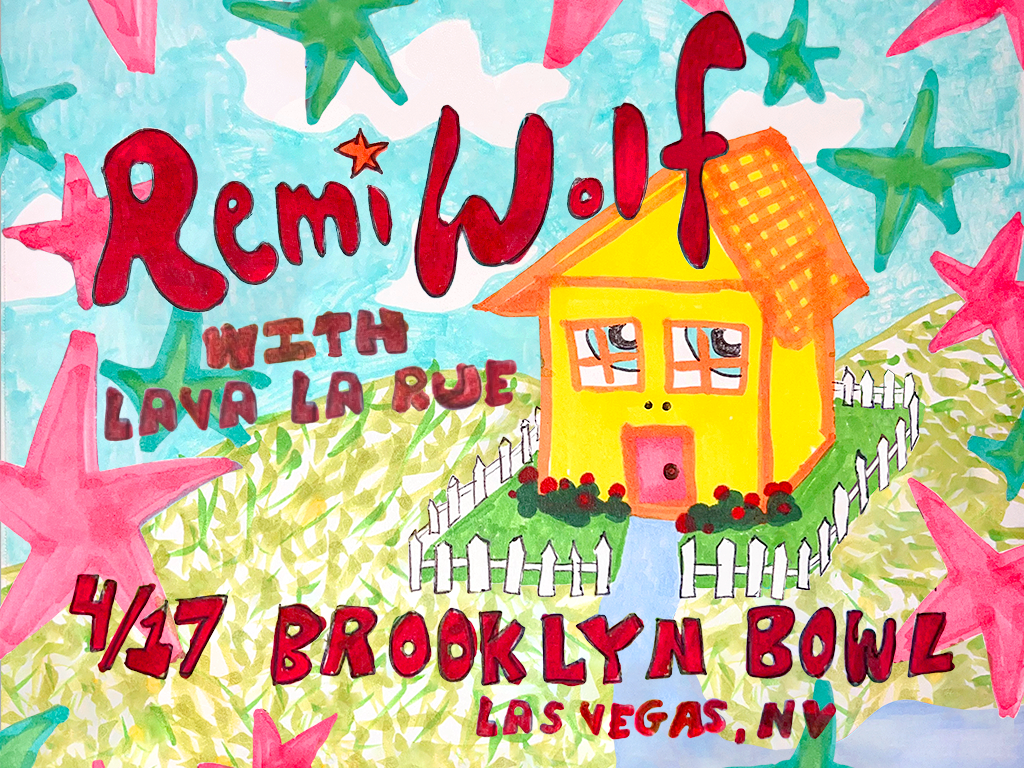 Event Info
Venue Information:
Brooklyn Bowl Las Vegas
The Linq Promenade
Las Vegas, NV
$30.00 General Admission
$35.00 General Admission (week/day of show)


Public Onsale: Friday March 3 @ 12pm PST

An inherent risk of exposure to COVID-19 exists in any public place where people are present. COVID-19 is an extremely contagious disease that can lead to severe illness and death. According to the local health authorities, senior citizens and guests with underlying medical conditions are especially vulnerable. By visiting our establishment, you voluntarily assume all risks related to the exposure to or spreading of COVID-19.

Be sure to check our venue website for the latest updates and guidelines as entry requirements are subject to change.
Free Local Parking
- Residents of Clark County who purchased a ticket will receive free parking the night of the show at any Caesars Self-Parking locations. The Parking Validation Machine is located inside the Retail Store of Brooklyn Bowl.

ALL SALES ARE FINAL. NO REFUNDS OR EXCHANGES

Tickets purchased in person, subject to $2.00 processing charge (in addition to cc fee, if applicable).

All general admission tickets are standing room only.

ALL TICKET PRICES SUBJECT TO NEVADA'S 9% LIVE ENTERTAINMENT TAX
*Advertised times are for doors -- show time not available*
Artist Info
Remi Wolf
It's difficult for Remi Wolf to describe her sound. Within the span of three-minutes, a Remi Wolf track will ricochet between funk, soul, indie and emo with all the predictability of a pinball. Her vocals oscillate between screeching falsetto and melody-anchoring alto, pendulum-swinging the scales in little more than a breath. It's a far cry from that which has become par-for-the-course in pop music, but that Remi Wolf has never been one to follow the rules.
It's possible Wolf favors rebellion now because her early musical trajectory hits all the conventional mileposts of a well-rounded artist. There were the grade-school performances and open mics that wowed crowds in her Palo Alto hometown; the self-taught songwriting, experimental recording and tertiary music education via USC. Perhaps the most pivotal moment was making $200 in two hours of soulful busking in high school, when Wolf realized people would happily pay to hear her perform.
"Before I really fell in love with writing, I loved performing," she says. "That's always been my home base, it lights something up in my soul that is never lit up at any other time in my life. It's a very powerful thing — the most expressive I feel like I will ever get."
Audiences "immediate response" to her talent instilled in Wolf an sense of confidence that carried her through music school and into a post-grad stint gracing local Los Angeles venues. Her college experience consisted of skipping class to jam with her 10 musical roommates, and soon she'd linked with co-producer, Jared Soloman. Together, they compiled influences in the likes of Tool, Weezer, Ween and Erikah Badyu and committed an experimental artist project, throwing caution — and strategy — to the wind with the impulsive release of their first track, "Guy."
"I had no plan at all, I was just playing shows and taking whatever opportunities came my way," says 25- year-old Wolf. "I was learning to play drums and would write on the guitar with all these chord shapes people just weren't using, different structures. It made me nervous, but I always just had a vision."
"Guy" would mark a watershed moment for Remi Wolf, the artist. It secured her a spot opening on tour for indie-pop darling, Still Woozy, a manager, and an entry point to consecutive critically-acclaimed EPs, You're a Dog and I'm Allergic to Dogs — mostly created in makeshift studios with Soloman and limited gear. Apple would later recruit Wolf to soundtrack an iPhone commercial, and she'd receive major co-signs from the likes of Dominic Fike and Cautious Clay.
These achievements have served as both prelude and platform for her debut album, Juno, her post-pandemic offering. The project is an exploration of the instability Wolf felt during lockdown, bouncing between houses all while attempting sobriety. The project is also the first time Remi Wolf has had the resources to outsource the more technical elements of the production process, as well as access to high quality equipment. For a DIY-minded artist who has bootstrapped her way into the industry, this has taken some adjustment.
"I've had to let go a little bit of control and let people help me to execute my ideas," she explains, "I have to trust other people to help me while not confining myself to any expectation other than pushing myself and the boundaries of what I've done before."
Not only does her first full-length project articulate Wolf's maturation, but manages to maintain the genrebending spontaneity and soul of her previous work. The singer-songwriter's improvisational sonic instincts best speak to her talent and bolster her longevity, but it's her childlike charisma — on-stage and off — coupled with devil-may-care attitude that indicates her potential for profound impact.
Remi Wolf would rather rewrite the rules than play by them, and for that you can credit her rebel heart. "Sometimes I just feel like I want to be different and rebellious and a contrarian to what's going on. It's insane to think I can make the music I want to make and pay my bills and be validated for my labor, but I think mainly I want my music to be important to people. I want people to make memories with my songs."
Lava La Rue
Born, raised and still based in Ladbroke Grove, Lava La Rue lives and breathes West London. More than simply a home, it's a source of encouragement and inspiration for the 22-year-old singer/musician, a fact she first acknowledged on 2018's loose-limbed debut single 'Widdit', with its soulful, "City was a mother to me," refrain. Two years on, she's firmly established as a fiercely independent, multi-hyphenate talent, with co-signs from cultural arbiters as diverse as Tyler, The Creator and artistic establishments such as Tate Modern. And yet, as her horizons continue to expand, her focus only sharpens on the very mutability of her musical identity.
Ask about her influences today, and she'll reel off a catalogue of reference points while scarcely drawing breath, from psychedelic, punk and Britpop, to the vibrant soundsystem culture and banging rave music she was regularly exposed to throughout her youth. But for Lava, the real beauty lies in the blurring of these boundaries, as she explains.
"[West London] is such a multi-racial place you get a lot of genre fusions. When the first generation Windrush Jamaicans came over – like my grandma – a lot of them were living in spaces where they were having to coexist with working class white people. So you ended up with these fusions like ska, where you'd get reggae and punk coming together. And that for me is really inspiring."
Her deceptively softly-spoken vocal talents aside, this fluidity remains the unifying feature of her solo output so far, from the lo-fi, hip hop, jazz and neo soul stylings of 2018's 'Letra' EP, to tougher, trap-inspired beats and sinuous R&B productions on 2019's 'Stitches' mixtape. And then there's the two 'No Smoke' mixtapes she's put out so far with NiNE8, the nine-person strong, DIY creative collective she formed while at college, featuring her fellow students Biig Piig and Mac Wetha.
In music as in life, Lava speaks as she finds, with no subject off limits, be that the tougher aspects of her own upbringing or wider social inequality. And on forthcoming EP 'Butterfly' she's breaking new ground by discussing love, a subject she'd always eschewed previously so as to resist lazy, industry stereotyping.
"All the music I have made previously had a political focus and I stayed away from making love songs as it felt like an overdone narrative. However, over the past year I've been exploring my own identity and gender fluidity which has made me realise that my love narrative is still under represented, which in itself makes my love songs political."
Recorded in L.A. and London with producers including Isom Innis, Dan Holloway and Courage, Lava describes 'Butterfly' as her attempt to redefine "what queer music can be; setting the agenda for queer music in the 20s – this new decade." The first single is 'G.O.Y.D. (Girl Of Your Dreams)', a dreamy, dopamine hit, featuring production from Frank Ocean-collaborator Vegyn and the supple vocals of Claire Cottrill. Proceeds from the track will be donated to 'For Our Sibs' – a Black Trans Exclusive collective that centers Black Trans, Non-Binary, Gender Non-Conforming, and Intersex folk – and the song is accompanied by a video and zine that La Rue edited herself from fan submissions inspired by the theme "Summer of Love 2.0'.
On the website for the project, Lava explains the concept. "Summer of Love 2.0 explores how an era of social distancing has allowed people to re-value human touch, platonic love, free party culture and a resurgence of the radicalisation of view… all leading to a second coming of the famous summer we signify with past free love movements. However in the 2020s this can resurge as a new breed – one that is inclusive to all intersections of sexuality and gender identity we celebrate today."
When pressed for her long-term goals, Lava doesn't miss a beat. "Five years from now I want to be able to say that I had some sort of impact on music in the 20s. Because I can look at the 80s and 90s and know exactly what was coming out of Ladbroke Grove. Like, this is when The Clash came out, and this is when Trojan Records came out, and this was so culturally impactful to the rest of the world. And I would really love to play a part in that."