Tuesday,
December
5th
, 2023
Me First and the Gimme Gimmes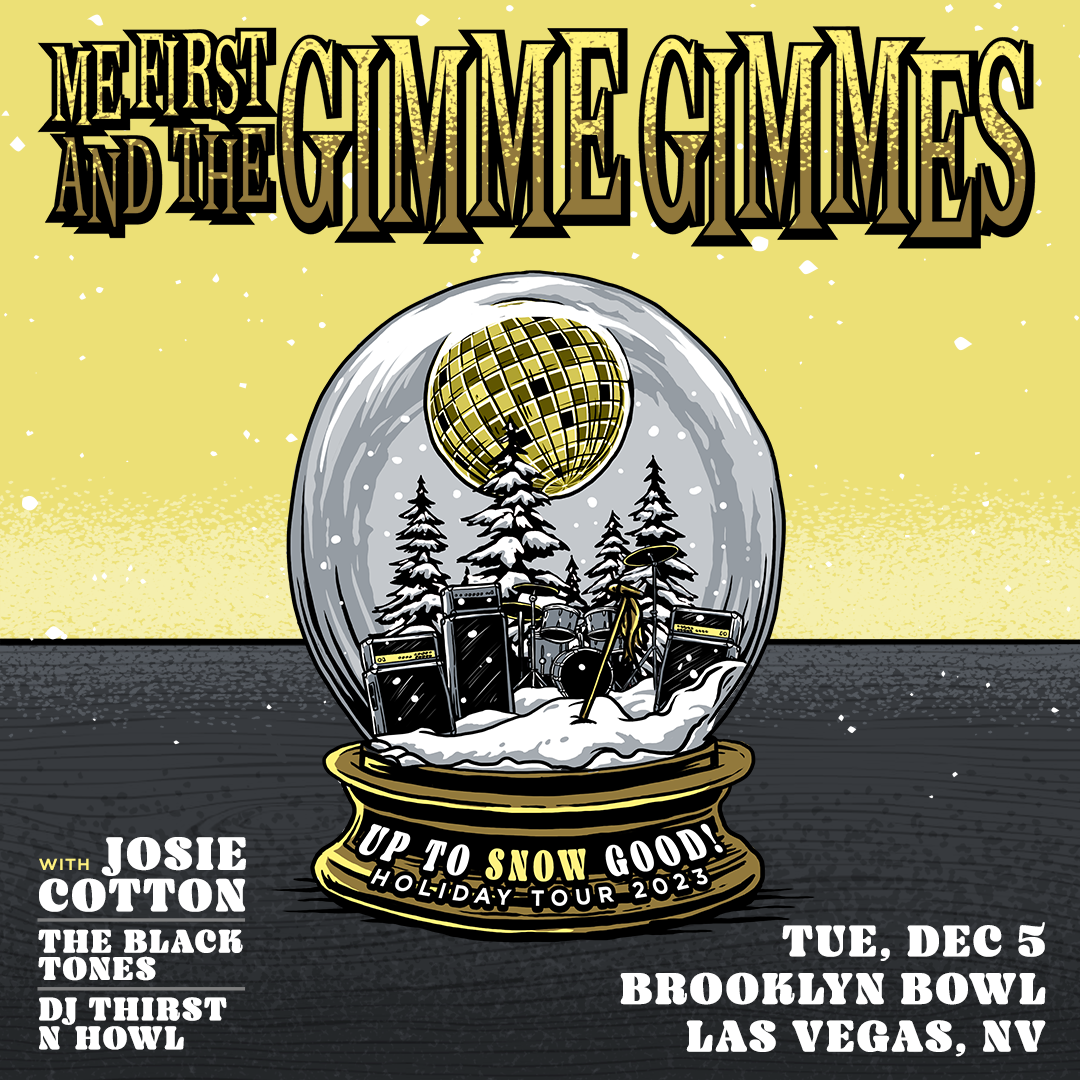 Event Info
Venue Information:
Brooklyn Bowl Las Vegas
The Linq Promenade
Las Vegas, NV
ALL SALES ARE FINAL. NO REFUNDS OR EXCHANGES
Tickets purchased in person, subject to $2.00 processing charge (in addition to cc fee, if applicable). All general admission tickets are standing room only.
ALL TICKET PRICES ARE SUBJECT NEVADA'S 9% LIVE ENTERTAINMENT TAX *Advertised times are for doors -- show time not available*

All support acts are subject to change without notice.
Free Local Parking - Residents of Clark County who purchased a ticket will receive free parking the night of the show at any Caesars Self-Parking locations. The Parking Validation Machine is located inside the Retail Store of Brooklyn Bowl.
All guests must have a valid government/state issued ID for entry to the venue.
Artist Info
Me First and the Gimme Gimmes
For the uninitiated, Me First and the Gimme Gimmes consist of Joey Cape (Lagwagon) on guitar, Chris Shiflett (Foo Fighters) on lead guitar, Dave Raun (Lagwagon) on the drums, Fat Wreck-head-honcho/NOFX main-dude Fat Mike, and rounded out by the incomparable crooner, Spike Slawson. Together, Me First and the Gimme Gimmes are an outfit that has always operated more like a beer-hall Pussycat Dolls than a regular mortal band.

When duty calls for one of the Gimmes to perform with their other band, rest assured a traveling Gimme will step in. John Reis, you guessed it, singer/guitarist for Rocket From the Crypt, Jonny Two Bags, Orange County Music Legend and Social Distortion lead guitar, Jake Kiley of Strung Out fame, or Stacey Dee from Bad Cop/Bad Cop will be filling in. And, on bass CJ Ramone from a little band you may have heard of, The Ramones, will sub for Fat Mike. Most recently we saw the UK import, Pinch from The Damned, on the skins. You never know what star-studded lineup you will get at a Gimmes show, but you know it will not disappoint.

So, what is really left to say about punk super-group and cover band extraordinaire Me First and the Gimme Gimmes? After 7 studio albums, a live record and too many singles to count, they've tackled just about every genre under the sun. Be it Motown, Country, show tunes, Japanese Pop (sung in Japanese!), these seasoned punk rock pros have triumphed on every occasion in a way only the Gimmes could. With such an extensive and wide ranging catalog, where does one begin?... With a live show of course! The powerhouse continues and they'll be singing ballads, showtunes, Country and Motown tunes all year long, so don't miss it!