Friday,
October
22nd
, 2021
Wilco - Ode To Joy Tour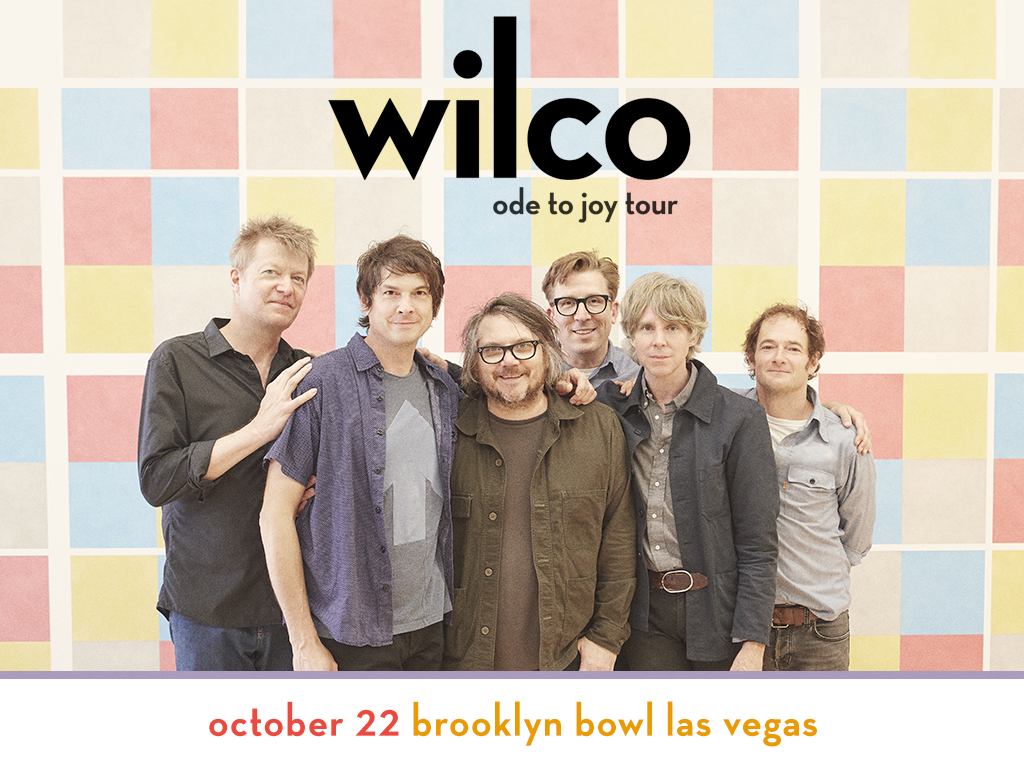 Event Info
Venue Information:
Brooklyn Bowl Las Vegas
The Linq Promenade
Las Vegas, NV
$59.50 General Admission,
$64.50 General Admission (day of show)
$79.50 Club Level
$84.50 Club Level (day of show)

Please note this show is requiring all fans to provide proof of a negative COVID-19 test within 72 hours of the event OR full vaccination for entry.
Proof of your vaccination record (vaccination card or picture of your card with a matching ID card), demonstrating you were fully vaccinated at least two weeks in advance of the day of show. OR proof of a negative COVID test, administered within 72 hours of the day of show, with matching ID card.

A negative PCR or antigen COVID-19 test will be accepted. Please be sure to bring printed or digital proof of your negative test result, dated and time-stamped. At home test will not be accepted for entry
Acceptable Vaccines include: Pfizer | Moderna | Johnson & Johnson | vaccines authorized by WHO (if vaccinated outside of the U.S.)
MASKS: In accordance with local guidelines: Until further notice, masks are required to be worn at all times for attendees, regardless of vaccination status, except while actively eating or drinking. All Brooklyn Bowl staff are fully vaccinated and must wear masks while inside the venue.


By purchasing a ticket you acknowledge you will be required to show proof of vaccination or a negative test result. There will be no refunds for purchased tickets based on non-compliance of venue COVID-19 protocols, however, if you are unable to attend a show due to a positive Covid-19 test, please reach out to vegasinfo@brooklynbowl.com and we will help facilitate a full refund.

An inherent risk of exposure to COVID-19 exists in any public place where people are present. COVID-19 is an extremely contagious disease that can lead to severe illness and death. According to the local health authorities, senior citizens and guests with underlying medical conditions are especially vulnerable. By visiting our establishment, you voluntarily assume all risks related to the exposure to or spreading of COVID-19.
Clark County, the Southern Nevada Health District, and Nevada National Guard are offering free drive-thru COVID-19 testing and vaccination services at UNLV Stan Fulton Parking Lot, 801 E. Flamingo Road (off Paradise Road). For more information on testing locations, please visit this link here: https://www.clarkcountynv.gov/top_services/covid19/testing_locations.php
All guests must have a valid government/state issued ID for entry to the venue. No refunds. All general admission tickets are standing room only.
ALL TICKET PRICES INCLUDE NEVADA'S 9% LIVE ENTERTAINMENT TAX

Tickets purchased in person, subject to $2.00 processing charge (in addition to 3% cc fee, if applicable).

*Advertised times are for doors -- show time not available*
* Venue closes between 12am - 1am unless otherwise noted*
Special room discounts via Caesars Hotels & Resorts for traveling fans. For hotel rooms use promo code: BRB15 at www.caesars.com applicable for rooms at The LINQ Hotel and the Flamingo
Artist Info
Wilco
No one is more aware than Wilco that, on the heels of albums titled Schmilco and Star Wars,reappropriating the title of one of the most famous works of music in history—and in these times*, no less—could come off to some as slightly disingenuous. But while acknowledging his band's own history of irreverence, here Jeff Tweedy snubs that angle, intending that we should
take Wilco's 11th studio album, Ode to Joy, with open hearts.
"I think it's audacious and sincere," Tweedy says. "It just kept coming back as the one title that felt honest. The record is, in a weird way, an ode; this terrible stuff is happening, this deepening sense of creeping authoritarianism that weighs on everybody's psyche on a daily basis, and you're allowed to feel a lot of things at once. And one thing that is worth feeling, that is worth
fighting for, is your freedom to still have joy even though things are going to shit."
Besides, no one is more aware than Wilco that, on the heels of ten damn Wilco albums—and especially in these times**—an 11th simply wouldn't be warranted were it not presenting something equally new and necessary.
[*Political Climate, global; **Rock Music Climate, especially that of white men]
"Nobody needs more Wilco music," Tweedy says. "But at the same time, if you use that as motivation, that's a lot of energy to push forward and try to make something that is worth sharing, to challenge yourself to make something that has meaning to you. As an artist, I think that's your fucking job."
Following a year that produced a pair of solo albums as well as a bound autobiographical memoir, no one could ever accuse Tweedy of lacking a motor. But where those recent works reveled in their incisive, confessional focus, Wilco, as he says, has a broader mandate, one that requires the space to react to a sonic environment with a little more abstraction being baked into
the equation. And so, with an eye on The Climates yet resolute in his belief that they should not dominate the headlines of our daily lives, he gathered Wilco to The Loft in Chicago for work.
"I wanted to write lyrics and create an environment for them that felt like our current landscape," he says. "It forces us to ask, What do you do with those really insular feelings that feel almost
shameful to allow yourself to indulge because of the greater amount of suffering you are witnessing? Well, so far I've only been able to figure out that you make art with them. But I don't want to ignore the reality that they are somehow smaller than the landscape. And it's a weird landscape to make art in, because at the same time I don't want to talk about it directly, I
don't want Him or That to own my joy or my art—they don't deserve it. They can't have everything. So that allowed for the music to provide a lot of the commentary."
On the subject of resistance, another looming elephant in the room provided the band a second behemoth of which to be wary: rock music itself. "I am at a moment in my life where I feel the canon of Baby Boomer Rockism tropes—Rockist music—is complicit," Tweedy says. "All of the music I hear that draws upon those tropes feels like it's based in fear: I'm afraid that we are not going to have any audience anymore if we don't keep perpetuating this. That notion is completely divorced from the most important aspect of what rock and roll is to me: self-liberation, self-actualization, self-invention. I can probably intuit that because I know that I've felt it. Rockism is not intellectually an honest place to be, so this is more just a personal observation of what I don't want to do."
From its very onset, Ode to Joy reflects and rejects these notions while building up far greater ideas from their foundations. Throughout the entire album, drums pound and plod with a steady one–two pulse, meant to mimic the movement of marching—a powerful act utilized on both sides of the authoritarian wall. From the sparse and lovely opening duo of "Bright Leaves" and "Before Us" to the Nels Cline guitar freakouts of "We Were Lucky" and the gorgeously fractured final tune "An Empty Corner," Glenn Kotche's percussion propels the music forward while Tweedy's measured words flesh out the cleared paths. While all six members of the band can be
heard on every song—most clearly on the upbeat acoustic numbers "Everyone Hides" and "Love Is Everywhere (Beware)"—it's clear that Tweedy and Kotche were the launching pad from which most of the songs materialized, as they sketched initial ideas for the album together as a
duo. By focusing on a unique rhythm track and a minimalist instrumental accompaniment—typically acoustic guitar—and pairing that with observant lyrics at once hopeful, morbid, tolerant, and abstract, the band's vision was achieved.
"They're really big, big folks songs, these monolithic, brutal structures that these delicate feelings are hung on—that's basically how I feel right now," Tweedy says. "Everything is designed to be authoritarian. There is a sense of foreboding but there's also a desire to have some comfort, and to me that marching sound is really pleasing, almost like a heartbeat or something
elemental, like a nice Q-tip in your ear. I'm not saying I'm depicting the current American landscape, I'm just trying to have something feel the way I feel when I think about it."
Whether our joy is measured by sparks felt when clutching old sweaters to our chests, by the number of tiny digital hearts earned from a shared photograph, by a guitar solo or a drumbeat or a piece of cotton on a stick, or by something even greater, Wilco wants to sincerely remind us to wear that feeling loud and proud. This is Ode to Joy: pick it up, hold it tight.