Friday,
September
30th
, 2022
Wallows - Tell Me That It's Over Tour
Empath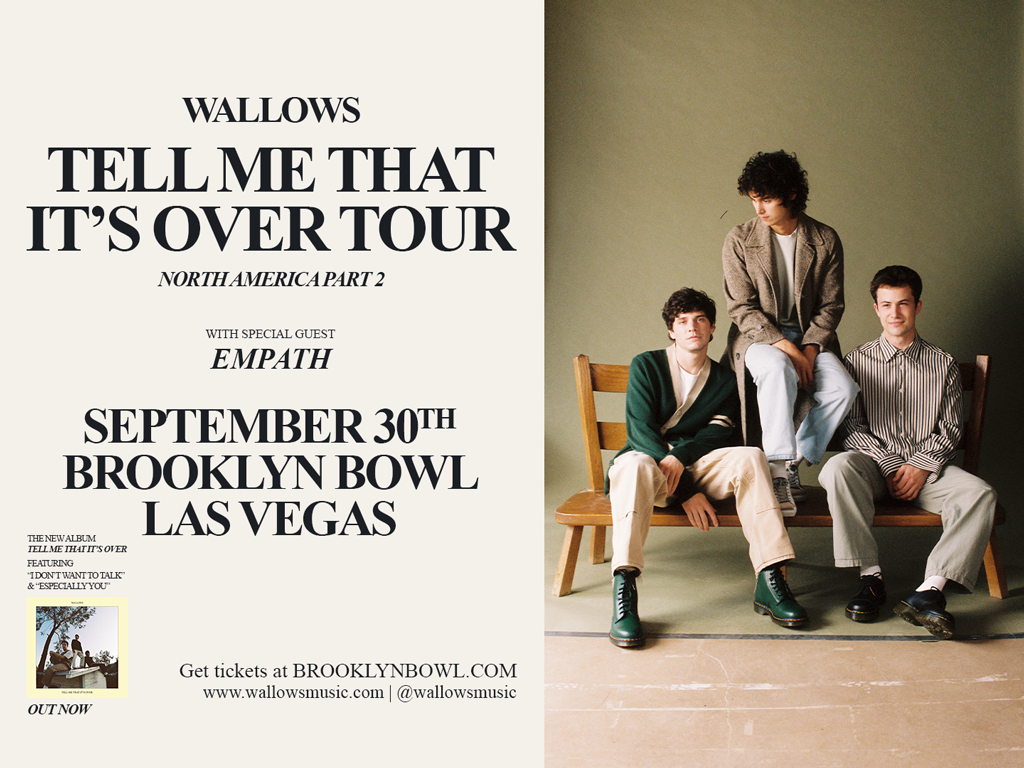 Event Info
Venue Information:
Brooklyn Bowl Las Vegas
The Linq Promenade
Las Vegas, NV
$39.50 General Admission
$42.50 General Admission (week of show)
$45.00 General Admission (day of show)
$59.50 Club Level
$125.00 VIP Packages

Artist Presale: Tuesday March 29th @ 10am PST
BBLV Presale: Thursday March 31st @ 10am PST
Public On Sale: Friday April 1st @ 10am PST

VIP Package Includes
-1 GA ticket
-Early venue entry
-Exclusive signed poster
-Exclusive Wallows hat
-Exclusive Wallows tote bag
-Commemorative VIP laminate
-First access merch shopping

**VIP Package includes $4.00 Facility Fee
**All VIP Package purchasers will be contacted via e-mail a few days prior to the event date with additional program details If you do not receive an e-mail a few days prior, please contact WallowsVIP@aegpresents.com
**All sales are final. There are no refunds or exchanges under any circumstances. All packages and package contents are non-transferable. All VIP merchandise will be distributed at the show; some exceptions may apply. Package purchases are restricted to U.S. & Canadian addresses only. VIP merchandise is not required for venue entry. The artist, tour, promoter, ticketing company, venue or any other affiliated parties are not responsible for outdated or inaccurate information provided by the consumer at the time of purchase. Commemorative VIP laminates are for commemorative purposes only. The VIP laminate does not gain or authorize access into the venue, VIP or any backstage areas.
Based on the latest local guidelines, attendees are no longer required to provide proof of negative COVID-19 test AND/OR vaccination for entry into this event. Brooklyn Bowl encourages mask wearing and encourages you to get vaccinated if you aren't already! Be sure to check our venue website for the latest updates and guidelines as entry requirements are subject to change.


An inherent risk of exposure to COVID-19 exists in any public place where people are present. COVID-19 is an extremely contagious disease that can lead to severe illness and death. According to the local health authorities, senior citizens and guests with underlying medical conditions are especially vulnerable. By visiting our establishment, you voluntarily assume all risks related to the exposure to or spreading of COVID-19.
Free Local Parking
- Residents of Clark County who purchased a ticket will receive free parking the night of the show at any Caesars Self-Parking locations. The Parking Validation Machine is located inside the Retail Store of Brooklyn Bowl.
All support acts are subject to change without notice.

All guests must have a valid government/state issued ID for entry to the venue.
No refunds.

Tickets purchased in person, subject to $2.00 processing charge (in addition to cc fee, if applicable).

All general admission tickets are standing room only.

ALL TICKET PRICES INCLUDE NEVADA'S 9% LIVE ENTERTAINMENT TAX

*Advertised times are for doors -- show time not available*
Artist Info
Wallows
Wallows, the Los Angeles-based trio of Dylan Minnette, Braeden Lemasters and Cole Preston, released their acclaimed Atlantic Records debut album,
Nothing Happens
, in 2019. Produced by GRAMMY® Award-winner John Congleton (St. Vincent, Alvvays, Future Islands) who also produced the band's 2018 EP
Spring
, the album quickly became one of the most-streamed debut albums by any band in 2019 and features the breakthrough platinum single "
Are You Bored Yet? (Feat. Clairo)
," which has surpassed 602M global streams. 2020 saw Wallows release "OK," a song that took on a new meaning during the pandemic, and their quarantine-made EP,
Remote
, as well as being named MTV's PUSH Artist of the Month for September. Wallows return in 2021 with brand new single "I Don't Want to Talk" – a first taste of their collaboration with producer Ariel Rechtshaid (Vampire Weekend, Haim, Adele) that's been in the works over the past year.
Empath
Ask the members of Empath how things have changed since the release of their critically-acclaimed 2019 album, Active Listening: Night on Earth, and they'll downplay it.
"We bought a wheelchair bus to tour in from the sketchiest dealership in South Jersey," drummer Garrett Koloski says. "And we have band credit cards now—did you know you can get a cash advance on a credit card? Pretty cool."
"I think we own the title now… but there have been a few complications," guitarist/vocalist Catherine Elicson interrupts, her skepticism palpable.
"I've had to quit my grocery job many times to tour, but they just keep hiring me back," synth player/engineer Randall Coon offers.
"Basically, this is a small business," keyboardist Jem Shanahan quips. "I have a credit score now, because of Empath."
It's in the band's nature to turn every question you throw at them into a joke, but the four friends from Philly have reached a point where they'll begrudgingly admit that this project is a nascent career, one that they can't help but fling themselves at with total abandon. "Our mindset is: we have nothing else but this band, so we'd better put all our eggs in this basket and hopefully take over the world," Elicson says, "Or crash and burn."
On February 11, 2021, Empath will release their sophomore full-length, Visitor, via Fat Possum, which marks a seismic shift for the scrappy quartet who came up playing shows on Northeastern DIY circuits and are now staring down a tour with Modest Mouse in the biggest rooms any of them have ever performed in. While the album holds steadfast to the careening, joyous noise Empath staked their name on, Visitor was produced by Jake Portrait, making it the first release the band has recorded with a producer in a formal studio. "Jake has the technical expertise to make anything sound like anything," Elicson says.
Inspired by the disquieting scores of Nosferatu (1922) and The Wicker Man (1973) alongside David Bowie's Low and forever favorites Fleetwood Mac, Empath sought to one-up the range of sounds heard on their previous album. During what he calls West Philly Christmas (the week undergrads at UPenn move out and leave piles of high-quality garbage out on the street) Coon recovered a suitcase organ with a sound bank from a Jamiroquai record preset on it, which he later played on the album, in addition to running samples on Ableton and acquiring a brand new synth; Shanahan, who plays a '90s children's keyboard, had Portrait filter it in such a way that it sounded "less childlike"; Elicson's vocals, buried deep in the mix on Active Listening: Night on Earth, take center stage; and Koloski's drums are as capacious as they might be in a live set.
"Our approach to songwriting, and what we constantly try to improve upon, is finding the meeting ground between all of our distinct points of view and ideas we are trying to achieve sonically and conceptually," Elicson says. "We never want to be tied down to one type of song or sound, and we love all kinds of improvisational music. We try to fit everything we love into each song, and hopefully produce something new and exciting through that process of synthesis."
Visitor attempts to fill space, both physical and psychic, visible and invisible. The album's cover was photographed by Andrew Emond, who captures the interiors of abandoned buildings. "The spaces look lived in and altered by humans but no humans are present," Elicson reflects. "The songs are similar in the sense that they talk about the 'space' between people. They're not about specific people per se, but they illustrate the feelings people leave between each other, these subjective experiences. You can think of Visitor as a soundtrack to the memories and feelings that remain in places people have left behind."
In the process of writing the lyrics to "Passing Stranger" and "Diamond Eyelids," Catherine patchworked memories together, prioritizing a likeness in sensation over the circumstantial. "History comes back to you in shards that I reach out to touch," she sings on the latter, a hint of desperation in her voice. "Tell me we create love in absence." Rather than compete, the song's two melodies coalesce, a sensation that's at once catchy and just slightly unnerving. "That song has pop sensibilities, but it's weird and heavy at the same time," Coon says. "That's definitely something we strive for," Koloski adds. "We want to throw all these experimental ideas in but at the end of the day, we want people to be able to sing along to it."
That ethos is audible on "Elvis Comeback Special," which builds itself into a frenzy for just under a minute before grinding to a halt. Cushioned by a lone synth progression, Elicson delivers the album's boldest hook as the rest of the band careens back into focus. On the muscly, two-chord progression of "Born 100 Times," the closest to a punk song Visitor has to offer, Elicson's razor sharp delivery serves as a counterweight to the instrumental onslaught. "We tried to balance the lyrical whimsy with instrumental heaviness and hoped to transcend both," Elicson says. It also boasts some of her best writing, distilling humid pangs of midsummer love in an unforgettable line: "You're soft like leather in the heat because devotion comes so easily, in every color you can dream."
Empath included a series of samples on Visitor, all of which cohere to make the album sound as if it's disrupting ambient noise. "Audio was taken from films, minecraft, a cassette of nature sounds from the Bayou, recordings of an air conditioner, and a church choir heard through the walls of the warehouse we rehearse in," Elicson says. "It's a collage of sounds intended to produce a feeling of hearing life through the walls." Visitor attempts to bridge the space between. It's an impossible task, surely, but the result of their efforts produces a transcendent experience all its own.