Tuesday,
November
15th
, 2022
Turnover
Yumi Zouma, Horse Jumper of Love
Doors: 6:00 PM
/
Show: 8:00 PM
18+ Years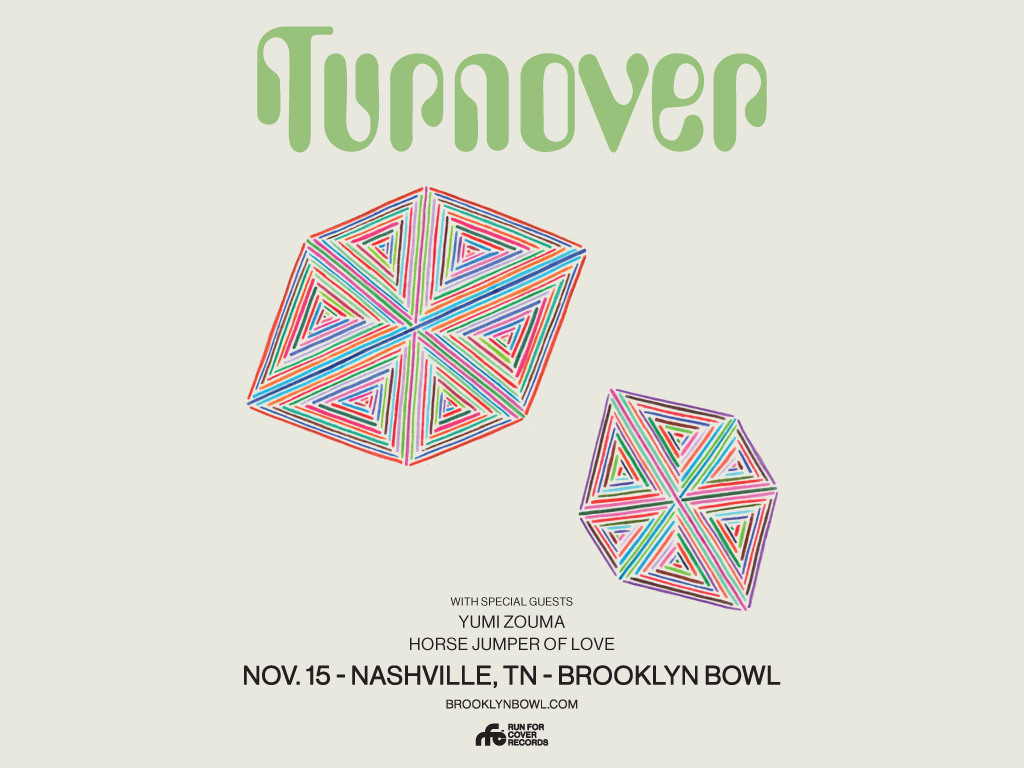 Event Info
Venue Information:
Brooklyn Bowl Nashville
925 3rd Avenue North
Nashville, Tennessee 37201
This event is 18+, unless accompanied by a parent or legal guardian. Valid government-issued photo ID is required for entry. No refunds will be issued for failure to produce proper identification.
There are no COVID-19 vaccination or test requirements for this event. An inherent risk of exposure to COVID-19 exists in any public place where people are present. By visiting our establishment, you voluntarily assume all risks related to the exposure to or spreading of COVID-19.
This ticket is valid for standing room only, general admission. ADA accommodations are available day of show.
All support acts are subject to change without notice.
Any change in showtimes, COVID-19 protocols, and other important information will be relayed to ticket-buyers via email.
Want to have the total VIP experience? Upgrade your ticket today by reserving a bowling lane or VIP Box by reaching out to nashvilleevents@brooklynbowl.com
ALL SALES ARE FINAL
Artist Info
Turnover
There is a closeness at the heart of Turnover's aptly titled new album, 'Altogether.' Though it's the first collection the trio has written while living on opposite coasts, the record actually represents the group's most collaborative and connected work to date, showcasing the intuitive, near-telepathic relationship frontman Austin Getz has developed over the years with his bandmates.


"Instead of making things more difficult, being far apart helped us learn to appreciate each other even more," says Getz. "As a band, we're closer now than we've ever been before."


Recorded at Philadelphia's Studio 4 with longtime creative foil Will Yip at the helm, 'Altogether' finds the group breaking new ground on a number of fronts. Pop sensibilities inform the writing for the first time, with elements of funk, jazz, lounge, and disco mingling alongside the band's trademark indie grit and punk energy. Lush melodies and infectious hooks reflect the newfound freedom and confidence that have inspired Getz since his cross-country move to northern California, while adventurous recording techniques and instrumentation lend a fresh perspective without sacrificing the kind of precise detail and rich intricacies that have come to define the band's recent studio output. The result is an album that boasts both sonic sophistication and emotional accessibility in equal measure, a major leap forward in sound and vision that reveals time apart as the true key to togetherness.


The title is fitting in another way as well, according to Getz. "On this record, more than in the past, we wanted to keep in mind the beauty of writing 'popular music,'" he explains. "By that I mean music for people who don't have the time to delve into the niches and find fringe artists, music for those of us who are busy with work or our families or whatever problems might be around. Music is real magic that can change people's days and lives, and the more people listening and loving, the better."



Turnover first emerged roughly a decade ago in Virginia Beach, VA, but the group's critical and commercial breakthrough didn't arrive until six years later, when they cracked the Top 5 on the Billboard Heatseekers Chart with their acclaimed sophomore album, 'Peripheral Vision.' The band—which consists of Getz, his brother Casey on drums, and their childhood friend Danny Dempsey on bass—followed it up in 2017 with 'Good Nature,' a streaming smash that racked up roughly 40 million plays on Spotify alone and which Vice proclaimed to be "their best album yet." Reviews were similarly glowing around the world (Pitchfork praised the record's "rhythmic propulsion and harmonized guitar sparkles," while Exclaim! hailed its "shimmering instrumentation and luscious harmonies," and The Line of Best Fit swooned for its "plush production" and "subtle maturity"), and the album earned the band headline dates everywhere from Brooklyn Steel to The Fonda Theatre along with their first appearance at Coachella.



"With 'Peripheral Vision,' I was starting to experiment with psychedelics, and I was feeling alienated from a lot of the things I'd been raised to believe and accept," Getz reflects. "That album asked a lot of questions, and I felt like 'Good Nature' was my attempt to find the answers to those questions. This time around, though, I found myself in a very different place, both literally and metaphorically."

Starting over from scratch somewhere new, particularly somewhere as rural and isolated as Getz's new home in northern California, proved more challenging than he had anticipated.



"The move was great in a lot of ways," he explains, "but the experience also de-romanticized a lot of the notions I had about leaving everything behind and relocating to the woods. I realized I'd been undervaluing a lot of things that were actually really important to me, like having friends and family close by. I had to come to terms with being a stranger and learn how to trust new people and make new connections all over again."



For the first time, Getz found himself looking inwards instead of outwards for inspiration, writing as an act of self-exploration rather than in response to any external stimuli.



"There was a deepening of my relationship with music that came out of the whole experience," he explains. "Instead of waiting for some revelation to arrive, I would make myself sit down with a guitar or at the piano and just play until something interesting happened. Often what came out surprised me."



Sometimes an entire song would reveal itself in ten minutes; other times, Getz would land on a guitar riff or a chord progression that he'd revise for months. The band spent time writing together in-person on tour and during time off in New York and Portland, with Yip flying out to join the band for the latter.



"Will's much more than just a producer for us at this point," says Getz. "He's a close friend and a reliable piece of what our sound has become."



That sound is the product of a remarkably wide range of influences and tastes, which Turnover synthesizes on the album into a whole far greater than the sum of its parts.



"Working remotely for the most part, everybody was able to send ideas around on their own schedules, and nobody felt too protective of anything, so the new songs started to reflect each of our personalities more than ever before," says Getz. "Collectively we like everything from jazz to folk, disco to rock and roll, and a lot in between, and it's where we all intersect that things start to feel special. With the three of us and Will all contributing to the writing together, the songs turned out better than anything any of us could have done on our own. That's what makes the experience of being a band really unique as opposed to just one artistic mind."



'Altogether' demonstrates the band's eclectic mix of personalities from the very start, opening with a lo-fi, jazzy intro that quickly gives way to the driving drums and delay-drenched guitar of "Still In Motion." Like much of the album to come, the song is a meditation on change and perspective, on learning to quiet your mind and appreciate the moment before it's gone. The bittersweet "No Reply" reckons with guilt over failing to be present with a loved one, while the effervescent "Much After Feeling" recognizes the sacrifices we make to stay connected across geographical distance, and the breezy "Parties" grapples with the kind of self-consciousness that can leave us prisoners of our own design.



"There's a part in that song where the tone completely changes," says Getz, "and that represents the moment when your walls finally come down and you start to just appreciate where you are. The lyrics go from describing the nervousness you feel in a particular moment to just describing the moment itself because you're finally out of your head and able to recognize the beauty that's all around you."



Getz taps into that beauty throughout the record, stopping to smell the roses and ground himself in ways that might have seemed impossible even just a few years ago. "Starting to feel at home in the country," he sings on the hazy "Valley of the Moon," while the sultry sax of "Ceramic Sky" hints at the simple and sensual pleasures of falling in love, and the playful "Plant Sugar" channels 80's Britpop as it makes a case for mindfulness.



"I was stressed out when I first started writing that song, but then I looked up at the sky and saw the constellations and felt ridiculous for being worried about anything," he laughs.

"It reminded me that sometimes you just need a little change in perspective to appreciate how lucky you really are."



Turns out, that's all Turnover needed, too.
Yumi Zouma
Yumi Zouma's Josh Burgess likens the band's songwriting process to gardening, "Someone brings in a seed and through collaboration, it grows into a song that is vastly different from its original form." Like any garden, this one requires dedicated tending, a practice that seems rather inconvenient if not straight-up difficult, considering the fact that the four members live in disparate parts of the world – calling New York, London, and New Zealand home – but long-distance has always been a feature of their songwriting process, not a bug. Their new album, Present Tense, is the product of those efforts, a work Christie Simpson describes as "a gallery wall displaying these different moments in each of our lives. A process of curation, revisiting the past and making it relevant to the present."
You might assume that while some artists have struggled to rethink their processes during a pandemic, Yumi Zouma would be perfectly suited to the COVID-19 lockdown, but the opposite proved to be true. Without looming tour dates driving them to release new music, the prolific band found themselves at a standstill. So they set a date. By September 1st, 2021, the album needed to be finished, regardless of whether they'd be able to tour it or even meet to record together. What began in fits and starts became a committed practice again as Yumi Zouma dug through demos from as early as 2018 to collaborate on and make relevant to the peculiar moment in time the band, and world, was experiencing, memorialized on album opener "Give It Hell."
Remote and in-person sessions in studios in Wellington, Florence, New York, Los Angeles, and London all played a role, and Yumi Zouma brought in new collaborators from different disciplines to broaden their sound. "This is our fourth album, so we wanted to pivot slightly, create more extreme versions of songs," Charlie Ryder says. "Working with other artists helped with that, and took us far outside of our normal comfort zone." You can hear the impulse on "In The Eyes Of Our Love," a song that's seemingly twice as fast as any prior release, and closer to the classic rock of Dire Straits than the dream pop aesthetics that the band has built their career on so far. Olivia Campion's drums crash in hard from the outset, sending the accompanying band into a revelry that only breaks upon arriving at the first bridge, when Simpson sings: "But we won't lose sight of what we said/ I'll sing from the dirt instead."
There's a defiance heard throughout Present Tense, a refusal to bend to what might seem fated, communicated not only through lyrics but in the boldness of these arrangements, metamorphosing between tracks without ever losing momentum. Two years away from the road gave Yumi Zouma a new appreciation for the friendship they've sustained and the opportunity an abundance of time off-cycle offered. Dedicated to an embattled past, Present Tense is the band's offering to a tenuous future."To 2020, and the memory of all that was lost," they write in the album's liner notes. "Kia Kaha."
Horse Jumper Of Love
Memory looms large on Horse Jumper of Love's hypnotic sophomore album, 'So Divine,' but it remains elusive. Throughout the record, tiny snapshots from the past float to the surface, baring themselves for brief moments before diving back into the ether. Like abstract collages, the Boston-based three-piece's songs jumble richly detailed scenes and vivid imagery, papering over one moment with the next until each string of seemingly unrelated thoughts coalesces into a breathtaking work of art, one that reveals deep truths about ourselves and our psyches.
"A lot of these songs are about making small things into huge deals," says guitarist/singer Dimitri Giannopoulos. "They all start with these very specific little memories that, for some reason or another, have stuck in my mind. Memories morph and change over time, though, and they become freighted with all these different meanings. We're constantly adding to them."
The same could be said of Horse Jumper of Love's music. Praised by Stereogum as a "delightfully distorted mess of energy," the band's sound is absorbing and urgently hypnotic, with songs that develop at a glacial pace, progressing forward with almost imperceptible momentum to carve deep canyons and valleys through walls of solid rock. Giannopoulos officially launched the group with bassist John Margaris and drummer Jamie Vadala-Doran in 2013, taking their moniker from a Latin phrase that had gotten more than a little lost in translation. The band would spend the next three years refining their studio craft and live show, garnering a devoted following playing DIY gigs around New England as they climbed their way into what Pitchfork described as "the top tier of the Boston house show scene." In 2016, they released their self-titled debut to rave reviews, with NPR praising the band's "slow, syrupy rock songs" as "cautiously measured and patiently curious" and Audiotree hailing the "soft spoken, contemplative trio" for their "unique sonic palette and precise compositions." In 2017, the group released a vinyl and digital re-issue of the album along with a limited edition demo anthology.
'So Divine' will mark the band's first release for Run For Cover Records.
Just Announced
Nashville
Shea Couleé
Doors: 6:00 PM /
Show: 8:00 PM
Nashville
Blood Harmony Tour
Doors: 6:00 PM /
Show: 8:00 PM