Saturday,
October
22nd
, 2022
The Black Angels
The Vacant Lots
Doors: 6:00 PM
/
Show: 8:00 PM
18+ Years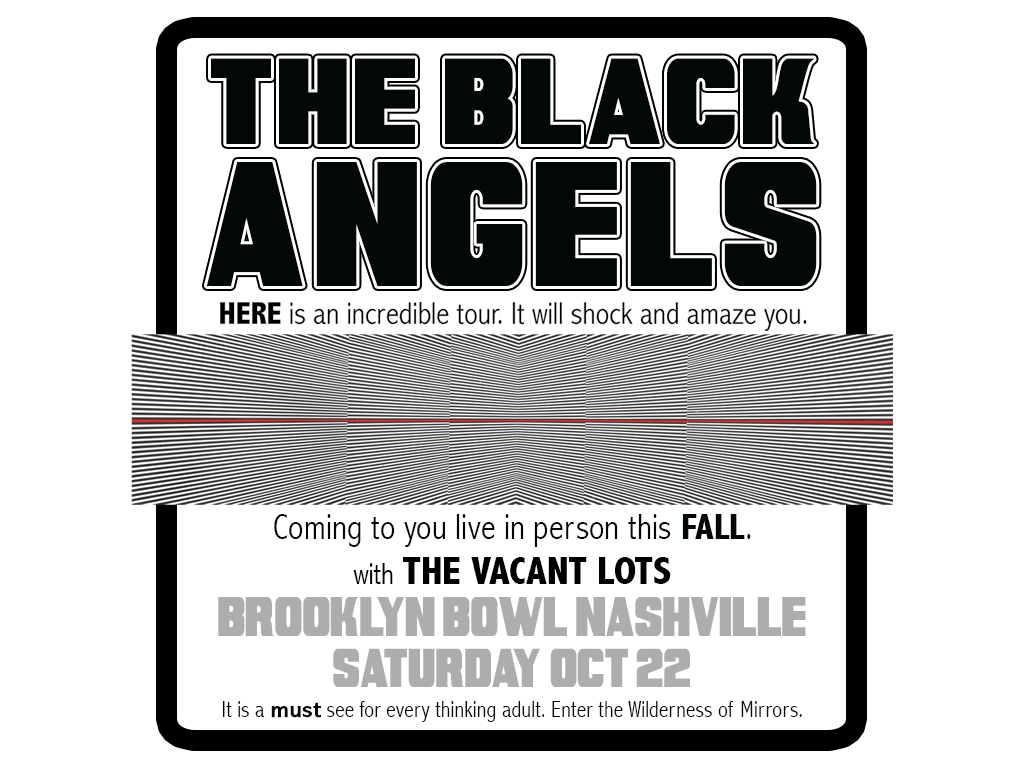 Event Info
Venue Information:
Brooklyn Bowl Nashville
925 3rd Avenue North
Nashville, Tennessee 37201
This event is 18+, unless accompanied by a parent or legal guardian. Valid government-issued photo ID is required for entry. No refunds will be issued for failure to produce proper identification.
There are no COVID-19 vaccination or test requirements for this event. An inherent risk of exposure to COVID-19 exists in any public place where people are present. By visiting our establishment, you voluntarily assume all risks related to the exposure to or spreading of COVID-19.
This ticket is valid for standing room only, general admission. ADA accommodations are available day of show.
All support acts are subject to change without notice.
Any change in showtimes, COVID-19 protocols, and other important information will be relayed to ticket-buyers via email.
Want to have the total VIP experience? Upgrade your ticket today by reserving a bowling lane or VIP Box by reaching out to nashvilleevents@brooklynbowl.com
ALL SALES ARE FINAL
Artist Info
The Black Angels
The best music reflects a wide-screen view of the world back at us, helping distill theuniversal into something far more personal. Since forming in Austin in 2004, The BlackAngels have become standard-bearers for modern psych-rock that does exactly that,which is one of many reasons why the group's new album,Wilderness of Mirrors, feels so aptly named.

Says vocalist/bassist Alex Maas, "a big focal point of this record is just the overallinsanity that's happening. What's true? What's not?" Adds guitarist Christian Bland, "We leave our music open to interpretation, but our topics are always universal themes–problems mankind has had since the beginning of time. You can relate them to anyperiod."

Indeed, in the five years since the release of the band'sprior album,Death Song, andthe two-plus years spent working onWilderness of Mirrors, pandemics, political tumultand the ongoing devastation of the environment have provided ample fodder for the Black Angels' signature sonic approach. If the group's members were terrified as theyhoned new music heading into an election year, they realized they didn't even know how scary things could still get.

So, they looked inward, focusing on both their ongoing creative and musicaldevelopment as well as their ownstruggles amid the external chaos.Wilderness ofMirrorshits even closer to home, as the group recorded solely in the friendly confines of Austin for the first time in more than a decade and entrusted co-production duties to itslongtime front-of-house engineer, Brett Orrison.

"It was a really great experience, because Brett understands us a lot on a musical level.We've grown together," Maas says. "We worked on this record for over a year in thestudio in Austin. I don't know any other situation where we'd have been able to do thatin a 9-to-5 way." Adds Bland, "Doing it in Austin allowed for open creativity and tookaway the stress of rushing to get something done. We used our time wisely."

That methodical modus operandi can be heard throughoutWilderness of Mirrors, whichexpertly refines the Black Angels' psychedelic rock attack alongside a host of intriguingsounds and textures. "History of the Future" and opener "Without a Trace" are classicblasts of fuzzed-out guitars that simultaneously perk up the ears and jumpstart the mind("Is it still possible to be invincible when everyone else is expendable?" Maas wondersaloud on the latter), while a fast, thumping bass line and an allusion to a world leader hiding in his bunker propel "Empires Falling" into an ominous decree: "Every time youwake, I want to end you."

"I came in with a riff that was kind of slow and mid-tempo-y," Bland says of the song."When I showed it to the band, [drummer] Stephanie [Bailey] started playing a quickerbeat over it, [guitarist]Jake [Garcia] added this cool mercurial lead guitar line, and[multi-instrumentalist]Ramiro [Verdooren]laid down a heavy driving bass,and all thesudden it had some rock'n'roll gasoline behind it. That's the beauty of being with thesefolks. Everybody brings their creativity to the table and a song could become somethingyou never had envisioned before.

"Elsewhere, The Black Angels revel in newfound experiments like the melancholy,acoustic guitar-driven "100 Flowers of Paracusia" and "Here and Now," two highlights ofthe album's back half. "We would have never put songs like that on records before, justbecause we weren't in that world," Maas says. "I'm proud that we pushed ourselves."There's also the '60s French pop homage "Firefly,' which features the sultry intonationsof Thievery Corporation's LouLouGhelichkhani. "We don't ever really bring people in tosing, but I thought it would be cool to have someone singing in French here–a backand forth, playful thing," Maas says of "Firefly." "Itmade the harmony more complete."

Mellotron, strings and other keyboards are more prominent onWilderness of Mirrorsthan ever before, and the album also benefits from the versatile contributions of newmulti-instrumentalist Ramiro Verdooren, formerly of Austin band the Rotten Mangos."Having that fresh perspective of a young person who's a fucking incredible musician, itwas a whole different ingredient," enthuses Maas, who says Verdooren would often takein-progress songs home with him at night to experiment with tape loops and otheraccoutrements. Adds Bland, "If you think of something you want to add, Jake or Ramirocan do it immediately on whatever instrument."

Another new addition to the team this time around was longtime Dinosaur Jr engineerJohn Agnello, who stepped in to mixWilderness of Mirrorswhen The Black Angels werein need of a fresh set of ears. "When you self-produce your own record and do everysingle tiny little move yourself, you lose perspective," Maas says. Adds Bland, "John'soutsideperspective on it is what made the album shine. It became 3-D."

But for all the experimentation, The Black Angels remain masterfully true to psych-rockforebears such as Syd Barrett, Roky Erickson, Arthur Lee and the members of theVelvet Underground, all of whom are namechecked on "The River." The legacy of thoseartists is also at the core of the group's beloved, long-running Levitation Festival, theveritable ground zero for the genre's past, present and future. Says Bland, "Sitting down and channelingthese spirits is something I've always wanted to do. It's a little crypticand spooky, almost like reincarnation. The river of knowledge keeps flowing, no matterwhat.

"The Velvet Underground song 'I'll Be Your Mirror'–that's what every Black Angelsalbum has been about," he continues. "You can't work out your struggles unless youbring them to the forefront and think about them. If we can all think about them, maybewe can help save ourselves."
The Vacant Lots
Interzone is the third full-length album by New York's electro post-punk duo The Vacant Lots, released on Fuzz Club, June 26, 2020. A genre-blending synthesis of dance and psych, Interzone is made for secluded listeners and all night partygoers, meant for headphones and the club. Uninhibited by the limitations of two people and continuing their mission of "minimal means maximum effect," The Vacant Lots' Jared Artaud and Brian MacFadyen create an industrial amalgam of icy electronics and cold beats with detached vocals and hard hitting guitars. Interzone's trance-like opener 'Endless Rain' and the kinetic krautrock stomper 'Into The Depths' are followed by scintillating dark disco anthems 'Rescue' and 'Exit'. Side 2 kicks off with 80's synth-pop track 'Fracture' and haunting after-hours minimal wave 'Payoff,' while 'Station' and album closer 'Party's Over' deal with disillusionment and conquering one's indifference to make real change. The album creates order from chaos and delves into escapism, isolation, relationship conflicts, and decay. With nods to William S. Burroughs and Joy Division's song of the same name, "Interzone is like existing between two zones," Jared says. "Interzone doesn't mean one thing. It can mean different things to different people depending on their interpretation. Working on this album was a constant struggle reconciling internal conflicts with all that's going on externally in the world. Interzone in one word is duality." "Jared and I bounced ideas back and forth while working in seclusion on opposite coasts. We would just send files to each other until the songs were arranged. Then we met up at the studio in Brooklyn where we were fortunate enough to borrow Alan Vega's Arp synth and finished recording with engineer Ted Young. We then worked with Maurizio Baggio to mix it," recalls Brian. After the band finished producing Interzone, long term visual collaborator Ivan Liechti designed the album artwork. The Vacant Lots have released singles with Mexican Summer and Reverberation Appreciation Society, collaborated on their debut album Departure with Spacemen 3's Sonic Boom, their second album Endless Night with Alan Vega, and most recently on their two EPs, Berlin and Exit, with Brian Jonestown Massacre's Anton Newcombe at his studio in Berlin. The group has toured with Black Rebel Motorcycle Club, Suicide, Brian Jonestown Massacre, The Growlers, Dean Wareham, The Dandy Warhols, and Spectrum. Reflecting on the new album, Jared says, "We don't want to waste people's time and we want people to play it over and over. Our mantra is 'is it bulletproof? 8 songs. 30 minutes. It's about intention and vision."