Thursday,
January
20th
, 2022
The Black Angels
Doors: 6:00 PM
/
Show: 8:00 PM
18+ Years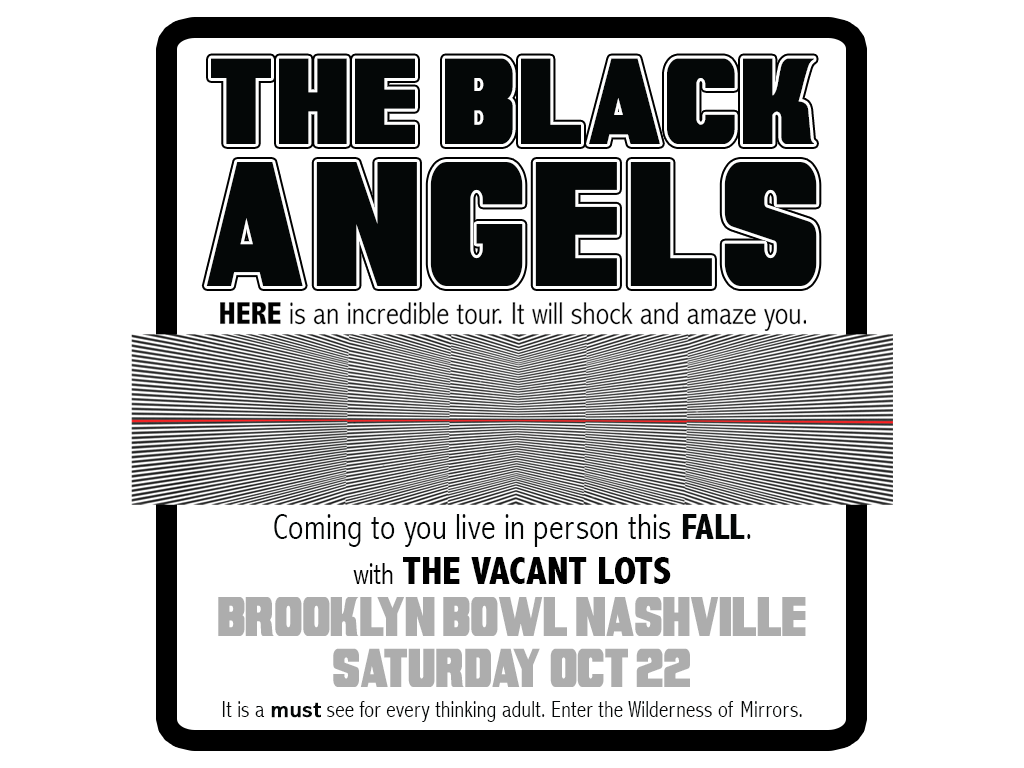 Event Info
Venue Information:
Brooklyn Bowl Nashville
925 3rd Avenue North
Nashville, Tennessee 37201
This event is 18+ Anyone under the age of 18 must be accompanied by a parent or guardian

Valid photo ID required at door for entry
This event is general admission standing room only.

Doors: 6:00 PM
Show: 8:00 PM

An inherent risk of exposure to COVID-19 exists in any public place where people are present. COVID-19 is an extremely contagious disease that can lead to severe illness and death. According to the local health authorities, senior citizens and guests with underlying medical conditions are especially vulnerable.

By visiting our establishment, you voluntarily assume all risks related to exposure to COVID-19.

Help keep each other healthy.
Artist Info
The Black Angels
Death Song is the first full-length release in four years from The Black Angels – Austin's five-piece psych rock masters – and their debut for Partisan Records.

Written and recorded in large part during the recent election cycle, the music on Death Song serves as part protest, part emotional catharsis in a climate dominated by division, anxiety and unease. "Currency," a strong contender for the heaviest song the band has ever put to wax, meditates on the governing role the monetary system plays in our lives, while slow-building psychedelic earworm "Half Believing" questions the nature and confusing realities of devotion.

Recorded between Seattle and Austin, Death Song features production from Phil Ek (Father John Misty, Fleet Foxes, The Shins). The 11-track collection offers a sharply honed elaboration on their signature sound - menacing fuzz guitar and cutting wordplay, steeped in a murky hallucinatory dream.

The band will tour extensively behind Death Song, including a headline set at one of the first-ever shows at new NYC venue Brooklyn Steel on May 2nd. Full itinerary below for "The Death March Tour", which begins in Nashville. The band will be supported by A Place to Bury Strangers.

Since forming in Austin in 2004, The Black Angels have become standard-bearers for modern psych-rock, and the New York Times has said they "play psychedelic rock as if the 1960s never ended, and they are absolute masters of it". The band has toured with Queens of the Stone Age, Brian Jonestown Massacre, the Black Keys + more, and played festivals such as Glastonbury, Fuji Rock, Primavera, Harvest Fest, Coachella and Bonnaroo. Two of the band members co-founded Levitation Festival (formerly Austin Psych Fest) in 2008, which has since grown into one of the best-reviewed and expertly-curated festivals in the country (returning in 2018).
The Vacant Lots
Interzone is the third full-length album by New York's electro post-punk duo The Vacant Lots, released on Fuzz Club, June 26, 2020. A genre-blending synthesis of dance and psych, Interzone is made for secluded listeners and all night partygoers, meant for headphones and the club. Uninhibited by the limitations of two people and continuing their mission of "minimal means maximum effect," The Vacant Lots' Jared Artaud and Brian MacFadyen create an industrial amalgam of icy electronics and cold beats with detached vocals and hard hitting guitars. Interzone's trance-like opener 'Endless Rain' and the kinetic krautrock stomper 'Into The Depths' are followed by scintillating dark disco anthems 'Rescue' and 'Exit'. Side 2 kicks off with 80's synth-pop track 'Fracture' and haunting after-hours minimal wave 'Payoff,' while 'Station' and album closer 'Party's Over' deal with disillusionment and conquering one's indifference to make real change. The album creates order from chaos and delves into escapism, isolation, relationship conflicts, and decay. With nods to William S. Burroughs and Joy Division's song of the same name, "Interzone is like existing between two zones," Jared says. "Interzone doesn't mean one thing. It can mean different things to different people depending on their interpretation. Working on this album was a constant struggle reconciling internal conflicts with all that's going on externally in the world. Interzone in one word is duality." "Jared and I bounced ideas back and forth while working in seclusion on opposite coasts. We would just send files to each other until the songs were arranged. Then we met up at the studio in Brooklyn where we were fortunate enough to borrow Alan Vega's Arp synth and finished recording with engineer Ted Young. We then worked with Maurizio Baggio to mix it," recalls Brian. After the band finished producing Interzone, long term visual collaborator Ivan Liechti designed the album artwork. The Vacant Lots have released singles with Mexican Summer and Reverberation Appreciation Society, collaborated on their debut album Departure with Spacemen 3's Sonic Boom, their second album Endless Night with Alan Vega, and most recently on their two EPs, Berlin and Exit, with Brian Jonestown Massacre's Anton Newcombe at his studio in Berlin. The group has toured with Black Rebel Motorcycle Club, Suicide, Brian Jonestown Massacre, The Growlers, Dean Wareham, The Dandy Warhols, and Spectrum. Reflecting on the new album, Jared says, "We don't want to waste people's time and we want people to play it over and over. Our mantra is 'is it bulletproof? 8 songs. 30 minutes. It's about intention and vision."
Just Announced
Nashville
Free Bowling from 5pm-8pm!
Show: 5:00 PM
Nashville
Free Bowling from 5pm-8pm!
Show: 5:00 PM