Tuesday,
November
12th
, 2019
TAUK with Jazz is Phsh: Feed The Beast Tour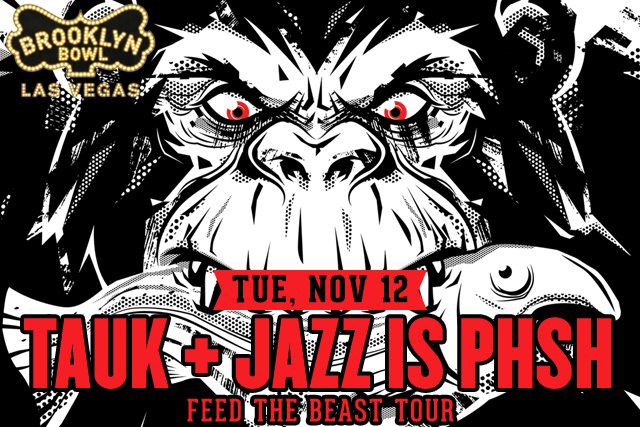 Event Info
Venue Information:
Brooklyn Bowl Las Vegas
The Linq, 3545 Las Vegas Blvd South
Las Vegas, NV 89109
$18.00 General Admission, $22.00 General Admission (day of show)
For all tickets purchased prior to October 1, 2019, on TicketFly, those tickets are still valid and able to be scanned at the door upon entry. Just pull up your ticket on your phone or bring your print-out.
Starting October 1 all Brooklyn Bowl tickets will be available on TicketWeb.



All guests must have a valid government/state issued ID for entry to the venue.
No refunds.
Tickets purchased in person, subject to $2.00 processing charge.
All general admission tickets are standing room only.
ALL TICKET PRICES INCLUDE NEVADA'S 9% LIVE ENTERTAINMENT TAX
Special room discounts via Caesars Hotels & Resorts for traveling fans. For hotel rooms use promo code: BRB15 at www.caesars.com applicable for rooms at The LINQ Hotel and the Flamingo.
*Advertised times are for doors -- show time not available*
* Venue closes between 12am - 1am unless otherwise noted*
Artist Info
TAUK
On their new album Shapeshifter II: Outbreak, New York-bred band TAUK offer an unsettling but ultimately exhilarating look at artificial intelligence and its potential to upend our world. With its dynamic sense of tension and cinematic mastery of mood, TAUK's all-instrumental blend of progressive rock, hip-hop, and jazz proves to be the perfect backdrop for such explorations, giving way to an album that's both powerfully hypnotic and intensely thought-provoking.

"We're all very much interested in A.I., and this idea of machines getting out of the hands of the people trying to control them," notes TAUK guitarist Matt Jalbert, whose bandmates include bassist Charlie Dolan, keyboardist Alric "A.C." Carter, and drummer Isaac Teel. "This album felt like a good setting to tell that kind of story, but in a way where we could have fun with it and let the listener escape into a whole other world."

Equally inspired by classic sci-fi like Blade Runner and more recent films like Ex Machina, Shapeshifter II: Outbreak embeds that narrative into TAUK's most sonically adventurous, emotionally expansive work to date. A continuation of their early-2018 EP Shapeshifter I: Construct, the new album picks up its predecessor's narrative thread with "Prelude": a fantastically unsettling intro track whose frenetic keyboard work and chilling vocal samples set the tone for what's to come. "The idea is that in the EP you're seeing the construction of this being, and in the album you're seeing it break out and become something that you can't ignore anymore," Carter explains.

From there, TAUK charge forward with the driving rhythms of "Recreational Outrage" (a track laced with the ominous throb of a robotic heartbeat), the futuristic soundscape and heady grooves of "CMF 9000," the gauzy reverie and glorious chaos of "Checkmate," and the bright melodies and soulful guitar sprawl of "Convoy." One of the album's most mesmerizing moments, "Let It Ride" builds a brilliant tapestry from its luminous keyboard tones, kinetic guitar work, and kaleidoscopic rhythms. And on "Upside Down," TAUK close out Shapeshifter II: Outbreak with a thrillingly epic burst of unfettered experimentalism.

Free-flowing yet elaborately composed, Shapeshifter II: Outbreak came to life in collaboration with TAUK's longtime cohort Robert Carranza—a Grammy Award-winning producer/mixer/engineer also known for his work The Mars Volta, Ozomatli, Marilyn Manson, and Taj Mahal. In a departure from their previous releases (including 2016's Sir Nebula), the band shunned the typical studio environment and holed up for weeks in a long-abandoned, century-old home that Teel describes as "the Jumanji house meets Addams Family meets Amityville Horror." Located in their homeland of Long Island, the house turned out to be the ideal spot for their makeshift studio, allowing for a creativity-enhancing seclusion. "Overall the whole process was incredibly organic—there were no constrictions as far as time or space, nothing ever felt forced," says Dolan. "There was a greater feeling of possibility, and it ended up being a really liberating experience for all of us." Jalbert adds: "The location definitely added to the vibe of everything we were going for. It was like we set up a laboratory in the middle of nowhere and shut off the rest of the world, which really helped get us into a specific headspace."

True to its thematic terrain, Shapeshifter II: Outbreak endlessly blurs the boundaries between organic and electronic, with TAUK broadening their sonic palette to include a vast spectrum of synth sounds and programmed effects (such as those exquisitely eerie vocal samples heard in "Prelude"). And in sculpting the album's intricate arrangements, TAUK called on such esteemed musicians as The Naughty Horns, Ghost-Note's Nate Werth (a percussionist who's also played with David Crosby, Q-Tip, and Snarky Puppy), and Juan Alderete (longtime bassist for Racer X and The Mars Volta).

Throughout Shapeshifter II: Outbreak, TAUK reveal the potent chemistry they discovered in childhood, when longtime friends Dolan, Jalbert, and Carter formed their first band in seventh grade. After playing together in various projects, the trio brought Teel into the fold in 2012, cementing the final lineup. Since then, TAUK have shared stages with acts like Umphrey's McGee, Widespread Panic, and Lettuce, appeared at festivals like Electric Forest and Bonnaroo, and earned acclaim from major outlets like the Washington Post (who praised TAUK for "creating a hard-charging, often melodic fusion that—thanks to a penchant for improv—offers limitless possibilities"). As Teel points out, the band's incessant touring over the years has significantly strengthened their musical connection. "The four of us as individuals are all very animated souls in our own right," he says. "We each have our ideas and our perspectives, and when it all comes together, it creates this collective statement that takes on a life of its own."

In creating Shapeshifter II: Outbreak, TAUK made that statement more deliberate and impactful than ever before. But while several upcoming videos and the vibrant artwork of illustrator Raul Urias add a new dimension to the album's concept, the band purposely maintained a certain open-endedness in its execution. "People tell us all kinds of stories about what our songs mean to them, and it's always cool to see how wide the gamut of those stories is," says Carter. "What the song means to me might not be the same as what it means to you, but that's one of the great things about this whole experience. There's room for everyone to develop whatever narrative they want."
Jazz Is PHSH
JAZZ IS PHSH is the project of the world renown music directors, The Chase Brothers (Adam Chase & Matthew Chase). Borrowing the concept from Jazz Is Dead, Jazz Is Phsh uses the melodic structure of the music of Phish to present instrumental jazz-funk-fusion renditions of choice Phish songs.
With the Phish catalogue being rich with unique and complex arrangements, worthy of being celebrated, The Chase Brothers have created an ever expanding "real book" of Phish which allows musicians of all backgrounds to step into the music and breathe new life into the songbook.
The horn driven musical arrangements span from bop jazz vibes to deep funk fusion filled with danceable grooves and strong melodies.
The arrangements and performances of the band are built around their debut album which features Adam Chase, Matthew Chase, Dennis Chambers, Jeff Coffin, Carl Gerhard, Josh Thomas, Chris Bullock, Michael Ray, Kofi Burbridge, Grant Green Jr., Anthony Wellington, Holly Bowling, Jonathan Scales, Chris DeAngelis, Scott Flynn, Lenny Pettinelli, & Derrick Johnson.
With the music of Phish being both largely improvised as well as highly composed, the framework of Phish's music is the perfect vehicle for exploring in an instrumental setting. The compositions are both challenging and adaptive. Jazz IS PHSH provides an exploration of Phish music unlike anything else.