STRFKR
The Undercover Dream Lovers - Das Kope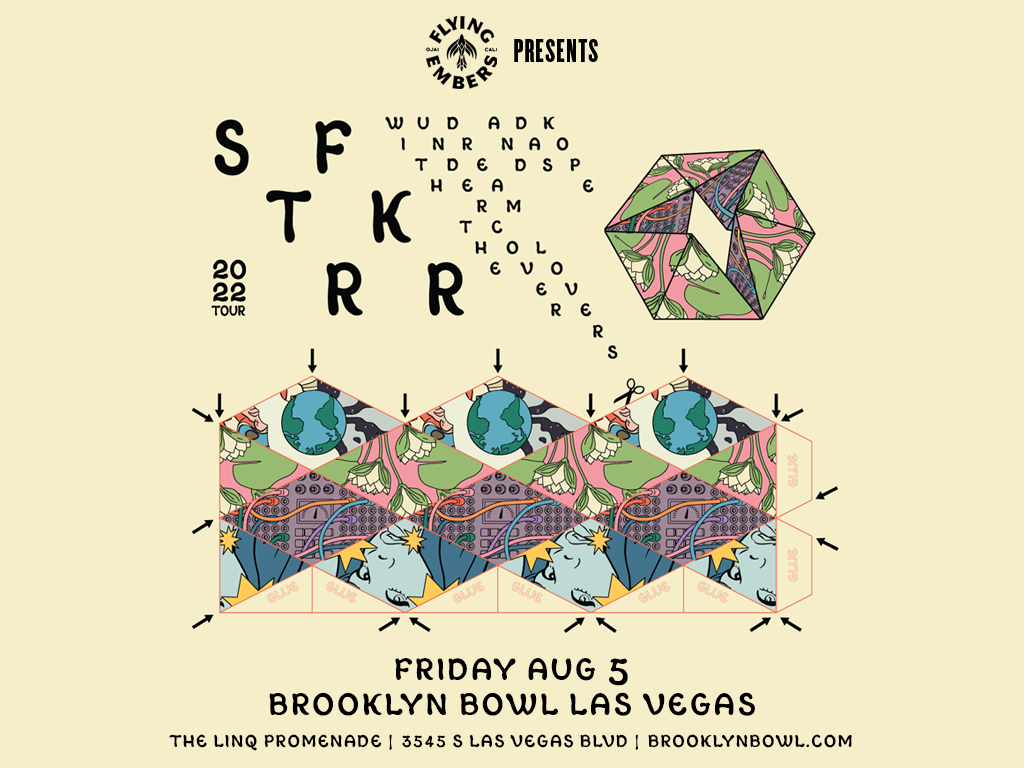 Event Info
Venue Information:
Brooklyn Bowl Las Vegas
The Linq Promenade
Las Vegas, NV
$20.00 General Admission
$25.00 General Admission (day of show)

**The STRFKR show at Brooklyn Bowl Las Vegas originally scheduled for
Sat, Feb 26th 2022 has officially been rescheduled to Fri, Aug 5th 2022. Your ticket will be honored for the rescheduled date.**

Based on the latest local guidelines, attendees are no longer required to provide proof of negative COVID-19 test AND/OR vaccination for entry into this event. Brooklyn Bowl encourages mask wearing and encourages you to get vaccinated if you aren't already! Be sure to check our venue website for the latest updates and guidelines as entry requirements are subject to change.


An inherent risk of exposure to COVID-19 exists in any public place where people are present. COVID-19 is an extremely contagious disease that can lead to severe illness and death. According to the local health authorities, senior citizens and guests with underlying medical conditions are especially vulnerable. By visiting our establishment, you voluntarily assume all risks related to the exposure to or spreading of COVID-19.
Free Local Parking
- Residents of Clark County who purchased a ticket will receive free parking the night of the show at any Caesars Self-Parking locations. The Parking Validation Machine is located inside the Retail Store of Brooklyn Bowl.
All support acts are subject to change without notice.

All guests must have a valid government/state issued ID for entry to the venue. No refunds.

Tickets purchased in person, subject to $2.00 processing charge (in addition to cc fee, if applicable).

All general admission tickets are standing room only.

ALL TICKET PRICES INCLUDE NEVADA'S 9% LIVE ENTERTAINMENT TAX

*Advertised times are for doors -- show time not available*
Artist Info
STRFKR
Being No One, Going Nowhere. The title of STRFKR's fourth album may seem bleak at first. But hold it in your head a minute, feel its weight, and you may recognize the phrase for what it is: a goal. In the era of the personal brand — amid the FOMO Age — it's increasingly hard to shed a stifling sense of self, or to just be in the moment that you're in. Well, consider this an invitation to get blissfully insignificant. That's what STRFKR founder Joshua Hodges aimed to do when he exiled himself to the desert to create this record, but he returned with his most significant work yet: a set of darkly glistening dance songs rife with sticky beats, earworming hooks, philosophical heft, and bittersweet beauty.
The album opens on "Tape Machine," and the difference is readily apparent. On 2013's Miracle Mile, STRFKR refined a full-band sound, but this doubles down on and completely reimagines the project's electronic and pop roots. The initial synths could fuel a rave, and the ensuing groove could score a Drive sequel, but the song is richer still, with cosmic effects flying overhead and a psych-folk earthiness below. It isn't that the band sat this LP out — drummer (etc.) Keil Corcoran penned the thick astral disco of "In the End," and he and bassist (etc.) Shawn Glassford both pitch in throughout. But Being No One, Going Nowhere was born in Joshua Tree after Hodges packed up his Los Angeles apartment and moved to that tiny Mojave outpost under the great big sky. "It came together for me in the desert," he says. "Out there, it's easy to feel small and slow."
When Hodges started STRFKR in 2007, it was designed to be success-proof. The name was both unfit for radio and a jab at fame-chasers. But the project was also meant to be bright, playful and brimming with energy. He stumbled upon a winning juxtaposition that's a STRFKR staple to this day: dark (or heavy) lyrics set to happy music. Hodges credits that to Elliott Smith's influence, although Being No One, Going Nowhere has closer sonic kin in Italo-disco, kosmische musik and Tony Hoffer's work with Phoenix, Beck and M83. English thinker/writer Alan Watts, a scholar of Eastern philosophy, was another muse for Hodges — his voice appears on nearly every STRFKR release, including this one. That's him on "interspace," talking about sloughing off preconceived identity to find one's place in the universe, which is the story of Hodges' eventual career: stop trying — no, start not trying — and succeed.
This album's name actually paraphrases the title of a book by Ayya Khema, a Buddhist nun, but the concept came to Hodges in a less chaste setting. "I had an experience at a BDSM club that was really freeing," he says. "I realized that the appeal is letting go of your mind and stress. You can be super present with the pain, and then the pain isn't even pain. It's a gateway to freedom." In a way, each song on Being No One, Going Nowhere seeks that end. There's the reality-refracting fantasy of "Never Ever," the hard truths about addiction's ravages on "Tape Machine," a death-defying coming of age tale on "Open Your Eyes," and references to Hermann Hesse's 1919 novel of self-realization, Demian, on "When I'm With You." If the words don't set you free, the music — exuberant, enveloping, incredibly catchy — should do so handily.
None of which is to imply that STRFKR is drifting along aimlessly. To the contrary, Hodges crafted this album's dance bent with the stage in mind. The live setup these days includes a custom-made LED wall and a homemade light show that syncs with the rhythm of the songs (also, the occasional crowd-surfing astronaut and band-in-drag). Plus, he camped out at the house of producer Jeffrey Brodsky (Yacht, RAC) for a week and a half, working all hours to ensure Being No One, Going Nowhere sounds as crisply booming over PAs as it does in headphones. Even if Hodges is too busy pushing the future of indie dance-pop forward to possibly attain his goal of unplugging, his aspiration is everything: "Existing is it. This moment is enough."
The Undercover Dream Lovers
Based in Los Angeles, The Undercover Dream Lovers is the brainchild of Matt Koenig. Immediately recognizable for his groovy bass lines, he produces and mixes all his own songs and writes the majority of them, from time to time inviting a friend into his project for a collaboration. His tracks "Good Luck" and "Come Home" have attracted significant attention to his work –the former hitting 12 million streams on Spotify and charting on Canada & US Viral 50 and the latter hitting 16 million and charting on New Music Friday and US Viral 50. The Undercover Dream Lovers project has also appeared in such TV shows as VICE's Fuck That's Delicious, NBC's Good Girls, and ABC's Whiskey Cavalier.Matt has supported Parcels, Her's, L'impératrice, and Poolside and looks forward to upcoming shows with STRFKR. Originally from Pittsburgh, he has never signed with any label, navigating his career completely as an independent act. Earlier this year, he released his debut full-length album It's All in Your Head, which he recorded and self-produced from his home studio in LA. The album takes his style to exciting new heights that was inspired by his desire to create more upbeat tracks that would energize the live show. He played the Los Angeles based festival, Tropicalia, late last year and (after a postponement due to Covid) is looking forward to a two month tour in fall of 2021. Citing as his influences Tame Impala, Parcels, Unknown Mortal Orchestra, Daft Punk, The Beatles, Led Zeppelin, and The Doors, he sees himself as a bridge between eras, combining themes and techniques from the past with those pointing the way toward our future.
Das Kope
Das Kope is a Los Angeles based, Brazilian born, visual artist and musician. He has been creating his lofi psychedelic world alone in his room for years. Inspired by his feeling of isolation in stark contrast to Southern California's coastal lines and palm trees, his sound is dark, breezy and nostalgic all at once, "as if the Beach Boys were trapped in a Black Mirror episode", he says. Not only does Das Kope write and produce all his music, but he also creates an entire psychedelic visual universe to accompany it.
His debut album 'Where I Live', self released in 2020, now has more than 10M plays on Spotify, and has been supported and covered by tastemakers including NPR, KCRW, Majestic Journal and Paper Magazine. In 2022 Das Kope will venture out on a major 40 date US Tour with STRFKR and The Undercover Dream Lovers. He also has big plans for releasing new tracks early in the year, stay tuned.