Saturday,
November
12th
, 2022
ST. LUCIA - Utopia Tour 2022
Caroline Kingsbury
Doors: 6:00 PM
/
Show: 8:30 PM
18+ Years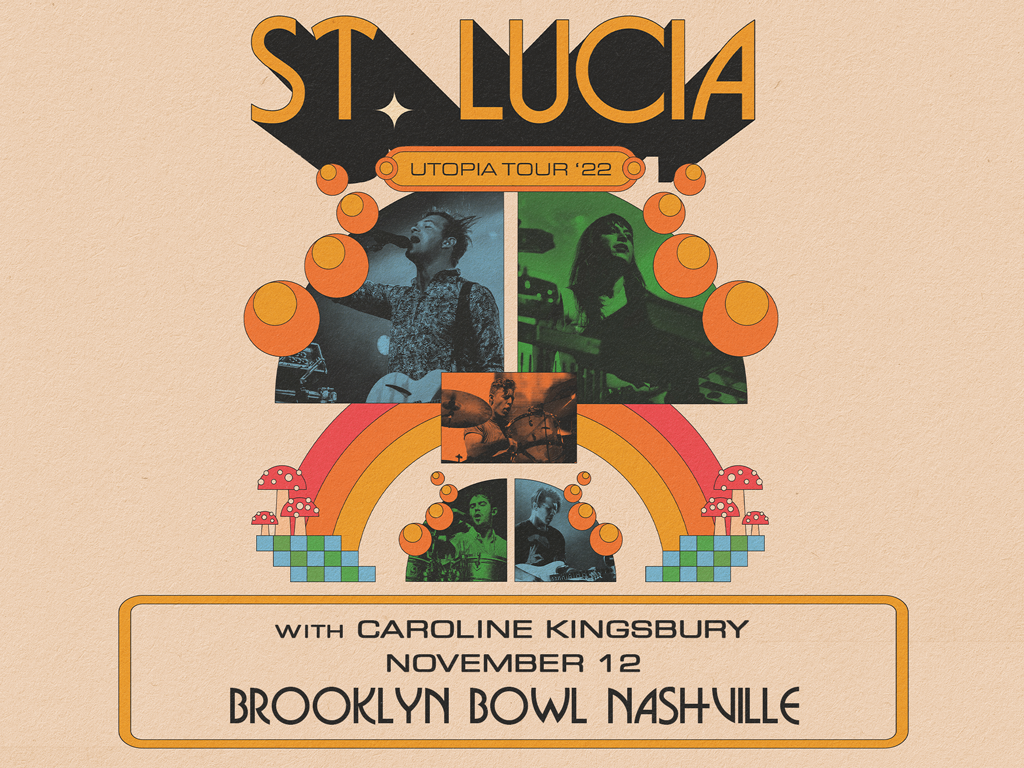 Event Info
Venue Information:
Brooklyn Bowl Nashville
925 3rd Avenue North
Nashville, Tennessee 37201
This event is 18+, unless accompanied by a parent or legal guardian. Valid government-issued photo ID is required for entry. No refunds will be issued for failure to produce proper identification.
There are no COVID-19 vaccination or test requirements for this event. An inherent risk of exposure to COVID-19 exists in any public place where people are present. By visiting our establishment, you voluntarily assume all risks related to the exposure to or spreading of COVID-19.
This ticket is valid for standing room only, general admission. ADA accommodations are available day of show.
All support acts are subject to change without notice.
Any change in showtimes, COVID-19 protocols, and other important information will be relayed to ticket-buyers via email.
Want to have the total VIP experience? Upgrade your ticket today by reserving a bowling lane or VIP Box by reaching out to nashvilleevents@brooklynbowl.com
ALL SALES ARE FINAL
Artist Info
St. Lucia
Utopia could be a physical location. It could be a certain era. It could simply be a state of mind. The definition varies for each of us, but its core concept of bliss, safety, and perfection persists. Perhaps now more than ever, we seek such nirvana. Often, we need to create this feeling ourselves.

That's what St. Lucia has done with their first new music in 4 years.

Led by husband-and-wife duo South Africa-born Jean-Philip Grobler and Germany-born Patti Beranek, the group retreat from a fractured world on fire and into the glow of a rapturous synth-spiked electro-pop catharsis—like a dance party at the edge of existence. On the aptly titled Utopia I EP, St. Lucia beams out a light of their own and shines brighter than ever.

"In a way, this is my personal rebellion against the darkness of the world," states Jean-Philip. "From the beginning, the name St. Lucia came from me making escapist music. In South Africa, there's a place called St. Lucia, and it's similar to the island in the Caribbean because it's where you escape. It's utopia. There are many ideas of utopia, whether it means virus-free or a virtual tech utopia. It's easy to feel depressed these days, so I'm trying to bring something joyous to the world. I was sick of seeing shit on the Internet, and I just wanted to feel good. That's what being human is about. We have to feel alive, no matter what is happening around us."

St. Lucia has always stirred these kinds of feelings. It started with When The Night, which boasted fan favorites such as "Elevate," "All Eyes On You," and "Closer Than This." The follow-up Matter yielded the hit "Dancing On Glass," generating 66 million Spotify streams and counting. Two years later, Hyperion represented a creative and critical high watermark. Beyond praise from FLOOD, Riff Magazine, and more, Billboard hailed it as "buoyant," while Pop Matters raved, "it feels almost revelatory." After a successful tour, the Global Pandemic descended upon the world, and Jean-Philip and Patti quarantined in their New York apartment with their eldest son Indy.

Though they had already recorded most of their next album, it was set aside for the time being as new material started to take shape. Eventually, they stole away to Patti's hometown of Konstanz, Germany, in the summer of 2020 before bouncing back to Upstate New York, where their son Charlie would be born.

Simultaneously, Jean-Philip quit social media and found reprieve by swimming in a nearby frozen lake. "The social media break gave me a subconscious cleanse going into the record," he admits. "I got back to a pure place. Similarly, music was just pure enjoyment and exploration. I decided to swim in the lake almost every day when we were upstate. There were days I chipped through the ice to swim. I even got frostbite on my feet because I walked through the snow barefoot once. It gave me light in the darkness."

He carried that light into the process. Inspired by everyone from David Bowie, The Weeknd, Daft Punk and Parcels, he wrote and recorded at a feverish pace. Settling back in Germany in 2021, the project came to life in their home studio. They enlisted the mixing talents of trusted collaborator Chris Zane [Passion Pit, The Walkmen] and buttoned up the first installment of Utopia. The opener "Separate World" rides shimmering keys, handclaps, and a propulsive groove towards a disarmingly catchy warning, "Don't bother trying to sneak through the noise, 'cause we're all living in a separate world." Its rapid-fire cadence nods to R.E.M's "It's The End Of The World As We Know It— if it were written in the age of Bitcoin.

"'Separate World' has a rock 'n' roll vibe," he notes. "It deals with messed up aspects of the modern age like our obsession with Bitcoin, video games and misinformation. At the same time, it's a bit political. If you share your opinion, the reaction is black-and-white. People live in their social media bubbles, and it's why we're experiencing such division. By nature, I'm very diplomatic. I like to hear different opinions. 'Separate World' is the result of striving for Utopia."

Euphoric harmonies flutter across a muscular synth-bass line on "Another Lifetime," locking into a steady rhythm. "It's about feeling the rhythm of life, almost like the force in Star Wars," he reveals.

"Rocket On My Feet" hinges on high-register vocals underlined by neon-hued disco keys, inciting instant movement. "Sometimes, all you want to do is just be a simple human and dance," he adds. "Once you give yourself the space to escape, you can take flight."

Elsewhere, "The Golden Age" professes an eternal truth with a shimmering call-and-response. "'The Golden Age' is always accessible to you," he observes. "You can blame social media or politics. At the end of the day, we can all somehow find stillness within."

While carrying a newborn Charlie in his baby carrier, he wrote and recorded the bulk of "Memory." Fittingly, it unfurls like a dreamy nighttime lullaby. "Since Charlie was sleeping on me, I was trying to sing as quietly as possible," he smiles. "It's a special moment I could never replicate, so most of what you hear is from that night. There are no lyrics. I could never top the scratch vocal I recorded while Charlie was on me in terms of the way I felt. If I wrote and sang actual words, I felt it somehow to take away from the moment."

In the end, St. Lucia welcomes everyone into the embrace of the EP.

"When you listen to this, I hope you feel inspired and like life is worth living," he leaves off. "I wanted to give you a soundtrack to either go smoothly through these challenges or fight against them. St. Lucia is everything to me. It's me trying to express myself as much as I can. It's me trying to exact some change in the world through this strange medium of music."

Patti concludes, "I feel really proud of Utopia. I think there is purity in it that you can't really describe. You just have to listen and feel it. I think that this comes from a variety of things—having another child, being parents, and being thrown into a weird time in our lives. It unleashes things, and I think we did a good job capturing that."
Caroline Kingsbury
Caroline Kingsbury is a queer artist born in Melbourne, FL, and raised in a religious home. She had little access to secular music until her teen years when its discovery led her to run headfirst toward a life in music. "Heaven's Just A Flight," her 16 song debut album, released in April 2021 and landed on PopMatters' "Best Indie-pop Albums of 2021" and a review on Pitchfork. Pitchfork describes the album as "a collage of stylistic eras united by their outsized personalities from disco to post-punk...Recalling the naked vulnerability of Kate Bush or Karen O." During the creation of her debut, her brother Kyle passed away and, at its release, the COVID pandemic was ravaging the world. Despite these difficulties, Caroline caught the eye of Adam Granduciel of The War On Drugs. "I listened to a few songs and I knew she needed to play Madison Square Garden. Big songs, big voice. Great hooks. I loved it." Caroline was set to open for The War On Drugs at Madison Square Garden (among other dates) but her support was postponed due to COVID concerns. In addition to releasing her dreamy indie rock track "Strawberry Sheets" in early 2022, her song "Fall In Love" was featured on the Scream (2022) soundtrack. Caroline resides in LA with her three cats and is working on her next album.