Saturday,
December
31st
, 2022
Sierra Ferrell's New Year's Eve Circus Spectacular
Resonant Rogues
Doors: 7:00 PM
/
Show: 9:00 PM
21+ Years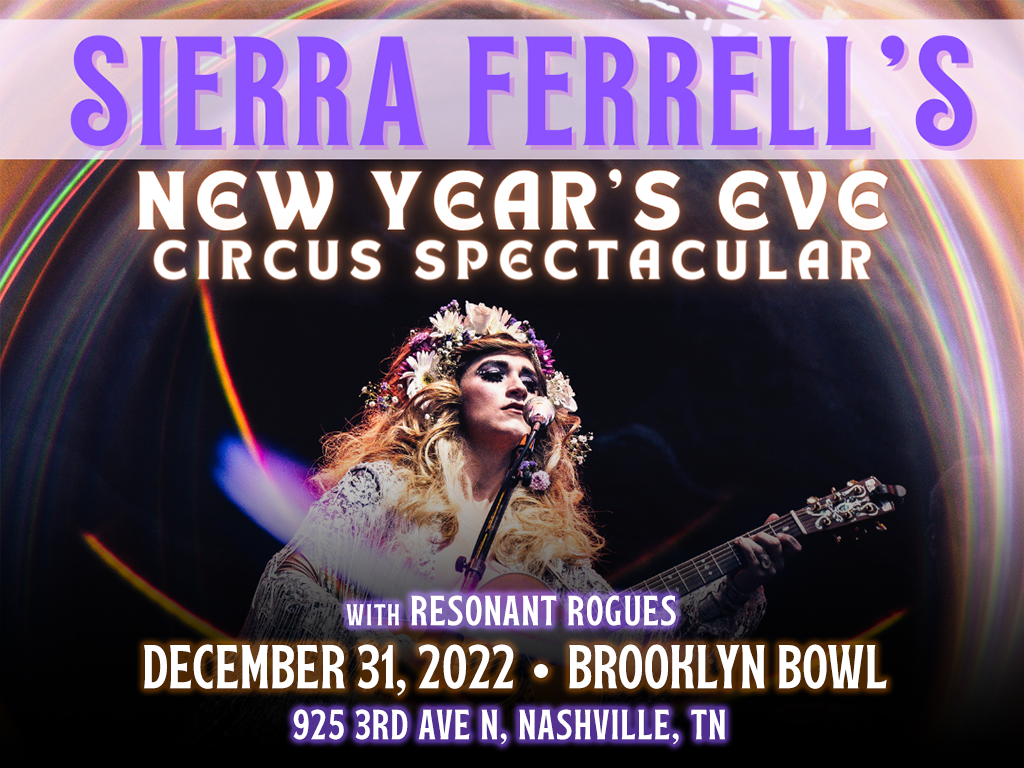 Event Info
Venue Information:
Brooklyn Bowl Nashville
925 3rd Avenue North
Nashville, Tennessee 37201
In order to prevent scalper activity there is a delivery delay on everyone's tickets. You will receive an email from Ticketweb 72 hours prior to the showtime and you can pull up the tickets off your phone and scan them at the door.

This event is 21+. Valid government-issued photo ID is required for entry. No refunds will be issued for failure to produce proper identification.
There are no COVID-19 vaccination or test requirements for this event. An inherent risk of exposure to COVID-19 exists in any public place where people are present. By visiting our establishment, you voluntarily assume all risks related to the exposure to or spreading of COVID-19.
This ticket is valid for standing room only, general admission. ADA accommodations are available day of show.
All support acts are subject to change without notice.
Any change in showtimes, COVID-19 protocols, and other important information will be relayed to ticket-buyers via email.
Want to have the total VIP experience? Upgrade your ticket today by reserving a bowling lane or VIP Box by reaching out to nashvilleevents@brooklynbowl.com
ALL SALES ARE FINAL
Artist Info
Sierra Ferrell
With her spellbinding voice and time-bending sensibilities, Sierra Ferrell makes music that's as fantastically vagabond as the artist herself. Growing up in small-town West Virginia, the singer/songwriter/multi-instrumentalist left home in her early 20s to journey across the country with a troupe of nomadic musicians, playing everywhere from truck stops to alleyways to freight-train boxcars speeding down the railroad tracks. After years of living in her van and busking on the streets of New Orleans and Seattle, she moved to Nashville and soon landed a deal with Rounder Records on the strength of her magnetic live show. Now, on her highly anticipated label debut Long Time Coming, Ferrell shares a dozen songs beautifully unbound by genre or era, instantly transporting her audience to an infinitely more enchanted world.

Co-produced by Stu Hibberd and 10-time Grammy Award-winner Gary Paczosa (Alison Krauss, Dolly Parton, Gillian Welch), Long Time Coming embodies a delicate eclecticism fitting for a musician who utterly defies categorization. "I want my music to be like my mind is -- all over the place," says Ferrell, who recorded the album at Southern Ground and Minutia studios in Nashville. "I listen to everything from bluegrass to techno to goth metal, and it all inspires me in different ways that I try to incorporate into my songs and make people really feel something." In sculpting the album's chameleonic sound, Ferrell joined forces with a knockout lineup of guest musicians (including Jerry Douglas, Tim O'Brien, Chris Scruggs, Sarah Jarosz, Billy Strings, and Dennis Crouch), adding entirely new texture to each of her gracefully crafted and undeniably heartfelt songs.

Sprung from her self-described "country heart but a jazz mind," Long Time Coming opens on the unearthly reverie of "The Sea," a haunting and hypnotic tale of scorned love. Its bewitching arrangement is adorned with sublime details like Ferrell's tender toy-piano melodies and Scruggs's woozy steel-guitar work. In a striking sonic shift emblematic of the whole album, Ferrell then veers into the galloping beat and classic bluegrass storytelling of "Jeremiah," a heavy-hearted but sweetly hopeful romp featuring Jarosz on banjo and octave mandolin. Another impossibly charming bluegrass gem, "Bells of Every Chapel" sustains that wistful mood as Ferrell muses on the exquisite pain of "loving someone unconditionally with all your heart, but they don't receive your love the way you want them to." Graced with Strings's nimble acoustic-guitar work and the heavenly harmonies of O'Brien and Julie Lee, "Bells of Every Chapel" reaches its breathtaking crescendo as Ferrell belts out the song's closing lyrics, effectively twisting that heartache into something strangely glorious.

One of the most enthralling moments on Long Time Coming, "Far Away Across the Sea" finds Ferrell serenading her tragically distant beloved, channeling the track's ardent longing in wildly cascading guitar lines and the fiery trumpet work of Nadje Noordhuis. "Since I'm singing about the ocean in that song, I wanted it to have a calypso vibe -- but then there's also a bit of a tango feel to it, and some Spanish influence too," Ferrell points out. Noting that she first became fascinated with island music while touring with blues singer/songwriter C.W. Stoneking, Ferrell also infuses an element of calypso into "Why'd Ya Do It" -- a beguiling and bittersweet lament whose lyrics perform a sort of poetic love spell ("My love for you's a deep blue ocean, baby/I just wanna swim inside").

In her elegant blurring of musical boundaries, Ferrell brought her vast imagination to the reworking of two signature fan favorites, including "In Dreams" -- a song previously glimpsed in a viral video that's now amassed nearly four million views on YouTube. A bold departure from the rugged simplicity of that rendition, the album version of "In Dreams" unfolds with an unbridled splendor that wholly intensifies the impact of Ferrell's outpouring. Meanwhile, in reimagining the self-reflective "Made Like That," Ferrell introduces unexpected flourishes like loping percussion and luminous piano tones, ultimately building an even more immersive atmosphere around the song's softly devastating confession. "When I wrote 'Made Like That,' I was thinking about where I am now compared to what my life was like in West Virginia," she says. "It was hell for me to be stuck in a small town, but I got out and finally realized what the world had to offer. Now I'm here, and I'm so much healthier and happier."

Despite its endless wandering into new sonic terrain, Long Time Coming is indelibly rooted in Ferrell's ravishing vocal presence, revealing her extraordinary ability to draw enormous feeling from just one single note. A lifelong singer, she got her start performing covers in a local bar at the young age of seven. "There was this little dead-end bar nearby that my mom and I would go hang out at during the day, and I'd get up and sing Shania Twain songs," she recalls. "There'd be hardly anyone in there, so I'd have free rein of the place." Later on, while living in a trailer park, Ferrell had a chance encounter that would soon turn out to be life-changing. "I met all these homeless kids who were traveling all over the place and playing amazing old songs, and I wanted to be a part of that," says Ferrell. "The music they were making was so honest, so pure. It seemed important to bring that kind of music back, and it's been with me ever since." Though her years of traveling proved immensely formative, Ferrell eventually settled in Nashville in her late 20s. Soon after her arrival, she began taking the stage at major festivals like The Avett Brothers at the Beach, AmericanaFest, and Out on The Weekend and touring with the likes of Parker Millsap and Charley Crockett, immediately captivating crowds with her joyful and spirited live set.

A consummate musician's musician, Ferrell found an easy camaraderie with the many luminaries who accompanied her on Long Time Coming. To that end, her most cherished moments in the album's production include the recording of the soul-stirring choir-like harmonies of "West Virginia Waltz," as well as Rory Hoffman's impromptu whistling on "Bells of Every Chapel." ("Rory's got one heck of a whistle on him," she marvels). At the same time, the making of Long Time Coming fully affirmed her affinity for lifers like Strings. "Billy's in it for the music, which is something we have in common," she says. "We're just gonna keep playing till we're not on this Earth anymore."

While the wayward sound of Long Time Coming is in many ways a perfect echo of Ferrell's free-spirited nature, there's also a much deeper intention at play: a desire to expand her listeners' capacity for wonder, so that they might uncover some enchantment in their own lives. "A lot of us are taught to wake up, go to work, make money, eat, sleep, rinse, repeat," says Ferrell. "It's so easy to get caught up in that nine-to-five routine, and end up numb and dulled-down to everything. I want my music to help people break away from that -- to get lost in their imagination, and start seeing how magical the world can be if you just pay attention."
Resonant Rogues
The Resonant Rogues' dark Appalachian folk paints a picture of their lives in the mountains of Western North Carolina and on the road. Anchored by the songwriting pair of Sparrow (banjo, accordion) and Keith Smith (guitar), the band has traveled the byways and highways of America and crossed the oceans with instruments in tow.

"Their intense cohesion is so intertwined that it feels like they're playing with one pair of hands. Harmonies seem to pour from one set of lungs…" ~No Depression
"I urge you to get out and hear them" ~Lonesome Highway