Tuesday,
October
11th
, 2022
91.ONE, WNXP Presents
shame + V**gra Boys
Kills Birds
Doors: 6:00 PM
/
Show: 7:30 PM
18+ Years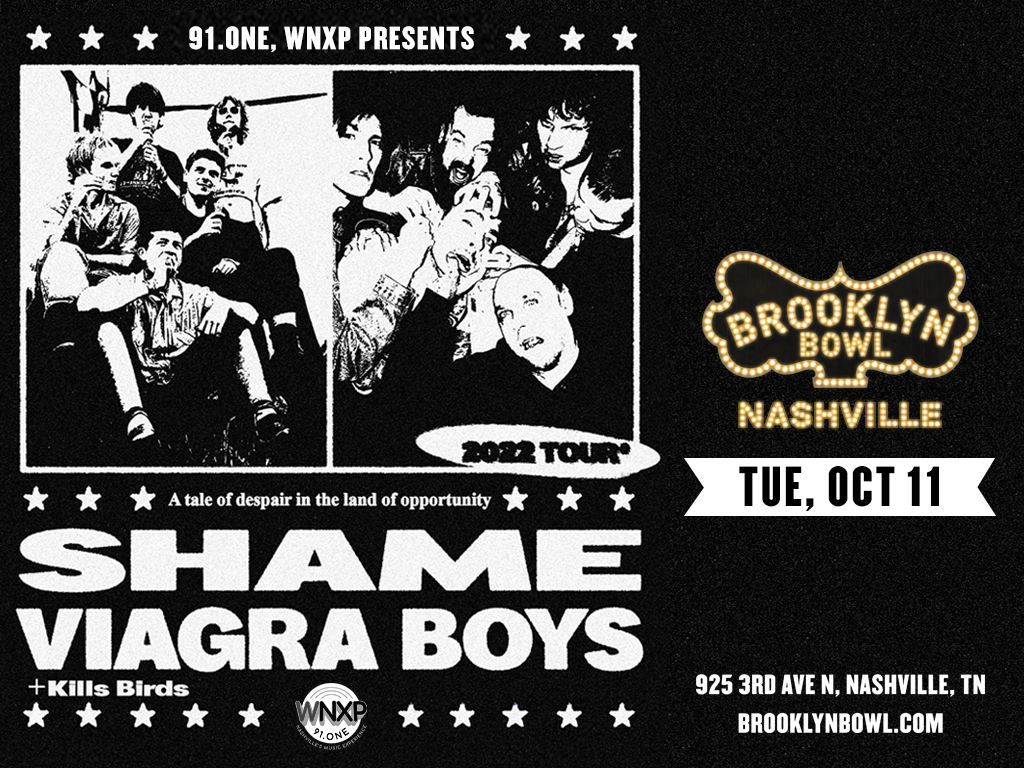 Event Info
Venue Information:
Brooklyn Bowl Nashville
925 3rd Avenue North
Nashville, Tennessee 37201
This event is 18+, unless accompanied by a parent or legal guardian. Valid government-issued photo ID is required for entry. No refunds will be issued for failure to produce proper identification.
There are no COVID-19 vaccination or test requirements for this event. An inherent risk of exposure to COVID-19 exists in any public place where people are present. By visiting our establishment, you voluntarily assume all risks related to the exposure to or spreading of COVID-19.
This ticket is valid for standing room only, general admission. ADA accommodations are available day of show.
All support acts are subject to change without notice.
Any change in showtimes, COVID-19 protocols, and other important information will be relayed to ticket-buyers via email.
Want to have the total VIP experience? Upgrade your ticket today by reserving a bowling lane or VIP Box by reaching out to nashvilleevents@brooklynbowl.com
ALL SALES ARE FINAL
Artist Info
shame
There are moments on Drunk Tank Pink where you almost have to reach for the sleeve to check this is the same band who made 2018's Songs Of Praise. Such is the jump Shame have made from the riotous post-punk of their debut to the sprawling adventurism and twitching anxieties laid out here. The South Londoner's blood and guts spirit, that wink and grin of devious charm, is still present, it's just that it's grown into something bigger, something deeper, more ambitious and unflinchingly honest.

To understand this creative leap you need to first understand the journey Shame undertook to get here. From their beginnings as wide-eyed teenagers taken under the decrepit wing of The Fat White Family to becoming the most celebrated new band in Britain and their subsequent crash back down to earth. Come in, and close the door behind you…

"Never get out of the boat"

Cap. Benjamin L. Willard

It's no exaggeration to say the members of Shame have spent their entire adult life on the road. A wild-eyed tour of duty marked by glorious music and damaged psyches, when it eventually careered to a stop the band were parachuted back into home territory. Shell shocked, dislocated and grasping for some semblance of self.

Shame's previous bases – the notorious den of iniquity that was The Queens Head pub, the musical petri dish of Brixton's Windmill – were either gentrified into obsolescence or no longer viable as an HQ. Sometimes home just isn't home anymore. Or at least it's not the way you remember it.

To cope, guitarist Sean Coyle-Smith barricaded himself in his bedroom. Barely leaving the house and instead obsessively deconstructing his very approach to playing and making music, he picked apart the threads of the music he was devouring (Talking Heads, Nigerian High Life, the dry funk of ESG, Talk Talk…) and created work infused with panic and crackling intensity.

"For this album I was so bored of playing guitar," he recalls, "the thought of even playing it was mind-numbing. So I started to write and experiment in all these alternative tunings and not write or play in a conventional 'rock' way."

Frontman Charlie Steen, meanwhile, took a different tac and attempted to party his way out of psychosis. "When you're exposed to all of that for the first time you think you're fucking indestructible," he notes. "After a few years you reach a point where you realise everyone need a bath and a good night's sleep sometimes."

An intense bout of waking fever-dreams convinced Steen that self medicating his demons wasn't a very healthy plan of action and it was probably time to stop and take a look inward. Shame had always been about exposure – be that the rogues' gallery of characters they drew inspiration from or the cornucopia of joy to be had from simply being in a band – this time, however, they were exposed to themselves.

"You become very aware of yourself and when all of the music stops, you're left with the silence," reflects Steen. "And that silence is a lot of what this record is about."

Pass along the plant-strewn corridor leading into Steen and Coyle-Smith's shared living space in South East London and hidden away to your left is a dank, brown curtain. Pull it back and open the door… welcome to the womb.

More of a cupboard than a room (it used to house the washing machine until they lugged it outside and put a bed in) and painted floor to ceiling in the specific shade of pink used to calm down drunk tank inmates, the womb is where Steen cocooned himself away to reflect and write. Scraping and shaking lyrics out of himself that – through the prism of his own surrealistic dreams – addressed the psychological toll life in the band had taken on him. The disintegration of his relationship, the loss of a sense of self and the growing identity crisis both the band and an entire generation were feeling.

"The common theme when I was catching up with my mates was this identity crisis everyone was having," reflects Steen. "No one knows what the fuck is going on."

"It didn't matter that we'd just come back off tour thinking, 'How do we deal with reality?!?'" agrees Coyle-Smith. "I had mates that were working in a pub and they were also like, 'How do I deal with reality?!?' Everyone was going through it."

The genius of Drunk Tank Pink is how these lyrical themes dovetail with the music. Opener Alphabet dissects the premise of performance over a siren call of nervous, jerking guitars, its chorus thrown out like a beer bottle across a mosh pit. Nigel Hitter, meanwhile, turns the mundanity of routine into something spectacular via a disjointed jigsaw of syncopated rhythms and broken wristed punk funk.

Bassist Josh Finerty had begun to record the band's divergent ideas at home in South London which were then fleshed out in a writing trip in the Scottish highlands with electronic artist Makeness, before sessions in La Frette studios in France with Arctic Monkeys producer James Ford. The result is an enormous expansion of Shame's sonic arsenal.

Songs spin off and lurch into unexpected directions throughout here, be it March Day's escalating aural panic attack or the shapeshifting darkness of Snow Day. There's a Berlin era Bowie beauty to the lovelorn Human For A Minute while closer Station Wagon weaves from a downbeat mooch into a souring, soul-lifting climax in which Steen elevates himself beyond the clouds and into the heavens. Or at least that's what it sounds like.

"No that's about Elton John," laughs Steen. "I read somewhere about him being so cracked out that he told his PA to move a cloud that was blocking the sun. I just thought that was the greatest, Shakespearean expression of ego. Humour is a massive part of this band. We're not some French existential act where everything is actually sad. There's light in it as well."

From the womb to the clouds (sort of), Shame are currently very much in the pink.
V**gra Boys
On their upcoming third album, Cave World (due July 8th via YEAR0001), Viagra Boys weaponize absurdity, tossing firecrackers into the middle of the room and standing around to see the reaction. "I just love when things get lost in translation," vocalist Sebastian Murphy says. "The whole world is going backwards, and I'm not going to tell anyone what to believe or what side to take." After spending the last two years thinking a lot about conspiracy theorists, anarcho-primitivism memes, and anti-vaxxers, Murphy came to a simple conclusion. "It just feels like the world is so stupid," he says, his voice a furrowed blend of impish smirk and smoker's rasp. "But I kind of like when stuff is a little stupid."

Viagra Boys embody that seething satire, daubing darkly comic moments in grit and sleaze. On album single "Punk Rock Loser," Murphy insists that he's a "savage" and "really cool" in the most affectless, unconvincing slur he can manage, the normally wild band tamed into a bouncy pulse with only a few strands of frayed guitar squelching through the mix. "I'm loose," he adds, a word the US-born vocalist has tattooed in Swedish on his forehead. You can even peel away the near-total coverage layer of tattoos from Murphy to reveal the easy-going counterpart to the wildman howl that has graced stages around the world. If his perspective of the messy contradictions of the world are fair game, he says, yours should be too. "If that's the way you see me, I'll write a song exactly that way," Murphy laughs. "But that's not the life that I live. I just hang out with my fiancée and watch movies."

For lead single "Ain't No Thief," Murphy similarly undercuts his savage persona, only to have the band ramp up the motorik intensity in response. After being accused of stealing someone's jacket, he insists it couldn't be possible, that he had been gifted the jacket by his accuser's grandmother after helping her at the grocery store. "I ain't no thief, we just happen to have the same stuff...motherfucker!" he spits. Underneath, drummer Tor Sjoden pushes the pace aggressively, charred synths chasing at his heels.

Elsewhere, his first draft of "Troglodyte" inadvertently mixed up the titular cave people with prehistoric sea creatures called trilobites. But true to the contradictions and mixed perspectives at the core of Viagra Boys, he decided to go with it, enjoying the ironically muddied water and his own misconception as much as anyone else's. "Take everyone back a million years ago, the gun nuts and people that are quite far out on the political spectrum suddenly wouldn't be so tough because they wouldn't have any guns and they would just get beat to death by other apes," Murphy says.

"Society is in such a weird space right now," he says. "I loved hearing all these people that decided they were never gonna listen to Rage Against the Machine again after Tom Morello gave interviews about his politics, as if they had no idea every song was about that. Maybe this'll end up being an anthem for a lot of anti-vaxxers. Now that would be hilarious."
Kills Birds
More than any young American rock band, Kills Birds approach their songs with an intensity that's so tangible it feels like the stakes are near life and death. Fronted by Nina Ljeti, a Bosnian-Canadian filmmaker the Los Angeles Times called "L.A.'s most electrifying new rock singer," their performances are visceral and cathartic, with guitarist Jacob Loeb's blistering riffs and Fielder Thomas' pummeling basslines. While 2019's Kills Birds was a debut that captured the promise of their grunge-inspired sound and Ljeti's unflinching lyrics, Married, their follow-up is a triumphant representation of everything that makes them so thrilling. It's a document of a band pushing their musical chemistry to new heights.

Kills Birds formed in 2017 as a songwriting outlet for Ljeti and Loeb's budding friendship. While the project started out as a casual collaboration, they truly found a spark when they began writing louder, more emotionally biting material. This dynamic became the core of Kills Birds' writing process with Loeb interpreting Ljeti's words into hard-edged compositions. They enlisted Thomas along with drummer Bosh Rothman to round out the group with early songs like "High," "Ow," and "Worthy Girl" making up their first full-length Kills Birds.

Their unrelenting songs translated to an electric live show, which garnered loads of local praise like Kim Gordon calling them "hot as fuck." The LP also found a fan in Dave Grohl. "They're a younger rock, sort of jagged, new wave punk band, with this amazing lead singer,'' he said in 2020, adding that hearing their music brought him back to when he first heard bands like the Jesus Lizard and Dinosaur Jr. "So there is this resurgence of bands who are just kicking ass, and doing it in a weird way that no one has really done it before." According to Grohl, Kills Birds' "Volcano" even inspired Foo Fighters' 2021 single "Cloudspotter."

With this momentum following a sold-out release show at Los Angeles' historic Bootleg Theatre, 2020 was supposed to be Kills Birds' year. But as they were wrapping up a tour supporting punk icons Hot Snakes and driving to SXSW, the COVID-19 pandemic shut down live music for the rest of the year. "Everything was looking really good for us and it all just came crashing down," said Nina Ljeti. "All of the effort that we put into touring that first record was just gone. We had to sell our van. We had to reevaluate what we were going to do." Dejected, the band returned home under lockdown. "Before that, we were really at a stride," said Jacob Loeb. "It was as if we were pulling the arrow back on a bow and when the pandemic hit, the string just broke. It was insanely disorienting. It left us speechless. We needed weeks to pick up the pieces."

Compounding the disappointment of lost opportunities, this forced period of isolation was particularly draining on the band. "I lived alone and I was single at the time so I didn't see anybody for the first month and a half," said Ljeti. "That was like a different kind of loneliness. It was really hard but I learned a lot about myself. You're healing from past traumas that you had. Also, not having anybody to touch for months at a time with nobody to hug, you almost lose yourself." Eventually, after weeks of reflection and solitude, the band decided to safely reconvene. "Once we started playing together, and getting in the room, the excitement of the collaboration made everything happen pretty quickly," said Fielder Thomas. " We've always been very lucky because writing comes pretty seamlessly for us as musicians," added Ljeti.

Getting together again was the thing that pulled the band out of their pandemic-induced mental and emotional funk, and even songs they had written before had found new life. "Rabbit," what would become the opening track on Married, shows both Ljeti's fearless lyrics and the band's reinvigorated intensity. Written about the experience of being in an abusive relationship with a powerful person, Ljeti sings, "But I'm not like the other girls / How could I let you?/ How could I?." Throughout, the song violently oscillates between quiet and loud with the raging dynamics of the band disorienting, confrontational, and cathartic. "A new theme in my writing has been addressing some past traumas that can define a person in their young adulthood, and learning how to express that openly without any shame or fear of retribution," said Ljeti. "It's taken a long time to feel comfortable speaking about that so I would hope that whoever needs to hear something like this can hear it, take something away from it, and not feel so alone."

"Natalie," showcases that Kills Birds is just as capable at writing a memorable hook as they are a brutal soundscape thanks to Thomas' anchoring bass line. The song is about a lonely friend of Ljeti from high school, and it's anthemic and evocative, "It's like those early ideas were put there for our future selves to populate them with this raw emotionality of the experience that we'd had in the months between," said Loeb. When the band reunited in May, they returned to the material with an intensified focus. "For me, a lot of the things addressed have to do with introspection in the digital age, as well as the hopelessness and loneliness that so many of us felt during COVID," said Ljeti. "It all came from the intense self-reflection we had to do during that time."

Dave Grohl invited Kills Birds to record at his Studio 606 in Northridge, California. In September, the band and producer Yves Rothman decamped there for a week and recorded Married on Grohl's legendary Neve 8028 soundboard, the console from famed studio Sound City which captured albums as iconic as Nirvana's Nevermind, Fleetwood Mac's Rumours, Rage Against The Machine, and dozens more. "Just on a technical level, the board is a beautiful sounding instrument," said Loeb. "I expected that it would elevate our production in a way that we've never imagined but what I didn't expect was like this sense of really emotional history behind it, and the warmth of that studio and the people that work there."

The songs on Married sound massive, a reflection of Kills Birds' ferocious live show, soaring arrangements, and remarkably physical drumming from Bosh Rothman. Take "Cough Up Cherries," which combines austere post-punk basslines with scorching solos and ample distortion, where Ljeti intones, "Us and our stupid brains / Our dramas, anxious pains / Waiting for affectation / Scream out for your attention." "This ultimate feeling of being in this place, with these people that I'm so insanely close to, after all the stuff we've been through: it was just cathartic," said Thomas. "I remember hearing back one of the songs after a playback for the first time and it was so powerful." Elsewhere, LP highlight "Glisten" is a slow-burner that highlights Ljeti's astounding range as a vocalist and compassion as a writer. The song deals with heartbreak and doesn't soften any blows when it comes to how devastating a partner's betrayal can be.

For Ljeti, who started making music because of Nirvana, the experience was magical. "If I went back in time and told 17 year old Nina, who's trying to learn how to sing like Kurt Cobain when she's visiting her grandparents in Bosnia, that Dave Grohl would love her band and let them record at his studio, she would have died," she said. "Getting to know Dave too, and learning from him about music, him giving us the opportunity to record there, it's such a dream come true." The band describes making Married as a magical time, which included discovering the custom Flying V Loeb used for overdubs once belonged to Motörhead and hearing an unreleased Nirvana demo. "At this most vulnerable moment for our band, where everything felt like it was hanging on a thread, the people that came to our rescue are our heroes and the people we grew up listening to," said Loeb. "It was this dream surreal scenario."

But more than any full circle musical moment for the members of Kills Birds, the 11 tracks on Married represent their iron-clad friendship and commitment to the band. "Because we lost so much time with COVID, this record became so crucial, and the weight of it so large, we're all so devoted to this album, and so fiercely protective of it," said Ljeti. "It's a child and you'll kill before you let anything happen to it. Because of that, it's very exciting and very stressful. It just means so much to all of us." They've come out of the process stronger, an undeniable force unlike anything in their adopted city.