Wednesday,
November
16th
, 2022
Sammy Rae & The Friends
Fleece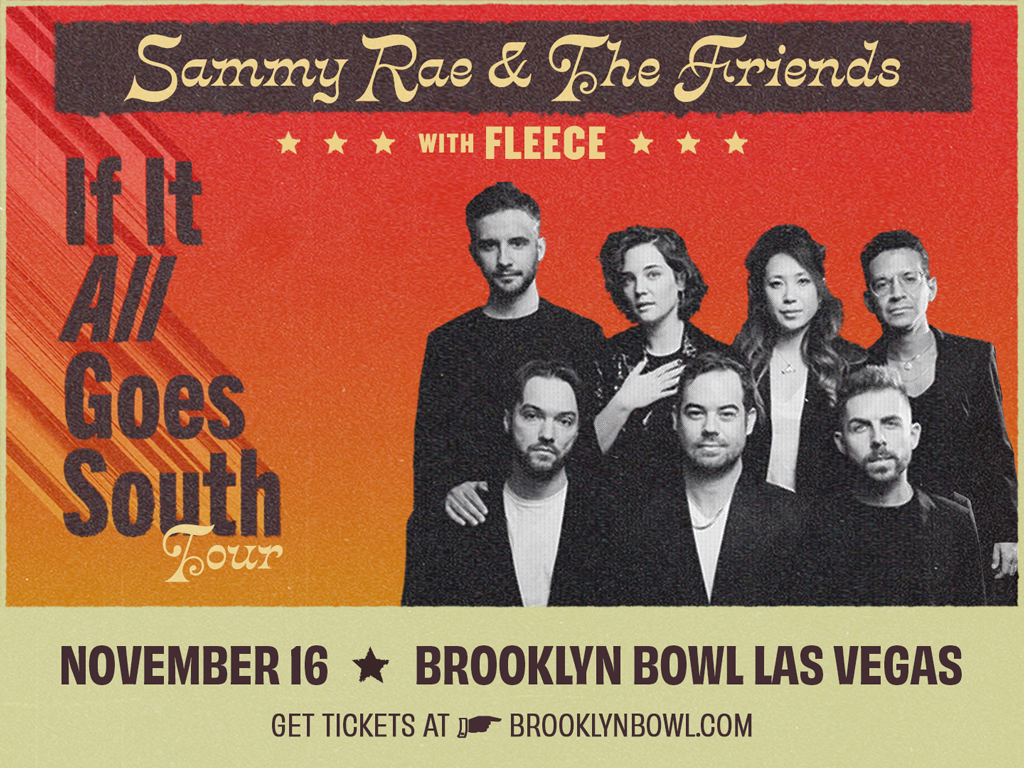 Event Info
Venue Information:
Brooklyn Bowl Las Vegas
The Linq Promenade
Las Vegas, NV
$25.00 General Admission
$27.50 General Admission (week/day of show)


Based on the latest local guidelines, attendees are no longer required to provide proof of negative COVID-19 test AND/OR vaccination for entry into this event. Brooklyn Bowl encourages mask wearing and encourages you to get vaccinated if you aren't already! Be sure to check our venue website for the latest updates and guidelines as entry requirements are subject to change.


An inherent risk of exposure to COVID-19 exists in any public place where people are present. COVID-19 is an extremely contagious disease that can lead to severe illness and death. According to the local health authorities, senior citizens and guests with underlying medical conditions are especially vulnerable. By visiting our establishment, you voluntarily assume all risks related to the exposure to or spreading of COVID-19.
Free Local Parking
- Residents of Clark County who purchased a ticket will receive free parking the night of the show at any Caesars Self-Parking locations. The Parking Validation Machine is located inside the Retail Store of Brooklyn Bowl.
All guests must have a valid government/state issued ID for entry to the venue.

ALL SALES ARE FINAL. NO REFUNDS OR EXCHANGES

Tickets purchased in person, subject to $2.00 processing charge (in addition to cc fee, if applicable).

All general admission tickets are standing room only.

ALL TICKET PRICES INCLUDE NEVADA'S 9% LIVE ENTERTAINMENT TAX
*Advertised times are for doors -- show time not available*
Artist Info
Sammy Rae & The Friends
For as much as Sammy Rae & The Friends may be a band, this collective of, dreamers, and artists considers itself a family first.

Fronted by singer and songwriter Sammy Rae, the group flourishes in any spotlight with acombination of all-for-one and one-for-all camaraderie, palpable chemistry, deft virtuosity, and vocal fireworks. Their sound is a mélange of Sammy's influences, rooted in classic rock, folk, and funk and sprinkled with soul and jazz. Complete with a rhythm section, horn section, keyboards, andbacking vocals, Sammy Rae & The Friends have or will deliver their high-energy, spirited,and unrestrained shows to sold-out audiences in the Northeast and beyond, including Terminal 5 in NYC, two consecutive nightsat the Boston Royal, 9:30 Club in DC, Theatre of Living Artsin Philadelphia, The Showbox in Seattle, the Cannery Ballroom in Nashville, and many more. NPR Music, the Boston Globe and American Songwriteralike have dubbed her an artist to watch is 2022.

While the band considers themselves the "7 faces of The Friends," they advocate for the importance of their community. Avid music fans themselves, they pride themselves on this original grassroots, word-of-mouth growth. The Friends is their community of followers, artists and creatives who help in the creation of their songs and sustenance of the project—their mixing engineer, band photographer, graphic designer, budget manager, and everyone who hangs around the shows supporting the vision. The showsare like a shot in the arm of affirmation of individuality. They are safe spaces to feel overwhelmed with love and acceptance. "Friends" in the audience are encouraged to dress how they like, dance how they like, join the party and form person-to-person Friendships.

Sammy Rae & The Friends just wrapped a five-week tour celebrating her latest single, "Follow Me Like the Moon," and will be on the festival circuit this summer. Their next single,"Time Being", comes out on 7/15/22.
Fleece
"If two men just ain't right, then I'm living in a world that's upside down," Matt Rogers, lead vocalist and songwriter of Montreal-based LGBTQ indie-rock band Fleece, croons on "Upside Down", a song on their gorgeous new LP, Stunning and Atrocious. On this album, the band isn't holding back on sharing their roadmap for how they see the world.
In fact, Fleece has never paused, even for a moment, to define themselves or add labels to their experience, instead opting to open up and be. This band is au naturel and it shows, right from their earliest days and rise to notoriety through their rice cake munching "How to write an Alt-J song" viral video (which amassed 12 million views). Since that video, that notoriety has only amplified. Subsequent releases and antics have added fuel to this fire and grown large and dedicated followings on Spotify, Instagram and TikTok, resulting in worldwide audiences and millions of monthly streams. The band's recent singles "Upside Down", "Do U Mind? (Leave The Light On)", and "Love Song for the Haters" have each leapt past the 2-million stream mark. Along the way the band found themselves on tour across North America multiple times, supporting renowned bands Tokyo Police Club, Born Ruffians, Mt. Joy, and others as their demand as a headliner grew in these same markets.
While having been focused on the songwriting of lead vocalist Matt Rogers and the relentless energy of drummer and co-founder Ethan Soil, Fleece has always been about being a band. Fleece's previous music had drawn from musicians no longer in the project, but it was the emergence of Megan Ennenberg (guitar/vocals) and Jameson Daniel (guitar) as members that completed the line up and contributed to the cohesive whole, the final resting place, the rebirth of Fleece.
And it is from this new Fleece where their newest emerging musical work, the album Stunning and Atrocious, came to fruition. Said Matt, "I think we're finally Fleece. In the past, the process was more about bringing my own compositions to the band, but this album is a complete coming together of all of our brains. We played whatever we came up with, stream of consciousness style, and then restructured the songs until they felt right. It was a bit daunting to give up control at first, but the product and process of collaborating made Fleece more exciting for all of us. I definitely grew from it too. Song
two ("Like It A Lot") is about exactly this - letting the power go and feeling good."
Written from the late parts of 2018 until 2020, the album was a first for Fleece in that it was created with a collective focus in mind: songwriting with a strong emphasis on contributions from all four band members. While on tour, the band would write and demo songs, creating oodles of voice-memo-type song skeletons everywhere they went, from rural Texas to the Laurentian Mountains of Quebec to a highway-side rehearsal room in Montreal. The song ideas came together naturally and the singers began weaving in lyrics about the complexities of vulnerability, sexuality, love, depression and anxiety, joy and silliness, honesty, and power. And then, of course, the lens of a pandemic magnified the stunning and atrocious parts of all of these tropes, and they wove in that new intensified insight as well.
Throughout this process the band found themselves with an abundance of ideas, a wealth of songs, ultimately collecting three albums worth of content and slowly finding which songs stuck, which would make the cut. And with so much time spent together on the creation and selection of content, it only made sense to self-produce the album. To this end, the band hired friends to help engineer, rented studios, and waltzed into the tracking process, comfortable and willing to capture the vibes and sound that they'd been nurturing. "Most of the album is self-produced so we really got to tinkering with sounds in post-production together. I'd say overall this album process made my friendship with Megan, Ethan, and Jameson even stronger. I just love them so much," says Matt.
If nothing else, the pandemic gave us all time. In Fleece's case, that meant time to play, record, breathe, reflect, record more, post-produce, mix, and finally master. And so it was that the album was born. From its infancy on the road to the adolescent struggles of defining its boundaries and makeup and to the shiny bright eyed young adult collection of songs proudly and outrageously presented now.
Finally: Stunning and Atrocious – the why it was called that. Matt says, "In 2018 when we were on tour with the band I'd use those words to describe literally everything. When we were in the studio and coming up with an album name, Jameson and Megan suggested Stunning and Atrocious as a joke, and then we all realized it actually really spoke to the record. Half of it is more beautiful and ethereal, half is straight up rock 'n' roll. Also, while writing it, the world around us was the definition of stunning and atrocious. Megan is singing lead on a couple songs on this record, so obviously she is the stunning, and I'm the atrocious (haha). Can't wait to hear the other parallels that our dear sweet fans will draw."
If you've seen the videos, followed the band on any social media platform, and listened to previous lyrics, you'll of course be aware that the band doesn't run a straight line. It bends, turns, flips, bops, boops, and, in general, encourages others to live whatever life they choose in any way, as the band themselves do. These songs are about feelings
and emotions shared between people that aren't to be contained by previously limiting rules. These songs exist in a world where everyone is free to be and love as they wish, a world where people are able to define themselves in any way they choose. And that is the Fleece way.